Business that changes society! A Better World for the Next Generation, Aims of Asuene Inc's Nishiwada, who Achieved Series B in Less Than Two Years, Driven by Decarbonization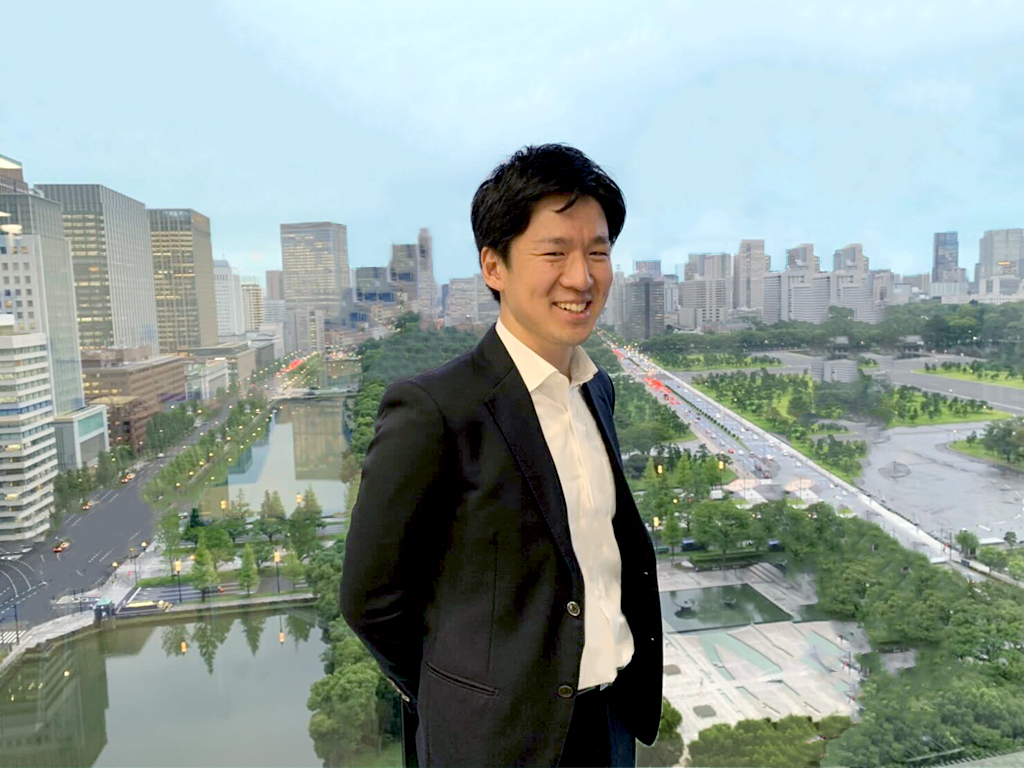 With the "Decarbonization Declaration" in October 2020, the era in which CO2 reduction and renewable energy are evaluated as a business has arrived in Japan. At the same time, there are startups that set the flag and move forward at a tremendous speed. Providing "Aszero", a cloud service that visualizes and reduces CO2 emissions from companies and local governments, with the goal of "a better world for the next generation." Asene is.
The company reached Series B two and a half years after its establishment. The monthly average of contract orders is over + 150%, and the impression of Mr. Kohei Nishiwada, CEO of Asene, which boasts an amazing growth of 5 times the number of contract companies and 5 times the number of employees compared to the previous year, is A person who is straightforward, honest, and expresses gratitude. I asked about the trajectory of growth.
Use all the energy you receive as a source of growth
Please tell us about Mr. Nishiwada's career so far.
After graduating from Keio University, I joined Mitsui & Co., Ltd. in 2009, feeling the potential of renewable energy as a business. After engaging in new business development, investment, and M & A such as solar power generation and wind power generation in Japan and overseas for about 11 years, he left the company in September 2019 and founded Asene the following month. In May 2020, we launched the first service, "Asene," and in August 2021, we launched the second service, "Aszero," while forming a team. At present, both services are performing well and growing rapidly, but considering the winning line as a startup, we believe that the potential of "Aszero" is high, and we plan to make our main business "Aszero" in the future.
Why did you focus on renewable energy? Please tell me the reason and the reason.
When I was in college, I began to research environmental issues, and the only one that strongly felt the potential for balancing the environment and the economy was renewable energy. In job hunting, I searched for a company that could take on challenges overseas and have a social impact in the area of growth industries.
However, there is another reason for that. It's a bit long story, but when I think about it now, I have a very strong sense of purpose since I was a child, and I have a personality that I can't be interested unless I have a solution to "what is useful". I was good at studying math, but what would it be useful in the future at that time? I wasn't interested because I couldn't get a convincing answer when I asked the teacher. Meanwhile, when I was a junior high school student, I went to Mr. Children's live concert and was impressed by how music impressed so many people and changed their behavior. From there, I wanted to be a person who was impressed, and in fact I was seriously aiming to be a musician, but I couldn't achieve my goal and I was frustrated in my second year of college. When I quit music and was thinking "what to do from now on", I went to Mr. Sakurai's Bank Band live, and during the live MC, Mr. Sakurai "financed a part of the profit to companies and organizations working on environmental problems". And are investing. " I was once again impressed by the possibility of creating a system that would change society through business, and for the first time I became interested in business and began to investigate environmental issues and social issues.
Mr. Sakurai seems to be surprised that the artist, Mr. Sakurai, had such a strong influence on Mr. Nishiwada. So what made you want to become a business owner?
When I was in my fourth year at university, I had a lot of experience in setting up an international cooperation group for students with Mitsui & Co., but the first was when I was seconded to an energy-saving and renewable energy venture company called Ecogen in Brazil. There was an original experience that was very inspiring.
At that time, Mitsui's respected ace boss was seconded as vice president and CFO, and I was also seconded in a position to do anything as an attendant, but the speed of decision-making in interviews between executives is It was fast anyway. I was overwhelmed by the speed and effort of making decisions, as discussions on whether or not to do it on the spot and why it should be done at meetings and emails were decided at high speed. How can I get the job done so fast? It was a very valuable experience to be able to research and analyze closely while asking many questions. At the same time, I felt the fun of being involved in the business as a manager, and began to strongly think that I would like to take on the challenge of management myself. I often attended interviews with the president and vice president, but no matter how much I prepared in advance, the speed of conversation exchange and turning back was too fast, and I could only ask the last question I had prepared. .. It was a really valuable experience to be able to witness a world where you cannot fight unless you stand on the same level. I think that the ideal management image and Asene's action guidelines were deeply shaped by the experience of Brazil.
Please tell us what has been particularly difficult since you started your business.
It's still difficult every month, but looking back on the founding period, it was difficult to gather friends. Now that we have grown into an organization of more than 50 people, professional human resources have sympathized with Asene's MVV and gathered together, but we spent a considerable amount of time searching for the first engineer. Since I had been doing business development and investment for a long time, I had no experience in system development at that time, and I had never talked to engineers in the first place, so I desperately searched for a reliable engineer as a comrade through a friend. Even if you look for it via an agent, there are only people who feel suspicious instinctively. At that time, I read dozens of books on system development and blockchain, compiled a summary, and based on that, I gained my own knowledge while discussing with candidate engineers. Then, in January 2020, at a cafe in Roppongi, I met Tech Lead Rakuma, a co-founder, introduced by a friend. At that time, Rakuma was working full-time at a mega-venture, but I was happy when I got the answer that it was OK to give a presentation on Asene and have him develop it together. From there, through the process of definition of development requirements, design, design creation, and development implementation, I think that I was able to launch the product and handle the development meeting by being taught engineering knowledge and skills from Rakuma.
When it comes to gathering friends, there is another co-founder.
It's Iwata, COO of the board. At that time, Rakuma was still involved in the side business, and while I was alone in sales, development project manager, back office, investment, loan negotiations, etc., I was in a state where I started to get contracts for more than 10 companies. However, what I am good at is the "zero-ichi breakthrough power" of envisioning and launching a new business model, and I felt that I needed human resources who could increase the number of 1 in the future to 1,000. Under such circumstances, Iwata met when I was looking for a person specializing in KEYENCE human resources who have the market capitalization of Japan's 5 best and can create a strong system in sales. His joining the company accelerated the business at once.
But more than that, I was doing business alone with investors for the first year, so I realized that I am so grateful for the existence of colleagues who will fight with me. This is what I still think about all the members.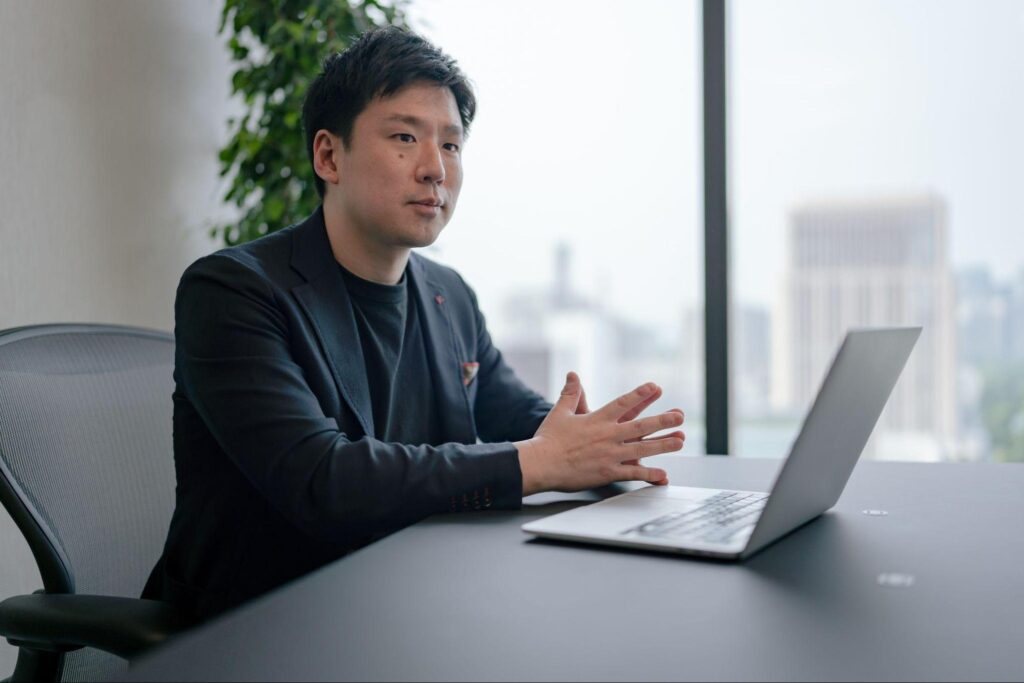 How was your funding?
Originally I was working on venture investment and M & A during the Mitsui era, so understanding the feelings of investors worked positively. I think that the DD process, where we brush up the market, business model strategy, competitive advantage, and issues together through discussions with investors, is a place where entrepreneurs and management can be trained. I took it positively.
Regarding the first seed round, I met Mr. Homma, the representative partner of Incubate Fund, for the first time when I attended a startup event of the medical industry, which is the same regulated industry, while preparing to start a business. Just three weeks before I retire. At that time, there were no teams or products, and there were only market knowledge, business model proposals, and commitments. When I was talking about the concept in a standing talk after the event, I was told that I would definitely like to invest on the spot. To be honest, I was surprised at the speed of the decision-making. However, at that time, I didn't know the details of Incubate Fund due to my lack of study, so I couldn't make a decision on the spot, so let me discuss it additionally. After that, Mr. Homma himself was an entrepreneur who started a VC fund, and I felt the value of earnestly committing while understanding the essence of risk-taking of entrepreneurs. After that, after repeated strategic discussions, we raised 75 million yen in the seed round in December 2019. I am very grateful to Mr. Homma for continuing MTG every week with hands-on and investing in series A and B for three consecutive times, and working together as a very encouraging partner.
[Asene Financing Information]
December 2019 Seed 75 million yen raised
March 2021 Series A raised 300 million yen
April 2022 Series B raised 1.6 billion yen
You have reached Series B two and a half years after its establishment. How is it compared to the original plan?
The speed of business growth is a little faster than initially expected. For Series B, performance is important, but we were able to achieve more than the business plan. To be honest, I am blessed with the members who can put it out. So far, we have invested a total of 2.2 billion yen, and we are also working on an additional extension round, so I would like to take a further step.
What is the wind like for Asene and Climate Tech companies now? Please let us know if you have any feelings of tailwind and headwind.
I'm sure there is a tailwind. A few months after launching the product, former Prime Minister Suga made a "decarbonization declaration" in his statement of belief. The wave that only some people thought would come has changed to a big wave that involves the whole of Japan by the action taken by the top of Japan. Japanese companies are looking closely at the government, so changes in national policies and laws have changed the atmosphere of the companies at once. An increasing number of organizations are taking initiatives such as industry groups. This trend toward a carbon-free society is also a global trend, and I think it is irreversible.
With regard to headwinds, almost all companies are not irrelevant to decarbonization, so some industries and companies are opposed to the introduction of CO2 regulations. From an industry with carbon taxes, it's understandable that we want to postpone the visualization of CO2 emissions, but it's also true that investors are putting more pressure on decarbonization in those industries. ..
How do you see the increasing competition over the last few years?
Increasing the number of competing startups is rather positive from the perspective of investors and entrepreneurs, as there is potential and competition will not emerge unless the market is growing. In fact, the market size of our Climate Tech business model is huge at over 130 trillion yen worldwide.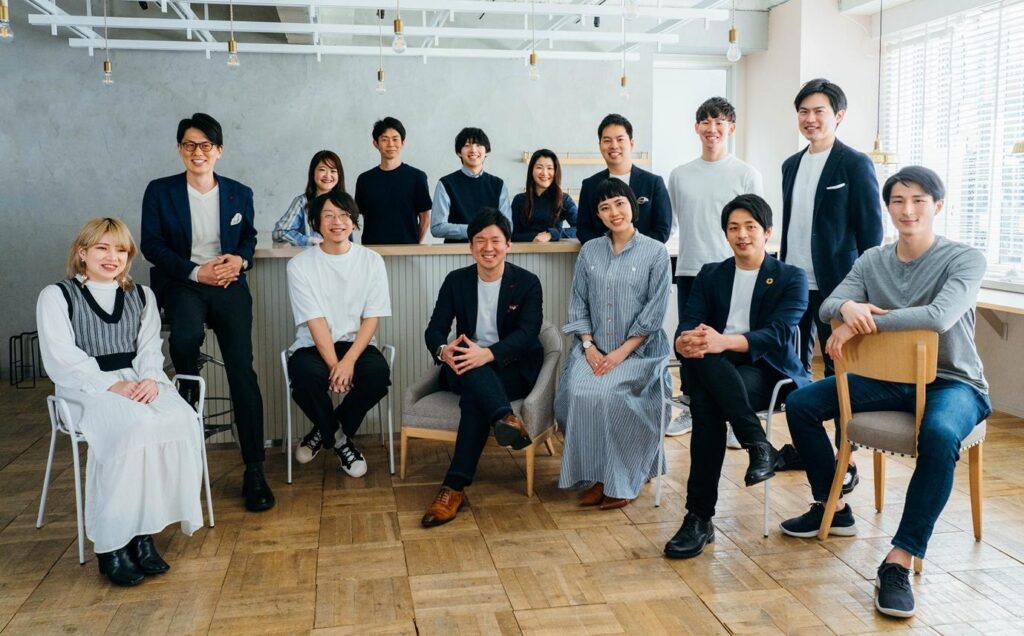 The contents of an organization where excellent human resources gather and produce results
Members with abundant business experience are gathering in Asene one after another. Can you tell us about the organizational culture?
Our members are really talented people who have produced results by the previous job, and have a strong spirit of challenge. It is a venture company that is not tied up, which is peculiar to a large company, and I feel that there are many people who agree with their desire to do their best with great discretion. With my own experience in Brazil, we focus on speed anyway and advise those who don't to speed up.
Can you tell us about MVV (Mission, Vision, Value)?
Our mission is to "make a better world for the next generation." The mission is of utmost importance to us. Even small organizations like startups work with the belief that they can lead to actions that can change society. Also, in my private life, I have a daughter who is 9 years old. Compared to before my child was born, I now take the initiative in thinking about the future of my daughter and children. When I was wondering how I could leave a better society, as I mentioned earlier, I am a type with a strong sense of purpose, so if I think I have done something hard for the next generation, that is my happiness. I wondered if that was the case. I think this is strongly reflected in the mission.
Next, we have set 10 values, and there are three core values: Integrity, Ownership, and Go Fast. Actually, there was no value at the beginning, but there is a history that the whole team defined and decided the value in the wake of a mismatch in hiring. It must have been a big decision to change jobs to a startup, but if there are many parts where the values of working after joining the company do not match, it will be a mismatch and this will also increase the work of other members. We think that this is not good for each other, and we think that the mismatch has decreased significantly since the new value was established.
Who would you like to join in the future?
We are looking for excellent human resources in all directions, such as development, sales, customer success (CS), and overseas expansion. We are growing every month, so every department is looking for motivated people. If you are interested, please contact us from our recruitment page.
What are your thoughts on global expansion?
We are working not only in Japan but also with a view to future overseas expansion. As a climate tech company, I would like to challenge the world and create new value in the 21st century.
Finally, please give a few words to the readers.
Early startups, such as gathering friends, raising funds, and PMF, may have various difficulties, but there is no other way but to pave the way for themselves. I'm still in the process of growing, but unfortunately there is no secret to growth as I have experienced the difficulties of the start-up phase.
In my case, I made various hypotheses and was conscious of involving many people. You can have a hypothesis about a problem or solution, interact with the other person based on that hypothesis, and verify various reactions. If you act first and feel that this method doesn't work, pivot and try another method or action. The biggest breakthrough is not to give up.