People all over the world should be able to experience it. Automated testing tool MagicPod aims to set a new standard in software development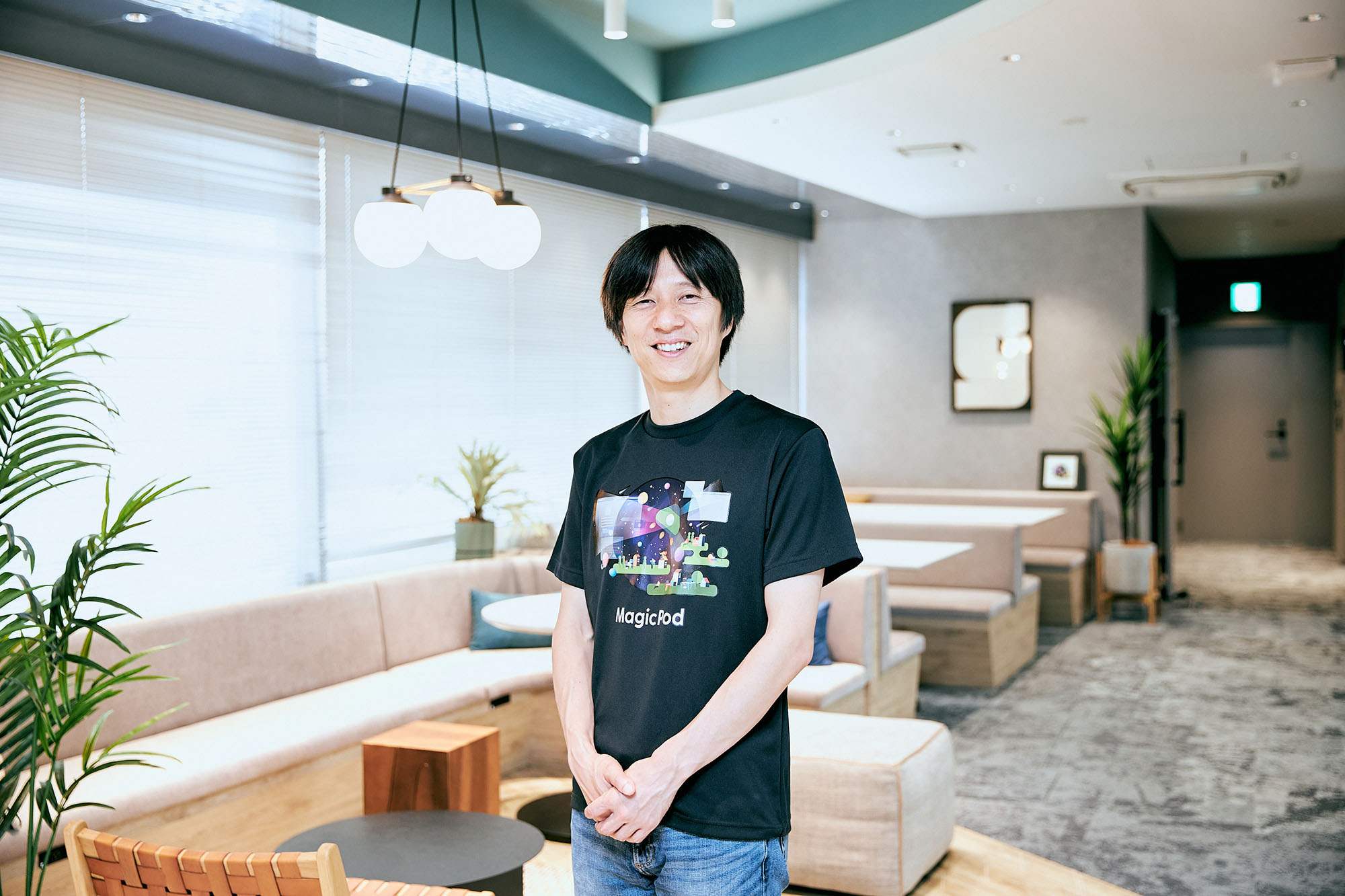 Application development has expanded rapidly in recent years, and ensuring quality and efficiency has become more important. In particular, the role of automated testing tools that guarantee the quality of applications is indispensable.
Such automated testing tools need to support complex applications and diverse platforms; at the same time, it is not easy to build solutions that meet these requirements. New possibilities, such as resource optimization by introducing AI (Artificial Intelligence) technology and cloud-based test automation, are expanding.
In this interview, we had a broad discussion with Mr. Nozomi Ito of MagicPod Inc., a company at the forefront of automated testing tools, about their significance and MagicPod's mission in supporting the development of such tools.
I decided to start a business to enable people worldwide to experience the automation being done in-house.
Please tell us about your career so far.
My career has been as a software engineer at Works Applications for about four years.
​I then decided to start my own company in the field of automated testing tools, which I am currently doing, and I started the company about 10 years ago. However, we went unnoticed for the first five years after founding the company until the launch of MagicPod, our main product. Despite the challenges, MagicPod gradually gained users, and the company gradually expanded up to the present day.
How did you decide to start your own company?
At Works Applications, I was developing a package for an accounting system, and looking at the development work within the company, I felt that software testing was the biggest bottleneck in development.
If you try to release the software quickly, you won't have time to test it, and sometimes you end up releasing a poor-quality product. As a result, many defects are found, and it takes time to investigate and correct them. Furthermore, due to such unscheduled work, there is no time to test again, which causes a vicious circle.
So, I thought it would be better to make software testing more efficient, and I developed an automatic testing tool for in-house use at Works Applications. The testing tool was well-received, so I decided to start my own company in the field of "test automation" to create a service that could be used internally and by people worldwide.​​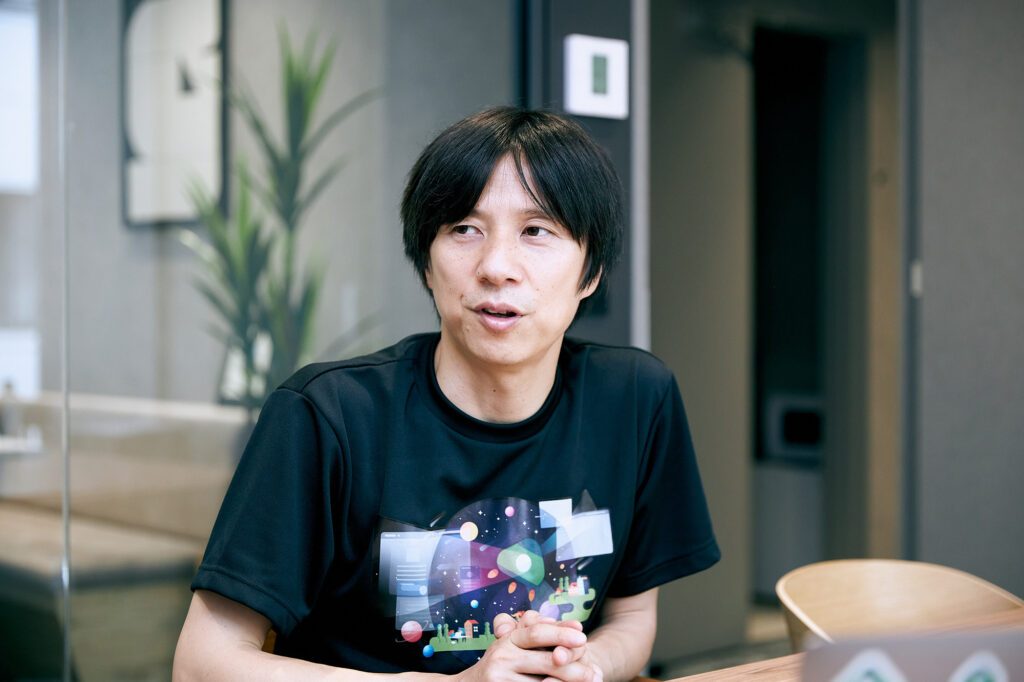 Could you tell us more about "revolutionizing the standard in software development"?
While we still have this as our mission on our website, I think it's more accurate to say "creating new standards in software development" rather than "revolutionizing". Software development trends are rarely turned upside down overnight. Products are developed daily and can be easily tested by anyone with a testing tool like MagicPod. I think it would be great if such things could become a part of everyday life, and if we could achieve that, people wouldn't have to spend their time on the same tasks, and they would be able to use their time more efficiently and meaningfully. We want to make that a new standard. To achieve this, we have established this mission in the sense that we want to make MagicPod the standard testing tool.
Could you tell us about your three values?
MagicPod has three action guidelines - "Be Sincere", "Take Initiative", and "Think Rationally", and I feel that "Be Sincere" is the most fundamental of them all. For example, I take pride in the fact that there are many sincere people in our company, and not only towards our users but also towards our teammates.
The company's business model is such that if the user's results improve, so will our business' profits. So, we are keen on addressing the users' issues sincerely and working together with common interests.​
The "Take Initiative" is inherited from the Works Applications era. I have always felt that I am most effective when thinking for myself and being creative rather than being told to do something by someone else, and this is something I have been aware of. For that reason, from the early days of MagicPod, we encouraged everyone to think independently to maximize the performance of our members. The members who joined us have naturally acquired this method of thinking, and I think it has become a part of our corporate culture.
The third, "Think Rationally", is because we are an automation company, but strictly speaking, we aim to automate and change the rules. After all, it is inefficient to do the same thing repeatedly, and no matter how many times a human checks, mistakes will eventually be made somewhere. I've done manual testing myself, but you must be very careful, as it is nerve-wracking and not very fun. Our goal is to promote automation, and when there is a problem, I want to make it the fault of the lack of a system rather than the fault of the people's carelessness. Also, as our company is an automation company, people who like that kind of thing have gathered here, and it has naturally taken root as a part of our culture..
Could you tell us about the service called MagicPod?
MagicPod is an AI test automation platform. When you create websites or mobile applications, you always have to check whether what you have created is working correctly, and we call this testing. For example, it is necessary to comprehensively check various items, such as whether there are any errors when you press a button on a website or whether the data you entered is transferred when you move on to the next page after entering your name.
In the past, this was done by a human being through manual and visual checks, but MagicPod, the service we are working on, automates this testing process by computer to make it more efficient.
MagicPod is a cloud service, so it's easy to set up. Also, in automatic testing, when you automate a procedure, you create a script, which is something like a program; usually, you must fix that procedure every time the website changes. However, MagicPod includes a function that automatically corrects it with AI. Our unique features are that it's no code, it's in the cloud, and it has automatic maintenance by AI.​
Also, tools that can perform high-level automated testing of websites and mobile apps are extremely limited in Japan and overseas, but MagicPod makes it possible. This aspect is also a particularly competitive advantage for us.
An organizational culture that embodies free work styles and values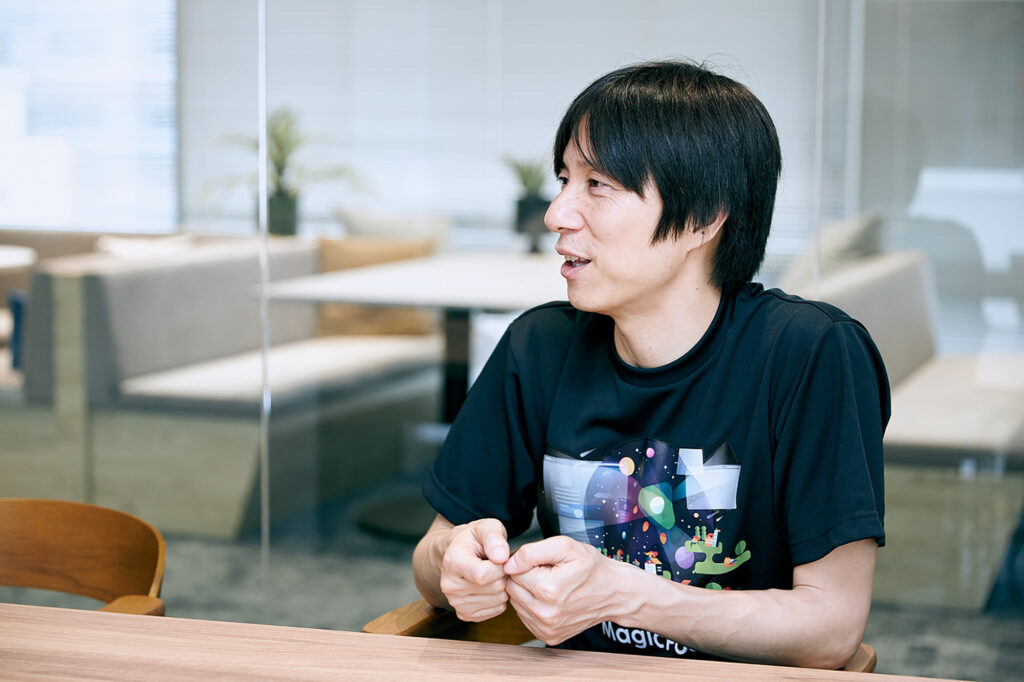 How do you all work?
We have a high degree of freedom and have always had a flextime system.
We are rationalistic and tend to eliminate unnecessary things, and we are free to decide when to come to work, as we do not feel the need to decide on the time. For example, today, we have a morning meeting at 10 AM, and we are free to do whatever we want after that, so we adjust flexibly, such as leaving to go to the hospital in the middle of the day and resuming at night depending on what we are lacking.
What is the background of using English for all reading and writing in the company?
The software testing industry that we deal with has a massive overseas market. Of course, we want to target the overseas market and hire people who can only speak English but not Japanese.
​We also receive inquiries in English, so we feel it is necessary to have a system that allows us to work in English as much as possible within the company. And since the company's early days, we have been reading and writing in English, not just spoken English.
As a result, it is sometimes difficult to understand the meaning or to say interesting things, and there are certain inconveniences. However, I accept it because that's how it should be when you work with people from overseas—quite a few employees, like engineers, only type alphabets all day.
Who are the majority of people working in the company?
In terms of percentage, about 60 - 70% are engineers and designers, and the company has a relatively large number of engineers. In terms of the type of people who work here, for example, even personnel in marketing and sales work with engineers, so they need to have an IT background. For that reason, I think there are a relatively large number of people, including non-engineers, who have IT backgrounds and like to delve into the technical side of things and do a lot of research.
Also, as stated in the Values "Take Initiative", many employees are independently creative and inventive. For example, we offer emoticons that are only used by people in software testing, which was suggested by the PR person, who said, "That's interesting. Let's do it!". We started this project with that in mind. We ordered a design company to do it, and when it was completed, it turned out to be quite good, and the response was very positive. So, the project was more gratifying than we had expected.
Is there a system in place for ideas from employees?
At MagicPod, we recommend coming to work on Fridays, and we go out to eat lunch, so at least once a week, we set aside time to eat and talk with our employees. Also, in a regular company, if you have an idea for something, you must go through some procedures, such as preparing a proposal first or getting permission from your immediate supervisor. Still, with MagicPod, people often ask me verbally, "Mr. Ito, I want to do something like this". If I think it's a good idea, I also say, "Why don't you try it?". The project starts running the next day. I think this is the unique attraction of our company.
The Values was also created after one of our employees expressed a desire to create it, and the members got together to discuss and decide on it, so it was a real "Take Initiative".
What kind of people would you like to join the company?
I think people who are in line with the company's values are the right people—persons who are sincere and act on their initiative. Our recruitment policy's primary core is recruiting people who are rational thinkers.
Also, as I am currently the only management team member, I would like to strengthen that part of the company by promoting internal and external recruitment in the future. Also, we have recently started international sales, so we are thinking of hiring people who live outside of Japan.
How did you spend your time as a student?
I was a child who didn't listen to others very much. I hated going to cram school and would not go even if I had to (laughs). In the end, I never went to cram school and primarily studied on my own.
After starting university, I studied mathematics at the Faculty of Science, but for the first year or two, I was hooked on the basics of mathematics as it was fun, so I studied all the time. Considering things systematically at that time is still helpful when writing programs. In my third year, I wanted to delve deeper into mathematics. I felt that my way of thinking was different from other mathematicians.
As I delved deeper into basic mathematics with this in mind, I found myself in a computer-related research lab, where I started programming and where I am today.
My interest in IT came as a result, so I hadn't touched a computer until then. When I was in my first year of university, my parents offered to buy me a computer, but I was a student who was like, "I don't need this", or "I'm a pencil or paper kind of person" (laughs).
I belonged to a skiing club and also organized ski competitions; a person there used Word to create documents, and I think that's when I started using computers.
When I went to graduate school, I didn't understand things like the power button on a computer, so it is possible to catch up even if you started in graduate school.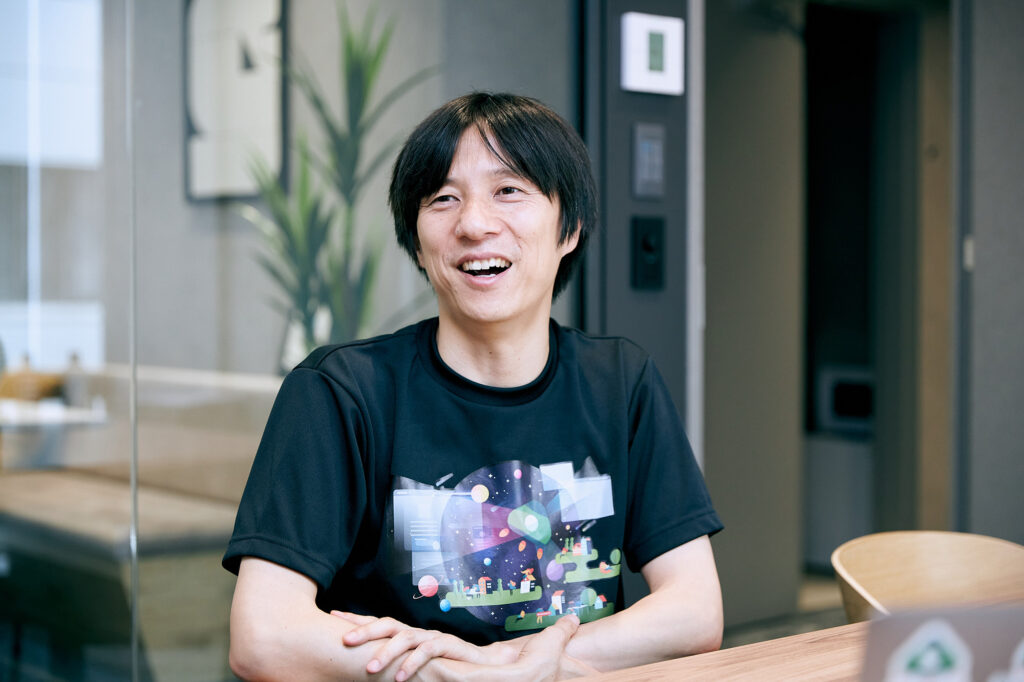 How do you spend your days off?
I often go out with my family on my days off, eat delicious food, or drink alcohol. Also, I live near the Tama River, so I sometimes run on the riverbank. I get bored staying home, so I like to get outside a lot, like last week when I went hiking.
Regarding staying refreshed, I regularly do something different, such as trying a different route than the one I take daily. I might dare to do something out of the routine in my daily life so I don't get bored.​
Ten years of tackling challenges with members without giving up
What is your message to startups in the seed and pre-seed stages?
In the pre-seed stage, you might try out a product for a bit, and if it doesn't work, pivot and try something new, but our company is pretty much the opposite. We started automated testing when our company was founded, and at first, it didn't sell at all, but then we spent about 5 years writing books and developing the market, and after about 10 years, it finally blossomed. There are patterns like our company, so it's challenging to determine whether to stick to one place. Sometimes, you can succeed because you don't fit into theories, so it's important to find the path that you think is right, not necessarily following the standard path of startups.​​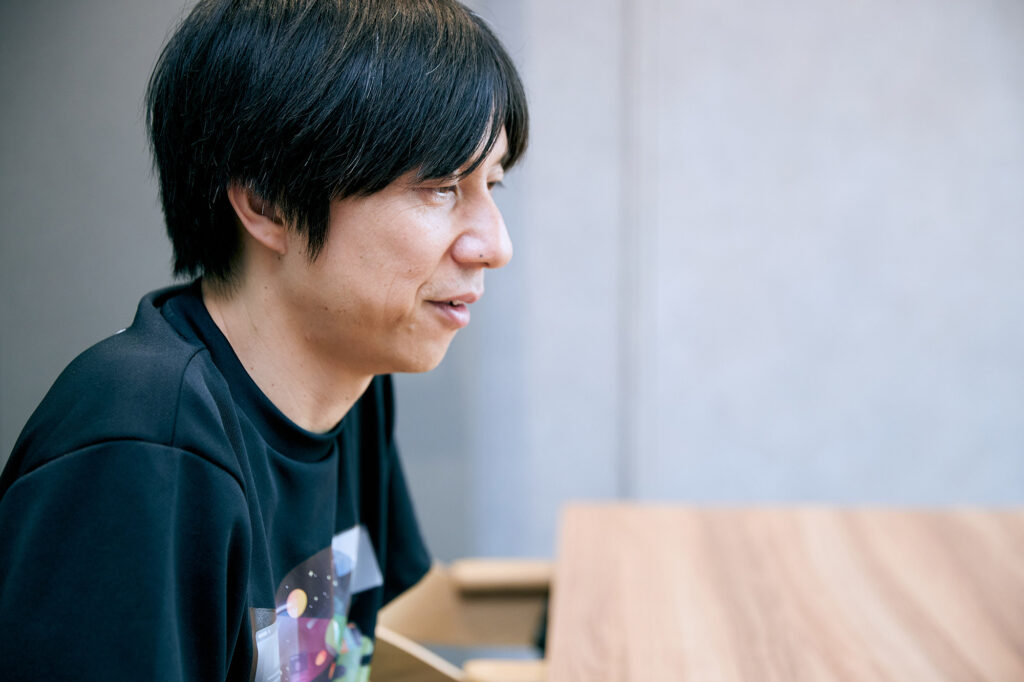 What contributed to your growth and your company's growth so far?
The presence of excellent employees is important. For the first year or two after starting MagicPod, it was just me and one other freelancer, but we had limited resources and couldn't make much progress in improving functions. At that time, several talented people joined the company, and we started to feel significant momentum as a business. It was an experience that made me realize that when talented people join a company, it has a surprisingly significant impact on business growth..
When multiple engineers work together on development, the quality may be lower than when a single genius works; however, it is necessary to involve various people to accelerate the process. I think that because we were able to achieve this in our company, we were able to grow as a product and develop a product that satisfies the needs of our clients.
What are your prospects, including IPO?
We do not have a concrete plan for an IPO, but we hope to have one in three to five years. We are also considering an IPO, as well as developing overseas channels and, in terms of expanding our sales channels overseas, M&A with overseas companies.
In terms of product prospects, we are considering global expansion first. After all, the overseas market is overwhelmingly more significant than the Japanese market, and recently, there has been an increase in the number of foreign companies entering the Japanese market, so I feel that unless we are large enough to compete in the global market, it will become increasingly difficult to do so in Japan. Therefore, we would like to promote global expansion development to strengthen our competitiveness in Japan.
Finally, please give a word to our readers.
In a startup, many things change daily and at a different speed than in large companies. I think it's an interesting environment, and I think many things can only be learned at a startup. I would happily offer you the challenge if you are interested in such an environment.