Making Japan's startup ecosystem even more global! Former Slush Tokyo CEO Antti Sonninen's Thoughts on "Takeoff Tokyo"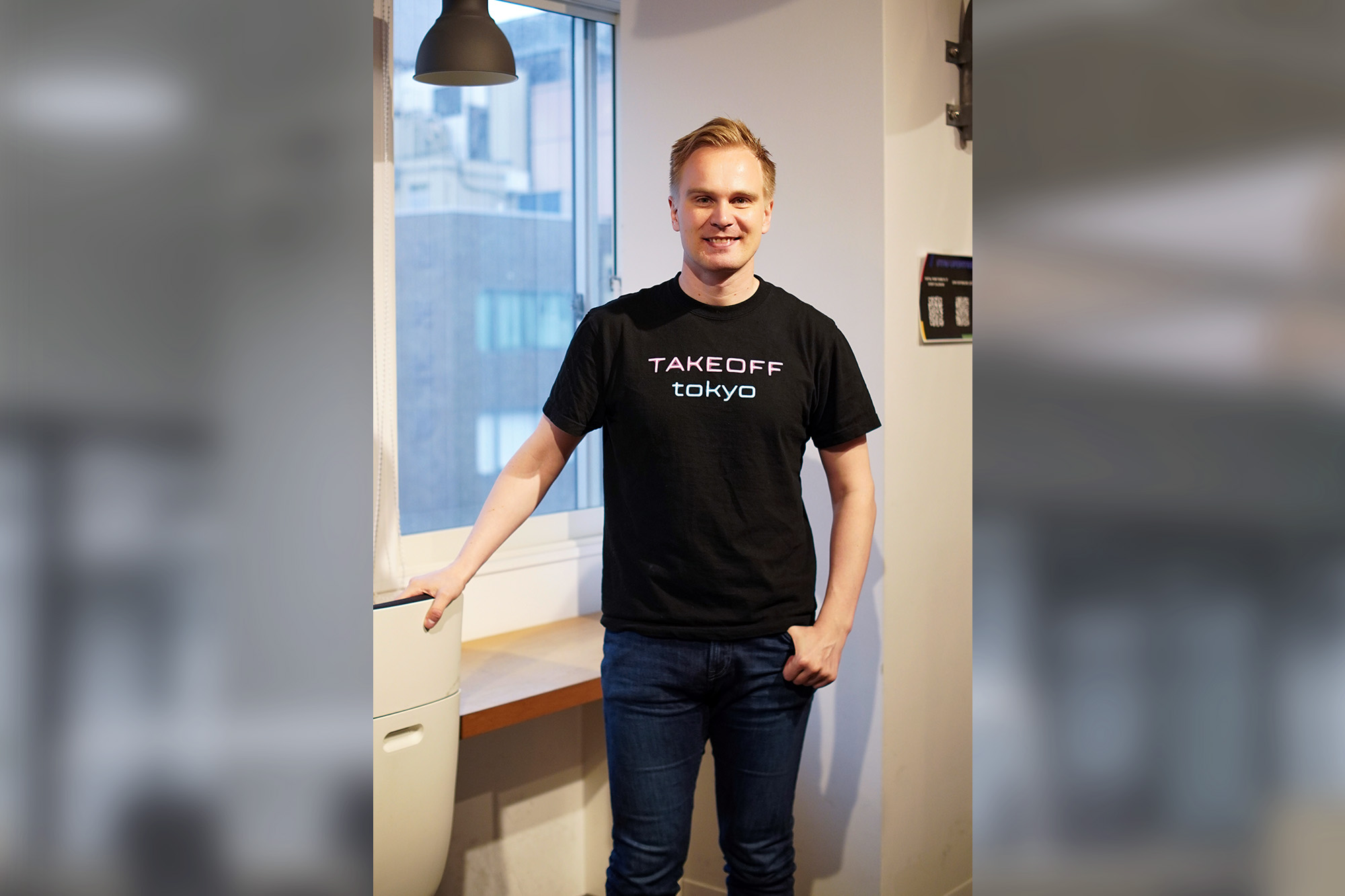 If you've been involved with startups in any way since 2010, you've probably heard the name or been directly involved with "Slush." Originally a startup conference held in Finland, "Slush Tokyo" was also held in Tokyo in 2017 (of course, the author was also a local participant at the time).
In 2023, when the new coronavirus has moved to type 5 and offline events are about to revive, this June, the creator of this "Slush Tokyo" will launch a new event "Takeoff Tokyo" will be held. What is the difference from "Slush Tokyo", and what are the points you expect from Japan? We interviewed Mr. Antti Sonninen himself.
"Slush Tokyo" sparked the startup boom in Japan in the 2010s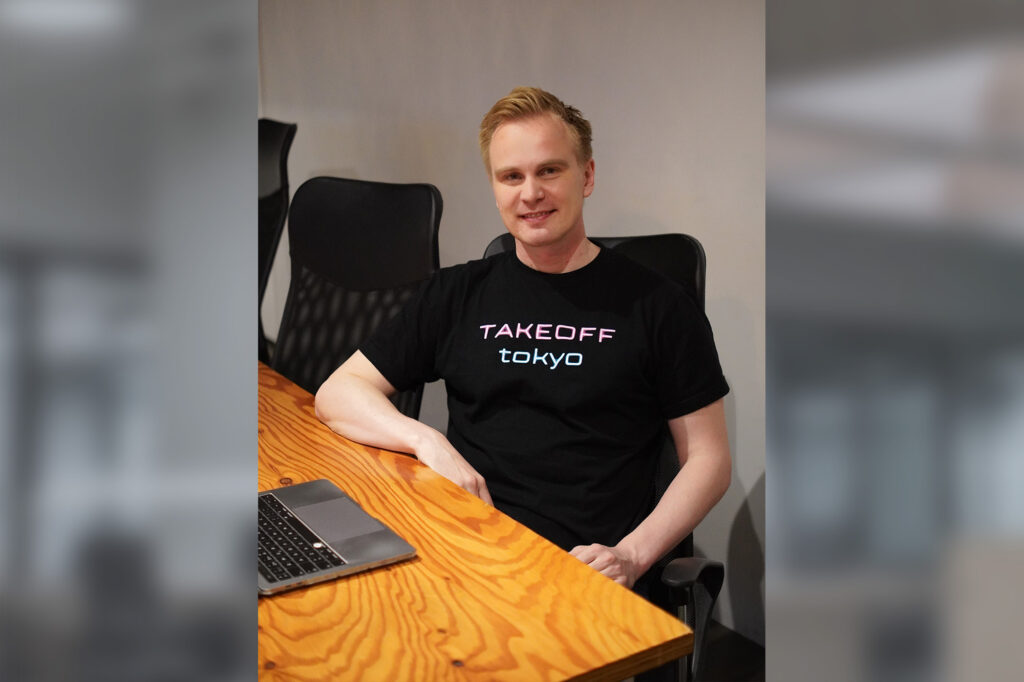 Thank you very much, Antti. First of all, could you briefly tell us about your background?
​I'm Antti, from Finland, and after coming to Japan for the first time in 2007 as an exchange student at the University of Tokyo, in 2013 I worked as a country manager for Rovio Entertainment, the publisher of the game Angry Birds.
The startup conference "Slush Tokyo" originally started in 2008 in my hometown of Finland. I myself have been involved as a participant and volunteer, and in 2015, I was appointed CEO of the first event held in Japan.
It seems that "Slush" was not just an event, but a movement that made people think, "Starting a business is cool!"
As of 2023, more than 10 years have passed since my first visit to Japan. Nowadays, startups are being covered by the media, and the number of companies and people working there is increasing, but at the time, they were still new and only relevant to a limited number of people.
​However, when I tried "Slush Tokyo", I was able to have not only startup managers and employees, but also investors and employees of major companies participate, and I think I was able to feel the heat of startups. increase. In fact, the number of startup-related events has increased significantly over the past 10 years, and recognition has expanded considerably.
Reason for holding as "Takeoff Tokyo" instead of Slush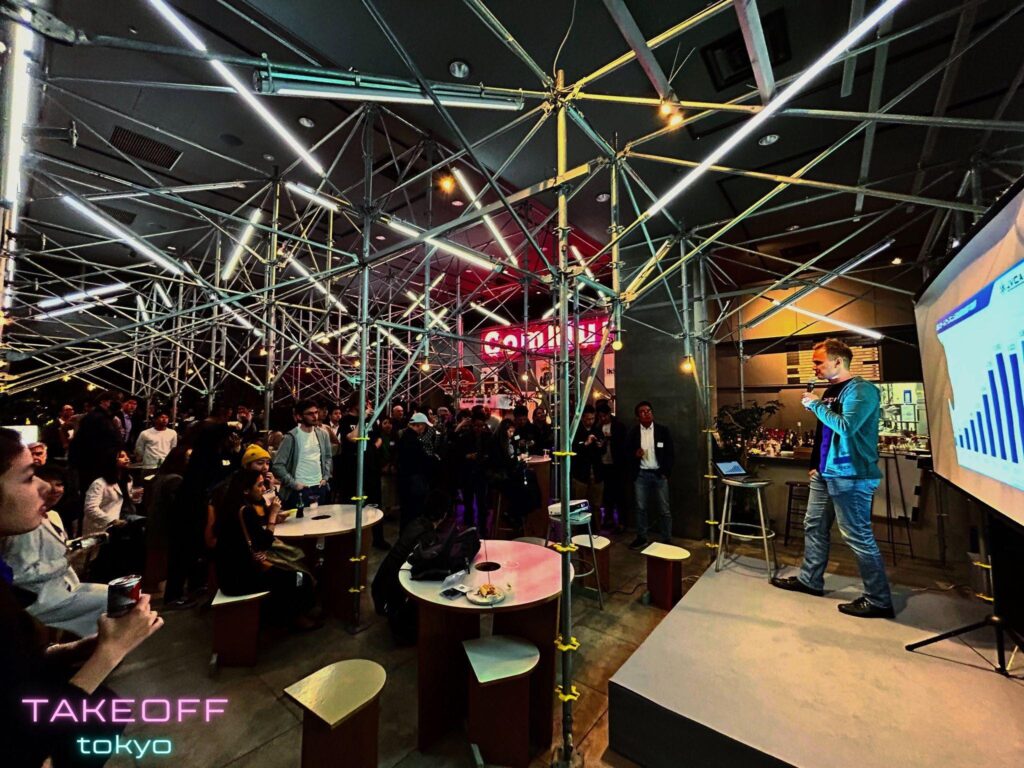 This time, instead of the "Slush" series, you are planning a new event called "Takeoff Tokyo". Could you tell us about the background of the project?
The strongest motivation is to make the Japanese startup ecosystem more global.
About 34 years ago, in 1989, 30 of the world's top 50 stock market capitalization rankings were Japanese companies. On the other hand, there is no Japanese company in the same ranking in 2023 (*1). The amount of VC investment in Japanese startups itself is increasing, and although the Cabinet has appointed a startup minister, there are still few companies that are active overseas. . I thought that it was not enough to just create a movement, and that we needed a new attempt to actually boost Japanese startups.
In order to create a service that attracts users globally, it is necessary to have original ideas and the foundation to create them, rather than localizing services that have become popular in other countries in Japan. In order to emphasize this, I decided to create something new, taking off from Japan, instead of the Finnish-born event series "Slush".
*1 From STARTUP DB​
This time, "Takeoff Tokyo" incorporates the three elements necessary for the globalization of the Japanese startup ecosystem. Can you give us the details of each?
Yes, there are three. First, "Funding". The annual amount of funding by Japanese startups has increased tenfold (*2) in the last ten years. Still, considering the population of Japan, there is still room for growth in the amount of procurement per person compared to the United States. To that end, at this year's "Takeoff Tokyo," we are creating a group where we can pitch to investors in English and raise funds from overseas VCs as well.
The second is "Talent". Japan is one of the world's most popular tourist destinations (*3), and is a country that attracts many foreigners. On the other hand, if you look at the talent rankings, the rank has been declining year by year. (*4) In other words, it is a good place to visit for sightseeing, but it is not appreciated as a working environment. Innovative and talented people are concentrated in American Silicon Valley startups and GAFAM. It is necessary to have world-class human resources aspire to work in Japan when building a trillion-yen company from Japan as well. This event is designed with that in mind.
The third is "Ambition". We believe that giving more opportunities and responsibilities to the generation that will lead the future is essential in order to bring about major changes such as the two points above. Currently, according to surveys (*5) of working-age people in various countries, Japanese young people answer that they "do not have much hope for the future," but they have a strong desire to be useful for their own country. I understand this. It means that young people in Japan also have the potential to enthusiastically promote businesses with hope for the future. In order to produce more such human resources, we are working on a mechanism that allows people with various backgrounds to participate.
*2 Japan Venture Capital Association Than
*3 Nihon Keizai Shimbun, NIKKEI ASIA Than
※Four Kyodo News article Than
※Five Cabinet Office, Special Feature: Consciousness of Young People Living Today: What Can Be Seen from International Comparisons Than
What kind of things do you expect from Japan, Mr. Antti?
There are few countries in the world that are as safe, convenient, and have such well-developed social infrastructure. If the infrastructure is already strong, I think all that's left is to change the mindset for innovation.
Finland, my home country, is about 100 years old. When I was a child, I didn't have much of an identity as a country that was strong in startups compared to my own country. I think that I have a mentality to embrace hope by watching. Japan already has a well-developed support system. Also, I believe that the environment will change significantly if the number of role models for global startups increases.
Japan also has unicorns (*6) such as Preferred Networks, SmartNews, and SmartHR, as well as players such as freee, Money Forward, and Mercari, which have gone public. did it become.
The fact that a startup with a high market capitalization has appeared is very wonderful. On the other hand, when it comes to whether these startups have a high recognition and sales ratio overseas, they are still based in Japan. As GAFAM becomes a player with a high global market share, it can be said that the Japanese startup ecosystem has become globalized.
*6 From CB Insight​
Is English still the bottleneck? Or is it the cultural background?
​This is my personal opinion, but I think the global corporate culture has a greater impact than whether the pre-listing roadshow is conducted in English and whether foreign institutional investors can be included.
A few years ago, I accompanied a Japanese startup on an overseas business trip. On the other hand, when I was working at Angry Birds, when an English-speaking person came to a meeting, I naturally switched to English and exchanged opinions. We believe that it is important to focus on communicating in order to promote business, rather than outsourcing English conversation to someone else.
Generation Z players, especially those involved in Web3, feel this tendency strongly.
I agree. In addition to the fact that the young generation, who have little resistance to new things, can easily adapt to such an environment, Web3 and AI technology and business change quickly, so it is difficult to keep up with the trend unless information is obtained in English. If you wait for the translation article, it will be turned around later. There are a lot of ambitious players, and this is an area that I personally have high hopes for.
On the other hand, Japan has strict regulations on the three areas of the Web, and many entrepreneurs take the initiative to incorporate or expand their business overseas. Even so, just as entrepreneurs in Silicon Valley come from various countries, the globalization of the startup ecosystem can be said to have succeeded if an environment was created in which Japanese entrepreneurs could naturally flourish in each country. The active participation of these people, who have come out of Japan, will attract attention to Japan, which is their country of origin. Because it is.
Applications for the pitch contest and early bird tickets are available until May 17, 2023 (Wednesday)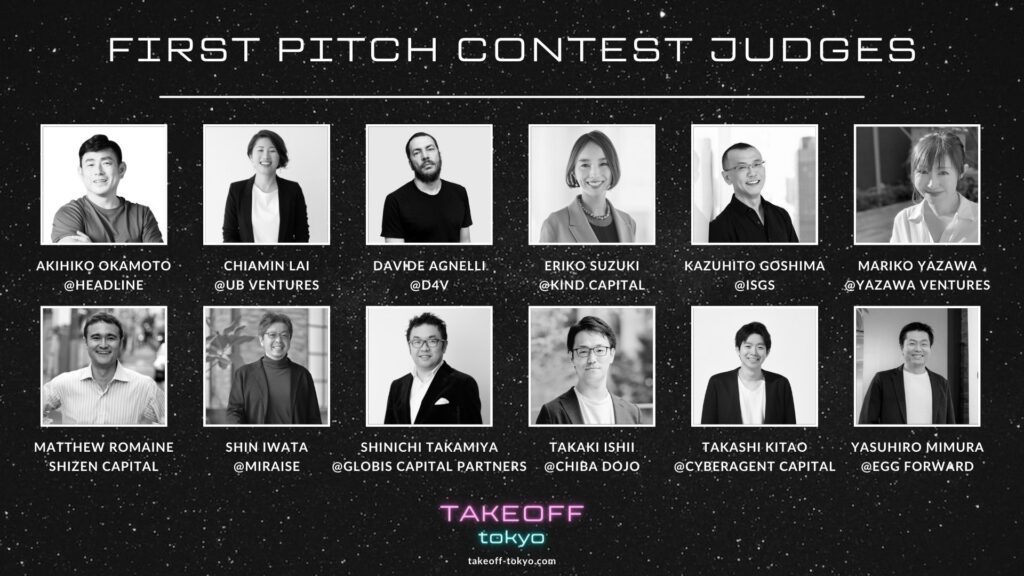 Finally, please give us an overview of the event and your enthusiasm.
This event will be held on June 8th and 9th, 2023 at Warehouse TERRADA. 800 participants. The main language will be English, and in addition to the participants living in Japan, about 20% will participate from around the world. The ratio of startups and investors is about half and half. Not only VCs but also new business managers and CVC managers from major companies will participate.
As for the pitch contest, early stage companies can apply.
Yes, the first day is the qualifying round and the second day is the final round. There are already quite a few entries, partly because the judges are gorgeous, but I think there will be more applications in the last minute just before the deadline.
Any team that has been established for less than 3 years and can pitch in English can apply. The deadline is May 17, 2023, we are waiting for you.
*You need to purchase a STARTUP PASS to apply for the pitch contest.
It seems that the panel discussion on stage is also substantial.
Yes, knowledge sharing from experienced startups and investors. In addition to the people already listed on the website, there are plans to increase the number of speakers, and we plan to publish the timetable two weeks before the event. Non-stop panel discussions on various themes will be held on both days. There will also be an exhibition booth, where we will conduct business matching.
Takeoff Tokyo First Speakers On Stage
There will also be side events. This is a hackathon.
A hackathon called "Builders Weekend" will also be held as a side event for three days from June 2nd to 4th. In fact, in December last year, we held the first online event with a scale of 30 people, and this will be the second time. GOLDEN EGG (face-to-face) in Shibuya, with a capacity of 80 people. APIs are provided by several partner companies, and we aim to develop service product prototypes in line with those technologies. On DAY3, we will conduct the final screening, and we expect that the winning team will receive prizes such as the services of the sponsor company as a privilege. I also hope that this side event will lead to more engineers being hired.
Participation fee is free, and it is OK as long as you pass the examination individually or as a team. If the number of applications exceeds the upper limit, it will be a lottery, so hurry up.
Both "Takeoff Tokyo" and "Builders Weekend" will be lively opportunities after COVID-19!
Yes, I am looking forward to it myself. The early bird discount for "Takeoff Tokyo" is available until May 17, 2023, the same as the pitch application deadline. Considering Warehouse TERRADA's capacity, it looks like it can accommodate nearly 1,000 people, but as the event gets closer, the number of applications will increase at once, so please apply as soon as possible.
I'm looking forward to it, thank you very much!
Takeoff Tokyo
Dates: June 8th (Thursday) and 9th (Friday), 2023
Venue: Warehouse TERRADA G1-5F