It's like being made to order. Optimization of society as a whole aimed at "Conata", an all-in-one platform that turns data into value|FLYWHEEL, Inc.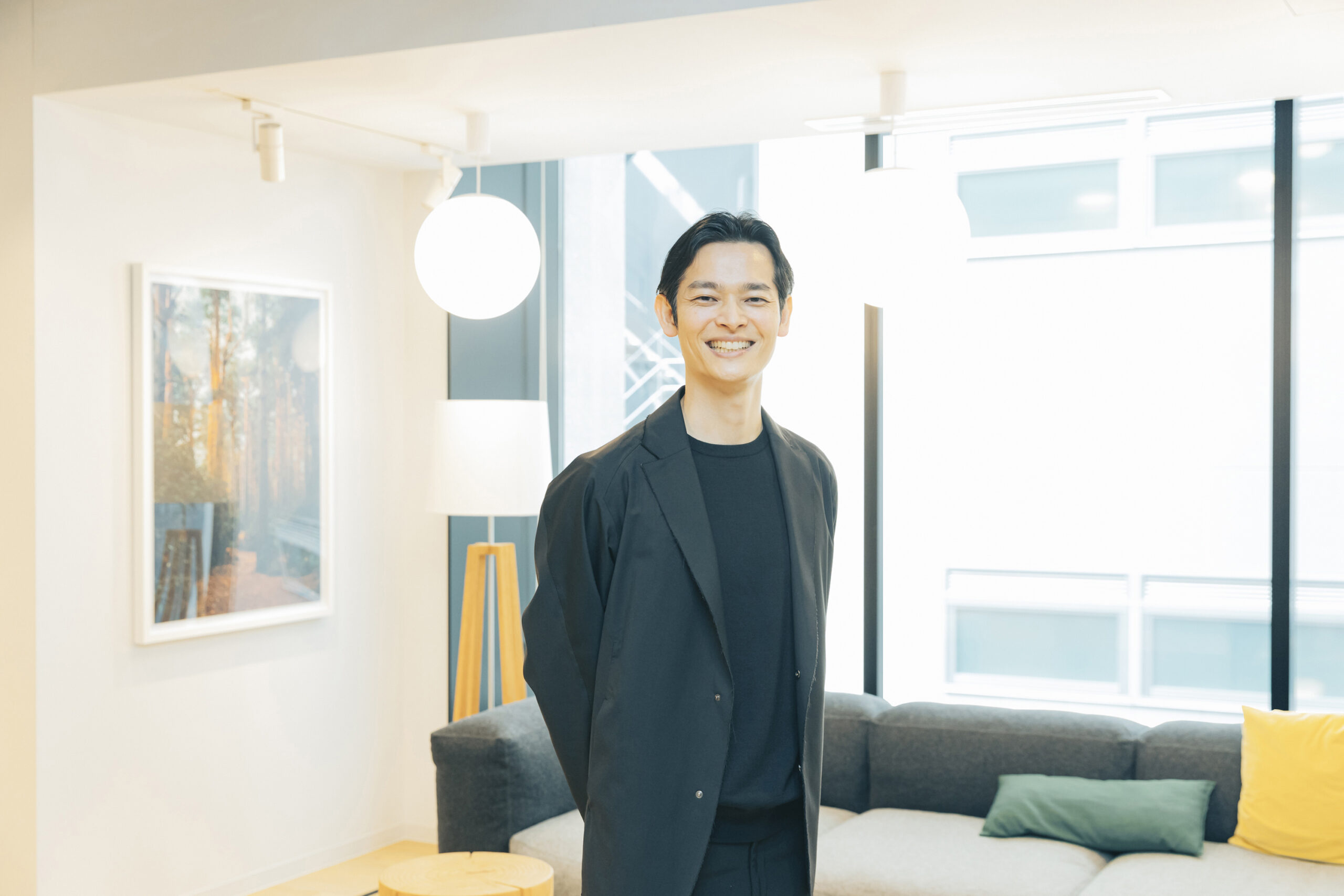 Advances in AI have enabled us to create innovative solutions using big data. Even today, many companies are using AI technology to improve their business processes and accelerate their growth. However, we do not have the resources necessary for data utilization, such as people who can acquire data, organize data, analyze data, and put it into actual work flows, and we are not benefiting from technological progress. It is also true that there are companies that do not.
Under such circumstances, this article provides the data utilization platform "Conata" FLYWHEEL, Inc. We interviewed Mr. Naoto Yokoyama, the representative director of Many engineers from GAFAM belong to FLYWHEEL and we provide solutions using big data by making full use of a wide range of knowledge and experience that can be applied to various industries and advanced AI technology.
Decided to start a business based on experience at GAFAM | Data utilization for society as a whole
Please tell us about your career.
At the beginning, I was involved in the domestic spread of video distribution services on Garake at NTT Docomo. At that company, I was assigned to the Netherlands and France and worked on a project to spread i-mode overseas for about five years. After that, I moved to Google Japan in 2009 and was involved in the launch of the cloud business. At that time, the word cloud was not yet common, and I was working in a team of about 4 or 5 people. Worked as the Head of Business Development for Android.
In 2014, I moved to Facebook (currently meta) and was involved in new business development and partnerships as an executive officer. At Facebook, we were not limited to products such as Facebook and Instagram, but also entered the field of virtual reality, and had very exciting days.
What inspired you to start your own business?
After joining Facebook, in the five years since 2014, I have witnessed AI technology being used one after another on Facebook services, and I have a sense of the potential for business growth and the speed of technological growth through the use of data and AI. I realized.
Meanwhile, I was also in charge of material procurement at the company, and I received a consultation from a Japanese company there. That company is a manufacturer with excellent technical capabilities, but in the past, it seems that they used to make one product by making use of their technological capabilities, and they were making a good profit in business, but they were not able to find a copy of a Chinese company. It seems that the product life cycle required has become shorter due to the impact of such things on the market, making it difficult to establish as a business.
Therefore, we thought about using data, but since our company's data alone is not enough, we were asked if we could use data from Facebook, etc. However, since Facebook is a platformer, it was difficult to provide solutions for each company.
I myself felt that it was an interesting initiative, so I worked hard within the company, but it was still difficult, so I decided to look for a partner company instead. However, even if there were people who could analyze data, there were no companies in Japan that had the know-how to create systems that could be integrated into daily operations or to fully utilize data.
At that time, I happened to talk to Namimura, the co-founder of FLYWHEEL, who was working at Microsoft at the time. When I talked to him, I found that Microsoft also had a similar sense of challenge. So, I thought it would be good to start a business by ourselves and contribute value to Japanese society, if that's all I'm looking for.
What is the meaning of the mission of "Data to Energy for People"?
The world view of what I want to do is as I said when I started my business, but I was particular about making the target of providing value to "people" in the mission. Although the idea of turning data into energy was there from the beginning, we initially thought it would be for companies. However, in order to realize this vision, we must implement a mechanism that permeates society as a whole. And although society is bigger than a company, in the end who will benefit from it is not only Japan, but all people around the world, so this mission came about.
We are currently focused on companies, but we plan to broaden our approach to governments and individuals so that our services can provide value. Ultimately, I would like to use FLYWHEEL technology and know-how to improve social infrastructure such as traffic signals.
All-in-one platform "Conata" that turns data into value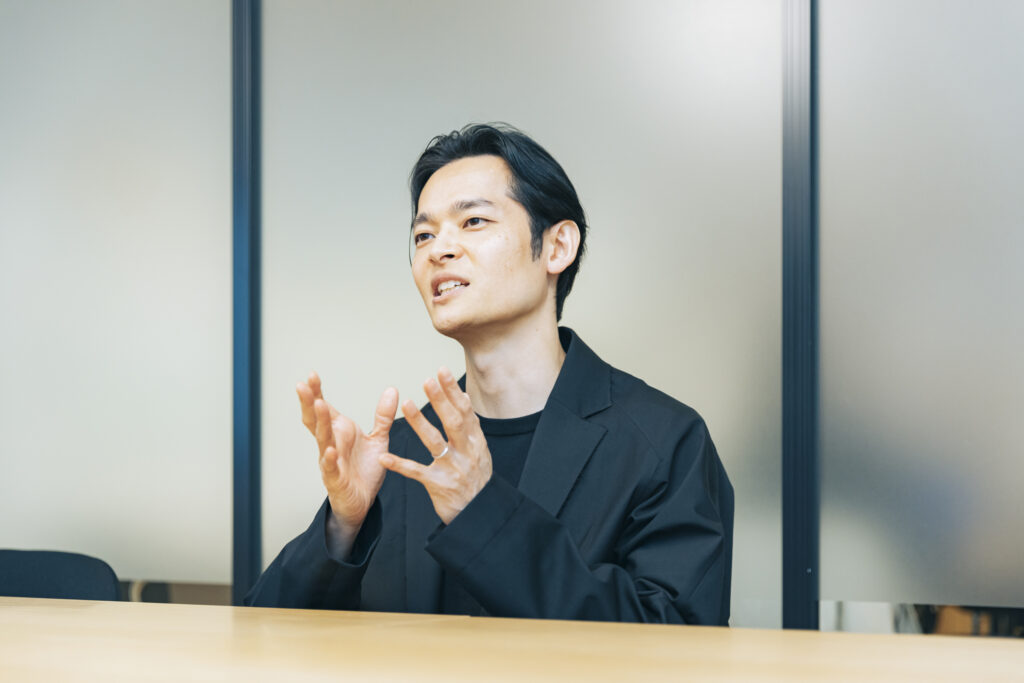 Please tell us about Conata.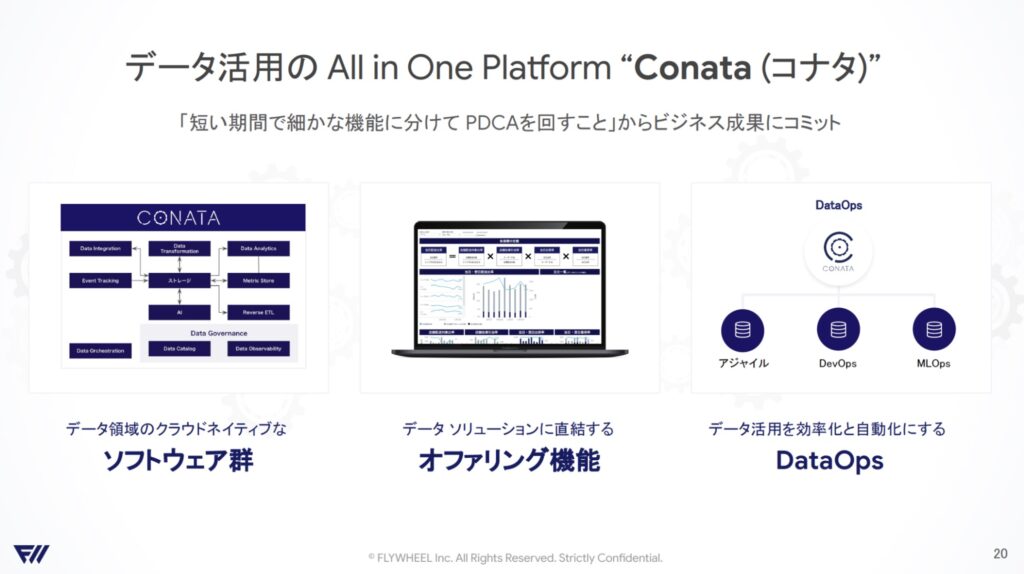 Conata is a platform that not only analyzes data, but also includes solutions that utilize data.
There are two major features. The first is that both the part that processes the underlying data and the solution for using the data come together as a set. The second is the ability to handle data from various fields, such as marketing, recommendations, searches, ad distribution, and coupon distribution. Furthermore, we aim to reduce costs and optimize overall corporate activities in fields other than marketing, such as demand forecasting, inventory management, and logistics optimization. In this way, we aim to optimize the company as a whole by improving the efficiency of operations in the back office and operations and increasing sales in the marketing area.
Conata also supports growth such as improving the accuracy of demand forecasts, which is becoming important in data utilization. It's easy to create a model for demand forecasting, but it's quite difficult to keep improving the accuracy. It will be necessary to create a new model of However, Conata is software that packages all of these into one, so it is characterized by being able to utilize data quickly and at low cost.
Furthermore, with the aim of incorporating data utilization into daily work, we are conscious of a platform that is easy to use in daily work, and we have also devised actionable dashboards. Even if the model itself is handed over, it may not be very useful, so we believe that it is extremely important to be able to intuitively perform more useful analysis on the dashboard, and we have received feedback that it is actually easy to use.
Please let me know how you implemented it or how you are realizing the solution.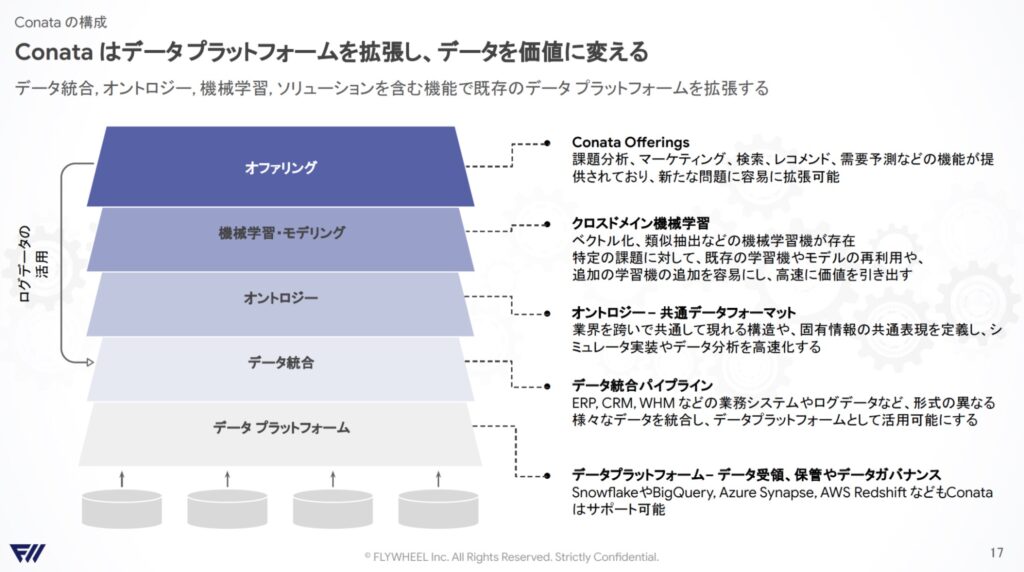 Conata's components are roughly divided as shown in the image above. Data binding is the domain of Conata, and we are doing things like integrating data and building pipelines. After that, there is a part that is put into a common data format called ontology, and creating a "digital twin" that virtually reproduces real information becomes one layer, and on top of that, a machine learning model is created. , the solution consists of four steps going up again.
​Conata can also connect to third-party marketing automation. It is an image that you can choose either the solution provided by our company or the solution of other companies as needed.
And the data integration part is also a feature of Conata. Most of the similar solutions require structured data, for example, there is a category called Bread, and in the lower layer there are sweet buns and side dish breads, and within sweet buns there are cream buns and red bean buns. The stored data is managed on the table. Therefore, indefinite data that is difficult to label, such as product descriptions and reviews on EC, is judged to be unusable data.
However, at our company, we have extracted it and realized a mechanism that can automatically understand what it means by converting it into an ontology. Information in descriptions and reviews should be important information for analysis. The strength of our service is that we can analyze not only conventional structured data, but also data that is close to such qualitative information. FLYWHEEL has several engineers who have worked on search engines, etc., so I think this is the result of their experience being put to good use.
Please give me a concrete example.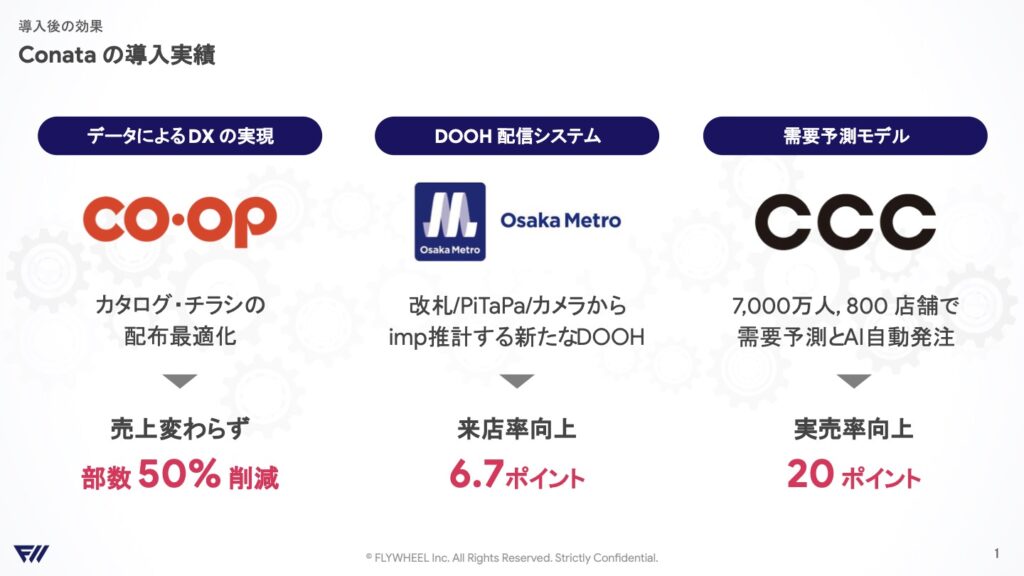 This time we will introduce the case of coop. Co-op has three main businesses: stores, e-commerce, and home delivery. In the home delivery service, in addition to product information, catalogs containing information that encourages users to place orders, such as menu proposals, are distributed to each household. In the midst of this, users actually felt guilty about throwing away the large volume of catalogs they received, and voiced that they wanted to do something about it.
However, reducing the amount of catalogs distributed is a difficult decision for Coop. Because sales may go down. Therefore, we performed a simulation based on past data on the digital twin. Specifically, we verified that reducing paper use in this way should not have a significant impact on sales, and made it possible to make decisions based on data.
And as a result of actually conducting a simulation, the result was that even if the amount of paper was reduced by 50%, sales would hardly change. The cost of paper accounts for a large proportion of the home delivery business, so we were able to leave a big impact. In addition to reducing costs, we were also able to relieve users of the guilt of throwing away paper, which was an issue in the first place. was able to leave
In fact, as a specific number, about 160,000 trees were saved without cutting down in a year, and it was an effective initiative from the perspective of SDGs. In this way, we have been evaluated from various perspectives, and we would like to increase the number of DX cases with such a large impact.
Make an impact on your business with data. What are the five values of the company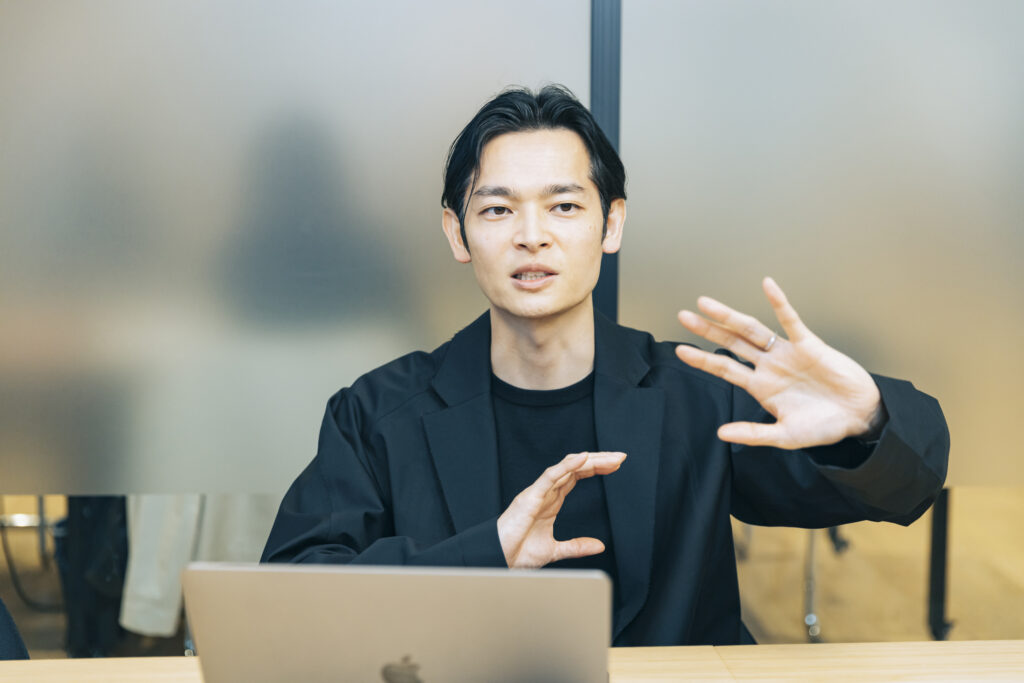 We are developing a wide range of data and artificial intelligence, but what kind of people are working most?
I think it would be easier to understand if you introduce the company culture, but there are five values and they are as follows.
Believe in Data
Focus on Impact and Decide What You Do Not Do
Move Fast and Break Things
Respect Open Communications and Feedback
One for All, All for One Goal
For example, the second and third are to move quickly, decide what to do, and make an impact anyway. And the fourth and fifth are the values of open communication, respecting feedback, and one for all, all for one goal. I think there are many employees who actually sympathize with this way of thinking and put it into practice.
And since we are a tech company, we place great importance on our engineering culture, and 65% of our employees are engineers. It is important to create an environment in which engineers can play an active role.
However, to avoid misunderstandings, I believe that many of our engineers are interested in producing results in business. While it is important to have a research perspective such as improving technical skills, even as an engineer, I emphasize how to provide value to the customer in front of me and how to produce business results. doing. Therefore, I get the impression that many members are committed to producing professional results.
Could you give a message to startups in the Pre-Seed to Seed stage?
I'm not in a position to give advice myself, but if I were to tell my past self, there would be two main things. The first is the question of who will be the lead investor, so it is important to proceed with equity procurement with an understanding that the policies of finance and business itself will change significantly. I myself consulted with many startup seniors and decided how to proceed.
The other is that it is necessary to utilize various financing methods, including dead financing. Fundraising methods are changing with the times, so I think it is important to strategically design from various options.
Is there anything that has contributed to the growth of you or your business?
"Enjoy change". Technology is advancing day by day. As society changes, companies, especially startups, need to keep changing. And I need to continue to change myself according to the changes in the company's stage. There are times when I struggle, but I believe that by enjoying those changes, I can grow both the company and myself.
Also, my life theme is "Okagesama", and I value my relationships with people and fulfill my responsibilities.
For example, I still value the people who supported me when I was founded, and the connections I made during my Google and Facebook days. I believe that such relationships are the foundation of who we are today and have led to our growth.
Finally, please give a few words to the readers.
We believe that "why do we work?" is important. For example, my goal is to "provide new value to society", so I am doing my work with as much energy as possible. I would be happy if I could work with such people, and a startup is an environment that can dramatically accelerate my growth. If you want to grow, please jump into a startup.