The Current Scenario of Space Startups -Satellite Startups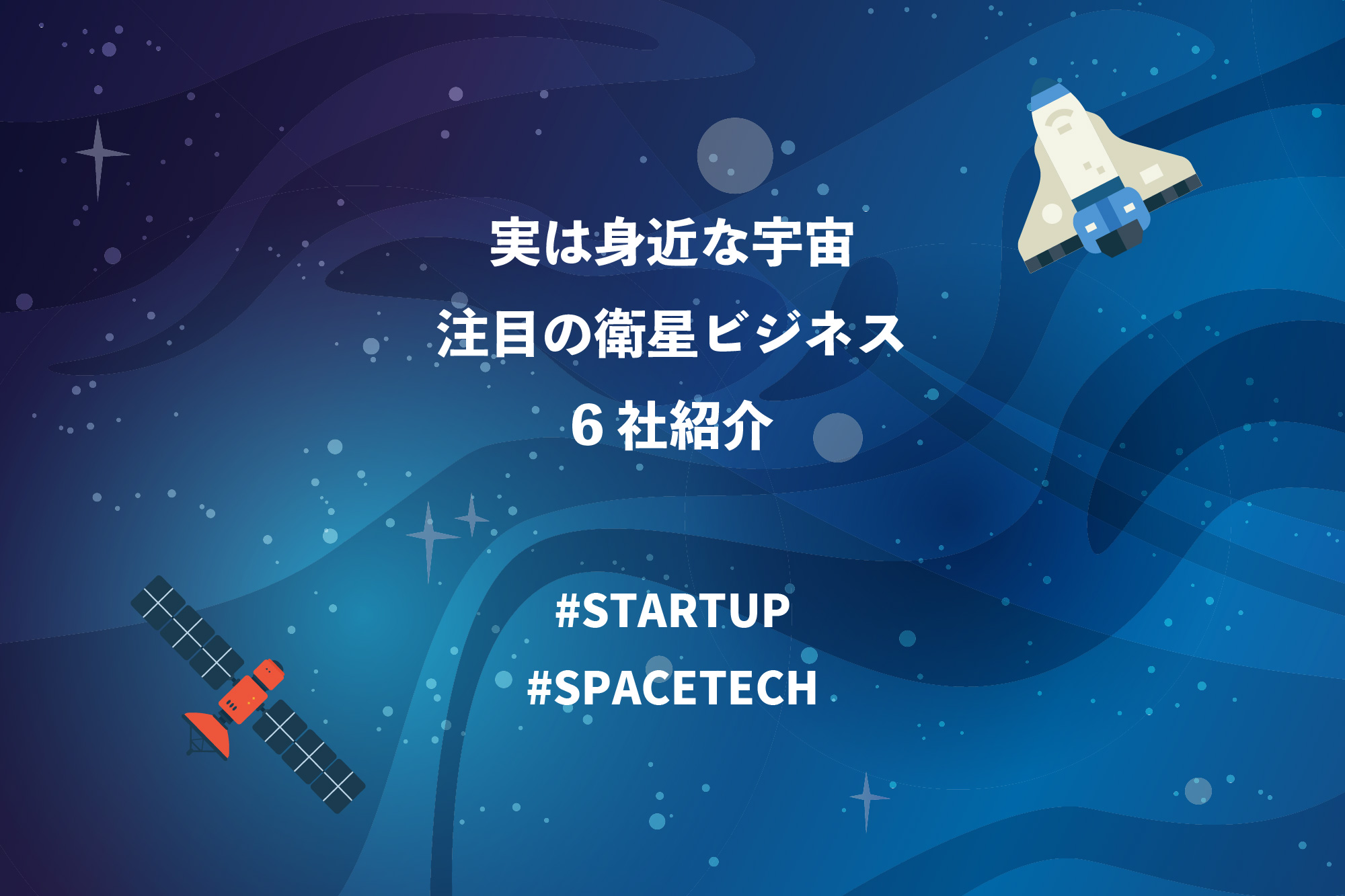 In December 2022, the Fumio Kishida Cabinet announced the Startup Development Five-year Plan. In the second supplementary budget for FY 2022, the government plans to invest 1 trillion yen to build a human resource network for startup creation and strengthen the supply of funds for startups. Of that, the "Deep Tech Startup Support Program" led by the Ministry of Economy, Trade and Industry (METI) has allocated 100 billion yen to the space industry, which it considers one of the promising industries.
While most space startups are overseas, many have also been established in Japan. In our first commentary on space startups, we have chosen to focus on small satellite development startups.
Market size of space business
The overall market size of the space business is estimated at approximately 40 trillion yen and is expected to grow to approximately 100 trillion yen by 2040. According to an article by the space business publisher Sorabatake (What is space business? Industry map, business models, notable companies/brands, market size), satellite services and ground facilities account for about two-thirds of the international market.
In addition, the market size of the Japanese space industry in 2020 was approximately 1.2 trillion yen, and the Basic Plan on Space Policy formulated in 2020 aims to double the size of the space industry to approximately 2.4 trillion yen by the early 2030s.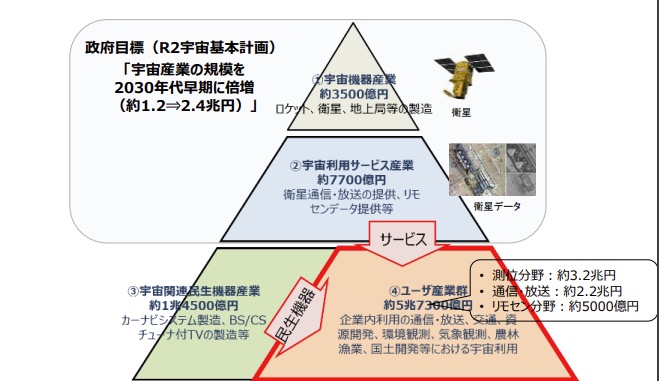 In this way, the space industry can be positioned as one of the growth industries aiming to double its size over the next 10 years. Space startups support the growth of the space industry. Let's discover what kind of space startups exist in the market.
Satellite development businesses for the resolution of global issues
To begin with, how many space startups operate in Japan? According to the industry report "SPACETIDE COMPASS Vol.7", published in November 2022 by SPACETIDE Foundation, there were 79 space startups in Japan as of July 2022.​
We can see many players besides Astroscale and Synspective, which our readers are already familiar with, as these companies rank high in cumulative funding among startups in Japan.
These 79 startups can be further organized into six different segments.
Satellite infrastructure construction and operation
Transportation
Utilization of space data and technology
On-orbit service
Space travel and stay
Exploration and resource development
This time, we delve deeper, focusing on companies covered under satellite infrastructure construction and operation. Startups in this field aim to enrich life on Earth by developing and launching artificial satellites and building infrastructure. Specifically, the application of satellite technology in fields such as agriculture, fisheries, logistics, and non-life insurance has been increasing in recent years.
Japan has a history of launching the world's first CubeSat (*) in 2003 by the Nakasuka & Funase Laboratory at the University of Tokyo..
# CubeSat
A nano-satellite (of 1U size) with a cubic size of 10 cm per side and a mass of about 1 kg
About 20 years have passed since then, and many small satellites have been launched worldwide. The United Nations Office for Outer Space Affairs, based in Vienna, publishes a catalog of man-made objects launched on its Outer Space Object Index website, showing that there are currently about 14,000 satellites in orbit.
The most common small satellites in orbit today are called small communication satellites. Users can access the Internet via small communications satellites operated by satellite Internet providers. Even in areas with unstable infrastructure or remote areas, it is possible to access the Internet as long as there is a satellite antenna. This is expected to help solve the problem of the global digital divide.​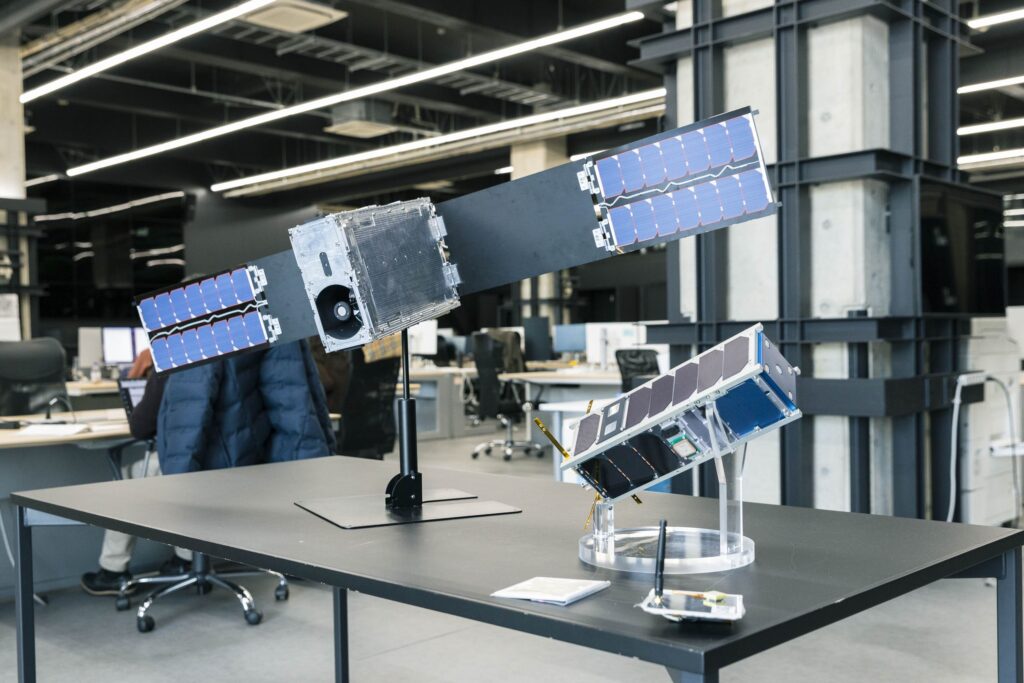 [Related article] Interview with the founder of Arc Edge Space, which develops microsatellites
Potential of nano-satellites that I realized from my experience when stationed in South America. Interview with Mr. Fukuyo, ArkEdge Space Inc.
"Our goal is to provide basic infrastructure through microsatellites" JICA and the Ministry of Foreign Affairs are working on overseas utilization of satellites and the Basic Plan for Space Policy...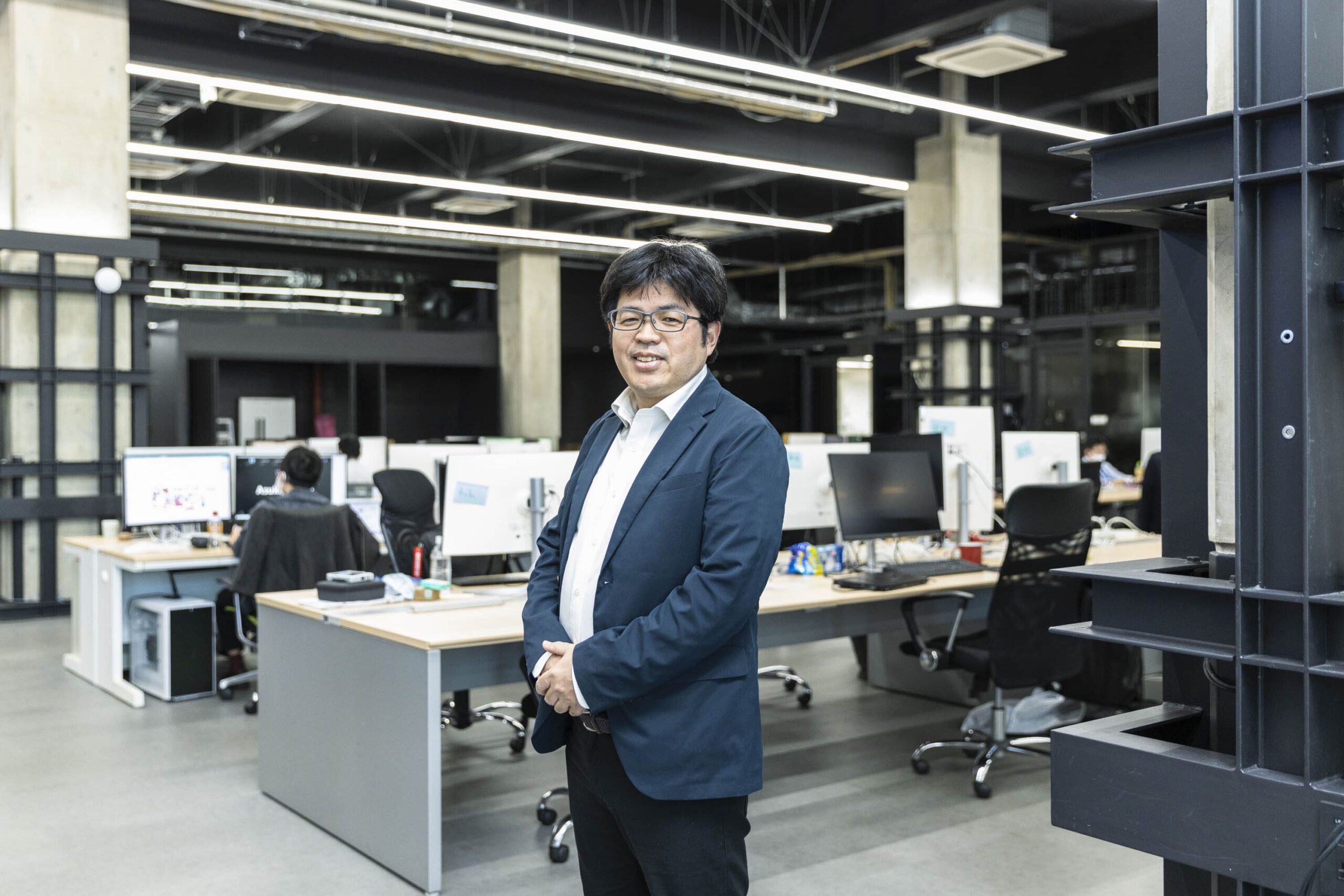 In addition, many Earth observation satellites have been put into orbit to monitor the ever-changing environment of the Earth from space. Earth observation satellites are equipped with sensors that capture the electromagnetic waves emitted and reflected by the Earth, making it possible to observe characteristics and changes on the Earth's surface and atmosphere. These fields, particularly "satellite remote sensing", are expected to contribute significantly to solving global issues.
Introduction to satellite startups
So, what players are in the satellite business?
We will first introduce some domestic business operators.
Axelspace
Founded in 2008, Axelspace has a long history among Japanese space startups.
The company is developing a next-generation Earth observation platform AxelGlobe and operates 5 small GRUS satellites, the highest among Japanese satellite startups.
Despite being small, GRUS is an optical Earth observation satellite that achieves a ground resolution of 2.5m, enough to identify a vehicle on the ground. AxelGlobe began service in May 2019 and has been able to capture images once every two days since June 2021. It has found applications in agriculture, disaster prevention, and news reporting in Japan.
In April 2022, Axelspace signed a memorandum of understanding with MISUMI Group Inc. and YUKI Holdings Inc. to build a "spacecraft manufacturing alliance" and announced the launch of a new service AxelLiner, aiming for further business growth.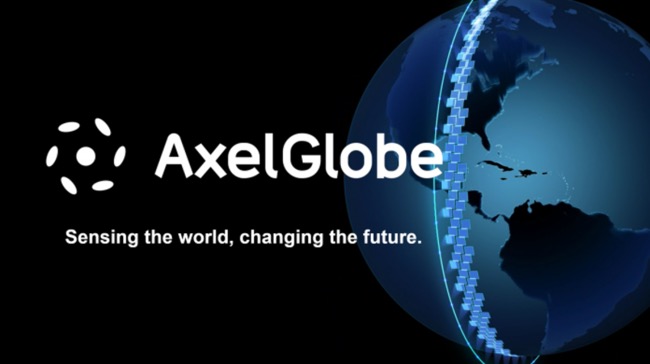 Synspective
Synspective is one of Japan's leading startups. Since its founding in 2018, the company has successfully raised 22.8 billion yen in funding. Synspective develops small satellites called SAR (Synthetic Aperture Radar) satellites, which, unlike optical sensors, use radar for Earth observation. In September 2022, the company launched its first commercial demonstrator StriX-1 and announced that it had successfully acquired images in December 2022.
The company develops satellites and solutions that utilize satellite data, such as Land Displacement Monitoring (LDM), which measures ground risk using satellite data, and Flood Damage Assessment (FDA), which uses satellite data to assess flood damage quickly.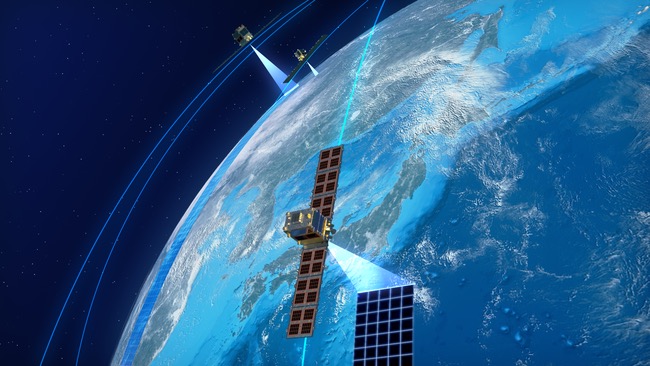 warp space
WARPSPACE Inc. is a startup that develops small satellites called relay satellites that solve the communication issues of small Earth observation satellites. In general, small Earth observation satellites launched into Low Earth Orbit face the problem of having few opportunities to connect with the ground. WARPSPACE is trying to solve this problem with the "WarpHub InterSat" system, which utilizes optical communication. The first satellite, LEIHO, is scheduled to be launched in the second half of 2024 at the earliest.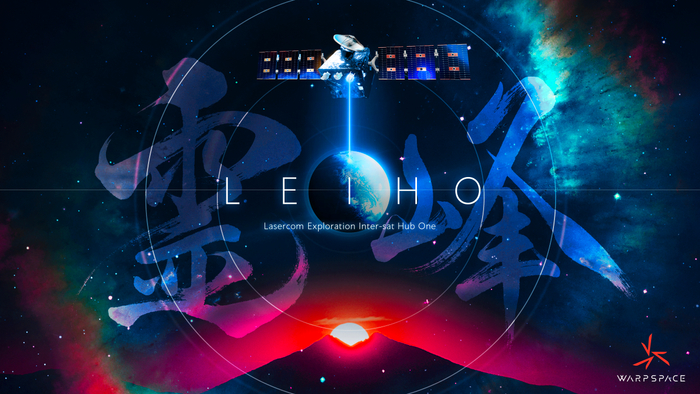 [Related article] Interview with the founder of Warpspace, which develops optical communication services in outer space
Challenge the world with entrusted advanced technology. Serial Entrepreneur x Dream Team to realize the construction of a space optical communication network and the future of the space industry
"Towards a communication carrier in outer space" Satoru Tsunemachi, who is taking on the challenge of constructing an optical communication network in outer space, says…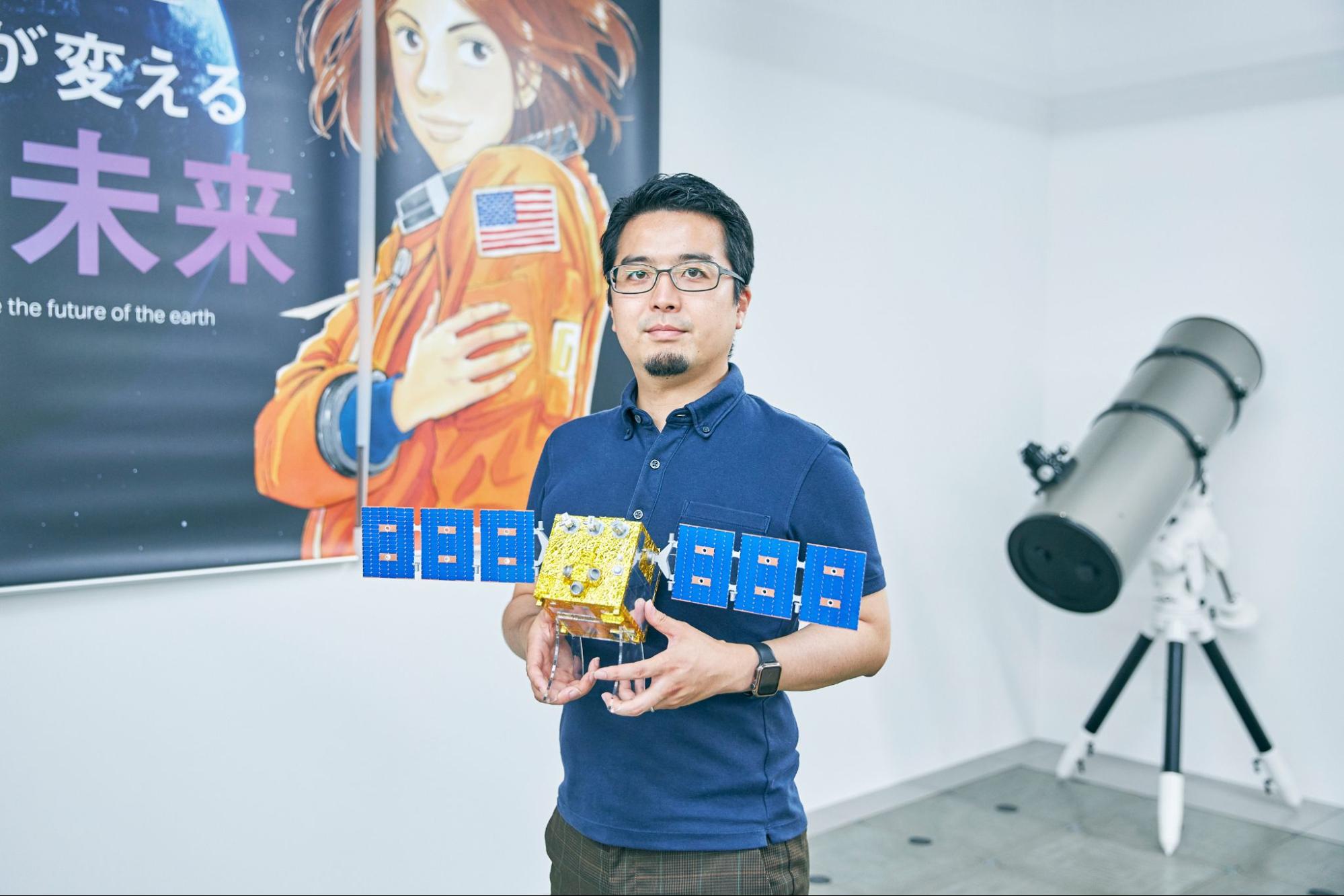 Next, we will introduce overseas companies.
SpaceX
​SpaceX has become a leading global company. In parallel with rocket development, it is developing Starlink, a small communication satellite service. More than 3,000 Starlink communication satellites have already been deployed in Low Earth Orbit at about 550 km altitude, providing an Internet environment to mountainous areas and other regions where it was difficult to connect to the Internet with conventional infrastructure. In December 2022, it was reported on SNS that the number of subscribers to the service had reached 1 million.
In December 2022, it was reported on SNS that the number of subscribers to the service had reached 1 million.
In September 2021, KDDI formed a business alliance with SpaceX and signed an agreement to use Starlink for the backhaul lines of its au base stations. The number of Japanese users of Starlink is seen to be gradually increasing.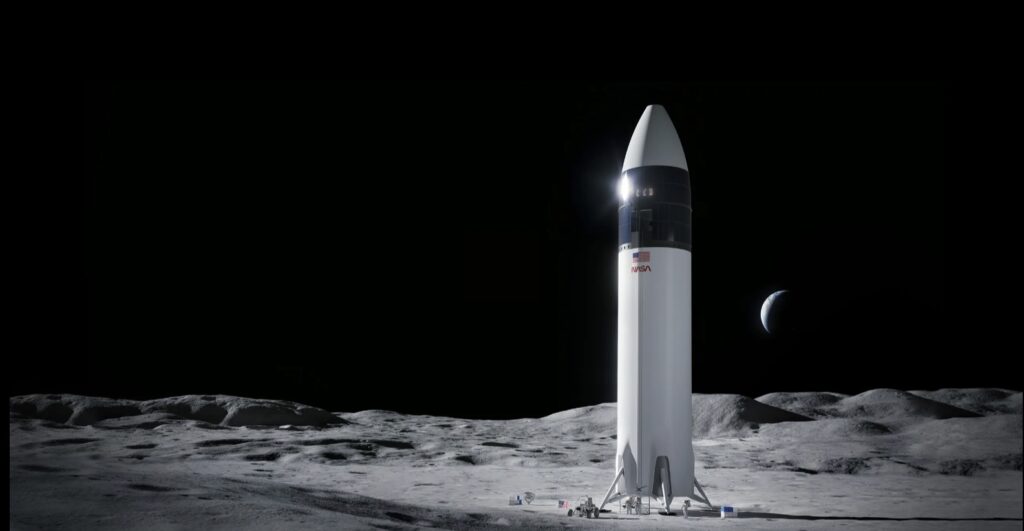 Planet Labs
Founded by NASA engineers in 2010, Planet Labs is a leading company in the field of Earth observation satellites. It was listed on the New York Stock Exchange under the ticker symbol "PL" in December 2021 using a SPAC (Special Purpose Acquisition Company).
By 2022, the company launched 529 small satellites for three satellite constellations: Dove, RapidEye and Skysat. After going public, Planet Labs has acquired VanderSat, which provides satellite data services, and Salo Sciences, which protects and monitors ecosystems and is also focusing its efforts on satellite data analysis services.
From 2023, it plans to launch a small satellite constellation called Pelican with the highest performance ever. Pelican will consist of 32 small satellites with a resolution of 30 cm and aims to make up to 12 observations daily of the same point. Planet Labs is expected to drive the market further for Earth observation satellites in the space business.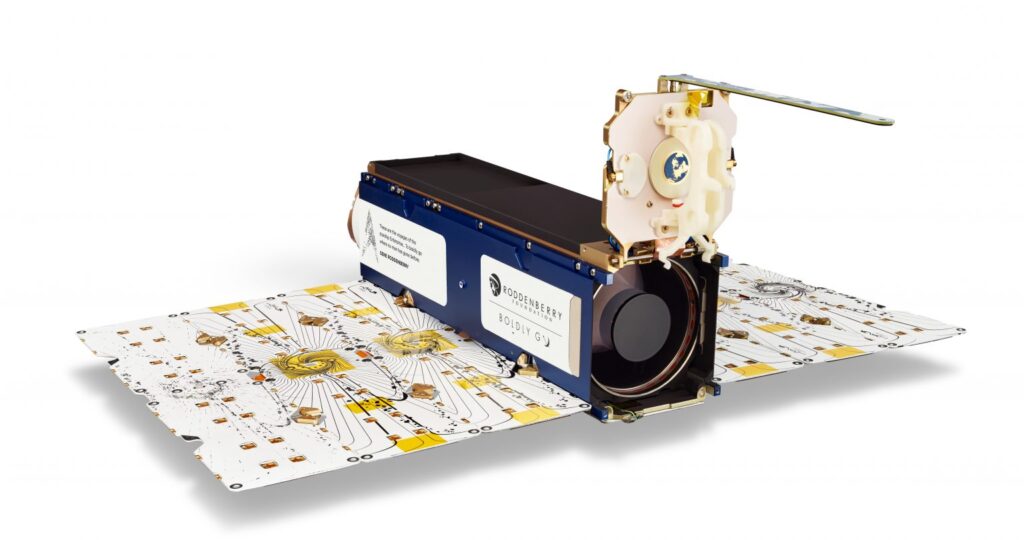 Satellogic
Satellogic is a space venture company founded in Argentina in 2010. Like Planet Labs, it was listed on the NASDAQ stock market in January 2022, utilizing a SPAC (Special Purpose Acquisition Company). The most distinctive feature of the company's satellites is that they are equipped with hyperspectral cameras, which can detect wavelengths many times smaller than ordinary optical sensors.
General optical sensors, called multispectral sensors, observe the infrared region by dividing it into 3 to 10 wavelengths. Hyperspectral sensors, on the other hand, can subdivide the same region into several tens to 300 wavelengths for observation, enabling detailed object recognition.
In recent years, an increasing number of companies have been developing small satellites equipped with hyperspectral sensors, due to which this technology is currently attracting attention.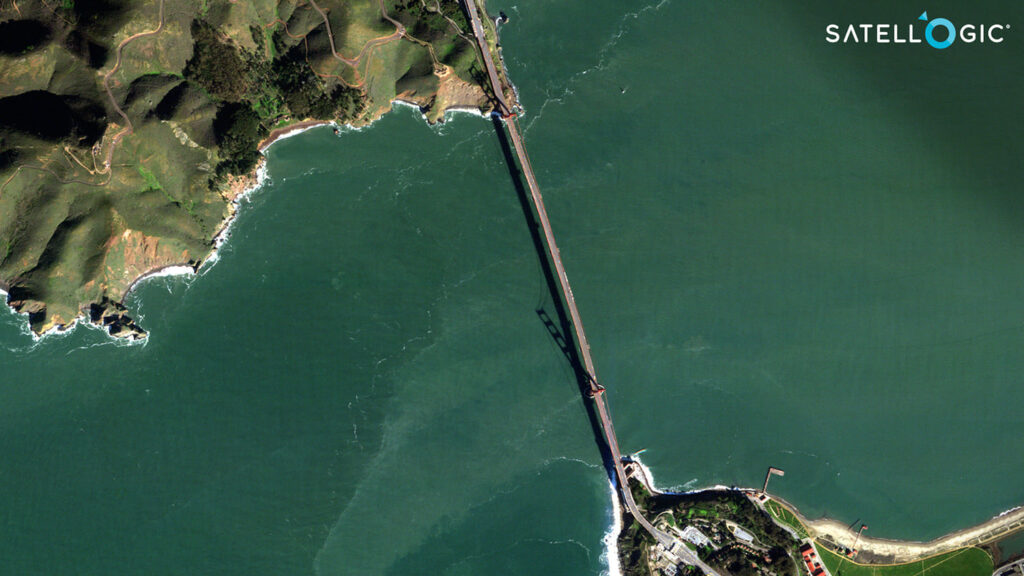 Future growth of small satellite development
Finally, let us consider how the launch of small satellites will lead to market growth in the future. We will explain by citing some material from "Smallsats by the Numbers 2023", published in February 2023 by BryceTech, an organization that publishes detailed reports on the space industry.
First, let us start with the definitions of small satellites by weight. Small satellites are defined by the Federal Aviation Administration (FAA) of the United States as satellites weighing 600 kg or less and are classified as follows. ​
| | |
| --- | --- |
| category name | weight (kg) |
| Femto | 0.01~0.09 |
| Pico | 0.1~1 |
| Nano | 1.1~10 |
| Micro | 11~200 |
| mini | 201~600 |
Classification of small satellites by weight
The following pie chart shows the percentage of small satellites launched in 2022, categorized by weight.
The pie chart shows that the launch of communication satellites accounts for 80% of the total, the bulk of which are small communications satellites from SpaceX and OneWeb. The total number of communication satellites launched by the two companies in 2022 was 1,736, accounting for 94.2% of all small communication satellites.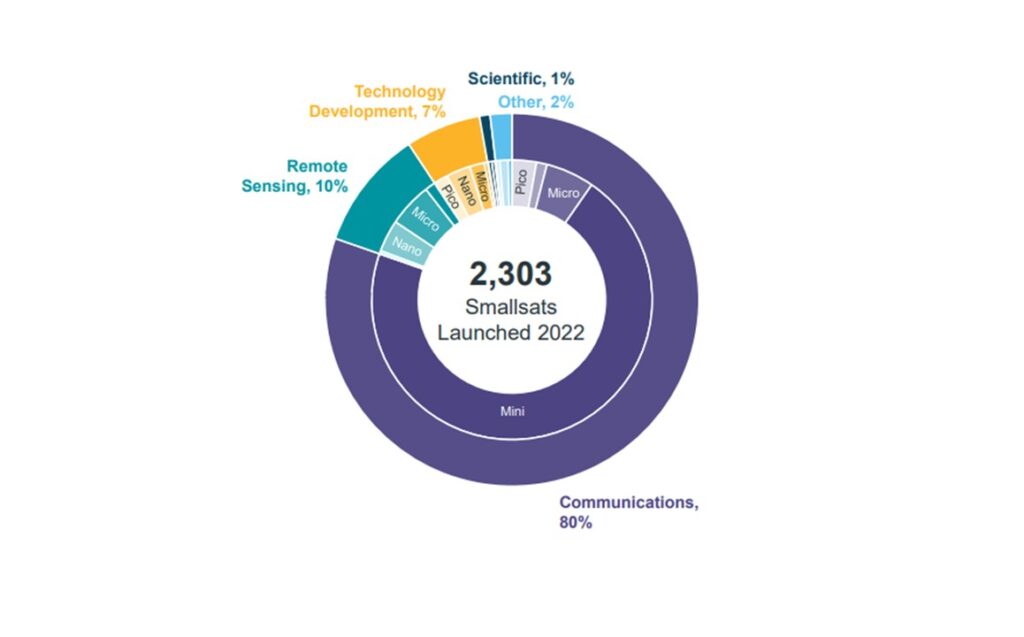 Next, look at the number of launches for each weight category of microsatellites since 2013. You can see that the number of launches has been increasing rapidly since 2020. The significant growth of the Mini category is due to Starlink satellites weighing around 260 kg.​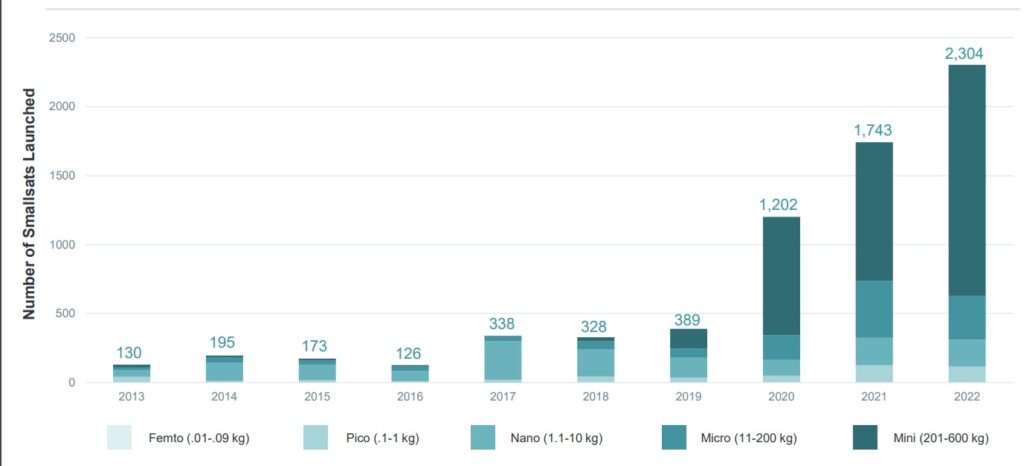 Excluding the number of launches by SpaceX and OneWeb, the following graph shows that the Micro and Mini categories are growing. In recent years, there has been an increase in the number of small satellites launched using small rockets. Only a limited number of small satellites can be carried in a single launch because most small rockets have a transportable weight of 100 to 250 kg. The existence of small rocket companies that enable stable launches is also important for the growth of the small satellite market.​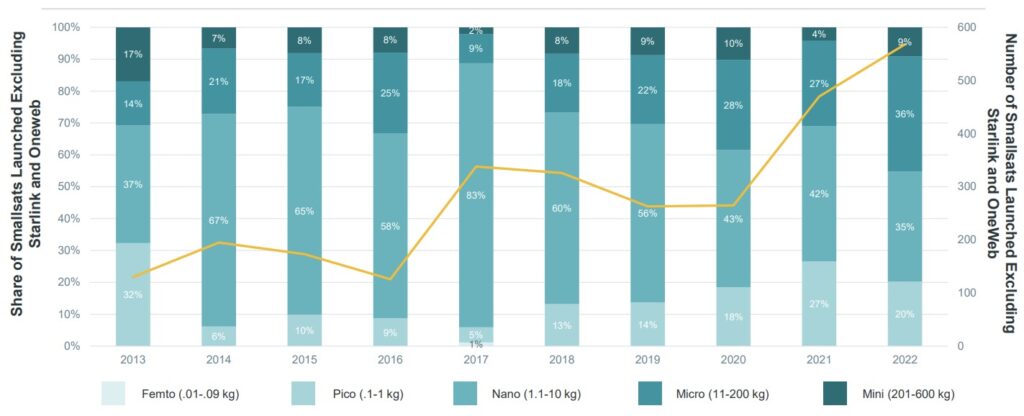 Finally, let's look at the overall market size of the space industry.
The global space economy in 2021 was valued at 386 billion dollars (approximately 52.8 trillion yen), with the satellite-related services market accounting for approximately 72.3%. It may come as a surprise that the ground infrastructure market accounts for 36.8% of the entire space industry.
When we think of the space industry, we tend to think of rocket launches and space travel, but it is clear that the satellite-related services market drives the space industry.​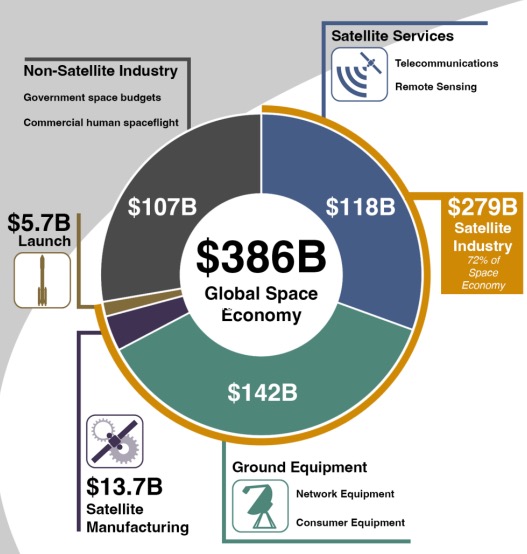 JP-Startups has also interviewed many space startups. We will continue to watch the space industry as one of the growth industries!