[3/18-3/24] Featured startup news and funding information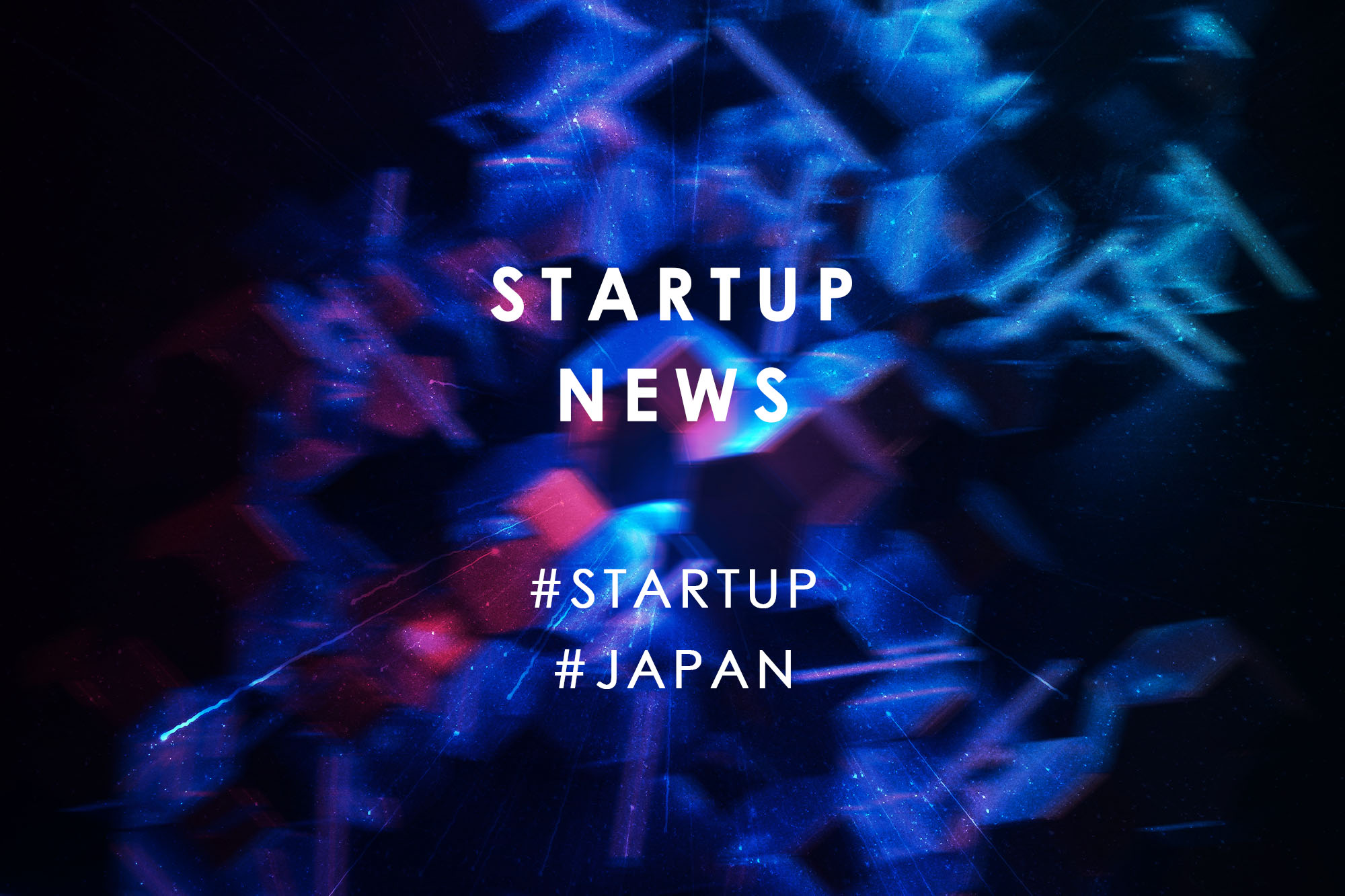 JP Startups presents a selection of startup news and funding information that has garnered significant interest, published between March 18, 2023 to March 24, 2023.
Editor's Comments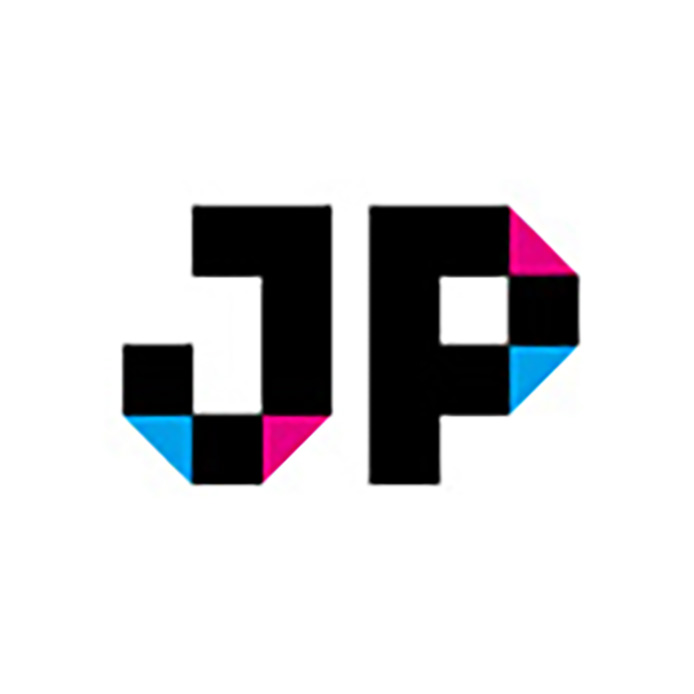 The overall volume of funding news was relatively modest this week. However, Zeroboard, a company we previously interviewed, reported a considerable Series A funding of 2.5 billion yen, which is significant considering the current market conditions. Sustainability was also discussed in the March 28 webinar, and this area is still hot in 2023.
We also covered Curreio, a drug discovery startup showing promise in terms of the lineup on the investment side, and Sorajima, a vertical-scrolling manga (webtoon) production studio.
In ecosystem-related news, we covered the establishment of the second fund of Oisix, which also produced Base Food. Those who are aiming for food startups should consult with them.
Webinar Announcement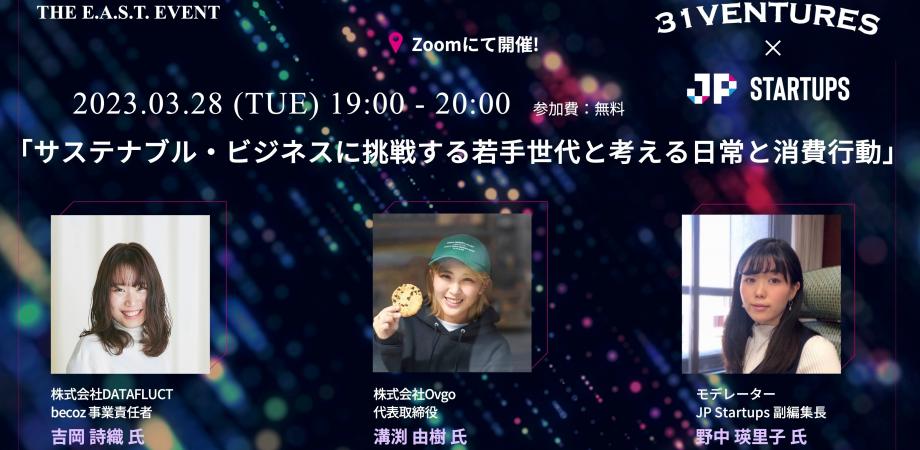 JP Startups also conducts webinars to explain hot keywords with startups that are in vogue. The first session will be held on March 28, 2018, "Daily Life and Consumption Behavior Considered by the Younger Generation Challenging Sustainable Business". The webinar is free of charge. Be sure to check it out!
Startup News
Oisix ra daichi's Future Food Fund No. 2 Fund, a Japanese Food-Focused CVC (Announced on March 23, 2023)

Future Food Fund Inc., an investment subsidiary operated by Oisix ra daichi Inc., a provider of food subscription services, announced the formation of a CVC fund specializing in the food innovation field, "Future Food Fund No. 2 Investment Business Limited Liability Partnership" (hereinafter referred to as FFF No. 2 Fund).
Future Food Fund Inc. is a Japanese CVC specializing in the food industry, established by Oisix ra daichi Inc. operating Oisix, which is an e-commerce website selling organic and specially cultivated vegetables and additive-free processed foods. The Future Food Fund No. 1 Investment Project, formed in 2019, has raised 2 billion yen from 14 operating companies and invested in 19 startups (including 5 international companies). The investee, Base Food Inc., was listed on the Tokyo Stock Exchange Growth Market in November 2022, approximately three years after the investment.
The FFF No. 2 Fund was formed in January 2023 and aims to reach a total size of 7 billion yen by December 2023 closing. The fund will continue to invest in various startups in the characteristics and abroad and will build an ecosystem by continuously providing a wide range of implementation support to investees by maximizing the use of LP's platform and business characteristics, and will help startups' technologies and services grow faster. Click here for the original press release.
Funding Information
[Series A] Curreio, Inc., a Cryo-Electron Microscope Structural Analysis Company, Raises 260 Million Yen (Announced on March 22, 2023)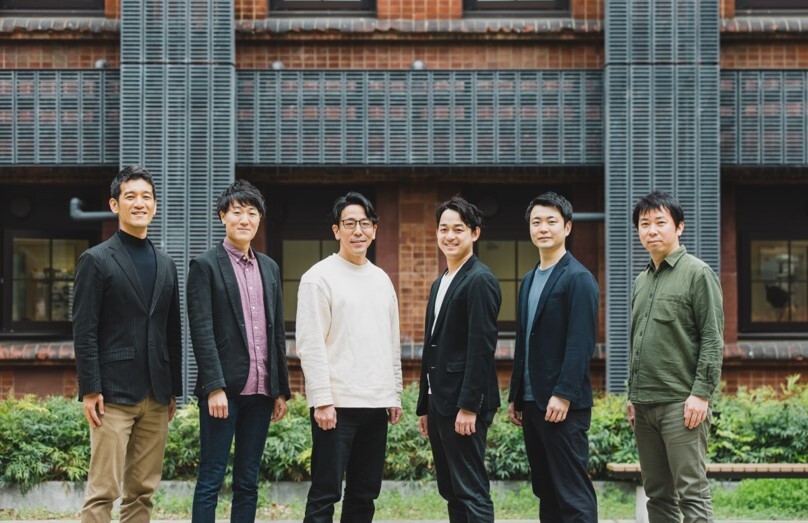 Curreio, Inc., which develops drug discovery business based on structural analysis using cryo-electron microscopy, raises approximately 260 million yen with Beyond Next Ventures No. 2 Investment Limited Partnership, T&D Innovation Investment Limited Partnership, Asahi Kasei Pharma Corporation., 3S Capital, UT Founders' Association, IKERUNippon Capital Partners, DOJIN CAPITAL Inc., Ono Venture Investment, Inc., Osamu Nureki, as well as one angel investor (name not disclosed) as underwriters. The total amount raised in the Series A round totaled 570 million yen.
Curreio, Inc. was established in August 2019 and is developing its own drug discovery and support business under the company philosophy of "realizing a safer and healthier life." Unlike conventional X-ray crystallography, cryo-electron microscopy enables structural analysis of full-length proteins of drug targets and their complexes with ligands, which are the seeds of drugs targeting these proteins. In addition, single-particle analysis eliminates the need for crystallization of the sample, enabling structural analysis that reflects the in vivo conditions of the target proteins and their complexes with ligands.
Through this funding, Curreio aims to accelerate and expand the main pipeline within its drug discovery business, develop fundamental technologies for effective use of cryo-electron microscope structural analysis technology in further drug discovery, and strengthen its R&D expenses, capital investments, and systems. Click here for the original press release.
[Series A] Zeroboard, Inc., a Provider of CO2 Emissions Calculation Cloud Service, Completes Financing Totaling Approximately 2.5 Billion Yen (Announced on March 24, 2023)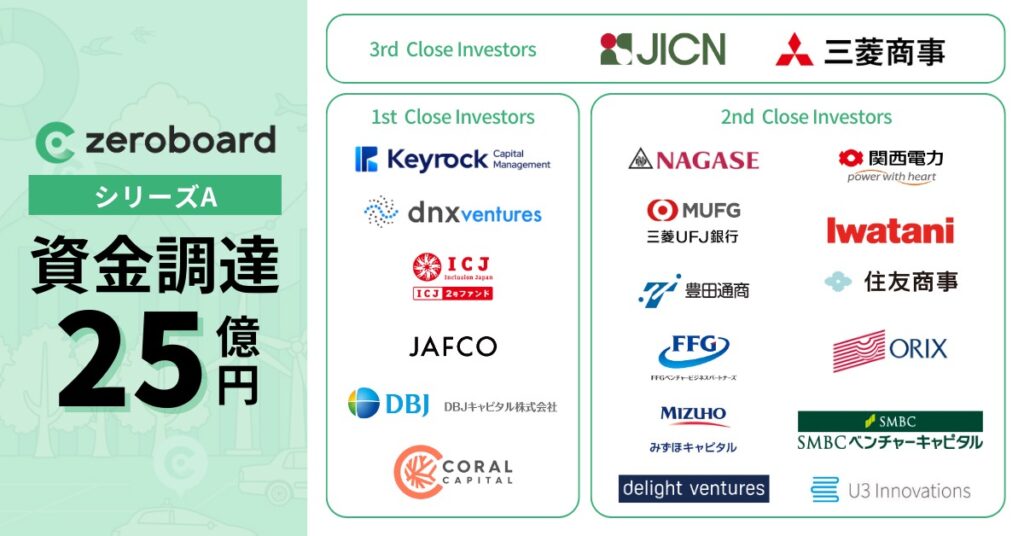 ​​Zeroboard, Inc., a provider of zeroboard, a solution that supports the calculation, disclosure, and reduction of GHG (greenhouse gas) emissions, announced the completion of the Series A second closing financing announced on February 15, 2023, as well as the third closing of an additional round of financing with Mitsubishi Corporation and also announced that it had raised an additional 2.5 billion yen in total Series A funding, with Mitsubishi Corporation and Japan Green Investment Corp. for Carbon Neutrality as the underwriters. The cumulative procurement amount in the 1 year and 6 months since the company's establishment is approximately 2.8 billion yen.
Zeroboard, Inc was established in August 2021. Zeroboard operates zeroboard, a cloud-based GHG emissions calculation and visualization service with the vision of "becoming a global decarbonization management partner". This service calculates and visualizes domestic and international supply chain emissions, emissions by product and service (carbon footprint), reduction contribution, water resources, and other factors in the cloud, and supports the output of various reports. The company uses calculations as a gateway to support corporate decarbonized management by providing GHG reduction solutions tailored to the issues faced by user companies. In addition, based on zeroboard, the company has developed and begun offering "zeroboard construction" for the construction industry and "zeroboard logistics" for the logistics industry as products with industry-specific functions.
The new shareholder, Japan Green Investment Corp. for Carbon Neutrality, is a public-private fund established in October 2022 and Zeroboard is its first investment after its establishment. The funds raised through Series A will be used to accelerate the development of zeroboard functions, strengthen the recruitment of specialists such as customer success, and expand internationally to become a global platform. Click here for the original press release.
【Related article】
CO2 emission visualization business that has been reached by taking advantage of social needs and the characteristics of the founder
"If you can see CO2, you can see a clean future"… The words "SDGs" and "ESG" appear frequently in the media…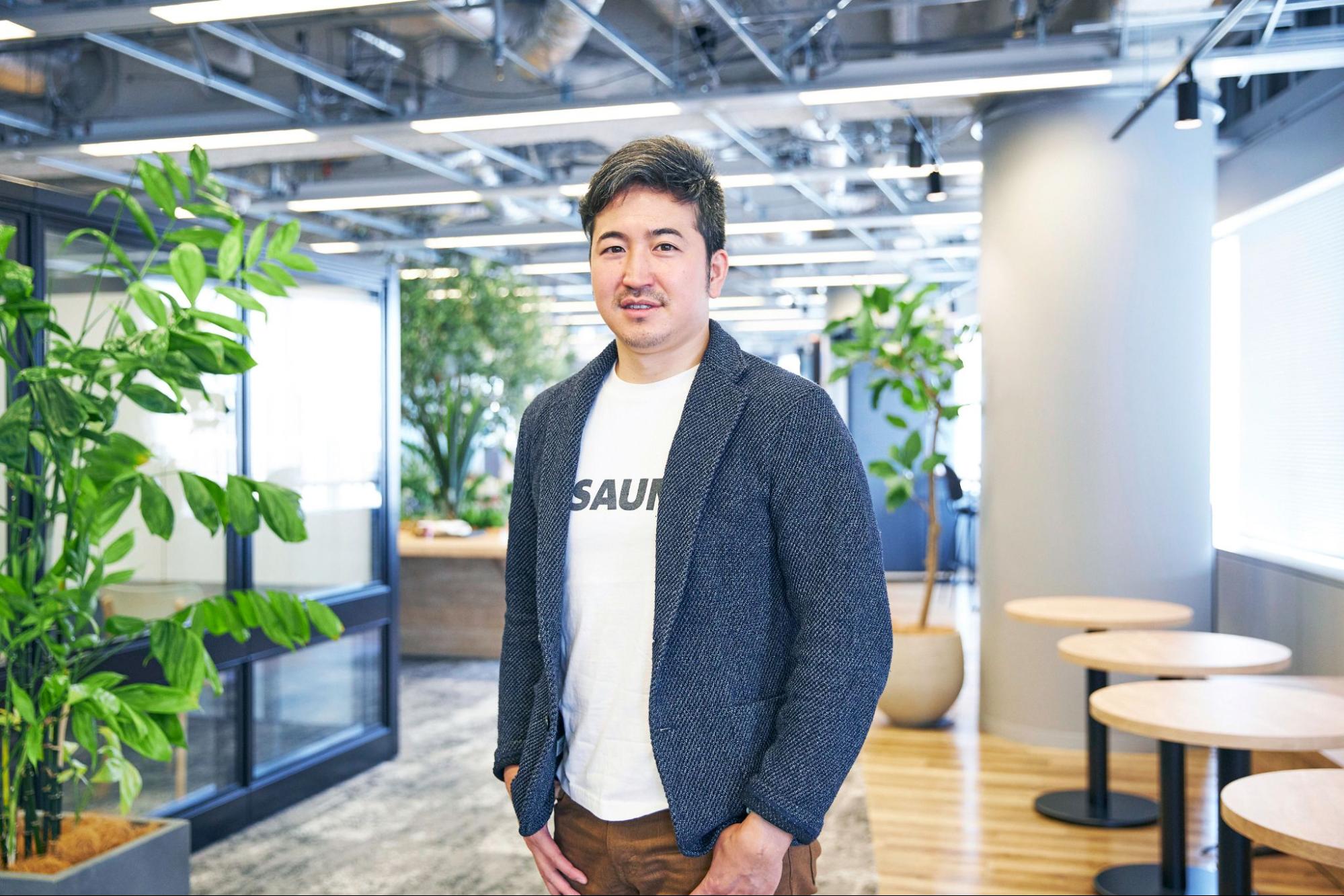 [Series B] Sorajima Inc., the Operator of SORAJIMA, an Original Webtoon Production Studio, Raises a Total of Approximately 1 Billion Yen (Announced on March 22, 2023)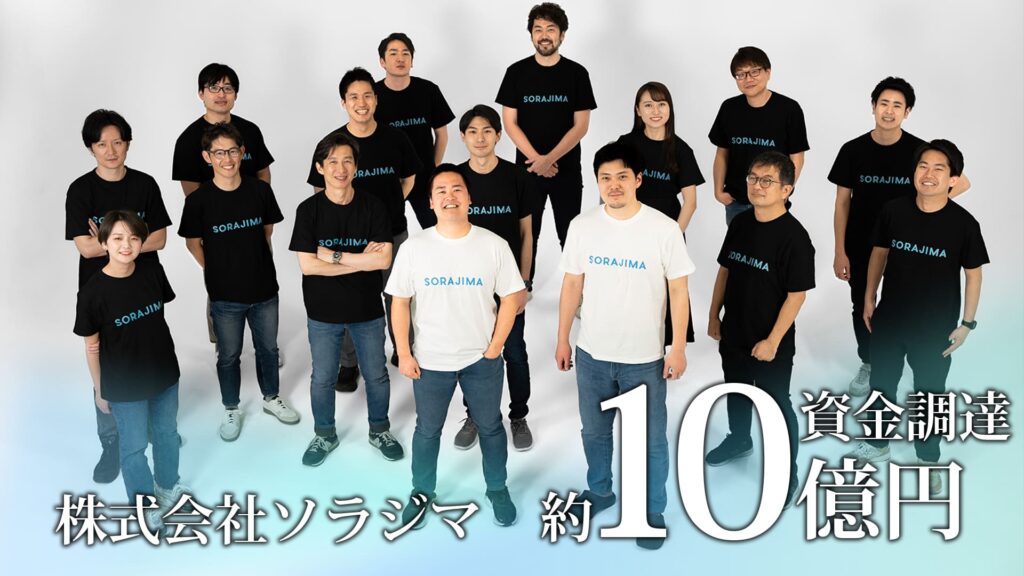 Sorajima Inc., which operates the original webtoon production studio "SORAJIMA", raises a total of approximately 1 billion yen with Z Venture Capital as the lead investor and Nissay Capital, DBJ Capital, KDDI Open Innovation Fund No. 3, Mitsubishi UFJ Capital, SMBC Venture Capital, Sumisho Venture Partners, Mizuho Capital, Dentsu Ventures, Hakuhodo DY Ventures and IZUMO Founder Shunsuke Oyu as the underwriters.
Sorajima was established in February 2019 and had been producing and distributing numerous original works in the global Webtoon (vertical scrolling manga) market with the mission of "creating content that represents this century". Currently, Webtoon's readership is expanding globally, and in FY2023, Sorajima aims to have an annual number of releases on par with the top studios in South Korea, the home of Webtoon.
Sorajima plans to use the funds raised this time to improve the creative environment for creators, increase the number of creations, and take on the challenge of global expansion through the manga app. It develops and operates cosmic (formerly known as SORACOMI). Click here for the original press release.