[2/10-2/16] Featured startup news and funding information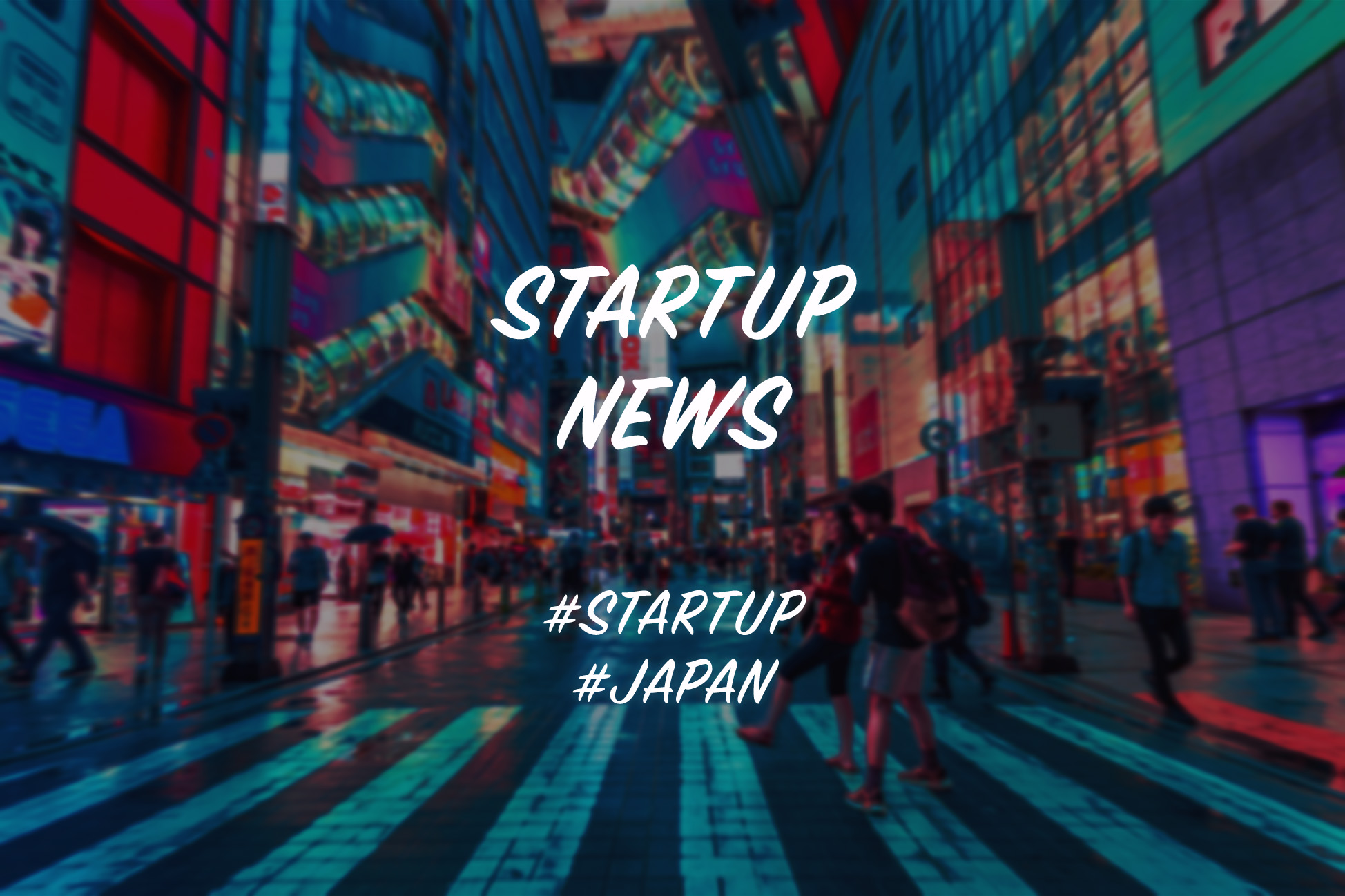 Among the startup news and funding information announced from February 10, 2023 to February 16, 2023, we will pick up and deliver the projects that JP Startups (Japasta) is paying attention to.
Editor's comments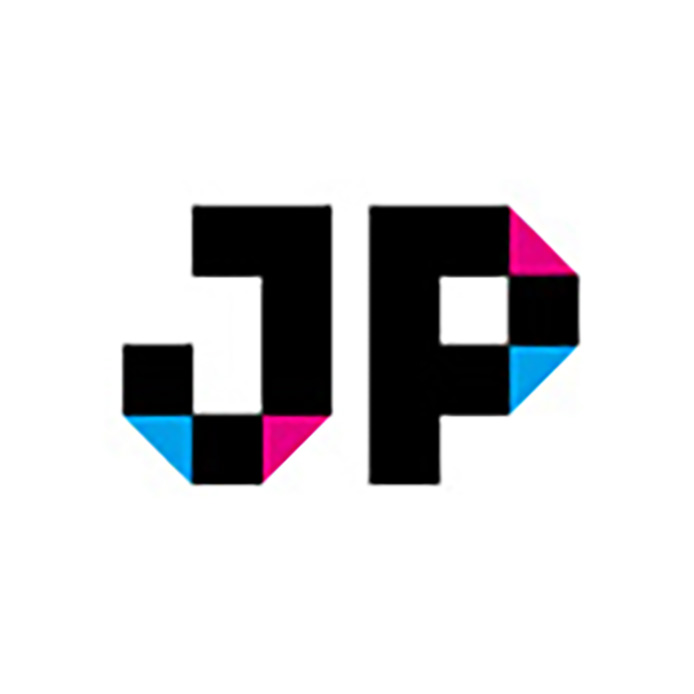 Starting last week, in this corner, we will deliver notable news related to startups, such as fund establishment and accelerators, in addition to funding information.
In Startup News, we covered the launch of the seed acceleration program for independent VC KUSABI. We have prepared a unique curriculum that eliminates the problems that were likely to occur during the transition from seed to series A, and we are looking forward to seeing how the companies that support this program will develop in the future.
Also, in the funding news, I got the impression that there were many startups performing well this week. Especially in the construction industry, environment, medical care, and IoT security fields, startups that utilize technology are gathering in areas with many issues and needs, which will be covered in detail in this article.
Startup News
KUSABI, an independent VC, launches "KUSABI α", an acceleration program for pre-founding and seed startups (announced on February 15, 2023)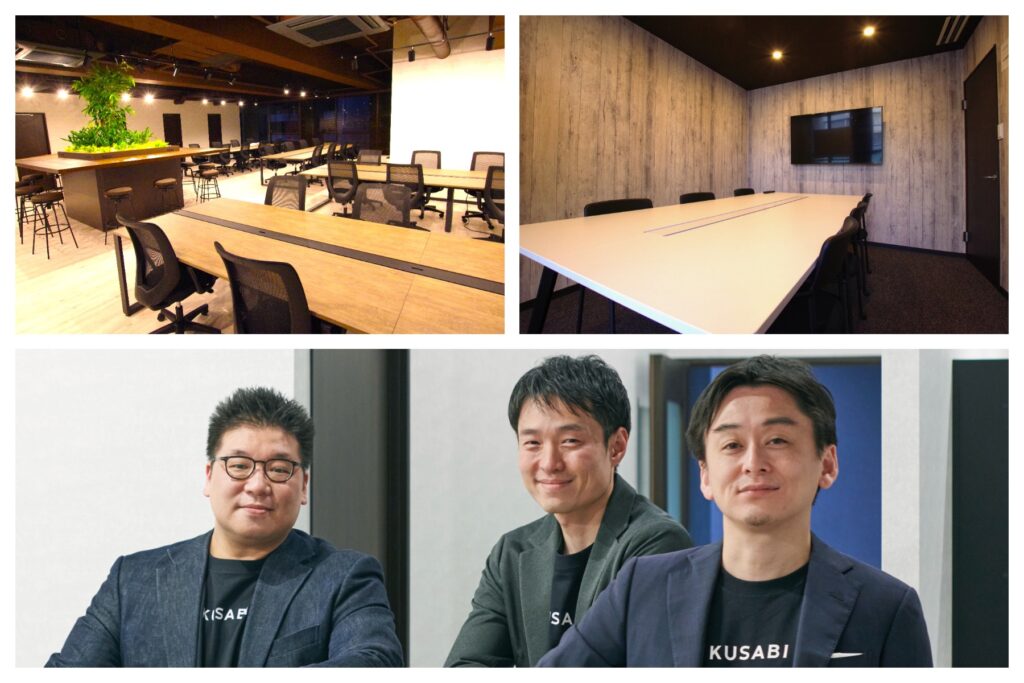 KUSABI, an independent venture capital firm that mainly targets seed and early-stage lead investments, launched an acceleration program of up to 18 months on February 15, specializing in pre-founding and seed-phase startups. "KUSABI α (Alpha)" announced the start of the program and the recruitment of the first batch of students.
As a general rule, each company selected for this program can receive an investment of 20 million yen. In addition to receiving weekly mentoring and funding support from the capitalist in charge, it is possible to attend seminars once a month, participate in a unique community, and use the shared office dedicated to Axela, which is a 1-minute walk from Kayabacho Station. .
​According to Kenyuki Nagai, KUSABI's representative partner, "KUSABI α" is a classroom lecture and practical curriculum that incorporates the uniquely defined "milestones to be achieved from the founding to Series A" into specific action plans. is prepared. In addition, based on the connections with classmates, alumni, and capitalists, it is a policy to focus on fostering a community that can smoothly solve problems at the time of founding.
Four companies, WAND Co., Ltd., Chemical Base Co., Ltd., Cynthia Co., Ltd., and ARCS Co., Ltd., are already active as the 0th batch of the program. Applications will be accepted throughout the year, and after document screening and interviews, there will be four times a year (January, April, July, and October) to participate in the program. Here is the original release.
Funding Information
[Seed] CollaboGate, which handles IoT data infrastructure solutions using distributed IDs, has raised 230 million yen (announced on February 15, 2023)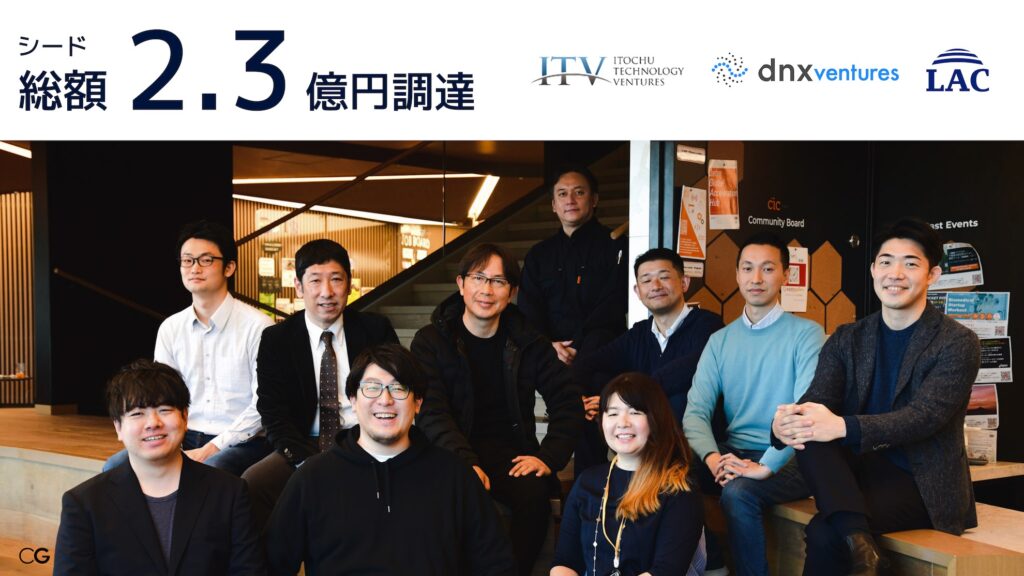 CollaboGate Japan Co., Ltd., which promotes distributed ID technology and provides data infrastructure solutions for IoT businesses, has raised a total of 230 million yen through the issuance of J-KISS stock acquisition rights. The underwriters are ITOCHU Technology Ventures, DNX Ventures, and LAC Corporation.
Distributed ID refers to a mechanism that allows service users to manage IDs at their own will, rather than the conventional centralized ID management that relies on giant IT companies. In response to the increasing need for IoT security in the world in recent years, the company provides a solution that enables safe and verifiable E2EE (end-to-end encryption) data distribution between IoT devices and the cloud based on distributed ID technology. "NodeX" is developed and provided. According to CollaboGate Japan, the service can build a data infrastructure in as little as one day and reduce costs by about 80%. It is said that they are already working on joint projects with Toshiba Tec Corporation and others, as well as joint development and sales promotion activities with Intel and others.
The company is also a member of the W3C (World Wide Web Consortium) and DIF (Decentralized Identity Foundation), which are international standardization bodies for the Web, and is involved in the promotion of decentralized ID standardization. In the future, we plan to strengthen the recruitment of engineers and business development personnel globally based on the funds raised. Here is the original release.
[Series A] LEBO ROBOTICS, which develops maintenance robots for wind power generators, has raised 300 million yen through a third-party allocation of shares (announced on February 15, 2023)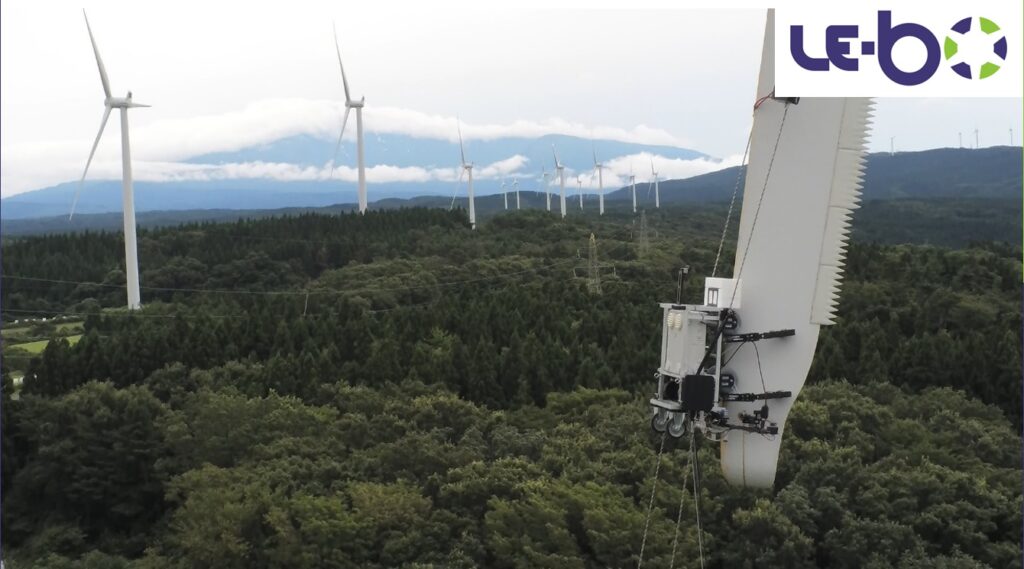 LEBO ROBOTICS Co., Ltd., which develops wind power generator maintenance robots and provides smart maintenance services using robots, has raised 300 million yen through a third-party allocation of shares. Underwriters are Abies Ventures Fund I, L.P., Mitsui Sumitomo Insurance Capital Co., Ltd., KDDI Corporation and others.
Currently, due to the global energy crisis triggered by Russia's invasion of Ukraine, renewable energy is attracting attention in countries around the world, and conversion is urgent. According to the IEA, the world's renewable energy capacity is expected to increase by 2,400 GW by 2027 (equivalent to China's power capacity). In particular, wind power generators are being installed in large numbers in Europe and the United States. On the other hand, when it comes to maintenance, there is a shortage of engineers who can inspect and repair at dangerous heights. Rising global maintenance costs for wind power generators and increasing risks to stable power generation have become issues, and in Europe and the United States, maintenance using robots has been attracting attention.
In response to such issues, the company has developed a robot that can semi-automatically maintain the blades of wind power generators by remote control from the ground. Equipped with a scanner and camera, the robot is able to grasp the shape and condition of the blade and perform tasks such as polishing, applying putty, and painting appropriately.
After this funding, the company will continue to develop the domestic and overseas markets for the commercialization of maintenance robots, while proceeding with further development toward the introduction of a fully automatic model in 2024. Here is the original release.
[Series A] Flagellin, which provides a messaging platform for the pharmaceutical and medical industries, raised about 350 million yen in Series A. Company name change (announced on February 10, 2023)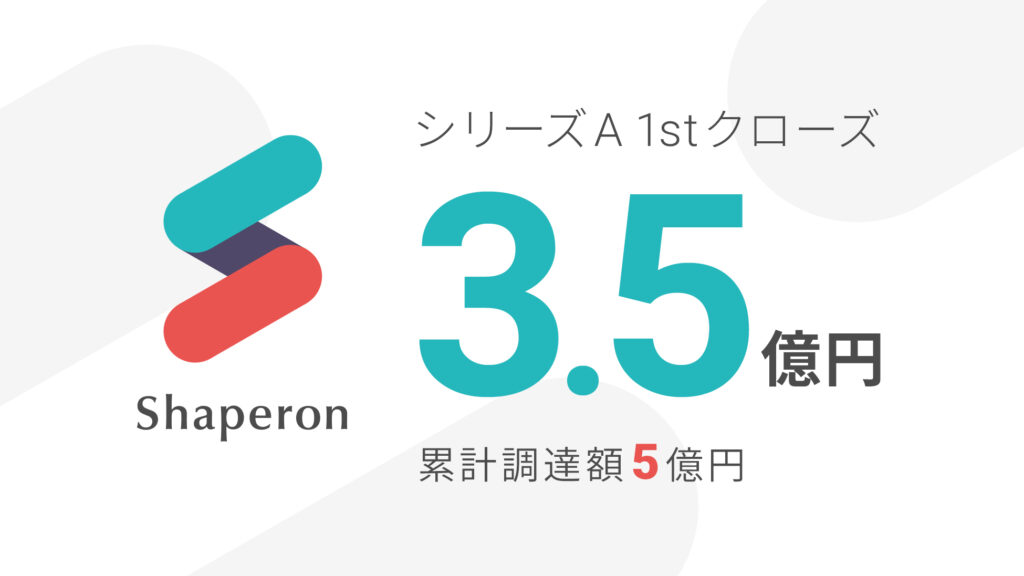 A messaging platform for the pharmaceutical and medical industries "Shaperon" Flagellin Co., Ltd., which provides , has completed a third-party allotment of shares with ALL STAR SAAS FUND and Cygames Capital as underwriters in the 1st close of Series A, and completed a total of approximately 350 million yen in funding.
Due to the spread of the new coronavirus infection (COVID-19), as a result of restrictions on visits to hospitals, the pharmaceutical and medical industries have advanced the digitization of sales activities. In the future, it is expected that the industry will not completely return to face-to-face promotional activities, and it is thought that the environment where pharmaceutical companies, etc. provide information to medical institutions remotely will continue. Based on this background, the company developed and provided the messaging platform "Shaperon" for the pharmaceutical and medical industries. While ensuring a high level of security and privacy protection, this service is a tool that can improve the efficiency of digital promotion and strengthen risk management, such as promoting to doctors who do not have their own address..
The funds raised this time will be used for product development, launching new businesses, and personnel expenses for the purpose of strengthening the organizational structure. In addition, the company name was changed on February 10 with the aim of improving competitiveness in business activities and recruitment activities. In the future, it announced that it will conduct business activities as "Chaperon Co., Ltd." Here is the original release.
[Series A] Polyuse, which develops 3D printers for construction, raises a total of 710 million yen through a third-party allocation of shares (announced on February 15, 2023)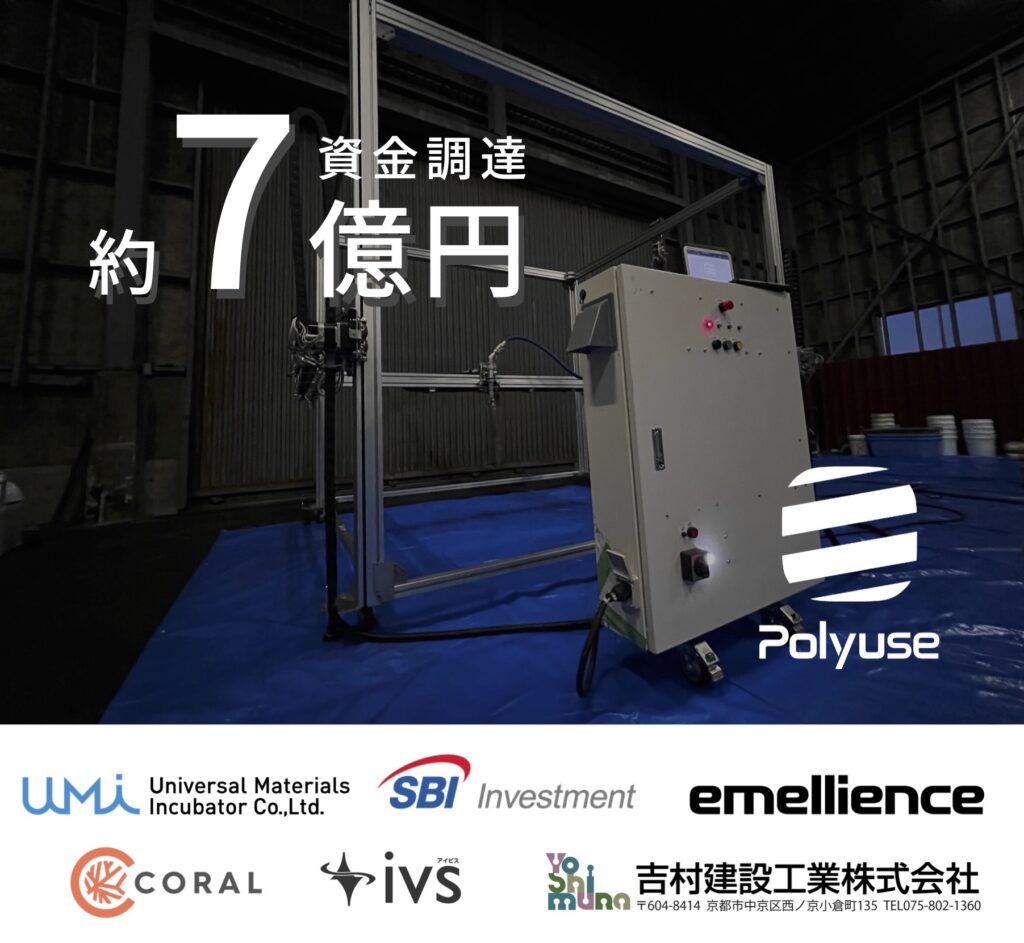 Polyuse Co., Ltd., which develops 3D printers for construction in-house, has established a third joint venture with existing investors Coral Capital, Ikemori Venture Support, and Yoshimura Corporation, as well as new investors Universal Materials Incubator, SBI Investment, and Emellience Partners. We raised 710 million yen through a private allocation of shares.
The construction industry is aging and facing a chronic labor shortage. On the other hand, nationwide, the proportion of road bridges, tunnels, sewers, etc. that are over 50 years old is increasing at an accelerating pace, and by 2040, more than 30% of most social infrastructure will be over 50 years old. There is also a trial calculation that it will become a building (Source: Ministry of Land, Infrastructure, Transport and Tourism Information portal site for countermeasures against aging social capital "Infrastructure Maintenance Information"). In the future, as the need for construction of social infrastructure increases, the shortage of human resources and soaring material prices in the construction industry will become urgent issues.
Polyuse is researching and developing construction 3D printers to meet such challenges. The company's technology is already being used and demonstrated in public works by the Ministry of Land, Infrastructure, Transport and Tourism, and in 2022, about 30 3D printer construction projects were implemented nationwide.​
Going forward, the company intends to use the funds raised to advance research and development aimed at improving the accuracy and quality of construction 3D printers and diversifying printing methods. In addition, we are considering developing new products, such as building a platform that can utilize the construction data accumulated by the company in construction management and construction planning. In addition, the company plans to improve facilities such as research and development bases and strengthen recruitment of human resources. Here is the original release.
[Series A] Zeroboard, which provides solutions for decarbonized management support, has completed a total of 2.44 billion yen in funding (announced on February 15, 2023)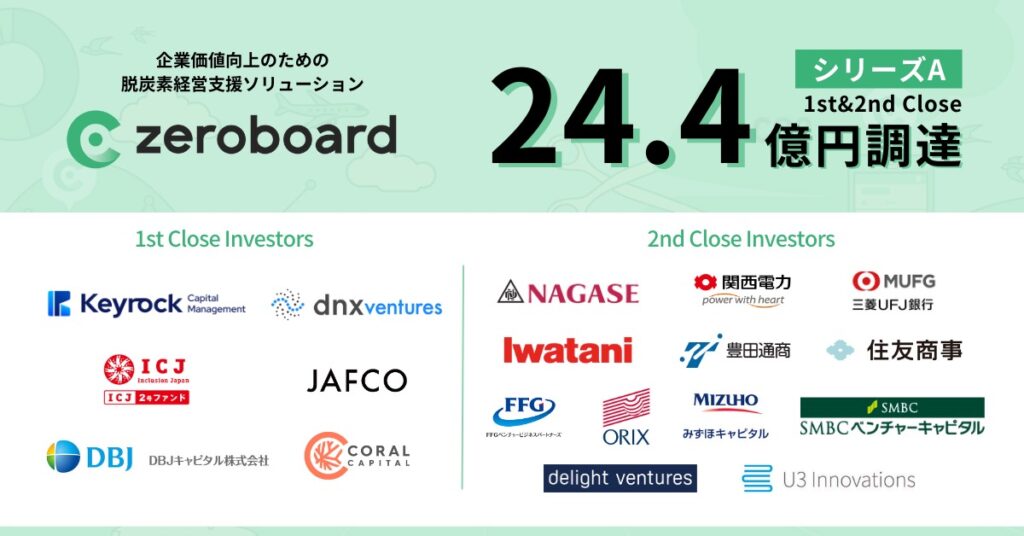 Zeroboard Co., Ltd., which provides a solution "zeroboard" that supports the calculation, disclosure, and reduction of GHG (greenhouse gas) emissions, which is indispensable for decarbonized management, has raised funds through a third-party allocation of shares in Series A. . Announced that the total amount of first-close and second-close funding reached 2.44 billion yen. In this round, with Keyrock Capital Management as the lead investor, a total of 18 companies, including DNX Ventures, Inclusion Japan, JAFCO Group, MUFG Bank, Ltd., Kansai Electric Power Co., Inc., are underwriters. A third close is also planned, and the total amount raised in Series A is expected to be approximately 2.5 billion yen.
Zero Board is a service that can calculate and visualize GHG emissions on the cloud "zeroboard" operates. With this service, in addition to visualizing GHG emissions for the entire supply chain, by product, and by service, it is also possible to link data with stakeholders and output in compliance with various environmental laws and regulations. In addition to grasping the current status of GHG emissions, we also support performance management for reduction, provide domestic and overseas carbon credits in collaboration with partner companies, and support financing and raw material procurement in line with decarbonization issues of each company. are also doing
The funds raised this time will be used to accelerate the development of "zeroboard" functions, strengthen the recruitment of specialists such as customer success, and expand overseas. Representative Michitaka Tokeiji has been selected as a member of the Ministry of Economy, Trade and Industry's "Investigative Committee on Carbon Footprint Calculation and Verification, etc. for Carbon Neutrality in the Entire Supply Chain". We would like to aim to be a global decarbonized management partner while giving back to Here is the original release.
【Related article】
CO2 emission visualization business that has been reached by taking advantage of social needs and the characteristics of the founder
"If you can see CO2, you can see a clean future"… The words "SDGs" and "ESG" appear frequently in the media…