Potential of nano-satellites that I realized from my experience when stationed in South America. Interview with Mr. Fukuyo, ArkEdge Space Inc.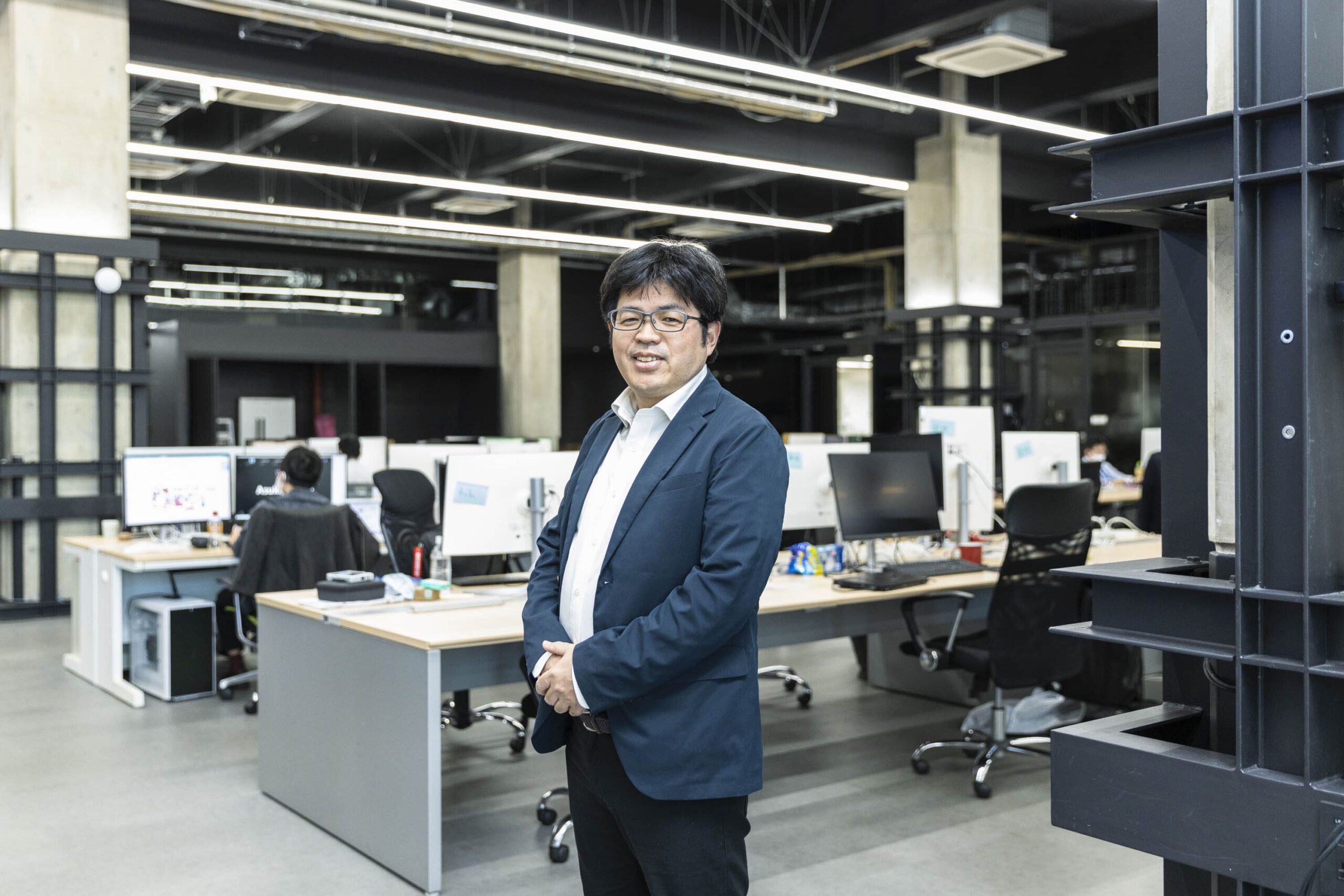 "Our goal is to provide the basic infrastructure through nano-satellites."
​Mr. Takayoshi Fukuyo, who has experienced the utilization of satellites overseas at JICA and the Ministry of Foreign Affairs and formulating the Basic Plan for Space Policy, is currently involved in various missions using nano-satellites.
The nano-satellite business has been attracting considerable attention in recent years. We interviewed Mr. Takayoshi Fukuyo, President of ArkEdge Space, Inc., who plans to compete in this market.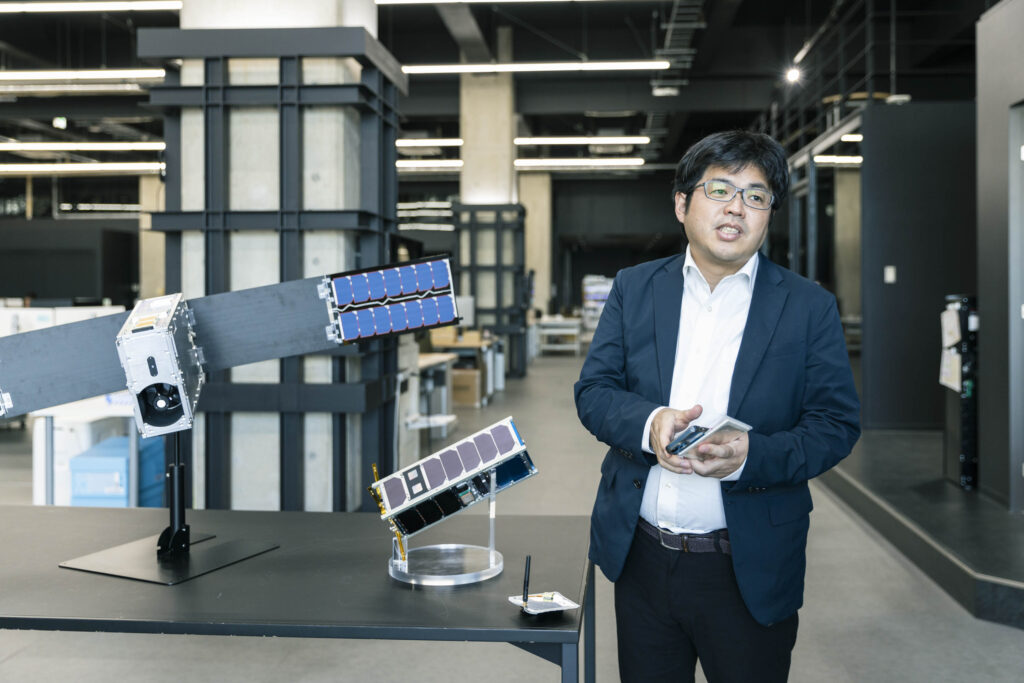 Responding to a wide range of customer needs, from nano-satellite design to operation
Could you tell us again about the business outline of ArkEdge Space?
​We are engaged in identifying the needs of customers who wish to launch nano-satellites, designing, developing, and operating satellites, and providing software and services that enable efficient management and operation of the entire satellite system.​
I heard it was initially a spin-off from a laboratory at the University of Tokyo.
The Nakasuka-Funase Laboratory of the University of Tokyo initially developed the core technology, which successfully launched the world's first CubeSat-class nano-satellite. At its founding, ArkEdge was developing a nano-satellite called 3U-class CubeSats (*). Later, with the addition of members from the University of Tokyo, we were able to develop a 6U-class CubeSat (*). The components used in the "bus segment", which is the basic structure of the satellite, are modularized so that they can be used for multiple applications and mass-produced. Our current main target is currently nano-satellites weighing 50 kg or less.
#3U class CubeSat
Nano-satellite of the size 30 cm x 10 cm x 10 cm
#6U class CubeSat
Nano-satellite of the size 30 cm x 20 cm x 10 cm
Could you tell us what exactly is the "bus segment" of the nano-satellite developed by ArkEdge Space?
The equipment and structure required for the basic functions of nano-satellites are called the bus segment. In contrast, the equipment and structures required for the satellite to carry out its mission are called the mission segment. The bus segment includes standardized modules such as communication equipment, power supply, solar panel, and attitude control unit, which can be combined to provide satellites with different functions and prices.
The performance required for the bus segment components varies depending on the mission the customer wishes to undertake with the nano-satellite. The bus segment we provide is characterized by a lineup that can accommodate various missions.
However, developing the bus segment is not the purpose of our business. The primary purpose of our business is to enrich and secure the lives of human beings on earth through space and to provide information networks to areas that lack basic infrastructure. When providing services to a particular area, we consider what kind of satellites are required to meet the needs and what kind of power and communication bandwidth is required for each mission and prepare measures. We are a satellite manufacturing company, but we see ourselves as a solution provider.
Currently, our business is centered on earth-orbiting satellites, but in the future, we intend to develop further and implement nano-satellite services for the basic infrastructure on the moon, which is currently under research and development.
What exactly can a 3U-class CubeSat like OPTIMAL-1, the second nano-satellite launched in November 2022, do?
The area where we see the most potential for application is IoT communication with the ground. OPTIMAL-1 is equipped with a propulsion system, cameras, sensors, and other components under development, and can also be used to verify the operation of customer-developed space components in the harsh environment of space using a similar satellite in the future. OPTIMAL-1 can also be used to verify that your originally developed space components can operate in the harsh environment of space using similar satellites.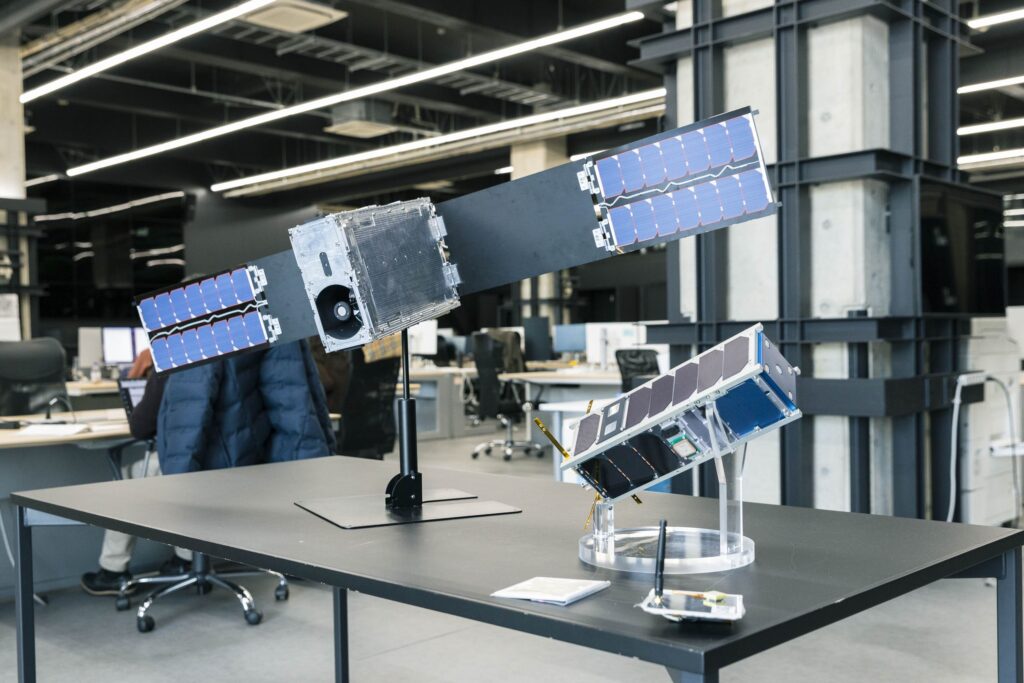 Satellites are useful in areas where terrestrial infrastructure is not viable
What industries are most interested in utilizing data acquired from nano-satellites?
The most common is the marine industry, such as maritime transport, shipping, fishing and marine insurance. Space is most useful when the basic infrastructure on land is useless. So, in regions and industries where the terrestrial infrastructure is well deployed, the benefits from satellite data may be limited.
In contrast, in areas such as the Amazon hinterland and deserts, where the infrastructure has not been developed and is difficult to access, it may be possible to deploy an information network by utilizing space infrastructure. The same is true for the oceans. For example, we believe the nano-satellite information network can be used when terrestrial infrastructure becomes unusable due to a disaster.
​The satellite VDES Consortium has also been launched in the maritime industry as a system for digitizing maritime information. This system is positioned as the next-generation version of the AIS (Automatic Identification System). It is expected to enable vessels navigating at sea to exchange navigation information with each other and to link this to various services such as logistics efficiency and safety management.
How do you plan to attract overseas customers in the future?
I was initially involved in forest research, international cooperation, and diplomacy in the Amazon. Based on these past connections, I am currently working on business development with local organizations and companies in Brazil, Chile, and Africa. However, these initiatives are not born from a desire to expand overseas. I was strongly motivated to start my business because I felt that nano-satellites could solve people's problems in these regions.
How, in fact, can the challenges faced by local people be solved through the use of nano-satellites?
In remote areas of the Amazon and the desert, where local access is difficult, smart agriculture is challenging to implement due to the lack of ground-based communication infrastructure in the first place. The use of nano-satellites makes it possible to monitor water level information, ground movement, weather and agricultural information at a low cost and to optimize logistics by constantly monitoring information on moving vehicles such as trucks and containers. We will continue to deploy nano-satellites in countries and regions where their introduction is meaningful.
Challenges felt through research in the Amazon backcountry as a student
How do you spend your weekends refreshing yourself?
I live in Shizuoka and enjoy outdoor activities for a change of pace. Also, I've wanted to play an instrument lately since I used to be in a band, But I've been busy and haven't been able to work on it.
What kind of things did you think about when you were a student at the University of Tokyo?
I didn't think about space as a student because I researched Amazon. In the middle of my doctoral program, I went to Brazil to study and research the ecological footprint and sustainable development of people in the Amazon region in indigenous villages. Since then, I have been thinking about improving the lives and environment in the Amazon region, and I gradually realized the potential of using GIS data (geospatial information) and satellite data to reduce the transaction cost of information and communication.
Mr. Fukuyo, how does your experience as a JICA expert, Ministry of Foreign Affairs, and Secretariat for Strategic Promotion of Space Development, Cabinet Office lead to your current work?
While working at JICA and the Embassy of the Ministry of Foreign Affairs, I experienced several projects utilizing artificial satellites through various opportunities. My expertise was highly evaluated, and I was involved in formulating the Basic Plan for Space Policy at the Cabinet Office and in efforts related to the space business with the Space Policy Committee. In the process, I heard that a few private sector players were challenging the space business, and I decided to become an entrepreneur from a public servant, which is what I am doing now.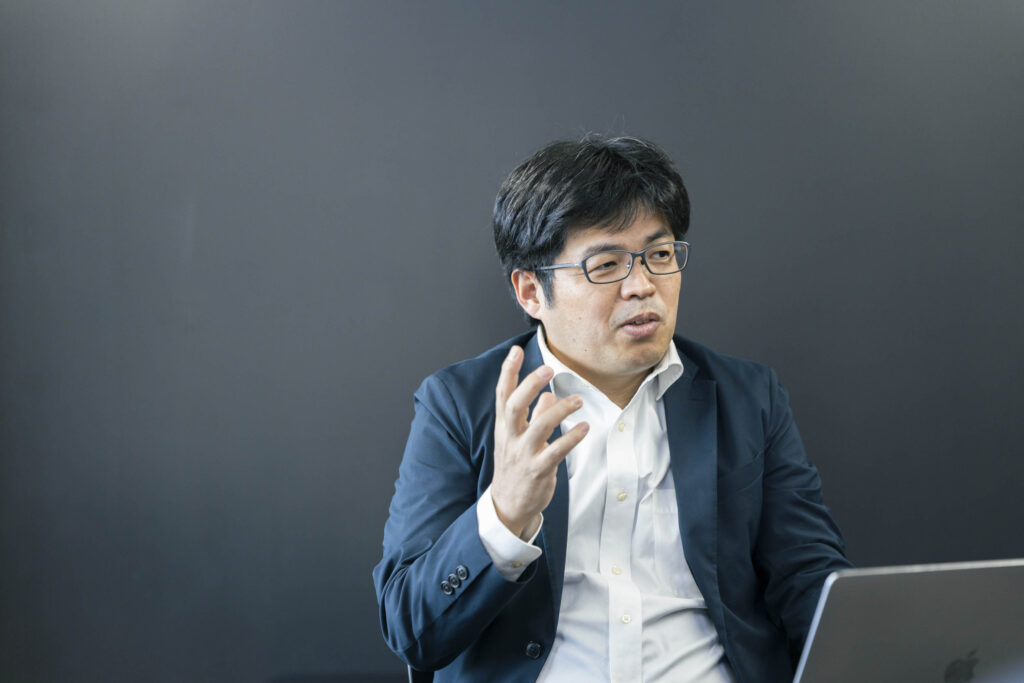 The key to tech ventures is figuring out how to make an impact on the world
How do you acquire CXO and executive talent?
Thankfully, our organization is growing steadily, and I feel that we are now in a phase where we need to bring in good people from outside the company. However, hiring a CXO out of the blue is quite challenging. This is because the market for the space industry is still limited, and there are no space ventures listed on the stock exchange in Japan yet. On the other hand, just because you have experience going public in other industries doesn't necessarily mean that that experience will be useful in a space venture.
Therefore, we need people who have created a market from scratch and solved difficult problems, including unrefined parts, but such people are quite rare. Ultimately, I think the only way is to meet various people. I also believe that it is important to have not only skills but also the mentality to be able to grow by oneself
What kind of people are you looking for in the future?
In the nano-satellite business we are developing, graduate students and others are playing an active role within our company, as they can directly apply their experience in university research and satellite projects. However, mass production and quality control of nano-satellites will become important in the future. In this day and age, simply being able to manufacture nano-satellites is not enough to gain an advantage. In the future, we will need human resources with business development, problem-solving, and social skills.We would love to meet you if you are interested in working with us.
What are some of the perspectives that R&D startups from Japan need to have to survive in the global marketplace?
It's difficult, but rather than winning or losing, the perspective of how our business will affect the world is more important. We do not simply want to popularize nano-satellites. How can we provide the services necessary to create a healthy market? Rather than simply manufacturing and selling microsatellites, how can we spread the use of nano-satellites worldwide, and what will the world look like as a result? I believe that this perspective is important.
Finally, Mr. Fukuyo, could you tell us about the world you hope to realize through the Ark Edge Space project?
Nano-satellite services demonstrate their value in security, information and communication. In other words, in the long run, we believe that we can contribute to eliminating the world where violence is rampant. In an increasingly divided world, funds must flow to areas where they are genuinely needed. To do so, we need information and basic infrastructure.
I want to use nano-satellites to realize such a world, and I believe we can achieve this because of space data.
Thank you!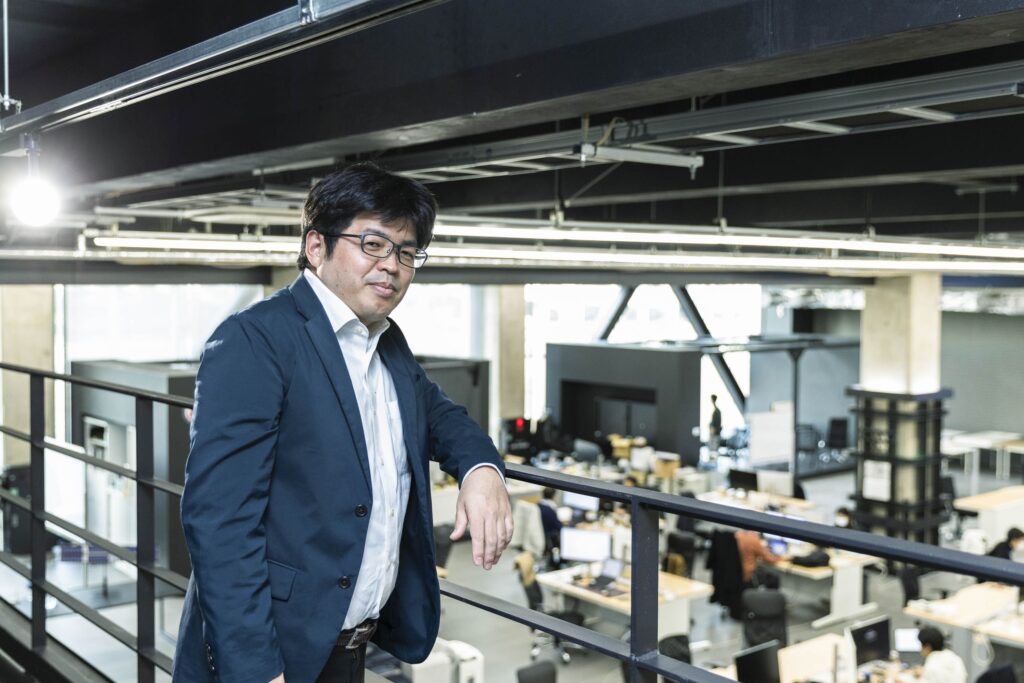 Editor's comments
Throughout the interview, what impressed the editors was Mr. Fukuyo's unwavering belief in the world he is aiming for, starting from the basic infrastructure issues he felt during his time working at Amazon.
Nano-satellites continue to attract attention around the world. A world in which ArkEdge Space's nanosatellites provide space-based information infrastructure to various regions may be close at hand.