[1/6-1/13] Notable startup funding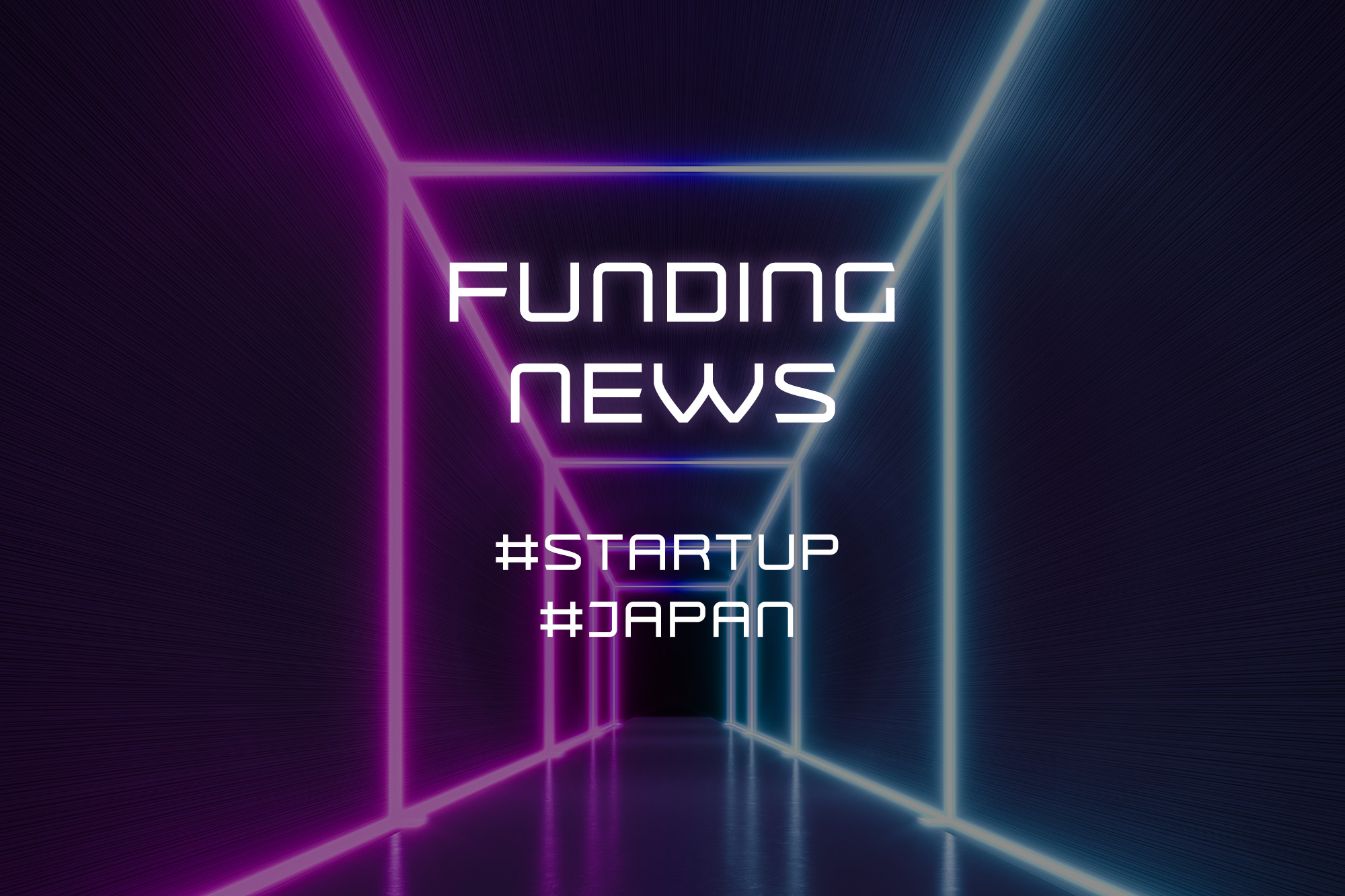 JP Startups presents a selection of funding news that has garnered significant interest, published between January 9, 2023 to January 13, 2023.
Editor's comments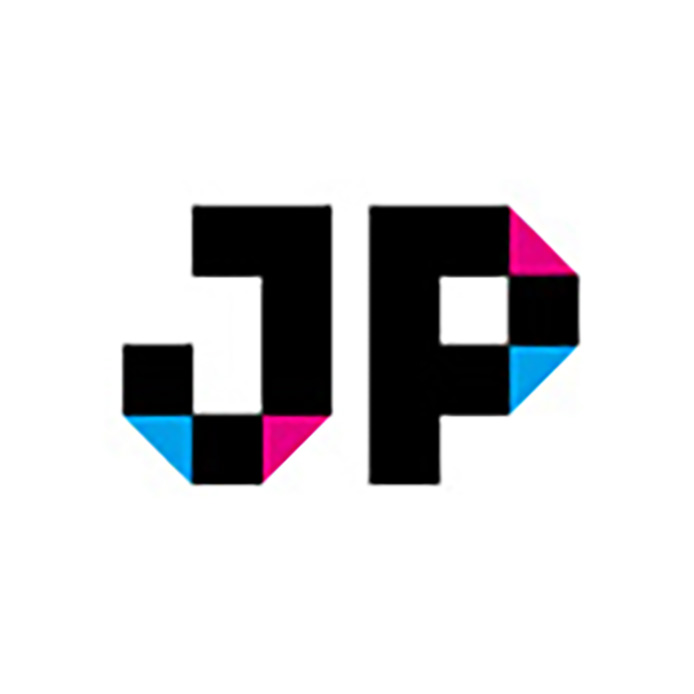 JP Startups' past interviewees have procured 3 projects. The editorial department would like to continue to support their growth.
Amidst the continuing large-scale procurement, Woodstock, which is expected to become the Japanese version of Robinhood, has just launched its application and is looking forward to the service's user voice in the future. We look forward to seeing more projects that transform the DX of existing services and UI/UX.
*Some rounds are not explicitly indicated in the release but have been noted at the discretion of the editorial department in order of the total funds raised
Seeds
Woodstock, a startup founded by Twitter/Coinbase alumni and other entrepreneurs, procured from 5 well-known Japanese and US VC companies (announced January 11, 2023)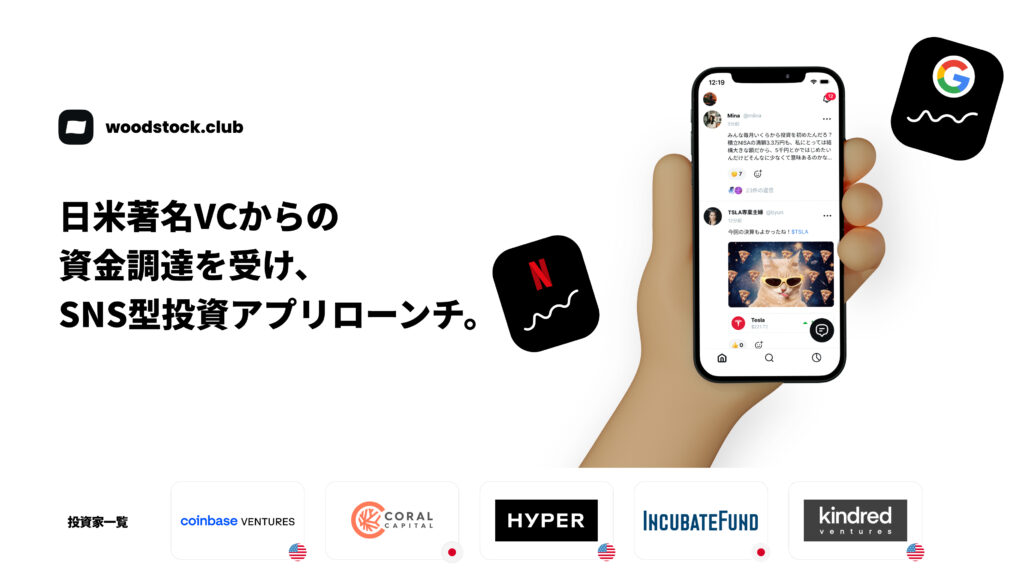 Woodstock K.K. has raised funds from five prominent Japanese and U.S. venture capital firms, including Coinbase Ventures (US), Coral Capital, HYPER (US), Incubate Fund, and Kindred Ventures (US). The company launched "woodstock.club", a social networking investment app for the next generation.
Woodstock was established in March 2021 by Twitter/Coinbase graduates and highly experienced engineers in the financial industry and is the first Japanese company to participate in HYPER, an accelerator program established in San Francisco as a sibling company of Product Hunt in the U.S. With the procurement of the new project, they are preparing to expand to the United States and other Asian countries. woodstock.club is a social networking investment application that allows beginners and advanced users to enjoy trading U.S. stocks and interact with the community through conversations and actual portfolio sharing. Through a partnership with Alpaca, which was also adopted by the US accelerator Y Combinator, the company has gained access to the U.S. market. It is the first in Japan to offer real-time trading of over 500 U.S. stocks and ETFs for as little as 1,000 yen (Japanese yen). Click here for the original press release.
Series A
Speech analysis AI "Empath", procured from SX Capital, Will Group, Vector (announced January 11, 2023)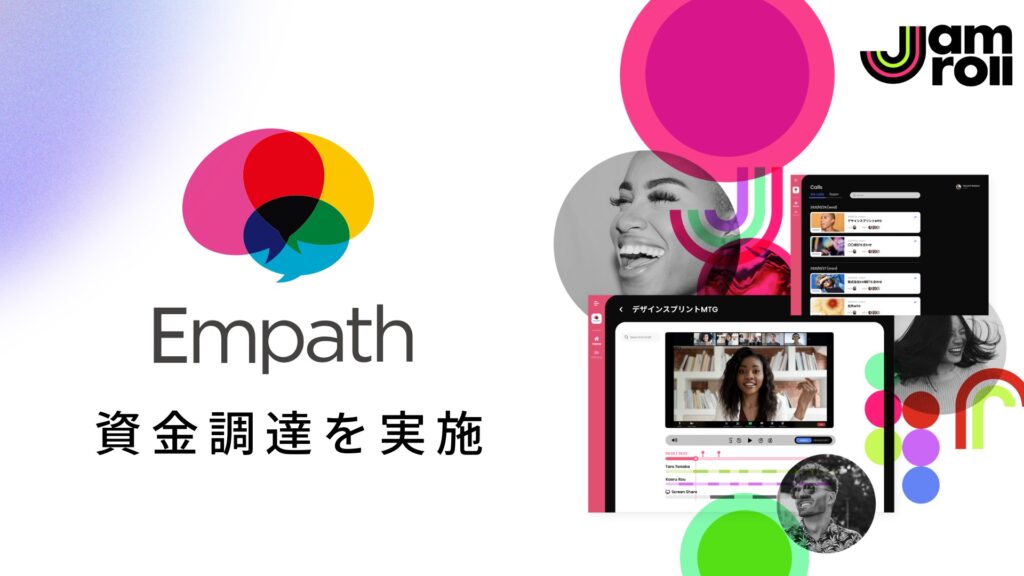 Empath Inc. raised funds from SXC Fund, Will Group HRTech No. 2 Fund, and Vector as underwriters.
Empath was established in October 2017 as a carve-out from a medical and healthcare company and officially released JamRoll, an AI that analyzes human emotions from just the voice, in June 2022, with the mission of "making voices resonate with empathy". The company is expanding its AI development, including conversation analysis, speech recognition, and natural language processing. "Jam Roll" is compatible with Zoom, Google Meet, and Microsoft Teams and contributes to increased productivity in online business meetings in light of recent remote work. As the number of companies using JamRoll is rapidly increasing, with more than 3,500 companies in 50 countries around the world using JamRoll, the company plans to expand its sales, customer success, and development systems through this procurement. Click hereto see the original release.
【Related article】
Analyze human emotions from voice. What is Empath's challenge to develop technology centered on empathy?
"Empathize with your voice" Today, when smart speakers have become commonplace, a startup that develops a voice product that sets it apart is...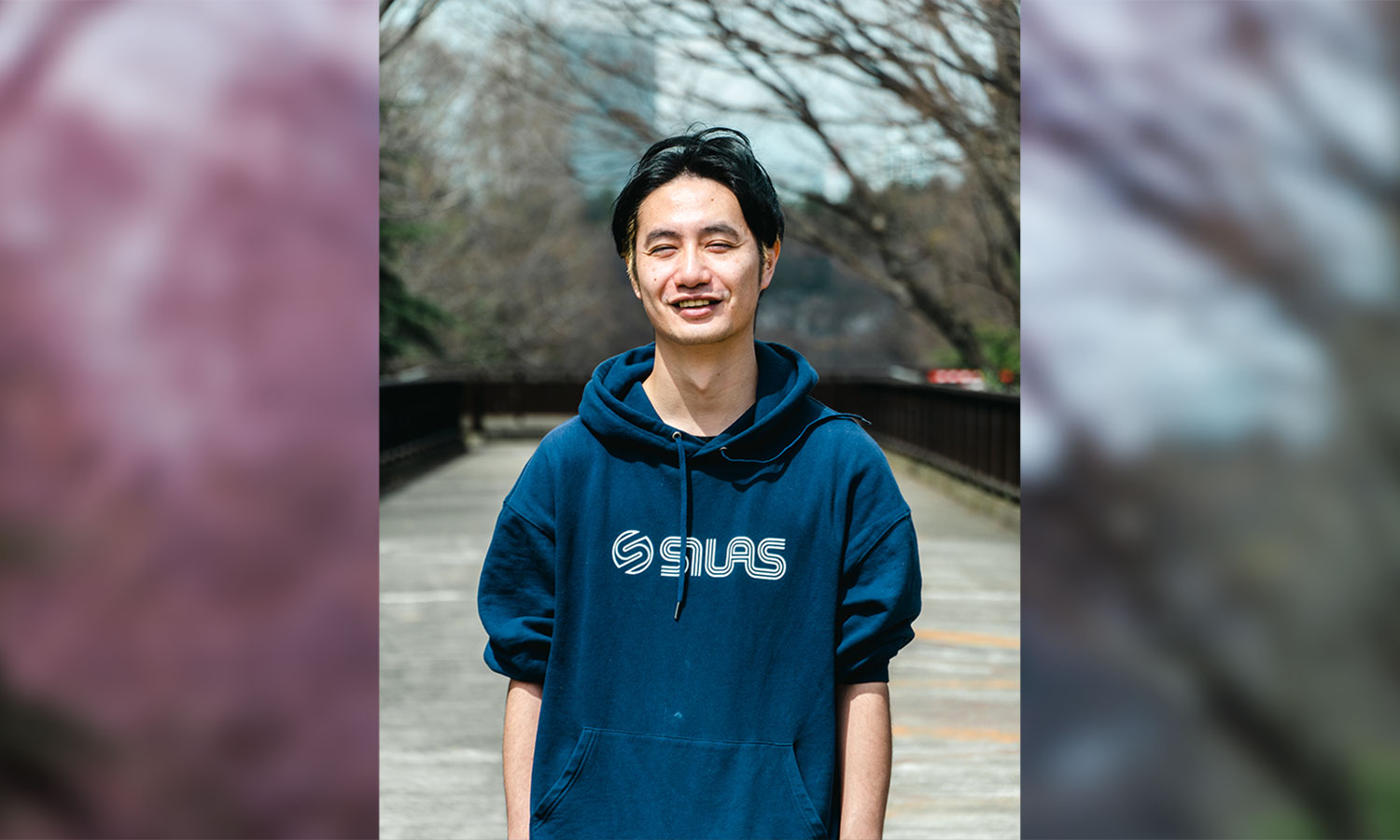 Ultimatrust, provider of AI analysis platform "Wisbrain", raises 760 million yen in series A (announced on January 6, 2023)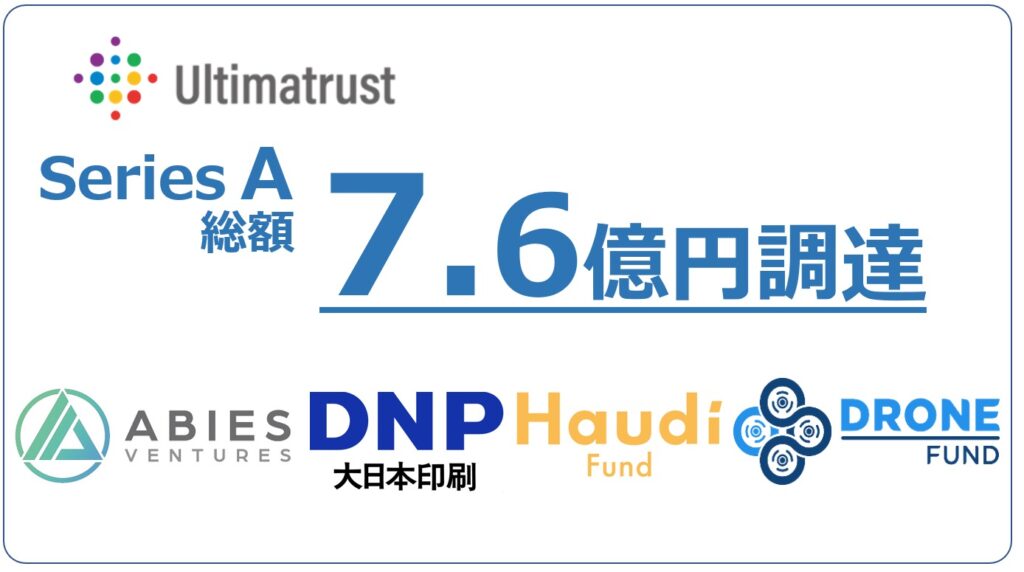 Ultimatrust Co., Ltd. has raised funds from DRONE FUND as the underwriter. The company has raised funds from several investors by March 2022; since further business expansion is expected in the future, it seems they have decided to receive investment from DRONE FUND as additional funding. With this procurement, the total amount raised at the final close of the series A round is 760 million yen.
Ultimatrust was established in February 2015 and has been developing and commercializing its core system, "Wisbrain" under the slogan, "Like water and air, we provide cutting-edge technology to all. By analyzing and learning from data gathered from various devices, we will create a world where future can be". In the future, the company will contribute to society by promoting DX in road transportation and providing advanced communication infrastructure in the fields of factories, logistics, railways, and airports while solving the issues that arise when promoting DX, such as business automation and network security. Click here to see the original release.
Series B
Techtouch, the provider of "Techtouch", a no-code guide and navigation installation system, raises 1.78 billion yen in series B (announced on January 11, 2023)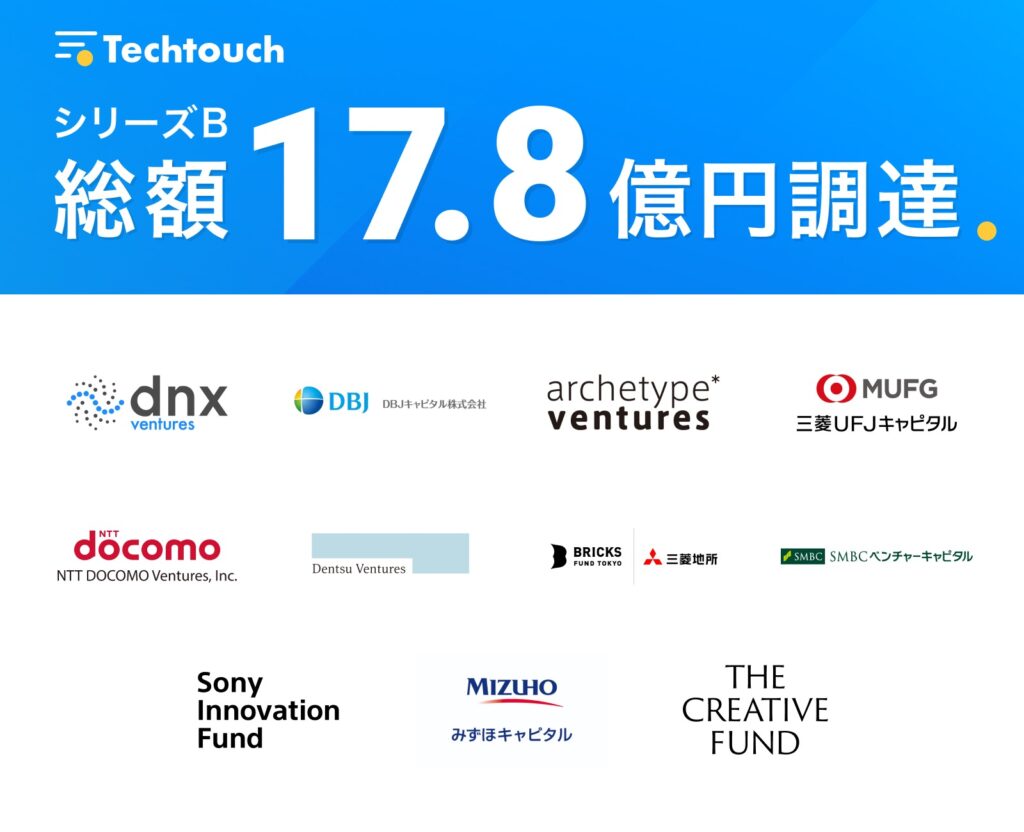 Techtouch, Inc., a developer and provider of "Techtouch", a SaaS that allows users to add an on-screen operation guide to web systems, has raised a total of 1.78 billion yen with DNX Ventures as the lead investor following the series A round and a total of 6 megabank investors and CVCs as underwriters. The total amount raised is 2.4 billion yen.
List of underwriters
DNX Ventures (Lead Investor) / Dentsu Ventures / Mizuho Capital / Mitsubishi UFJ Capital / Archetype Ventures / BRICKS FUND TOKYO (Mitsubishi Estate ) / DBJ Capital / NTT Incorporation DOCOMO Ventures / SMBC Venture Capital / Sony Innovation Fund / THE CREATIVE FUND
Techtouch was established in March 2018. The company aims to create a world where all users can master the system through real-time guided navigation displayed in areas where the system is likely to stumble and realize a society where no one is left behind through DX. Through this procurement, the company will invest in human resource recruitment, marketing, and overseas expansion, and strengthen marketing in the three target areas of "Techtouch" (major companies, government agencies, local governments, and SaaS companies), aiming to exceed 10 million end users within three years. Click here to see the original release.
【Related article】
Fill the last mile of DX. A future where Techtouch, which makes web systems easier to use, realizes site-led DX
IT services are increasing day by day. As convenience increases, more and more people are finding it difficult to keep up with these rapid changes. I'm sorry...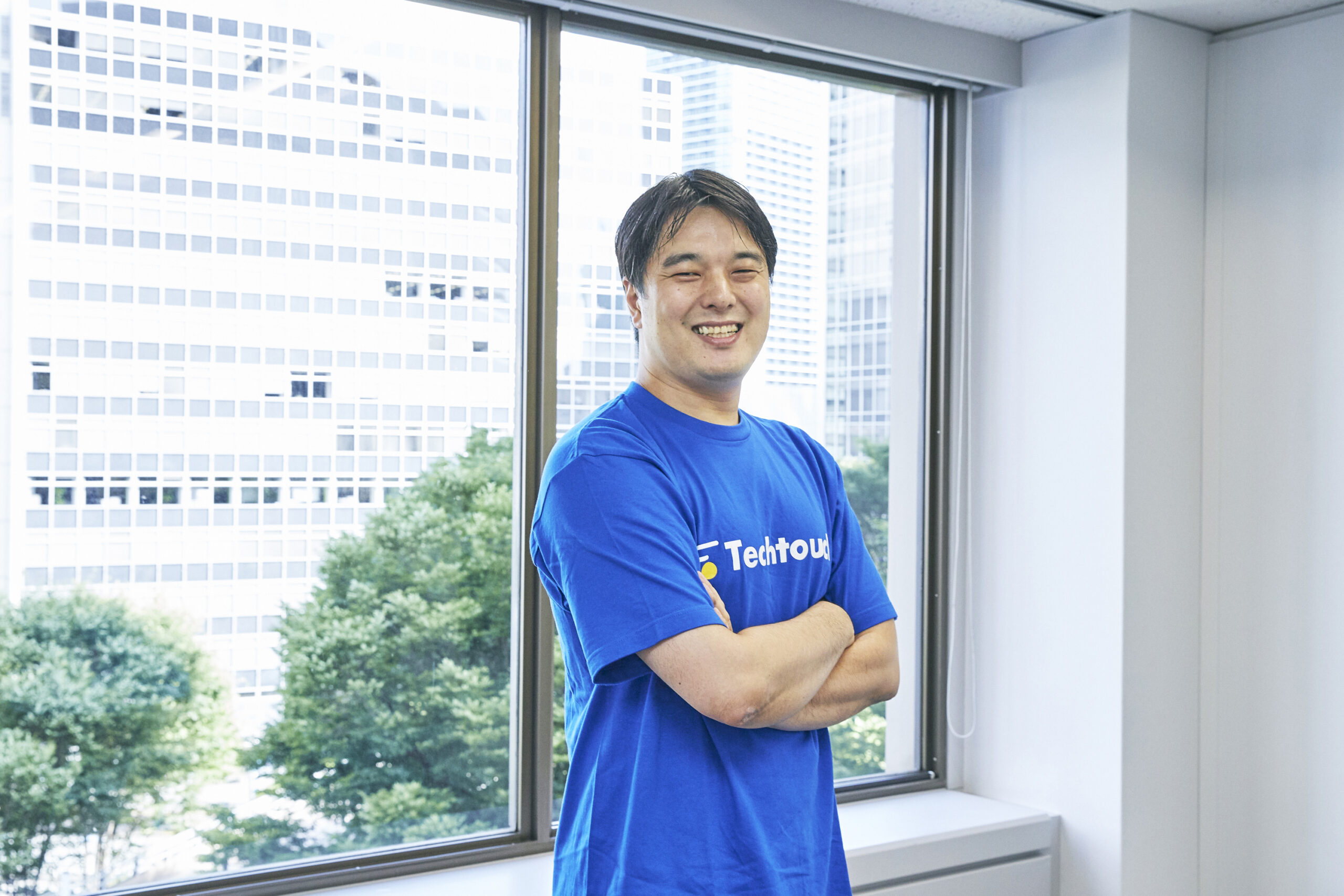 Series C
Kakehashi, aiming for the next generation of medical care from pharmacy DX, raises 7.6 billion yen in series C first close (announced on January 11, 2023)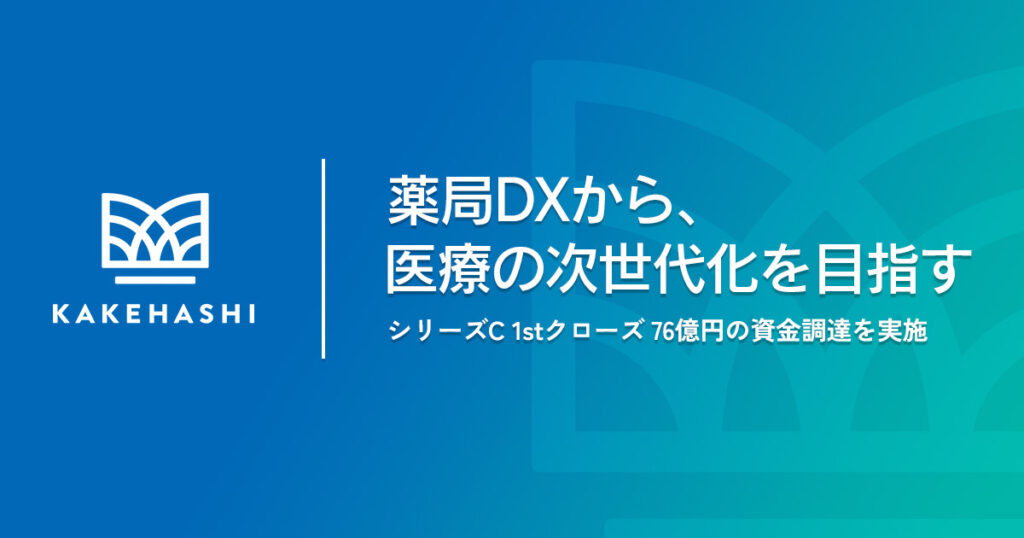 Kakehashi Inc. has raised approximately 7.6 billion yen in funding from multiple new and existing investors. The company has raised about 5.5 billion yen to date, and with this round of funding, bringing the total amount raised to about 13.1 billion yen.
List of underwriters (in no particular order)
〈New underwriters〉
Axiom Asia Private Capital / The Dai-ichi Life Insurance Company / Aozora HYBRID No. 1 Investment Business Limited Liability Partnership / Four Startups No. 1 Investment Business Limited Liability Partnership
〈Existing underwriters〉
GLOBIS CAPITAL PARTNERS / DNX Ventures / Japan Coinbest / Salesforce Ventures
Kakehashi was established in March 2016 with the mission of "making the Japanese healthcare experience more flexible." The company released "Musubi" a pharmacy experience assistant, in August 2017. Related products include the "Musubi Insight", a data platform for pharmacies; the "Pocket Musubi", a patient follow-up app and the "Musubi AI Inventory Management", pharmaceutical inventory management and ordering system with multiple deployments. With this funding, the company plans to hire engineers to strengthen its development system, service introduction support and customer support system and develop businesses, including launching new services.
At the same time, the company also announced the launch of a new business domain and the appointment of a new executive officer (Mr. Shogo Nishida) to lead it. The company plans to accelerate the pharmacy DX business and launch new initiatives that leverage its business foundation, and aim to solve the structural problems facing Japanese medical care. Click here for the original release.
【Related article】
Faced with unreasonable and big challenges with high aspirations – The ideal world embodied by Kakehashi, who is improving medical care in Japan from pharmacies
long lines. dreary waiting time. When I get sick, I get worried and go to the hospital, but the long waiting times at hospitals and pharmacies can make me feel unwell...