Movement is one of the features of a city. The future of mobility that NearMe aims for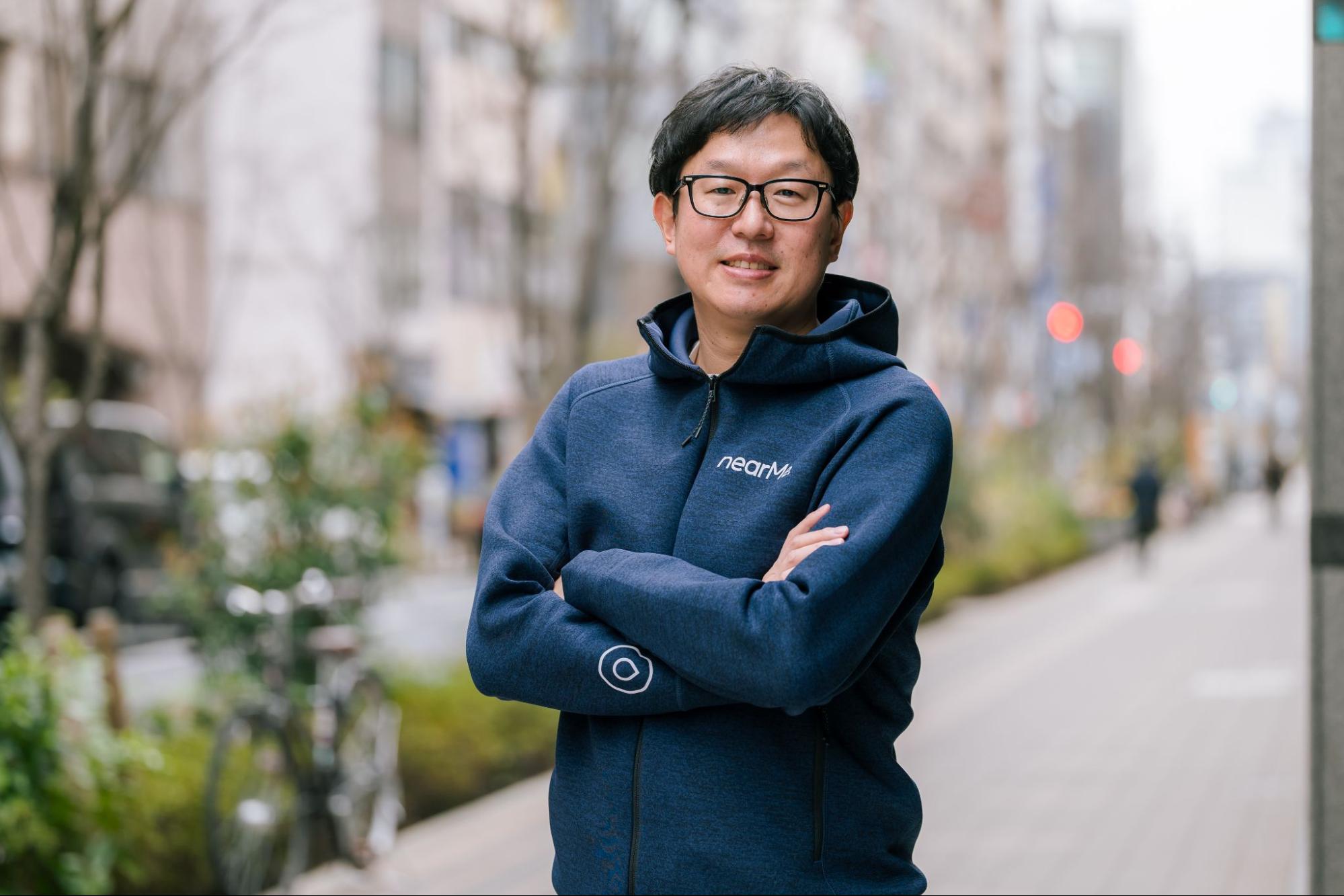 "Solving local" wastefulness "with technology"
Work on mobility issues with a gentle outlook Mr. Koichiro Takahara Says:
With the lifting of the taxi carpool ban announced by the Ministry of Land, Infrastructure, Transport and Tourism in November 2021, we will take onn the Mobility as a Service (MaaS) area, which is gaining rapid attention. NearMe Inc. We talked to CEO Koichiro Takahara.
Challenge the problem of door-to-door movement starting from the airport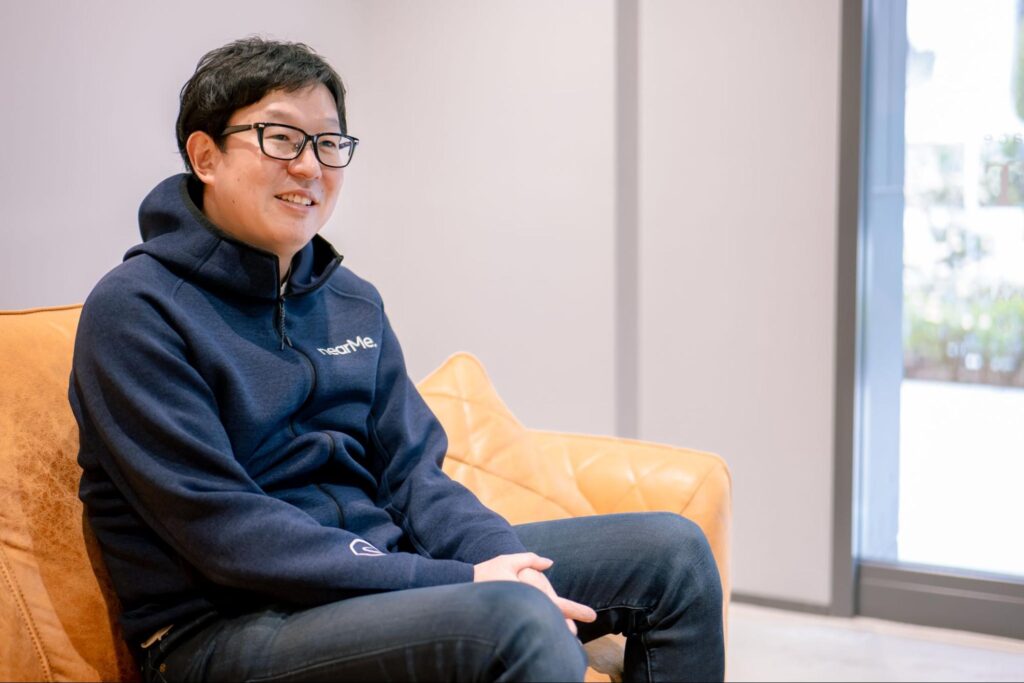 Please tell us about the carpooling business in which NearMe is being developed.
Near Me is a startup that solves the door-to-door movement problem by sharing taxis. We usually use buses and trains as a means of transportation, but we believe that if there is a new transportation service that shares taxis, the overall transportation will be smoother. It's a simple service called taxi sharing, but behind the scenes, technology is important. By matching users heading in the same direction to some extent, we are allowing the driver to optimize the route for transportation.
Near Me has launched NearMe.Airport (a door-to-door shuttle service that connects your home or hotel to the airport) in 2019, hasn't it? What made you pay attention to the airport shuttle service?
Near Me uses AI technology to optimize routes. Route optimization is a theme for which many papers have been published academically, but I think that social implementation is the most important thing for a startup. In the future, I would like to create a world where various services of Near Me are available in every region. However, due to limited funds, unknown startups cannot climb Everest from the beginning. Therefore, I chose the airport as a starting point for the climb for Near Me. There are a certain number of airports nationwide, and I thought it would be relatively easy to match users.
After that, in February 2022, you announced NearMe.Town, where you can share taxis not only at the airport but also around the city. What made you announce this at this time?
Near Me Airport, which was initially only the section connecting Narita Airport and Tokyo, has expanded steadily in two years, and I feel a sense of response. As the demand of users and the reality of the business became apparent, we released Near Me Town, which is not limited to airports. Again, in November of last year, the Ministry of Land, Infrastructure, Transport and Tourism announced its views on carpooling taxis, and the interpretation was clarified. Taking this opportunity, we released Near Me Town, which can be used for everyday use.
Editorial department memo
On November 1, 2021, the Ministry of Land, Infrastructure, Transport and Tourism clarified the following interpretation of shared taxis.
"We will introduce a new system that allows passengers who are close to their destinations to be matched before the start of transportation through a vehicle dispatch application, etc., and to allow passengers to share a taxi for transportation."
The number of MaaS startups is increasing at home and abroad, but please tell us if there is a service that you are benchmarking.
The form and scale of the business is different, but I refer to UberX Share, which is one of the services provided by Uber. This service is characterized by sharing Uber vehicles with other users and reducing the price. If there is a vehicle heading in the same direction as your destination, they can detour and pick up the person.
However, what sets NearMe apart from them is that UberX Share matches vehicles, while NearmMe Town is vehicle-independent and matches users with each other. We note that few systems are capable of distributed processing on the move. Users with mobility problems don't really care about a particular vehicle or platform.
Many PoCs (proof-of-concepts) have been announced, such as the smart shuttle® that connects Kitakyushu Airport and the city, and the AI on-demand carpool shuttle in Miura city. Please tell us if there is anything important that needs doing to reach social implementation without ending at PoC.
PoC is very important for startups, but blindly working on PoC does not reach social implementation. Since the existence of partners is especially important for social implementation, it is important to know whether local partners such as operating companies and governments have enthusiasm, positive attitudes, and know what steps to take towards implementation. However, we are carefully assessing it. We believe that not only the introduction of technology, but also the recognition and UX of the local people who actually use the service are the keys to success.
The time I experienced first-hand the enthusiasm of an entrepreneur.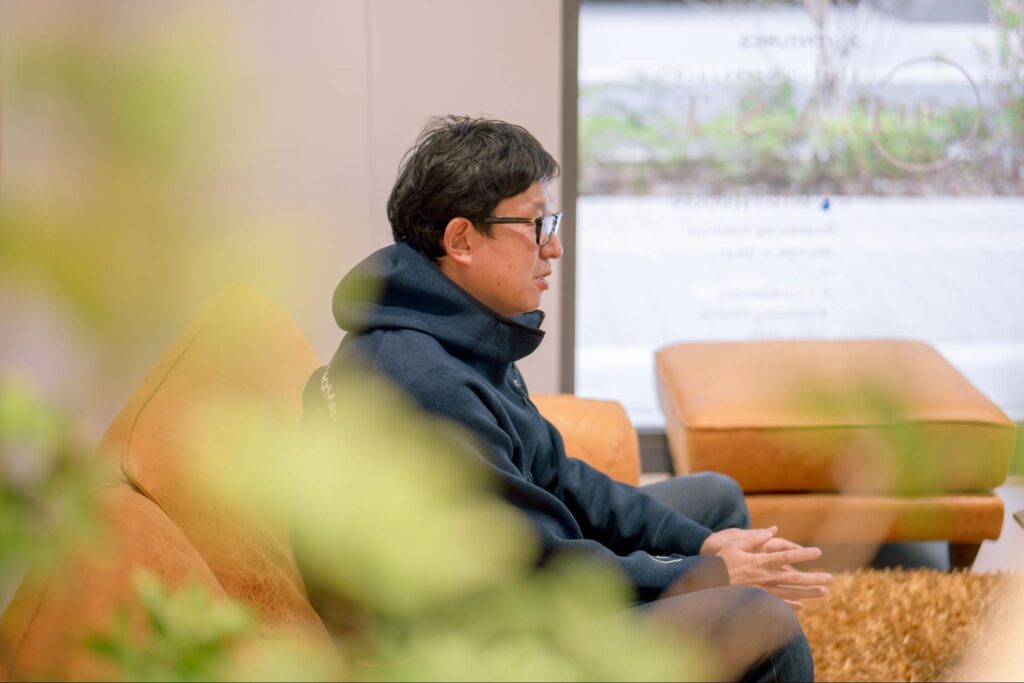 I would also like to hear about Mr. Takahara's past stories. What kind of student were you?
Actually, I was originally aiming to be a professional baseball player. I went to a high school where baseball was the strongest in the area and I devoted myself to baseball aiming for Koshien (Japanese national baseball tournament for high school students). However, while I was in high school, I broke my shoulder, and after a period of time of debating what I should do, I finally decided to focus my efforts into business.
You were a student aiming to be an athlete. Is that competitive mindset not much different from now?
It hasn't changed. I've basically been positive since I was a student, and I still think I can do most things. I think I have had a mindset to deal with uncertainties since I was a student.
The courage is amazing. Also, I heard that Mr. Takahara is an entrepreneur from Rakuten. It seems that you also worked in Rakuten's overseas division, but what was your motive to start a business?
When I was an office worker including Rakuten, I never thought that I wanted to start a business. However, I had the opportunity to work with the founder of a startup that experienced the start-up of a business at Rakuten and participated in the Rakuten Group. For them, the startups they set up are like their own children. I felt the enthusiasm for the business up close and was impressed by the way of life where one can devote themselves to creating services. For the first time, I could see my life as an entrepreneur. Rakuten is still my favorite company, but after thinking about it myself, I decided to jump out and founded Near Me.
You experienced a wonderful encounter in your previous job didn't you. So, please tell us the most difficult thing that has happened since you founded NearMe.
Startups are a world where hard things happen every day, so it's natural to deal with unexpected things. I don't feel any difficulty there. However, there was a time when NearMe would have gone under if it carried on as it was. When I was a company employee, I had only to worry about the P / L (income statement) of the business division, so I had never thought about the money of the entire company. I can still remember the stinging pain from that time.
Since then, NearMe has raised funds several times. What specific points do investors evaluate or expect?
There are three main points. The first is the the passion for transport problem solving, which is the mission of Near Me. The second is a solid team structure consisting of members who have some achievements. Third is if we are challenging the uniqueness of our business model and the growing market of MaaS.
The courage to take a step out of one's comfort zone for the culture you want to cherish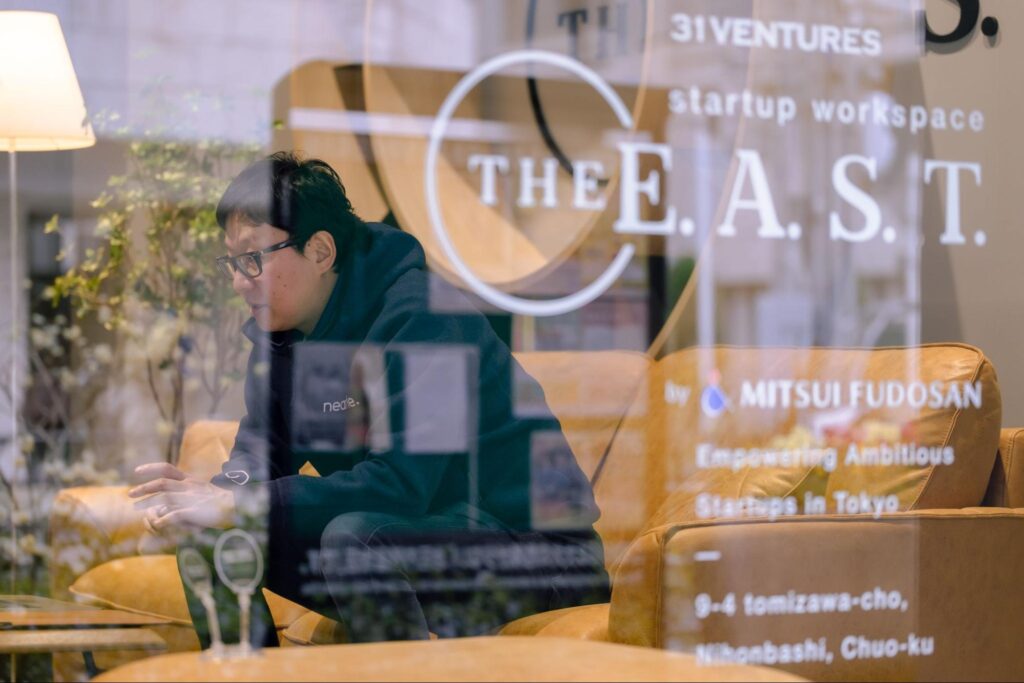 How are you currently hiring Near Me?
We are hiring referrals and utilizing agents in together. I would like to accelerate the hiring process in the future.
Please tell us the specific points you have devised.
The following three points are important in hiring.
Empathy for the business
Own mindset
Skill set
It is important to prioritize the order of said ①, ②, ③ skills. Since it is a startup, there are many things that are difficult in daily work. In such case, even if they lack the skills, I think that if their mindset and culture match they can stand up to the task..
I hear about the importance of fitting into the culture from many startups.
I strongly feel the importance of culture fit, how deeply do they sympathize with NearMe's mission and vision? Specifically when it comes to human resources. For engineers, it's important to have a deep empathy for NearMe's technology.
Specifically, whether or not you can take on a role that you have never experienced, or working together with other parts of the business who may be struggling for the common goal of 'achieving the mission of NearMe'. The real pleasure of a startup is that you can experience various roles as your business grows.
People who are happy to jump a little beyond their territory and support them are considered to match the culture of NearMe, so we value this perspective when hiring.
Movement is one of the features of a city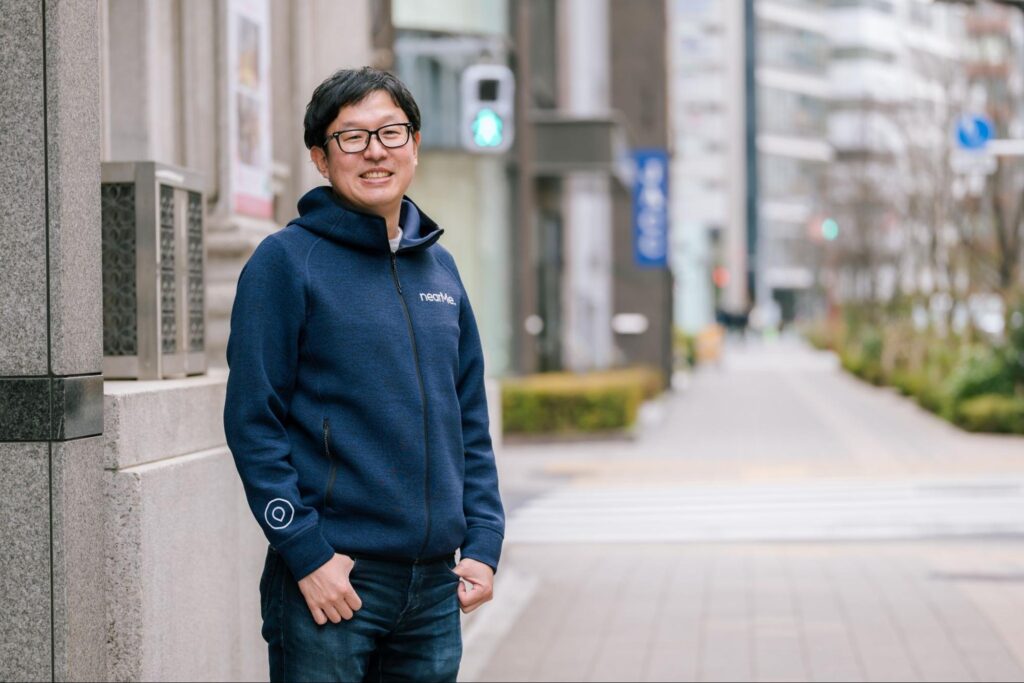 As NearMe, please tell us if there are any events or programs that have particularly benefited you.
I am very grateful to Nissay Capital's accelerator program 50M, which NearMe participated in when we first started up. By participating in this program, I was able to invest in this early period. In addition, the relationship with this program is still ongoing, and Nissay Capital has participated as a lead investor in raising Series A funding.
Please tell us if you have any thoughts on how to improve the Japanese startup ecosystem.
As a startup manager, I feel the hurdles of finance as I face the business every day. In the world of startups we take money from investors and grow our businesses by ourselves, if more abundant funds flow to Japanese startups, a better future will surely be waiting. I expect that risk will increase in order to produce more new entrepreneurs.
Please tell us what you envision over the next 10 or 20 years for NearMe.
Starting from the problem of door-to-door movement, we would like to finally solve the "wastefulness of the area". One of which, NearMe's service is aiming for expansion of "movement + 〇〇".
Specifically, how do you expand your movement?
Moving from one point to another is not the end goal in itself. Not surprisingly, users move to experience something. As NearMe, as well as solving the problem of movement, we want to maximize the user's experience after the transport phase.
As a specific example, lets say you want to take an overseas trip. Suppose you buy "Walking the Earth" to learn about your local experience when you travel abroad. However, with that alone, it is not possible to know the experiences that are not posted in that book. There is still a lot of information that the locals know, but it is not posted as tourist information. I think that traveling will be greatly enriched if NearMe can compensate for that from a regional perspective. This is just an example, but I would like to maximize the user experience with movement as the starting point.
Move + 〇 〇, what exactly do you envision?
I feel the possibility of combining 'movement' with information and services in a specific area. I think movement is one of the functions of a city. I want to make the act of moving smoother so that it does not become "negative", so people do not think it is "troublesome". There is no need to clearly separate the movement of people and the movement of goods, and we are imagining a future in which logistics and the movement of people are organically connected according to the demands of the world. I would like to create a world where the function of moving smoothly permeates the entire city, such as the movement of tourists, the movement of elderly people living in the area who no longer have their licenses, and the movement of goods/delivery.
As NearMe, I would like to work honestly on what is in front of me with the aim of achieving such a vision.
Thank you!
Editor's comments
Through the interview, what impressed the editorial department was Mr. Takahara's way of not making his daily work sound as hard as it is.
Without being too forceful, he was able to speak very politely about how he may already be able to see a world in where movement is seen as a function of a city.
MaaS continues to attract attention from around the world. I look forward to the future where mobility services originating in Japan will make movement from one place to another of people around the world smooth.
NearMe Inc.
Address
9-4 Nihonbashitomizawa-cho, Chuo-ku, Tokyo THE E.A.S.T Nihonbashitomizawa-cho
Website
https://nearme.jp/
Careers
https://corp.nearme.jp/jobs/
Daiki Nagata
He majored in space engineering as a student. He is involved in planning and managing business contests and accelerator programs and considers writing for space business media his life's work. His hobbies include road biking and watching rugby games.