Aiming for a world without physical restrictions by the fusion of machines and humans|LIFEHUB Inc.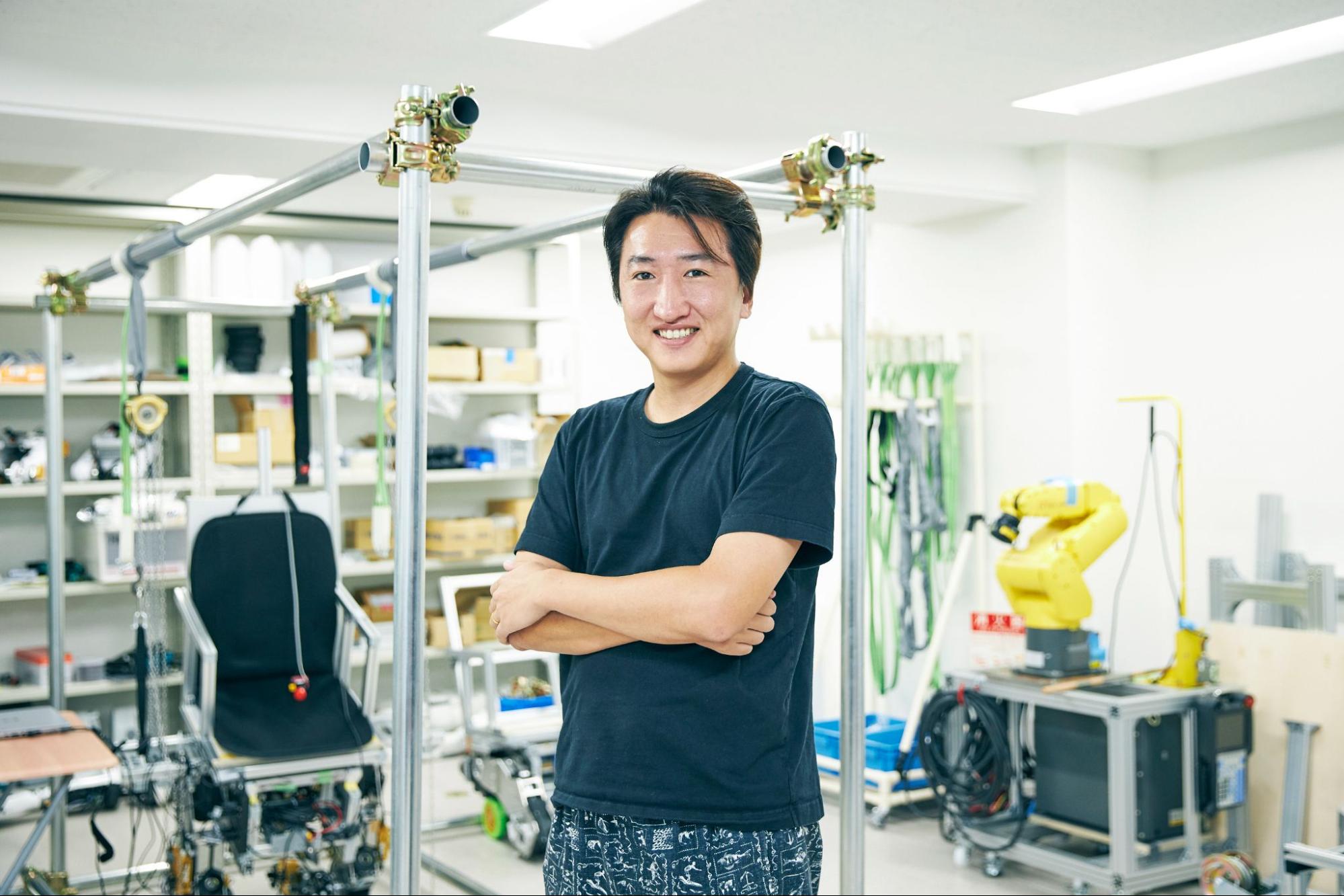 The fusion of machines and humans is a future that many people dream of. The day is not far off when a world depicted in animation works like Matrix, Iron Man, and Ghost in the Shell will become a reality through the evolution of technology. However, there are various approaches to the fusion of machines and humans.
I interviewed Mr. Hiroshi Nakano, the CEO of LIFEHUB Inc., who has taken on the challenge of next-generation chair-type mobility to realize such a world.​​
Aiming for a world without restrictions with next generation chair type mobility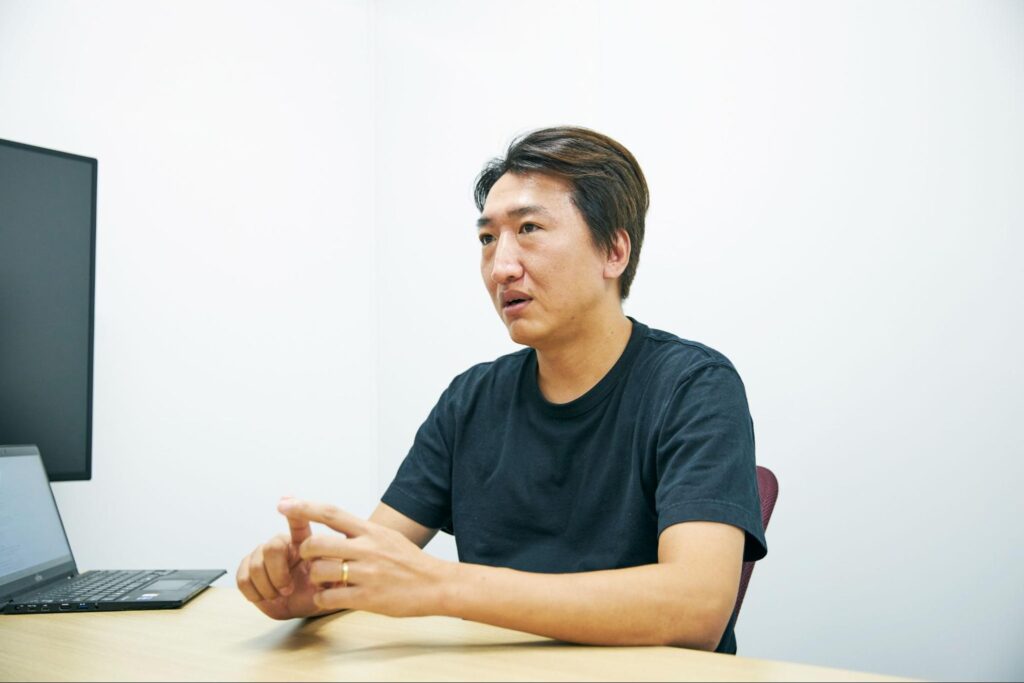 Please explain your company initiatives.
LIFEHUB Inc. is developing next-generation chair-type mobility. This product is being developed by targeting people with disabilities and aims to create a world where such people can live without limitations. However, our target is not limited to people with physical handicaps. Our vision is to evolve the human body by eliminating physical limitations. As one of the means to this end, we aim to create a mechanical body like the next generation chair type mobility to replace or extend physical functions. In the future, I would like to create products that will eliminate not only foot-related restrictions but also restrictions on the whole body.
Could you tell us about your career to date and your inspiration to start your own business?
I have been interested in mechanical engineering since I was little, probably because my grandfather ran a mechanical company that installed factory assembly lines. After graduating from junior high school, I entered a college of technology and majored in mechanical engineering at university and graduate school. I focused on robotics and control systems and obtained a doctorate from Tohoku University. After that, I joined Hitachi Automotive Systems, Ltd. (currently Hitachi Astemo, Ltd.), where I worked on the research and development of autonomous driving. In addition, I also have experience working in a software company specializing in analysis, a company that conducts mobility research and development and being a consultant for a next-generation mobility venture.
Since the time I was in elementary school, I had wanted to start my own company in the mechanical sector because I had seen my grandfather's work up close.At that time, I had a vague image of a mechanical system. Now that I have come in contact with robotics a lot during my career, mainly in the field of mobility, I feel that there are more situations where robotics technology can be used directly to give people a sense of freedom. Driving a car gives people a sense of freedom. The feeling of being free means not having any physical restrictions. In addition to cars, for example, there are powered suits, but such products are not used all the time, and currently, they are used only for specific tasks like nursing care and transportation. Hence, I started LIFEHUB thinking that I could develop products that will update peoples' life where they can use the product all the time.
Please tell us about the next-generation chair-type mobility you are developing.
The next-generation chair-type mobility device being developed at LIFEHUB is a product that enables people with disabilities to live life without feeling handicapped. In the future, we aim to create short-distance mobility that anyone can use.
Specific functions will be added one by one. We plan to install four main functions: "Standing up function", "Escalator function", "a function to climb stairs", and "a function to drive automatically", which makes it possible for free movement without depending on surrounding facilities. The product is still in development, and we aim to release it by the end of 2023.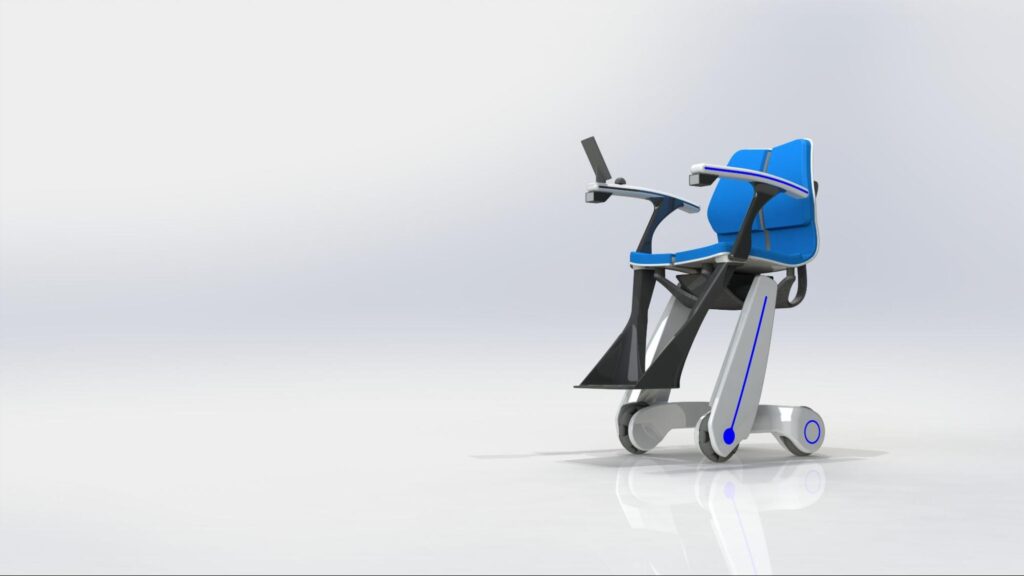 I think the number of companies entering the electric wheelchair market is increasing. What are the competitive advantages of LIFEHUB's products?
We believe that the three advantages of our chair type mobility are "stylish design", "compact body", and "high value-added functional parts."​
Can you give more detail about the technology of the functional part?
As mentioned earlier, there are four functions. The stand-up function uses a gyro sensor to control the inverted pendulum and maintain the stand-up state by controlling the front and rear direction of the wheels according to the center of gravity. There is also a function similar to the automatic brakes of vehicles that works by recognizing the external world with the help of cameras and lasers.
In addition, the hardware part is also unique, where a mechanism resembling a human foot has been adopted. It will be easy to understand if you imagine kneeling. On four wheels, it operates with its feet and knees on the ground, and when upright, it runs on two wheels with the tip of its foot on the ground. Further, when riding an escalator, it can maintain stability by leveling the seating in a four-wheel state and going up and down the stairs on its 2 legs that are structured like the human leg. It is rare to see such multiple functions in one mechanism, which is also compact in its design.
Have you faced any difficulties since founding the company?
The finance and recruitment aspects were challenging. I think both are issues for any startup. In terms of recruitment, not many people can smoothly proceed with organizational activities or have the same technology we want. I struggled with the hiring part.
What are your thoughts on global expansion?
We have been conscious of global expansion since we founded the company, and our goal is to expand in 2025. We are thinking mainly of the United States and Europe, and we plan to release a model designed for widespread use with the same functions as the first model scheduled to be released in Japan next year.
The reason for selling this popular version with the same functions is that it is necessary to obtain various approvals and licenses for global expansion. For example, in the United States, wheelchairs are classified as "medical devices" and require FDA approval. In the EU, products sold must have the CE mark, which indicates that they comply with their standards. Considering the timeline for obtaining approvals, etc., we took the option of selling the popular version of the same product that had already been released in Japan rather than entering with a product having newly added functions.
Abundant team experience in organizing a group of engineers with development specialization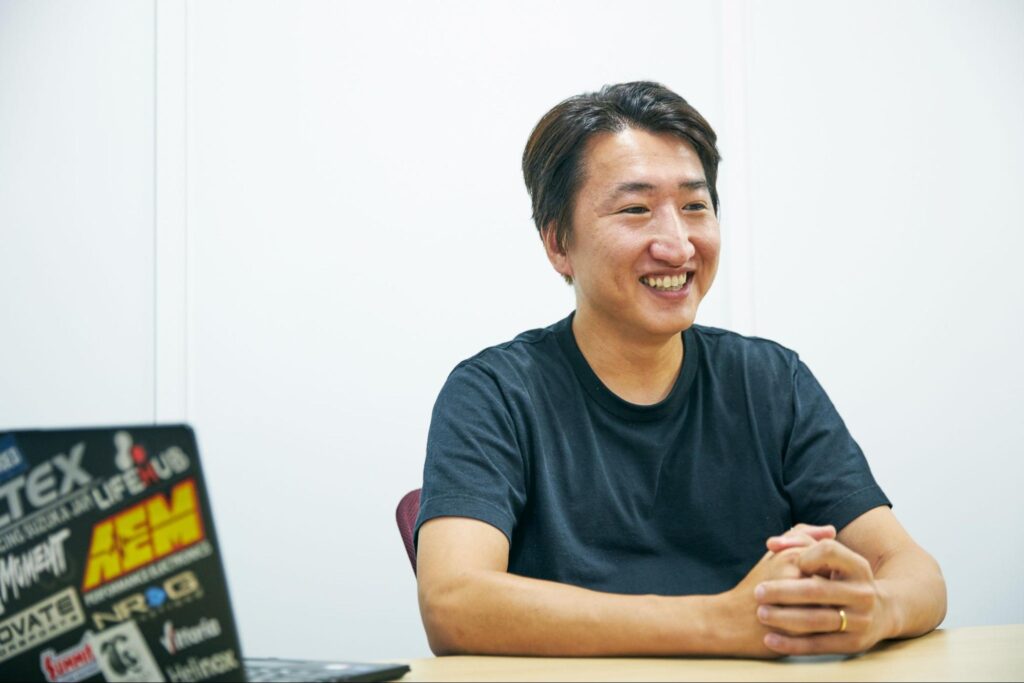 Could you tell us about the organizational culture and recruitment?
I think it's pretty balanced overall. All of us are middle-aged, and the average age group is in the late thirties. Compared to other startups, it may have an adult atmosphere. We also actively hold company events, like office and quarterly closing parties. When funding is decided, we celebrate and hold welcome parties for new employees.
We want to recruit engineers in various fields, such as embedded software, electrical and electronic communication systems, robotics, and mechanical systems.
What kind of people do you want to recruit?
Since we now have only a few people, the people we recruit must have the experience and technical skills needed. In the non-technical field, we want to recruit people who share the same values, have a challenging spirit and can take on new challenges without hesitation. Further, I think it's also important to have a playful spirit.
How did you spend your time as a student?
I was in the tennis club during junior high school. However, I wanted to get hands-on with computers. So, I created my engineering club and even made things in my workshop. I played tennis even after entering technical college, but there weren't many circles related to manufacturing. So, I created a circle there. At that time, I built an electric car and participated in a race. Since then, I have liked cars.
Even as a student at the university, I participated in student formula car-making competitions called Student Formula and continued making cars. Since I also really liked racing per se, I used to participate in bicycle races too. I still like that, and recently I have been participating in adventure races.
Do you have any tips on how to spend your days off and how to refresh yourself?
Basic outdoor activities include golf, adventure racing, and mountaineering. As for mountaineering, I do ice climbing and some pretty hard stuff. Last year was the first time I participated in adventure races. I participated in the "NISEKO ADVENTURE RACE" in Niseko, Hokkaido, and came third. In adventure races, one goes around checkpoints with the help of a map and compass. There are sections for running, climbing mountains, riding bicycles, and rowing boats, but one can choose the route freely. In addition to strategic route selection, team management is also necessary as it is a team competition. Since I am good at map reading and management, it suits my personality, and it's very interesting because it gives me a high degree of freedom.
I also like cars, so I do kart racing and sometimes drive on a circuit. I also like winter sports and often go skiing and snowboarding. However, I have lower back pain, so it's been a bit tough lately. Maybe my lower back pain is also the reason for the development of this product (laughs).
When in doubt, challenge yourself. Taking human beings to the next level by bringing human beings and technology together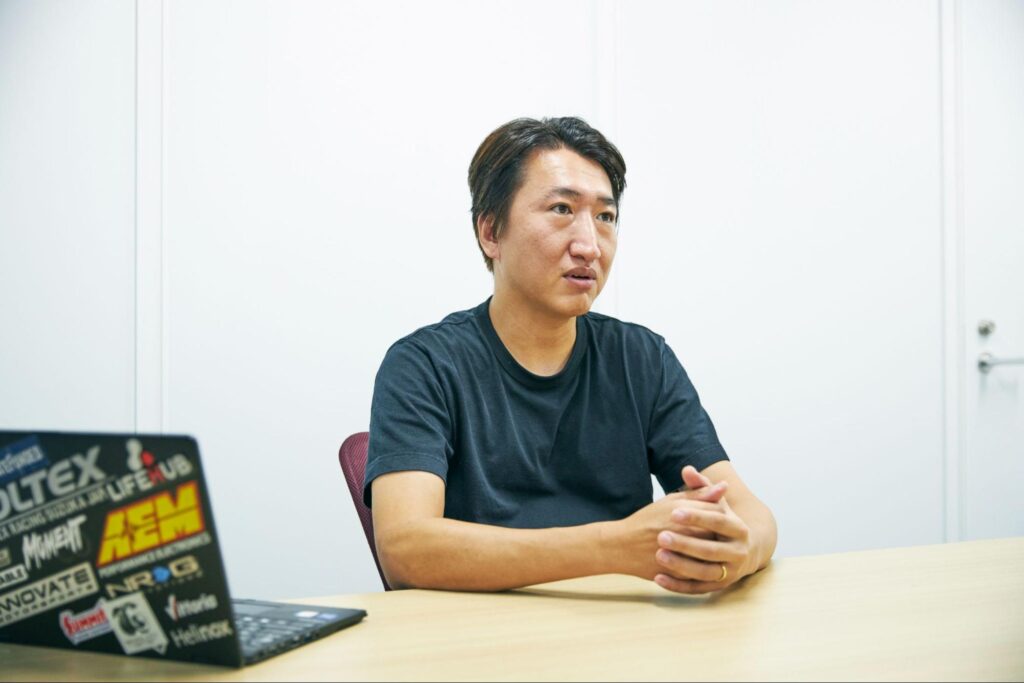 Do you have a message for startups in the pre-seed to seed stage?
If you haven't raised funds yet, acting without hesitation is important. In the pre-seed stage, many people think that their idea may be challenging to understand, that the VCs may not invest even if they go to them, or they are self-sufficient from the time they are taking on the challenge and then not able to take action. However, there is nothing to lose, even if you try and lose. So, I think that it is important to try and then grow. If you've already raised funds, it's all about product development from there.
Further, the common point is to send a message anyway. I participated in a business plan contest called TOKYO STARTUP GATEWAY. It was a meaningful opportunity in many ways; even after the contest, I could consult with the mentor regarding fundraising, get introduced to an investor, and connect with capitalists with whom I am still in contact. This also started after I sent a direct message to the mentor. You may not get used to it initially, but sending a message is a good idea, even if it does not click.​
What has contributed to your growth and the growth of your business?
Fundamentally, everything in my past has contributed to my growth and shaped who I am today. In the words of Steve Jobs, "Connecting the dots". If you do what you like occasionally, all those things will result in a foundation, and the various points in life will inevitably connect. For example, I have been involved in manufacturing and building organizations since junior high school. I specialized in mechanical engineering at the technical college, and at university, I deepened my expertise in creating formula cars. I have a doctorate in robotics, so I have experience studying things thoroughly. When I got a job at a large company, I could see the complete research and development process, so I knew what I needed to cut from the complete type and what needed to be given the push when I wanted to improve efficiency and eliminate waste. In this way, I believe all my experiences are connected to where I am today.
Please tell us about your prospects.
Our company produces short-distance mobility, but we are not looking only into the personal mobility market. There is a school of thought about human augmentation in which human beings and technology can be integrated to extend their capabilities. We aim for that, and our goal is to generalize human augmentation and spread it worldwide. LIFEHUB aims to be the leading infrastructure company for that purpose.
To achieve this, we plan to go public with the next-generation chair-type mobility we are developing and then build the company's foundation.
May I ask you more about the integration of human beings and technology?
For example, operations such as connecting the brain and devices, connecting brain information to the Internet, inserting artificial eyeballs to convert vision into AR, estimating hand gestures and operating the AR display may be possible. Also, in such a scenario, there will be no need to carry smartphones, etc., and the number of things we carry will reduce, but we will not forget anything. There are many other possibilities, such as technology, to raise physical ability. In bringing human beings and technology together, I want to create a world without limitations and expand people's abilities by connecting devices to them directly rather than using wearable devices. ​
The movie "Andrew NDR114" left a significant impression on me about the fusion of machines and human beings in this area, and that's what made me want to create the human body.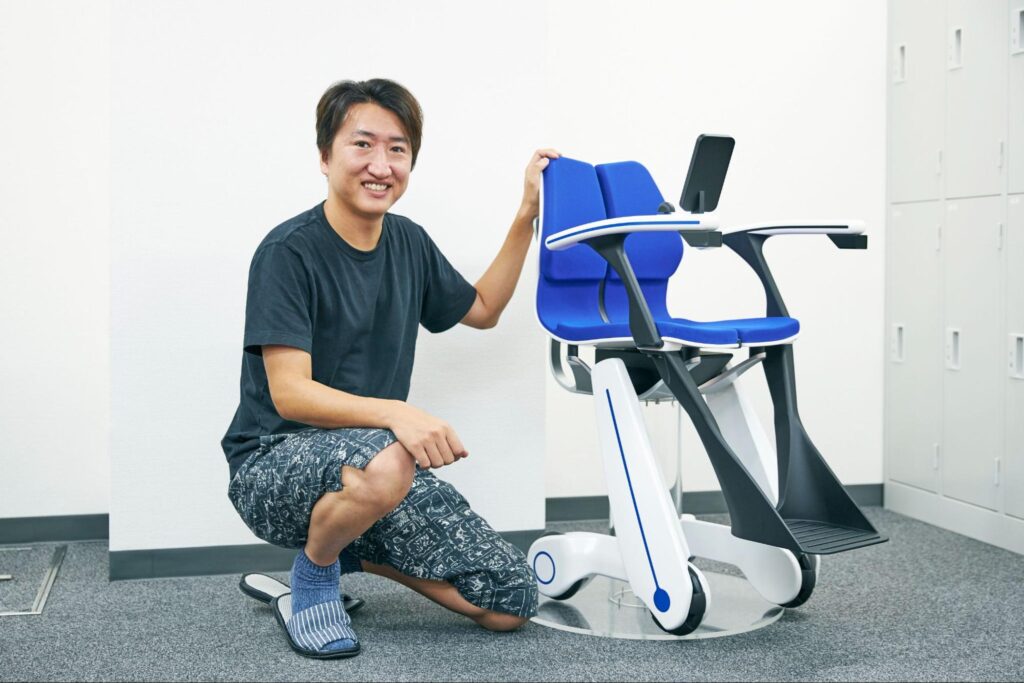 Finally, would you like to say a few words to our readers?
If there are people who get excited when they hear that technology can be used to change people, I would love to work with them!