Towards a world where people can love their pets as family. Mr. Taisuke Okubo, PETOKOTO, tackles challenging business development and market reform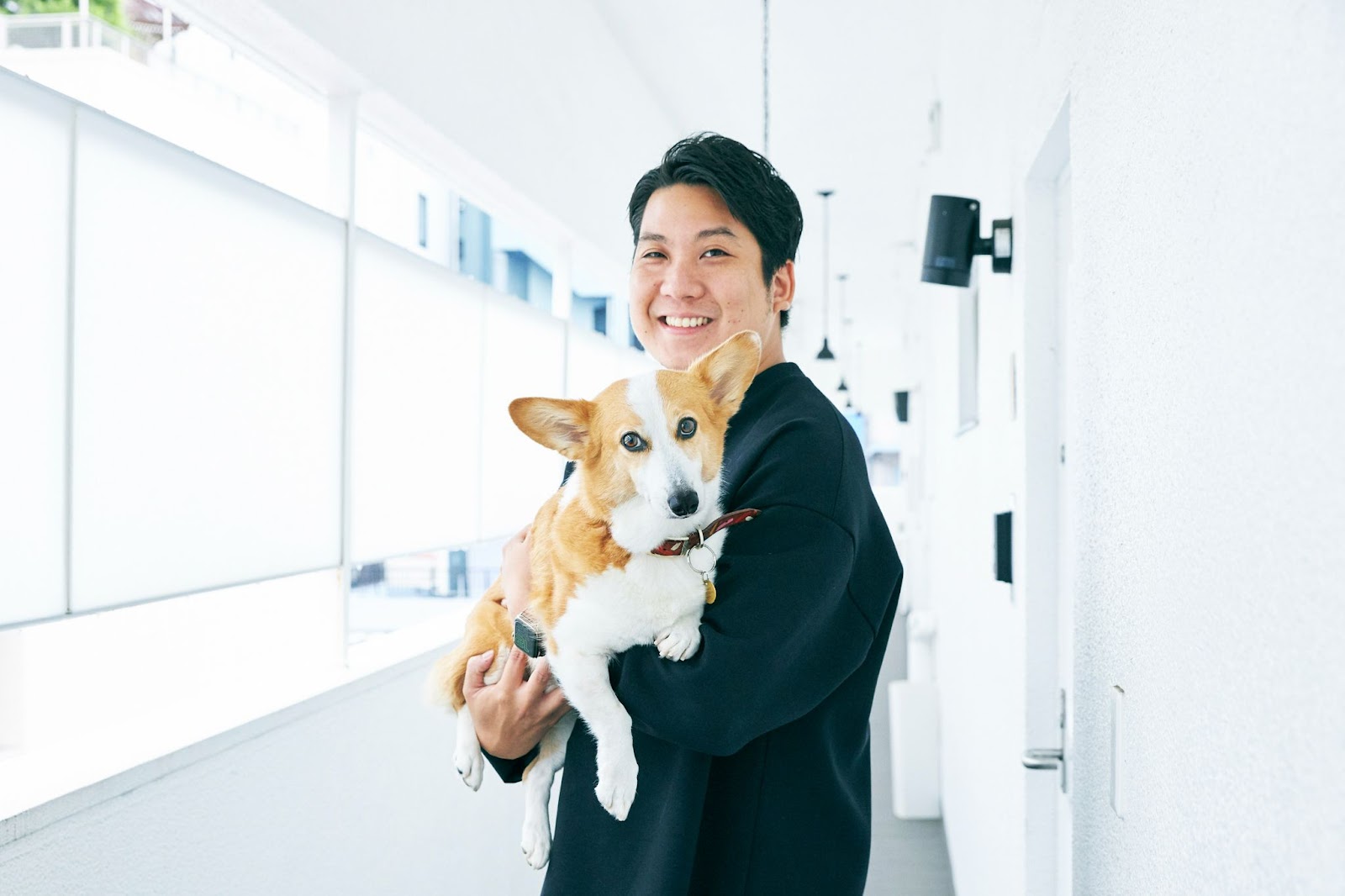 The pet-related market has been expanding in Japan in recent years. According to the Ministry of Economy, Trade and Industry's website, it has become clear that the amount of time spent interacting with pets and the number of people who keep pets have increased due to the corona crisis, and household spending on pets has increased significantly.
While increasingly more people are adopting pets as part of their family and spending money on pet supplies and clinics, many pet-related issues remain. Various problems remain, including the problem of culling unsold animals, abandoned dogs and cats, pet medical care that owners must pay for in full, and the increasing number of end-of-life care issues as the mortality rate of the pets increases.
In such a pet market, Mr. Taisuke Okubo, the president of PETOKOTO​, loves pets dearly and is seriously addressing the issues in the market. PETOKOTO's mission is to create a world where people can love pets as family, and the company aims to develop services that accompany pets throughout their lives. We interviewed Mr. Okubo about the history of the company's founding, his thoughts on the business, and his career so far.
Long-time dog and cat hater to starting a business in the pet market
Could you give us an overview of the operations of PETOKOTO?
Our mission is to create a world where people can love pets as family. PETOKOTO operates preservative-free fresh pet food, PETOKOTO MEDIA, an information media that provides information on a pet's life, and OMUSUBI, a matching site connecting rescued dogs and cats with their future owners.​
I heard that you, the president, were initially not fond of dogs and cats.
That's right. I was not fond of dogs and cats until 3 years before I started my company. Since my parents' house was in the countryside of Kyoto when I was in elementary school, I would catch crabs in the nearby river, and I had no fear of living things.
When I was in the first grade of elementary school, I wanted to adopt a puppy that was born in the house of a girl in my class, so I talked to my parents about it. However, I guess it was hard for my parents, with three sons. In the end, they did not approve of me getting a dog. After that, I remained estranged from dogs, cats, and other pets.
Now I live with my wife and dog, Cork, whom I met at a rescue dog and cat adoption event right after the company's establishment, so I have overcome my dislike for pets. Instead, I'm worried about the feeling of loss when Cork passes away.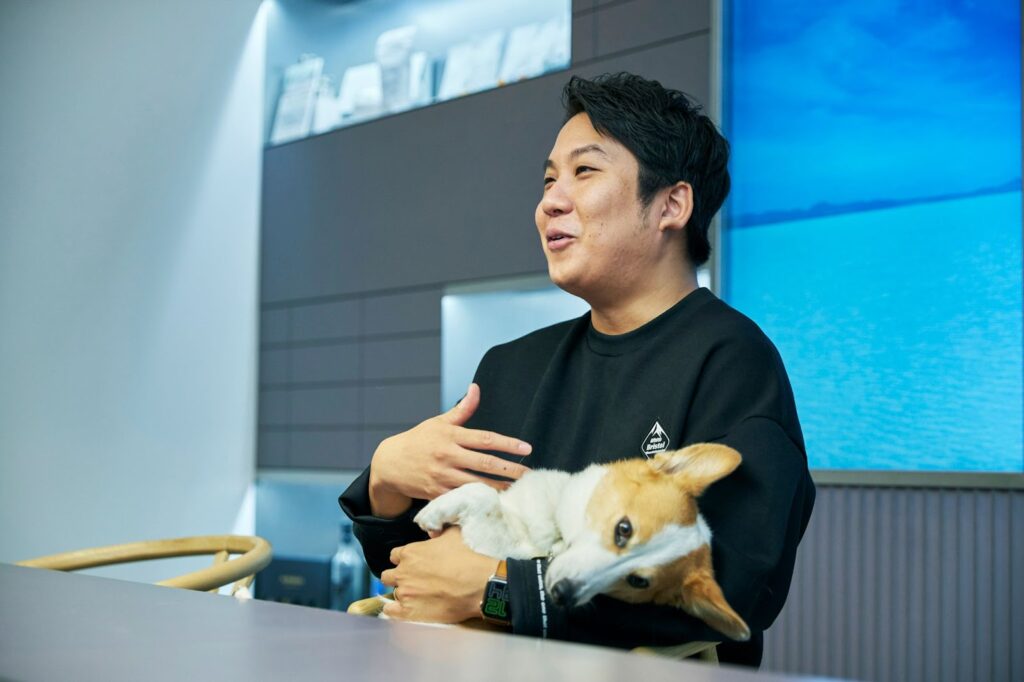 I wondered if your dog was behind your decision to start a company, but I see that your encounter with Cork was right after the company's founding. Then, why did you, who disliked dogs and cats, start a business in the pet market?
It all started about 10 years ago when I saw a toy poodle as a pet at my girlfriend's house when we were dating. Interacting with the poodle, I realized I had always hated touching dogs and cats. As I lived with and cared for the poodle, I gradually became more concerned about the issues in the pet industry.
Many veterinary hospitals only accept cash payments and hospital appointments were analog. Even for just the dogs, there were significant differences in the characteristics of each breed, and it wasn't easy to obtain accurate information about the type of pet one owned. In addition, there was also the problem of culling abandoned pets and unsold animals at pet shops.
At the time, I was working at GREE, Inc., which uses the power of the Internet to revolutionize various areas of society. I wondered if I could use IT to solve the problems of the pet industry, which led me to decide to start my own business.​
The pet market seems to have its unique difficulties. Did you have any hesitation in starting a company in such a field?
When I started my company, I thought that the only themes I could seriously work on were "pets" or "soccer", so I had no hesitation in starting a business in the pet market. However, as you mentioned, the pet market is challenging. Different breeds and types of pets are susceptible to different diseases and have different needs, and the market itself is highly fragmented. Because of this difficulty, an investor asked me if I was prepared to hang in there for 10 years. An entrepreneur who values business success would never choose this market.
Within such a market, PETOKOTO is currently expanding. What do you think is the reason for this?
Perhaps it's because we sincerely love pets and are determined to create a world where people can love pets as part of their family, which is our mission. The five years leading up to today have not been a smooth road. We have had to launch and close pet-version family social networking services, our savings account balance dropped to 10 yen, and we faced many other difficulties. Still, we managed to persevere each time and continued PETOKOTO.
Until now, there have been very few players who have changed the pet industry significantly. Even when major companies enter the market, they often fail to do well and withdraw. I believe that business sense alone is not enough to win in this market and that combining feelings and love for pets with business acumen is necessary.
I see. On the other hand, I think the country's economic situation significantly affects the pet market, but what is the actual situation?
As you mentioned, economic growth significantly impacts the pet market. As the economy grows, the middle class grows, the number of pet owners increases, and the market expands. The market in China and Southeast Asia is expanding in precisely this pattern.
On the other hand, when "pets become family members", the market moves in a different direction. As the number of animals raised has plateaued, the amount spent on each animal/pet increases, resulting in an expansion of the market size. This is happening in the U.S. and Japan, where the birthrate is declining, and the population is aging; increasingly, more people are adopting pets as part of their family, and the annual spending on pets is rising.
Make your life with pets better. What is PETOKOTO's business?
Could you tell us a little more about PETOKOTO's business? You currently offer three services, isn't that correct?
Yes, we do. Our projects pursue our mission of "towards a world where pets can be loved as part of the family". We are developing our businesses based on the values of "providing the happiness of living with pets" and "creating a society where pets are accepted as part of the family". If we have an experience that we worry about as we spend time with our pets as a "family", we often create a business by working backward from the ideal form of that experience.
For example, PETOKOTO MEDIA, in which veterinarians, groomers and other experts publish under their real names to provide information about pets, was started because we wanted to deliver correct information in the face of curation media scattered with anonymous and incorrect information. In addition, OMUSUBI was started because we wanted to establish a culture of welcoming pets from shelters and to create a place where pets and people meet each other to create a "family encounter for a lifetime".
The third project, PETOKOTO FOODS, is a service launched in 2020. From the time of PETOKOTO's founding, we had always imagined that we would eventually be involved in the pet food business, which is easy to monetize. I started to get serious about it when I had concerns about my pet dog, Cork's diet. Until then, I had been feeding him dry food, but I felt that I wouldn't want to eat such inorganic food if I were a dog. I wondered if it is possible to create nutritious pet food safe for human consumption and rich in nutrients. That thought led to the pet food business.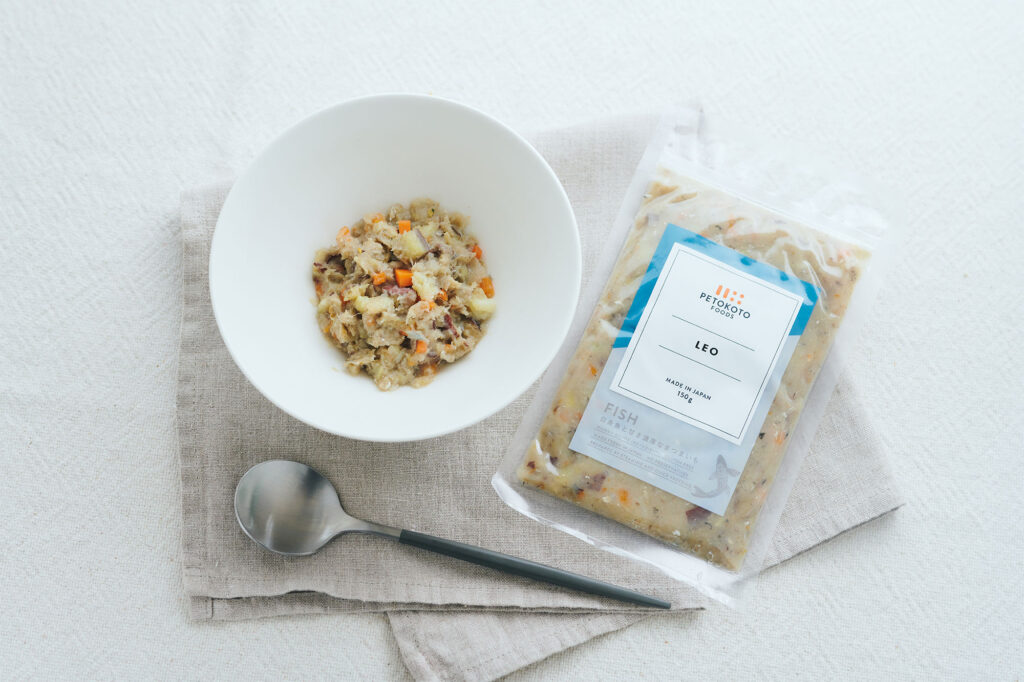 I thought PETOKOTO FOODS was designed considering food waste and other issues. What points did you focus on when developing the service?
In developing PETOKOTO FOODS, we were particular about two points. iThe first is constructing a production line that could provide a stable supply of high-quality food. Our pet food is made with fresh ingredients and is preservative-free. We deliver frozen meals to our customers in a safe condition for human consumption. For this reason, a factory that handles frozen foods for human consumption was required for production and not a dry food factory. However, only a few factories can handle frozen food for pets, and we have established a production system with one company that we finally found. The fact that we are now able to produce a stable supply of pet food of the same quality as human food is the key point of our service and is something we are committed to.
The second is the ingredients used. We do not use any ingredients humans cannot eat and only use meat and vegetables of the same quality as the ingredients we eat. We are also very conscious of contributing to Japanese agriculture through this business, for example, by using rice, which is not generally used for pet food, as an ingredient.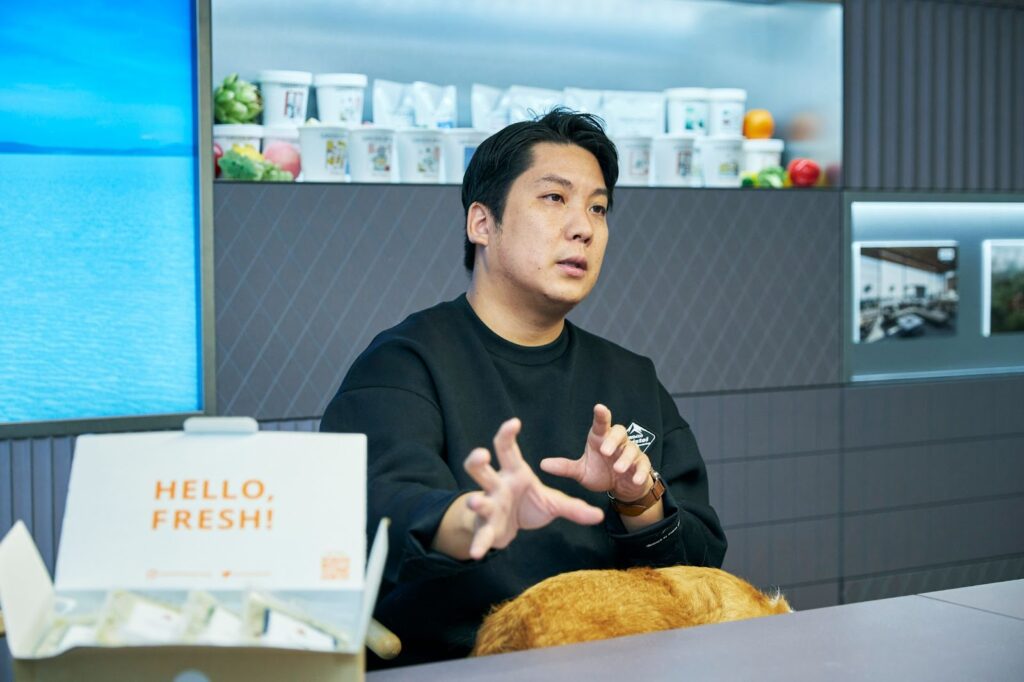 Why are you developing one business after another while there are strategies to concentrate on one business in the first place?
This ties in with our future, but we want to become the infrastructure that will accompany pets throughout their lives.If we are to be a part of pets' lives, we must be involved not only in the food and information services we currently provide but also in insurance, medical care, clothing, housing and many other areas. We want to create an environment where the pets' sphere of life becomes their economic zone. To this end, we must create various services as quickly as possible since the average lifespan of a pet is only 15 years.
I want to create a cyclical business from adopting a pet to the end of life and create a community-based business by creating mutual support relationships with pet owners and animal protection groups. Eventually, we would like to expand our business to the Asian region.
Rejected a job offer from a major company and went to England to play soccer
I don't think many companies are sincerely committed to pets. I want to know more about your career as the creator of PETOKOTO. Did you work for a company after graduating from university?
No, I took an absence of three years before graduating from university and went to England to play soccer for a youth team in the London eighth division youth team. I have been passionate about soccer since I was in elementary school, but I got injured and quit when I was in my first year of college. However, once I started looking for a job, I felt the desire that I still want to play soccer. It was then that a team in England approached me. After completing my job search, I received job offers from major trading companies and advertising agencies, but I turned them all down and moved to England.
So that's how it was. What was your life like there?
While playing soccer in London, I helped promote UNIQLO UK, which had offered me a job before moving to England. When I told him about my situation and asked for advice about my decision to decline the job offer, they asked me if I would be interested in working with a major advertising agency on an outsourced basis, as the timing was right for them to reopen a store in London.
Including my work at UNIQLO, I met a diverse range of people in London. Through these experiences, I took a fresh, objective look at Japan, and I think I rediscovered the strengths of Japanese values and areas that we can be proud of in the world. As I mentioned earlier, PETOKOTO has its sights on expansion in Asia, but I think my three years in London strengthened my desire to create a global standard from Japan.​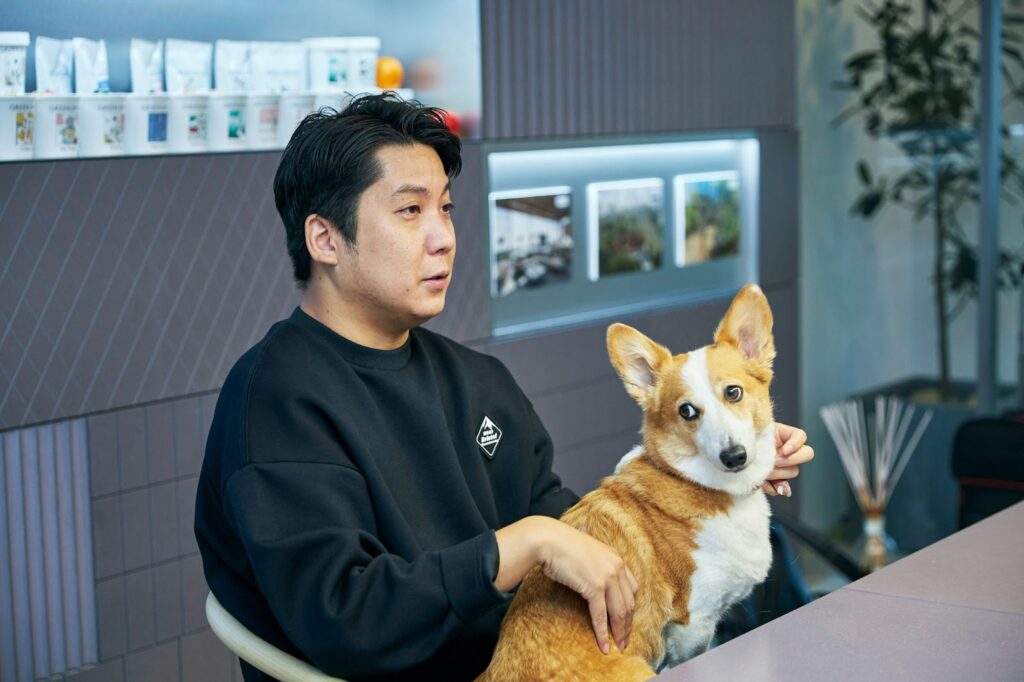 What kind of career did you pursue after returning to Japan?
After returning to Japan, I graduated from university in 2012 and joined GREE Inc. as a new graduate. After working on the global recruiting marketing team for about a year and a half, I worked in the accounting department for about a year and a half to learn accounting, as I had the option of starting my company in mind at that time. Then, at the end of 2014, I submitted my idea to an in-house competition for a new business. I submitted several ideas, and based on my business idea of PETOKOTO, which was one of them, I was ready to leave my job and start my company in early 2015.
In the GREE period, entrepreneurship became more accessible; what was the path to founding PETOKOTO?
Could you tell us why you chose GREE, Inc. as your place of employment after returning to Japan?
I first learned about GREE when the HR manager at UNIQLO UK changed jobs. That sparked my interest, and when I heard a lecture by Mr. Tanaka, the CEO of GREE in Japan, I was strongly attracted to his ambition to create Google from Japan. I felt that this was the only place I could go if I were going to join a company, so I took the recruitment test and was offered an opportunity to join the company.
You mentioned earlier that you applied for an internal job posting, but did you initially have an entrepreneurial mindset?
No, I never intended to start a company. However, when I joined GREE, I found that some people had started their own companies and returned, while others joined mega-ventures in their early stages of establishment. When I thought I could do it, I invited my friends to come up with ideas night after night and applied for internal open competitions. Since the emphasis was on producing several ideas, I submitted about ten, whereas most people usually take part one or two.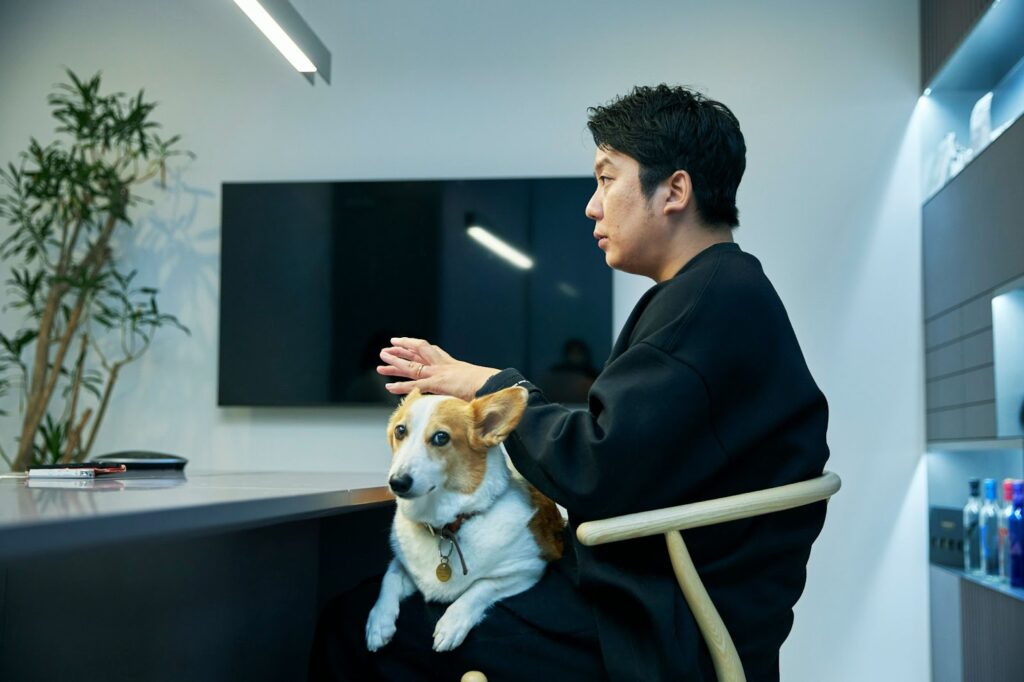 And one of them was the starting point of PETOKOTO, isn't that correct?
That's right. PETOKOTO's business idea made it through the final round of management interviews, which was the final screening, but no one at GREE's management at that time owned pets. I failed in the final screening because the significance of my idea and the market needs were not communicated well.
However, a board member who supported me at that time suggested that I should start my own company and introduced me to CyberAgent Capital. I went to make the presentation and received an investment offer before establishing the company. I informed my boss of my intention to resign that day and immediately started working towards starting my own company.
After you received the investment offer, you proceeded to start a business at a very high speed.
The business idea of PETOKOTO was something I sincerely wanted to do, and perhaps I became familiar with entrepreneurship during my time at GREE, which made me think that it would be okay if I failed, so it may have been the reason why I was able to move forward smoothly.​
I see. And in July this year, seven years after its founding, you won the IVS2022 LAUNCHPAD NAHA, considered a gateway to success for entrepreneurs. How has the response been after that?
I am not good at pitch events, so I debated whether to participate in this event until the application deadline and with the support of our shareholders, I decided to participate. At IVS2022 LAUNCHPAD NAHA, I could express what I wanted to convey in my pitch. By having people watch the video of my pitch, there were many positive influences, such as securing funding and successful recruitment. Now we encourage people to watch the video of our pitch event first for them to gain a better understanding of PETOKOTO.
Rebranding verbalizes thoughts and aspirations for the next 10 years
You rebranded in March 2022. Could you tell us about the backstory and the challenges you face?
We decided to rebrand because we felt there were issues with external communication. Although each of our services has gained fans, PETOKOTO, a company that creates experiences with pets, did not have many fans. For this reason, we reworked our external message and brand logo to include our mission of "creating a society where people coexist with animals," which has been a favorite within the company. In rebranding, we thought it was necessary to involve a third party, so I asked GO Inc to join us.
There were very few challenges we faced in rebranding. I made a proposal, which was brushed up by GO Inc., and summarized as mission, strategy, strength, guidelines and beliefs.
We were able to verbalize our thoughts and aspirations for the next 10 years, so I think we were able to reduce the number of mismatches in the recruitment process. The rebranding process successfully created a personality for the company that would allow it to operate without me.
I see. I also saw the rules of PETOKOTO, but I was impressed by the item "Let's imagine outside the circle". I think there are not many companies engaged in pet-related businesses that keep in mind that not all people like animals.
I think I was able to create the "Let's imagine outside the circle" item because there was a time when I was initially not comfortable with dogs and cats.
The "guidelines", which consist of three items in all, are the action guidelines for our members. "Let's deliver to pets with a short time to live" was created to emphasize the importance of speed to provide pets with good service and happiness before they pass away. The item "Let's be a professional pet lover" was created to confirm the attitude to deliver customers what they want from their perspective since all company members have pets.
The last item, "Let's imagine outside the circle", was created because we believe that to realize our ultimate goal of a society where pets are accepted as family members, we need to consider those who are not comfortable with pets.​
For example, this spring, we ran Japan's first Shinkansen bullet train exclusively for pets with East Japan Railway Company. At that time, considering people uncomfortable with pets or have allergies, we asked Panasonic for cooperation to verify the cleanliness and boarding operations. We deeply value such efforts to create a suitable environment for everyone to realize the world of our goal.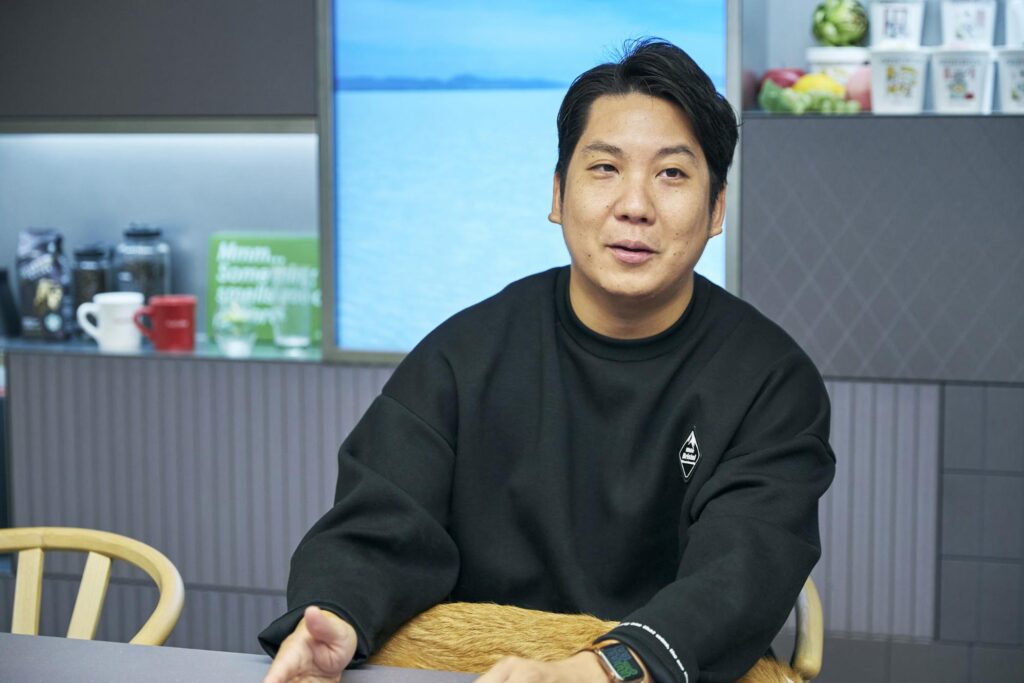 Could you tell us about the corporate culture at PETOKOTO?
We have an open culture based on the principle of the goodness of character. In addition, we have already been in three projects in the eighth year since our founding, and we intend to develop more products and services to quickly deliver our services to pets with a short time to live. It is a very chaotic environment, as we have multiple businesses and businesses in the expansion phase, along with zero-first businesses. Employees who work and actively participate in our company enjoy such a chaotic situation and can break through independently.
Could you give a message of support to startups in the Pre-Seed to the Seed stage?
I founded PETOKOTO seven years ago, and recently, I feel that it is finally taking off. We have overcome many challenging situations before getting this far. All of you in the pre-seed stage to the seed stage of your startups will also blossom one day if you persevere through all circumstances toward the world you truly want to realize. I hope that you will follow your own beliefs and act accordingly.
Finally, please give a few words to our readers!
The pet industry is a legacy devoid of players who have revolutionized the industry. I would love to work with people willing to take on new and big challenges in such a difficult but potentially hidden market. I am the type of manager who creates 1 from 0, but in the future, I must grow that 1 to 10 or 100, and I want to hire people who can take on that role actively. I would be happy to hear from anyone who thinks they are the right person for the job. I will continue working hard to realize a society where more people live with their pets as a real family, and everyone accepts it.​