I want to contribute to society by demonstrating "intermediate value". Mr. Shihito Kondo, fanfare, challenging to solve problems in the waste industry from inexperienced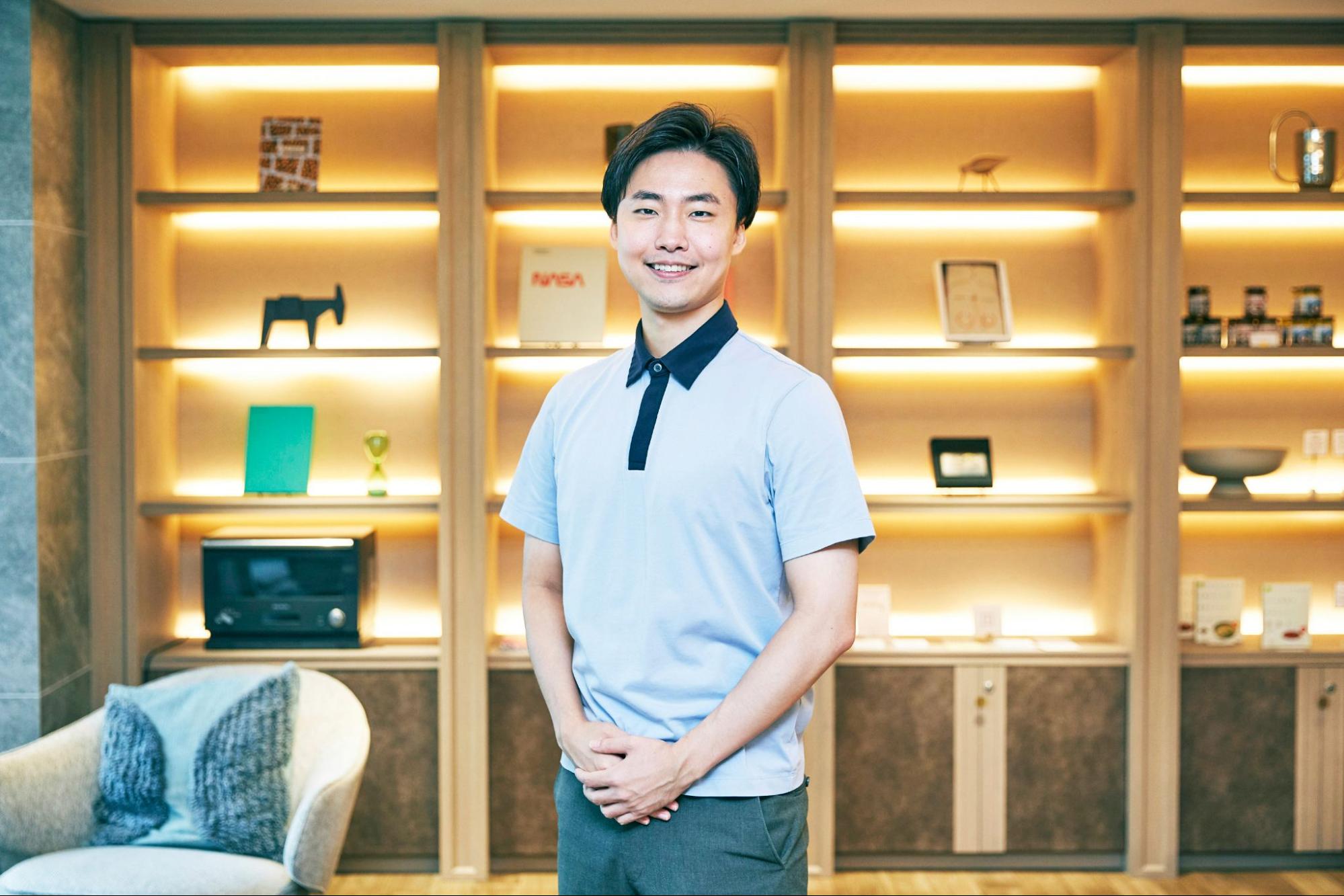 The history of the waste industry in Japan is long. In 1900, the Sewage Cleanup Act was enacted. More than 100 years have passed since the first system was created to treat waste under government control. That is why the hurdles to change the old way of doing business are high, and there are many companies that still have the same old system, even though there is an urgent need to improve productivity due to labor shortages.
To tackle such issues in the waste industry, Fanfare Inc.​ ​Mr. Yukito Kondo. Mr. Kondo has developed "Haishagashira", which automates the labor-intensive work of creating a vehicle allocation plan with AI using a unique algorithm.
Mr. Kondo, who formed a career centered on the development of new businesses and launched a startup in the waste industry with no experience at all. In this interview, he talked about his career so far, how he founded the company, and the values he cherishes in life.
Developed SaaS that automatically creates waste collection vehicle allocation plans
First, please tell us about Fanfare's business.
We develop and provide a SaaS "Vehicle dispatcher" that configures AI specialized for the waste industry and automates the vehicle allocation plan when collecting waste. It is possible to present the optimal route and the person in charge in about 3 minutes for waste collection requests that differ from day to day.
Creating a dispatch plan requires a great deal of effort, as it is necessary to derive the optimal route while organizing all kinds of information, such as the status of requests for the day, compatibility between drivers and clients, road information, and so on. In addition, it is a job that can easily be dependent on individual skills, as it requires a lot of experience to be able to create plans smoothly. In some cases, the plans are still shared with the drivers on paper.
As you can see from things like Uber, dispatching a car is a job that AI excels at. If we can utilize the power of IT in a way that is familiar to the waste industry, we can improve the working style of the industry as a whole, and in turn contribute to the construction of a sustainable social infrastructure in Japan, which is suffering from labor shortages due to its declining birthrate and aging population. , launched this business.
Did the business idea come from your experience, Mr. Kondo?
No, I wasn't particularly affiliated with the waste industry, and the business idea was born from a side job of UX consulting I was involved in when I was working at Recruit.
Originally, I studied graphic design at an art university in Kyoto. At Creww, Inc., which I joined as a new graduate, I was engaged in new business development and startup support for major companies. While I was engaged in organizational development at Recruit, where I changed jobs, I was also in charge of product development as a UX job. As a side job, I was doing UX design consulting for various companies, and that's when I happened to be involved in the waste industry.
While doing a side job, I noticed that the waste industry had a large gap in the use of IT, and that the working environment could be dramatically improved through the use of IT. The waste industry is an important infrastructure that forms the foundation of society. Even if there is a labor shortage, it can never be stopped. Thinking about how to solve the problems faced by the industry with IT led to a business idea.
A career that continued to face the creation of new businesses
Your business idea was born from your side business. Mr. Kondo, what kind of career have you taken so far?
After graduating from university, I joined Creww, Inc. as a part-time worker. I chose this company because I wanted to acquire the ability to create a business. In order to solve the shortage of successors to Kyoto's traditional crafts when he was a student, he launched a project to redesign crafts, and launched a sports cram school aimed at the social reintegration of children who did not go to school. I worked on, but none of them ended without being scaled. Due to my lack of ability, the number of people who could be saved through business was limited, and I felt frustrated at the situation where I was just self-satisfied.
Creww, Inc. is a company that was established to establish an entrepreneurial culture since "open innovation" was still rare in Japan. I was fascinated by the environment in which I was involved in both business creation, whether it was a large company trying to become 10 or 11, or a startup creating 1 from 0, and I thought, "I just want to enter this space." rice field. So, I personally contacted Mr. Ijichi, the representative, and talked to him.
What kind of work were you in charge of at Creww, Inc.?
Using what I learned at university, I started with design-related work, and gradually expanded my scope of responsibility from an assistant position to support the creation of new businesses for major companies. In the end, I was involved in the creation of about 100 businesses in the three years until I retired. I was really busy at the time and was working in a mess like mud.
What did you learn the most while working at Creww, Inc.?
I was able to feel the passion and energy of a person who devoted his entire career and life to the challenge of a business. In addition to startup founders, there are actually many intrapreneurs (internal entrepreneurs) of major companies who are taking on the challenge of business creation while shouldering the expectations of those around them and their careers at their own companies.
I think I was able to set a standard for the amount of passion I had when I started my own business, and I was able to raise my perspective correctly.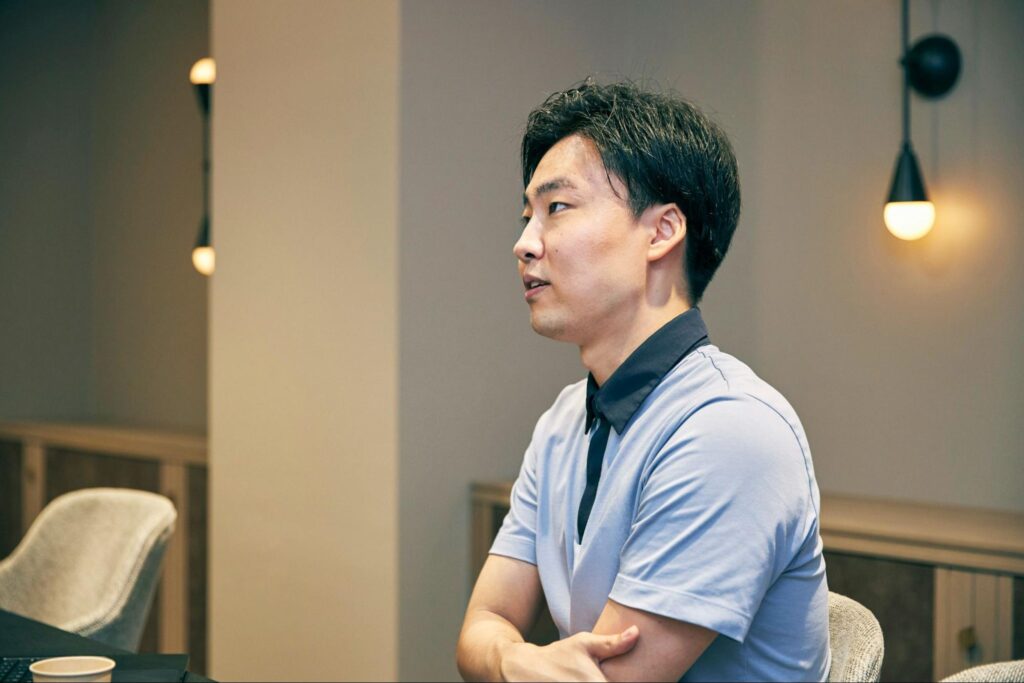 After retiring from Creww, Inc., you joined Recruit.
I agree. After leaving Creww, Inc., I joined Recruit Holdings Co., Ltd. and worked there for three years to experience organizational development. The reason I moved from new business development to organizational development was that I realized the importance of building an organizational structure to promote new businesses while engaging in open innovation. Even if the necessary elements such as people, money, and environment were perfectly arranged, there were cases where the business closed in a short period of time because the organization was optimized for the existing business and could not adapt well to the new business. .
What kind of organization should be created to continue to generate business and innovation? When I wanted to think about building an organization in a new environment, I had a connection with Recruit, a major company with an innovative culture, and decided to join the company.
How was it when you actually joined Recruit?
I was able to slowly turn the rudder and gain experience in moving a large organization. In addition, Recruit is a group of members who are resistant to change, so we are repeating short-term paradigm shifts. I think it was a great experience in my career that I was able to experience how people who played important roles changed their positions as a member of a business company.
I believe that Mr. Kondo has steadily built up his career centering on the creation of new businesses. Under such circumstances, why are you facing the challenges of the "waste industry" with a high degree of enthusiasm?
I think a big part of that is that I have seen many entrepreneurs and intrapreneurs during my time at Creww. If you don't have a high level of enthusiasm, it's difficult to start a business. That's why I didn't start a business right away, even though I was paying attention to the waste industry.
While thinking about how I could contribute to the waste industry, which is a social infrastructure, I devoted about a year to getting to know the front lines of the industry. I traveled around the country to various business operators, and while I was stationed there, I saw the work being done on site. During that time, I solidified the concept of the "dispatch head". I decided to start a business only after I could get a feel for the people who wanted to provide value.
I think that it is precisely because I was able to solidify my business idea that I was convinced by looking closely at the frontlines of the industry, that I am able to face the challenges without losing my enthusiasm even today.
I want to demonstrate "intermediate value" to everyone involved
I feel that Mr. Kondo has consistently valued "creating something" throughout his career, such as graphic design, social business launches, and new business creation.
Certainly, I think they are aware of the idea of "creating value with their own hands." In my life, I always think that I want to demonstrate my intervening value to society and the people involved. Not only my close friends, but also the employees of the shops I often go to, with whom I have shallow relationships, if they are even a little involved in my life, I think, "I definitely want to show intervening value."
What exactly do you mean by "intervening value"?
To put it simply, does it mean that it has some kind of positive effect? To give a specific example, I asked the trainer at the personal gym I go to repeatedly, so I was able to get paid leave, which was difficult for me at work. Even if my relationship with them is shallow, I am always conscious of the fact that it would be nice if I could leave a positive mark on their lives and the society behind them by working with them.
How did you come to be so conscious of "intervening value"?
I don't have a clear original experience, but I've always felt a sense of loss and loneliness because I don't belong anywhere in society. In order to bury that feeling and lead a fulfilling life, it is necessary to commit to what society thinks is right and should be done. Since I was a child, I have been doing something to create value for my surroundings in order to make a living for myself. For example, when I was in elementary school, I used my drawing skills to draw cute animal character illustrations for my girl friends and gag manga for my boy friends.
In order to continue to realize the form of social contribution envisioned as a company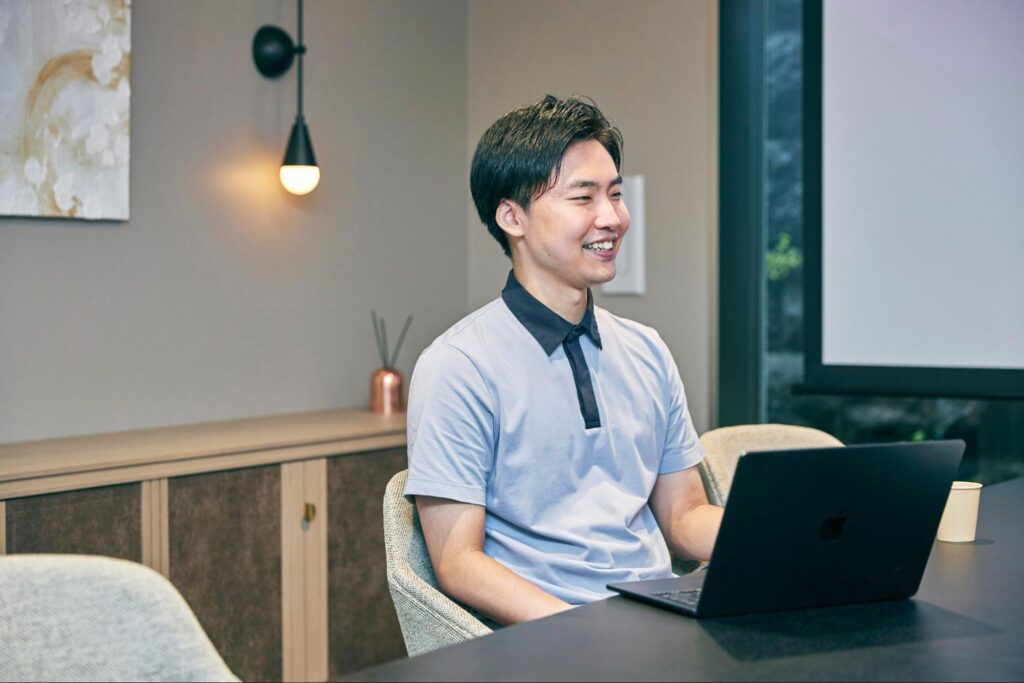 From now on, I would like to ask you about the characteristics of the company Fanfare from various angles. Mr. Kondo, as a manager and UX designer, are there any particular points that you were particular about in the UI/UX of the "dispatch head"?
I was very conscious of how close I could be to the situation on the ground. One is the problem of IT literacy. As you can imagine, many people working in the waste industry are unfamiliar with IT tools. General UX design theory doesn't work, so for example, if your typing speed is a little slow, but your work will be delayed unless you finish inputting a specific page quickly in time, you can put all input items in a pull-down format. I was particular about how to arrange things that are easy for people on site to use.
In addition, we were conscious of creating functions that take into consideration the unique circumstances of the waste industry. There are surprisingly many troubles between the driver and the client, so it is necessary to make a dispatch plan after being aware of the compatibility with the client. Therefore, we made it possible to set "banned crew members" that are not necessary in the normal transportation industry.
I feel that the value of being a UX designer as a manager lies in being able to properly check the entry and exit points of the company's business plan and maintain consistency. What the company aims for can be fully reflected in the usability of the service. I believe that the fact that there is no discrepancy between the business plan and the services we provide is a unique strength of our company that makes use of my professional skills and experience.
Mr. Kondo, what do you value as a manager?
Since we are developing our business in the highly public sector of the waste industry, we have been thinking deeply about corporate ethics since our founding. I quoted ideas I learned from various books and put together my own thoughts on corporate ethics in a note. As a company's reason for existence, it is very important to see how much corporate ethics is recognized by society. I think that's a good point.
Our company will continue to expand, and the number of employees, investors, and customers involved will increase. How can we realize the form of social contribution that we envision while maintaining a sense of unity as a company? When you make a decision, you always choose while feeling the difficulty.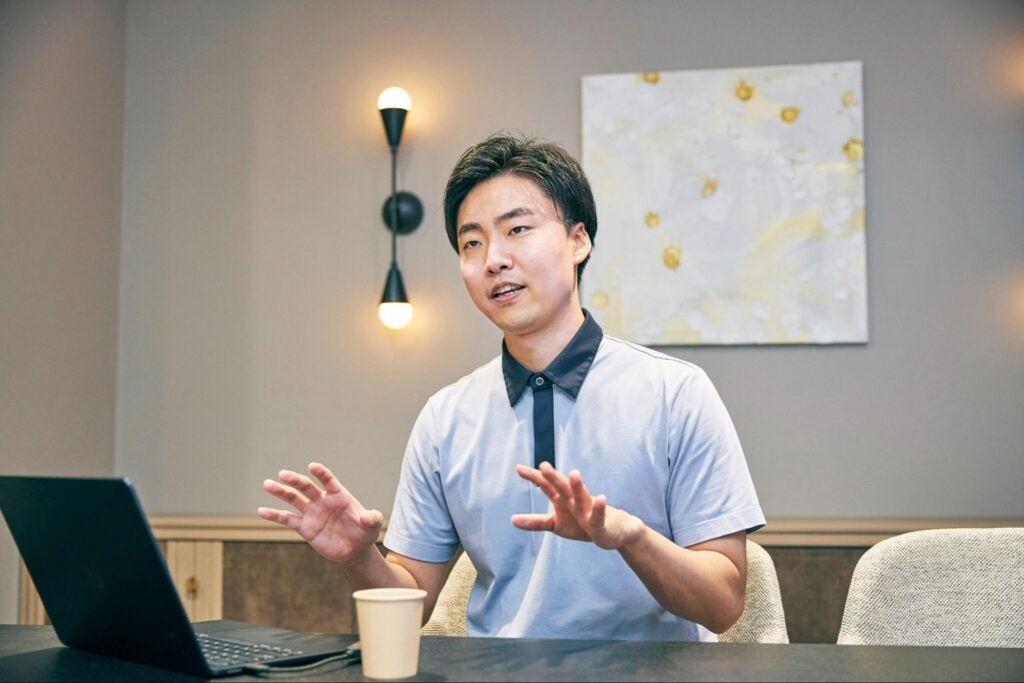 I see. In terms of increasing the number of people involved, I have the impression that the fanfare is gathering very talented people, including the management team. Is there anything you are conscious of when hiring?
First of all, when it comes to recruiting management members, I don't think I'm a charismatic manager, so I try to make sure that they feel the value of intervening when they join the company. . The waste industry has very stable business processes, and because it is not an industry where trends change drastically, it is very easy to envision the medium- to long-term future. By realistically describing the social issues you want to solve and how to solve them, you can clarify the parts that are lacking and persuade them to ask for your help.
For example, CTO Yabe was also attracted to our business plan and joined the company. He seemed to think that if he added his experience in new business development at NEC and his AI knowledge and technology to the future that I envisioned, I could make this business a success.
Also, when it comes to recruiting on-site members, we are currently hiring while valuing balance. In the current phase, the people who enter the fanfare are those who will become managers in the future, so we hire people who have a high degree of independence and the ability to complete their duties.
You recently closed your pre-series A fundraising. What points were evaluated by investors?
Regarding the companies we ask for investment, we see it as a very important point whether or not they agree to improve the industry from a medium- to long-term perspective. I continue to have a good relationship with investors and VCs who have fully supported the social issues I am trying to tackle from the start line. was evaluated. The fact that a bank-based VC and an energy-related company have joined us is very meaningful in terms of expanding the business we are working on, because the waste industry is an industry that tends to be viewed with snobbish eyes. .
Please tell us about your future prospects.
As for the medium- to long-term prospects, we would like to develop appropriate services into multiple products for the work flow of all waste disposal companies and have a complete lineup. In addition, there will be a mix of businesses in various phases within the company, so I would like to establish an appropriate organizational structure, including sales departments, in line with the progress of each business.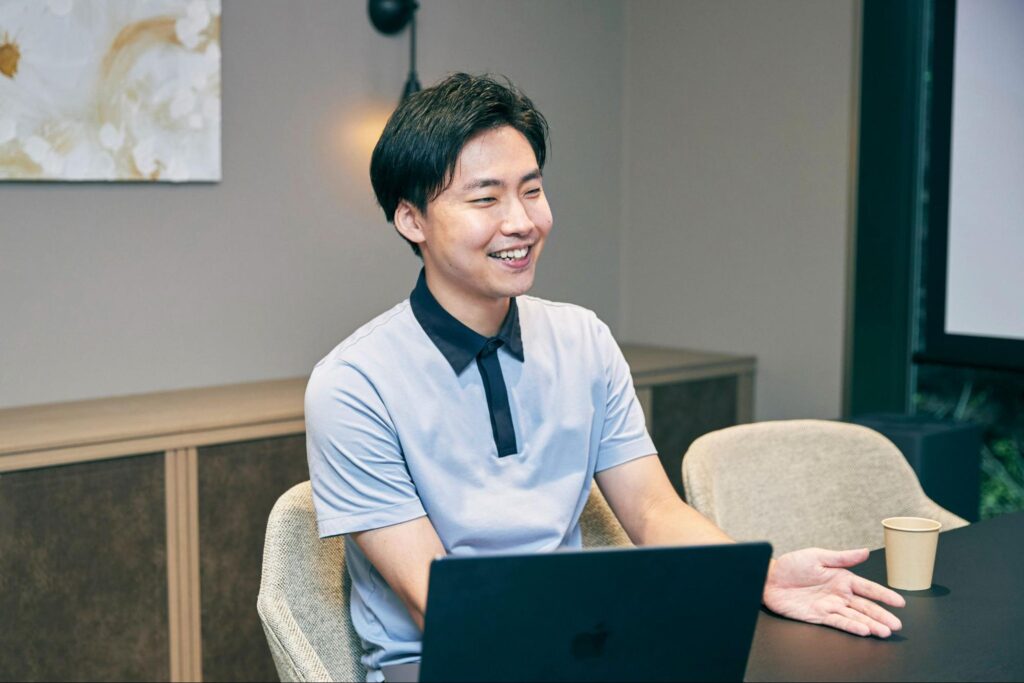 Could you give a message of support to startups from the pre-seed stage to the seed stage?
Based on our experience, if we were to convey a message to startups involved in vertical SaaS in traditional industries, would it be that there would always be people waiting for us if the service properly captured the industry's issues and needs?
When developing a vertical SaaS, I think many people are worried about whether this service will really sell. I myself was really anxious during the PMF, and I was improving the product through trial and error every day.
In particular, I feel that many second- and third-generation managers of micro, small, and medium-sized enterprises in industries with a long history, such as the waste industry, are waiting for new winds to change the industry for the better. I would like you to take on the challenge of business development while having confidence and hope for the services you are creating. I would be happy if my experience could be a little bit of hope for everyone.
Finally, please give a word to our readers!
We finished the pre-series A fundraising of 630 million yen in July this year. No company in the waste industry has raised so much funding, and we're in a phase where we're just figuring out how fast we can grow.
From now on, as we work on multiple products, we believe that our company's structure will have to be redesigned while constantly undergoing changes. We are also taking on the challenge of drawing out the special domain knowledge of the waste industry as a database structure in the product. I want to run at full speed towards success in a challenging environment. We are looking forward to working with you as a colleague.
Fanfare Inc.
Address
8-11-26 Akasaka, Minato-ku, Tokyo +SHIFT NOGIZAKA 3F
Website
https://fanfare-kk.com/
Careers
https://fanfare-kk.com/career/
Teruko Ichioka
Freelance writer and editor. After working as a public relations specialist at a university, a PR firm, and a start-up creation venture, she became an independent writer. She writes for publications, corporate owned media and major media outlets and is also engaged in public relations for start-ups.