Super strategic management realized by an organization with an average age of 24.8! The future envisioned by ACROVE, which supports the optimization of growing e-commerce businesses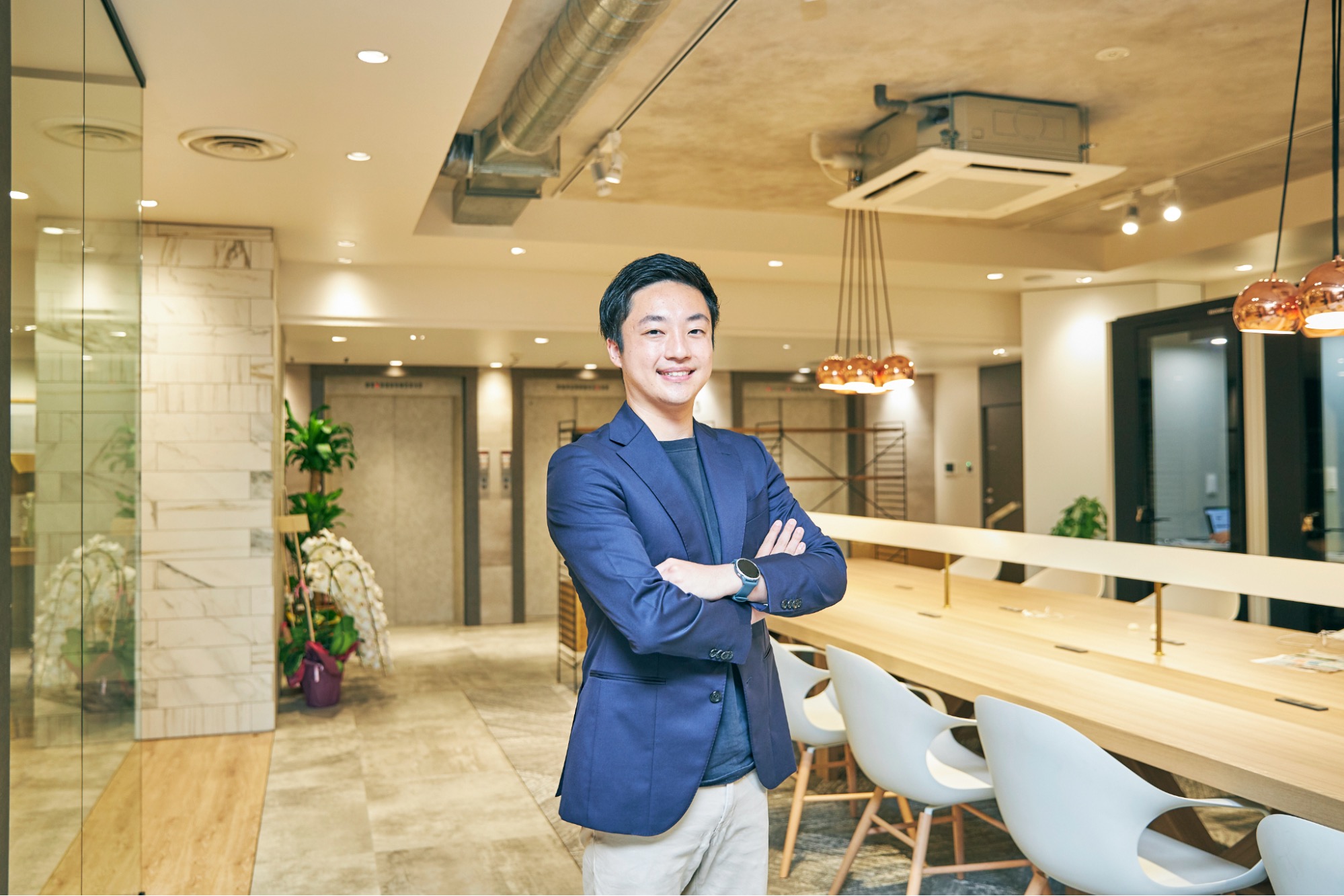 High performance smartphones, evolution of logistics, stay home. The EC area, which is blessed with accelerating factors, its users, and companies are increasing. On the other hand, even after launching an EC site, there are many people who struggle to attract customers and create private brands (PB).
The EC optimization engine "ACROVE FORCE" is a magical service that provides total care for such EC concerns. provide service ACROVE Co., Ltd. provides a wide range of support for EC business operators' concerns such as EC efficiency improvement, PB launch, and M&A.
The company gathers unique members, mainly in their 20s, including the founder who has won national championships in track and field during his junior high and high school days. What kind of trajectory has ACROVE followed up to today? We asked Mr. Shunsuke Arai, the president and representative director.
Leveraging DtoC experience to launch a service that handles everything from EC analysis to M&A strategy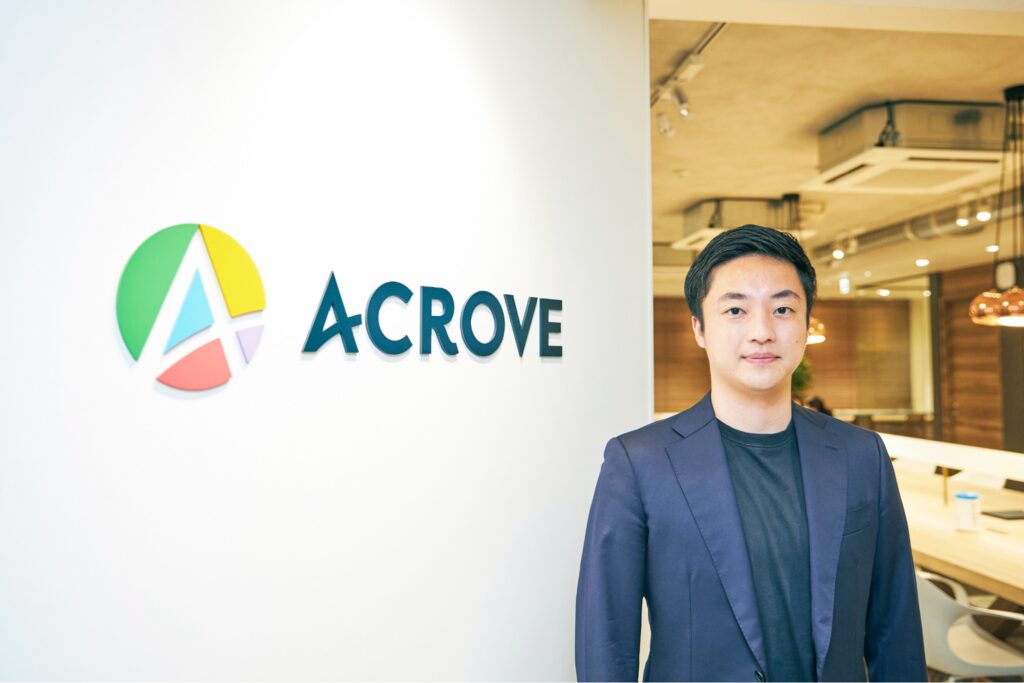 Please tell us about your career and what inspired you to start your own business.
Originally, I was devoted to track and field when I was a student, and when I was a junior high school student, I won the number one race in Japan. As for high school, I went to Saitama Sakae High School on a sports recommendation and finished 3rd in the country. He entered Nihon University to continue track and field. I once stayed in Kenya, Ethiopia, and other countries that I don't often travel to for a long-distance relay race camp, and I saw young boys begging on the roadside. Until then, I had studied International Relations at university, but I remember strongly thinking that it was nothing more than theoretical logic, and that "morality without economy is idle talk." I started thinking about pursuing the economic efficiency of e-commerce, and established Anoma Co., Ltd., making use of my expertise in sports and marketing knowledge. ACROVE's predecessor was the start of the vegetable protein DtoC "ANOMA Protein" business.
Where did you get your marketing knowledge?
In addition to club activities, I was also involved in the media business when I was in junior high school. While I had a desire to throw myself into the business side more, I was looking at my own aptitude while doing club activities. The period from when I graduated from high school to when I entered university was the heyday of MicroAd Inc., a marketing platform. I myself have a strong interest in e-commerce and business owners, and have tried various businesses such as door-to-door sales of telephone lines, game information sites, affiliate marketing, and recruitment. I was in an environment where I had a computer at home, so e-commerce was familiar to me. When Anoma was established, I was also an intern at AnyMind Group, a global marketing company in Southeast Asia.
You have business experience from an early age. How did "ANOMA Protein" grow?
Based on the concept of "the world's most strong and gentle protein", we are developing a DtoC brand business of vegetable proteins such as peas. At the same time, we also provide a complete performance-based EC consulting service, expanding our coverage of EC expansion and overall design for businesses. Along with that, we decided to develop a total care EC platform, and changed the company name to the current one in October 2020. The ANOMA business wasn't something I had decided to start a business for a long time.
May I ask about the background of the company name change to ACROVE and the origin of the name?
It is a coined word that combines "acro" which means sharp and "grove" which means orchard. It was created based on the philosophy of creating a company that will become a social orchard by using its sharp strengths. After the Covid-19 crisis, I came to feel that the only ones who survived were the providers of services that customers and society really needed, while the retail industry was forced to struggle. From my experience of belonging to various organizations such as track and field and EC, I have thought that the organization will be stronger if it makes use of individuality, and I want colorful people to gather under the aspirations. It was.
I see. Can you briefly tell us about ACROVE's business?
ACROVE has two main elements. The first is the "affiliated brand business," which provides EC support for partner companies. We mainly provide services to support the growth of EC platforms such as Amazon and Rakuten for domestic manufacturers such as home appliances, foods, and cosmetics. The average sales growth rate after introduction exceeds 300%, and more than 100 clients have already introduced it.
The second is our own brand business. We support the development of EC and DtoC brands under the theme of "developing exciting quality products by allocating SG&A cost reductions through automation to costs." Products handled so far include health foods and fitness equipment. We have already won several awards on Amazon and have succeeded in creating a brand that is loved by our customers.
In addition, we also provide M&A support for those who are worried about growth strategies, successor issues, and resolving concerns about the future while operating an EC business.
In addition, although it is also a strategy to connect the affiliated brand business to our own brand business, we will acquire and integrate brands that are deployed on EC platforms such as Amazon and Rakuten to increase sales. There is a way. We are unique in that we support the growth of e-commerce with this roll-up method.
You mean growth through M&A? I think that many people in Japan are still unfamiliar with EC rollup. Could you please elaborate?
The Japanese retail market exceeds 140 trillion yen, and the EC rate in 2020 is about 10%, or 14 trillion yen. In Japan, rather than increasing brand value through M&A, there is still a tendency to fear the so-called "impairment of goodwill," which will lead to a decline in overall brand value. In addition, Japan does not have a large amount of risk money compared to North America, so it is difficult to raise the necessary amount of funds to acquire a brand at once and grow it. ACROVE also has the same issue, but we are trying to compete with sourcing and recruiting power other than financial strength, and it is proof that companies that adopt the EC roll-up method in Japan can grow with the same strategy in the future. I think it's also going to be. In fact, in the United States, a startup called Celasio acquired a brand on Amazon, increased sales several times, and grew into a unicorn with a valuation of over 100 billion yen in just two years from its foundation.
EC sourcing and DD (due diligence) seem to be the key, but how do you go about it?
We are focusing on creating a detailed and wide coverage DD checklist. More than 200 checklist items. For example, if the main destination of the acquisition candidate brand is Amazon, check Amazon Prime compatibility, free shipping, sales rankings, etc. In addition to setting check items for each platform such as Rakuten, we will thoroughly quantify the value of EC by conducting 5C analysis, TAM/SAM/SOM, and 4P analysis. We call the latent value extracted from it LTV (Life Time Value) potential, and we will be able to judge that EC with high LTV potential is worth buying because it is operated steadily. That's why.
In the case of normal M&A, if one out of 50 to 100 deals is closed a month, that is good enough, but we are at a pace of closing one deal out of 10 to 20 deals a month. In addition, sales are growing while maintaining a three-fold increase compared to the same period of the previous year.
The conditions for popular EC are, first of all, stable sales with annual sales of 100 million yen as a bar. Next, originality including story. And it will be a fixed number of fans.
It's pretty quantitatively analyzed. PMI (Post Merger Integration) skills will be put to the test for brand integration after an acquisition.
Since ACROVE is a vertical business, ACROVE FORCE has accumulated the data necessary for EC growth, from brands of other companies to our own brands. Also, in order to provide services, it is necessary to have excellent members within the company, but in order to ensure quality even if new people increase, we will introduce a model called TMB (Technic Mind Business Management) from 2021. increase. First of all, you will run the EC yourself, experience the site, get a feel for success, and then get a position in the team. 80% of people will be able to get results in about 2 weeks to 1 months.
A new-generation organization composed of autonomous and logical members with an average age of 24.8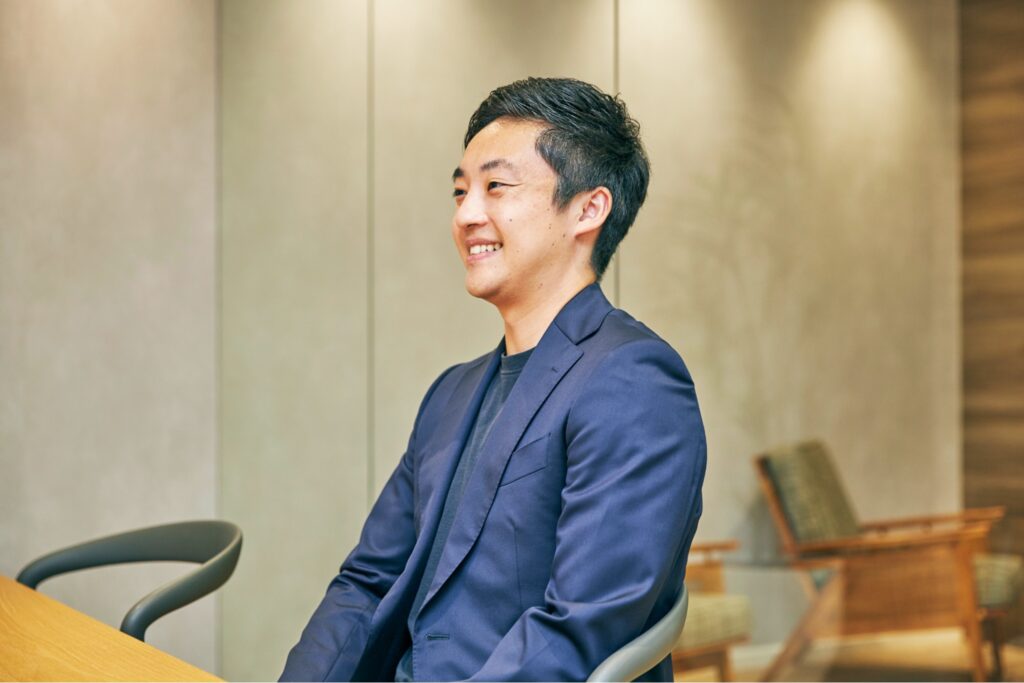 It sounds like you have a very good environment for growth. Can you tell us about the organizational culture and recruitment?
The average age of employees is 24.8. Familiar with new media, TikTok, and new channels to sell new things. Now, I am 26 years old and my CFO is my classmate. Some of our interns are 19 years old. For people in their 30s and above, it may seem that teens and 20s don't look much different, but in fact, just one year difference in this generation can make a big difference in how they search. I believe that being able to directly feel these gaps and the latest trends leads to new ideas in marketing.
The mission of the company is to become a bridge that connects people and things. No matter how much you roll up and e-commerce becomes huge, in the end there will be people who will buy it, and you should always aim to deliver good things. In the past, goods were delivered to buyers through the mediation of producers, sellers, and merchants in charge of distribution. However, logistics have changed due to the corona crisis, and the presence of online intermediaries has increased, rather than physical stores. That is what we are responsible for, and what we want to achieve is a good buying experience, which remains the same regardless of the form. And the intentions and trends of not only intermediaries but also producers, sellers and buyers are constantly changing. That's why we always keep abreast of the trends and keep a good buying experience. I want people who understand and empathize with me to come here.
Jobs range from BtoB sales to customer success that supports BtoB customers, new business development, and members who operate M&A brands. Currently, there are about 40 employees, and about 50 when including outsourcing. Regarding the work style, we are basically in the form of going to work.
Is there anything you focus on or listen to when hiring?
There are four values: people first, use leverage, wisdom and speed, and be consistent. Gratitude, No. 1/First Class, Simplicity, and Speed. It is an image like Furinkazan. The shortest way to solve the problem is to "make it your own" and implement measures that directly solve the essence of the problem. For example, when making a hiring plan, we start by discussing how many people are needed to deliver good products to consumers. Thinking about everything in principle is the same for clients and inside. The higher the goal, the more difficulties there will be, but if you have the attitude to provide solutions, everything can be solved.
After going through the interview, there is a judgment of compatibility with the job post and a character diagnosis, and in many cases assignments are decided there. What I look at as basic skills are the honesty that can eliminate bias, the wisdom that enables logical and accurate recognition, the ability to work positively and hard, and the ability to be loved even if it causes trouble. Do you have power? These are the four. After looking at these, are you the type to do your summer vacation homework first or last? Or is it suitable for hiring? Suitable for business? I see personality.
It's not limited to recruitment, but at our company, we verbalize various things. I used to write a journal every day for track and field and swimming, so I have become accustomed to introspection and verbalization. In addition, through sports, I was able to gain many opportunities to observe diverse people by belonging to many environments that ordinary people cannot enter, such as a group where Japan's top athletes gather and a training camp in Kenya. rice field. Perhaps that is why we are able to manage this business. There are not many companies in Japan that can be involved in the core part of the growth of the Internet business at such a young age as our members. CyberAgent and Softbank are already too big, so I want people who want to fly freely from a more tactile site to come. People sometimes say that it might be too free and uncoordinated. As a result, there are still people who can decide what they should do and can have conversations as professionals.
As the number of people increases, funds will be required, but how about procurement?
In June 2019, during the ANOMA era, eight months after starting the business, we raised seeds from East Ventures and others as initial funding. At the time, we were envisioning a buyout, so we didn't put much emphasis on increasing the number of players or raising funds.
After becoming ACROVE, in April 2021 CyberAgent raised about 50 million yen in pre-series A. At that time, EC Rollup was not well known yet, and it was difficult to get people to understand what we were trying to do. Subsequently, just last month, June 2022, we welcomed Nissay Capital as the lead investor, and Hakuhodo DY Ventures and Japan Post Capital as new investors looking at future synergies, raising about 500 million yen in Series A. The cumulative procurement amount (including borrowing) exceeded 700 million yen. I will be working with investors for a long time, so I am proceeding with the procurement while thinking that it would be better if I could honestly convey my opinion and not deny it, but instead discuss it with them.
Armed with observation and credibility cultivated through sportsmanship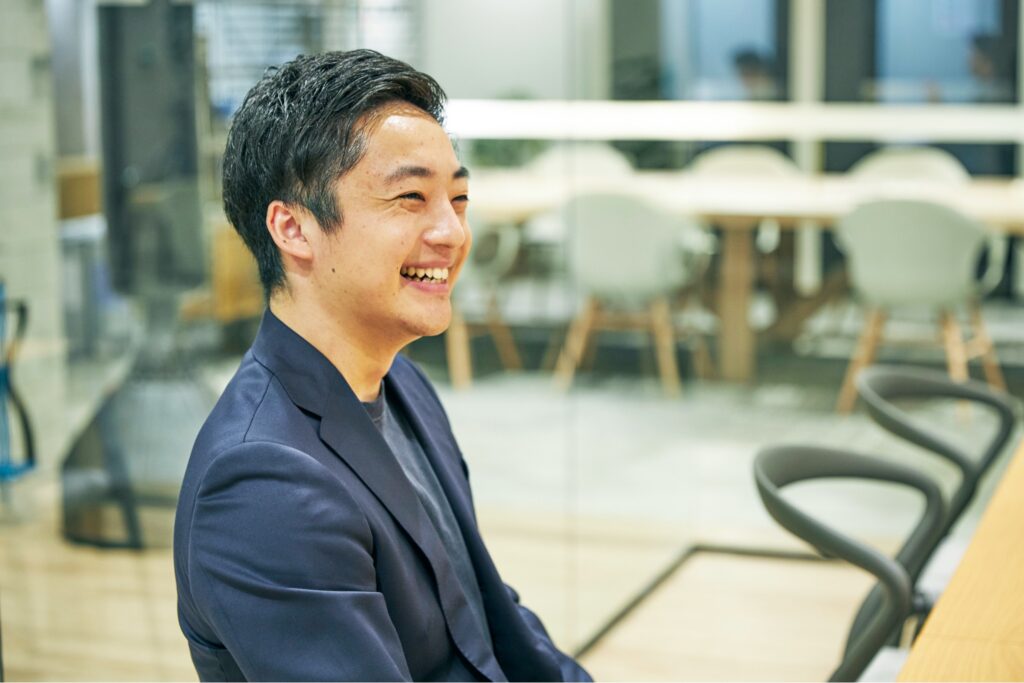 How did you spend your school days?
Born in Yokohama City, Kanagawa Prefecture. Ever since I was a child, I have loved to surprise and delight people. I went to a public school in junior high school, but I joined the track and field club there and won the prefectural tournament seven times in a row. Many of my seniors also participated in the Hakone Ekiden, and it was a high-level environment that inspired me to pursue track and field. From there, it's as I said at the beginning.
Could you tell us how you spend your days off and how you refresh yourself? Should I still run?
I like exercise itself, and recently I've been addicted to kickboxing. I go there twice a week. Actually, I have kickboxing equipment in the free space of my office (laughs). I also try to enjoy things that I like, such as shisha, alcohol, and saunas. There may be many members who like saunas.
Could you give a message to startups in the pre-seed to seed stage?
Don't worry about not having money. But don't worry about lack of credibility. Money will come if you have credit. It can be sales based on the customer's credit or funding based on the investor's credit. However, we never let our customers down. And we provide value because we received money. It's because there are no employees, or because there are no sales, and such false complaints will come to an end someday. Credit is saving money, earning trust is honesty, and doing what you need to do well. I understand that it is the same sportsmanship that I learned in my school days.
Finally, please give our readers a few words of advice about the worldview you want to create.
First of all, I would like to become one of the companies called Post-Recruit and Post-CyberAgent. I want to grow properly as a company that supports Japan, and I want to be in a position to further grow Japanese e-commerce and brands. Consumers for DtoC, manufacturers for BtoB. ACROVE always provides services by calculating backwards what is lacking towards that goal without losing sight of our mission of delivering good products to our customers. All data is accumulated in ACROVE. Which sites have the most sales growth, and which deals have resulted in complaints? As the number of cases accumulates, the reproducibility of the strategy increases, and the EC can be evaluated accurately, so the roll-up effect is further enhanced. I would like to make ACROVE a company where people would think that it would be better to entrust everything to ACROVE. People who like e-commerce, people who like to make customers happy, people who want to support Japan, and people who want to create growth businesses. Please join us.
ACROVE Co., Ltd.
Address
Grand First Shinjuku Gyoen 5F, 22-1 Daikyomachi, Shinjuku-ku, Tokyo
Website
https://acrove.co.jp/
Careers
https://acrove.co.jp/recruit/
​
JP Startups副編集長/N.FIELD代表
三菱UFJ銀行、SoftBankを経て2019年より一般社団法人Fintech協会事務局長。2020年より合同会社N.FIELD代表。TechCrunchJapanライターを経て2022年よりJPStartups副編集長。
多方面の事業に明るく、イベント登壇・執筆、スタートアップ支援、業界団体運営を通したパブリック・アフェアーズなどにより、自律分散型社会の設計を目指す。