From aspiring to become a manga artist after a degree in Architecture to becoming the CEO of identity verification service TRUSTDOCK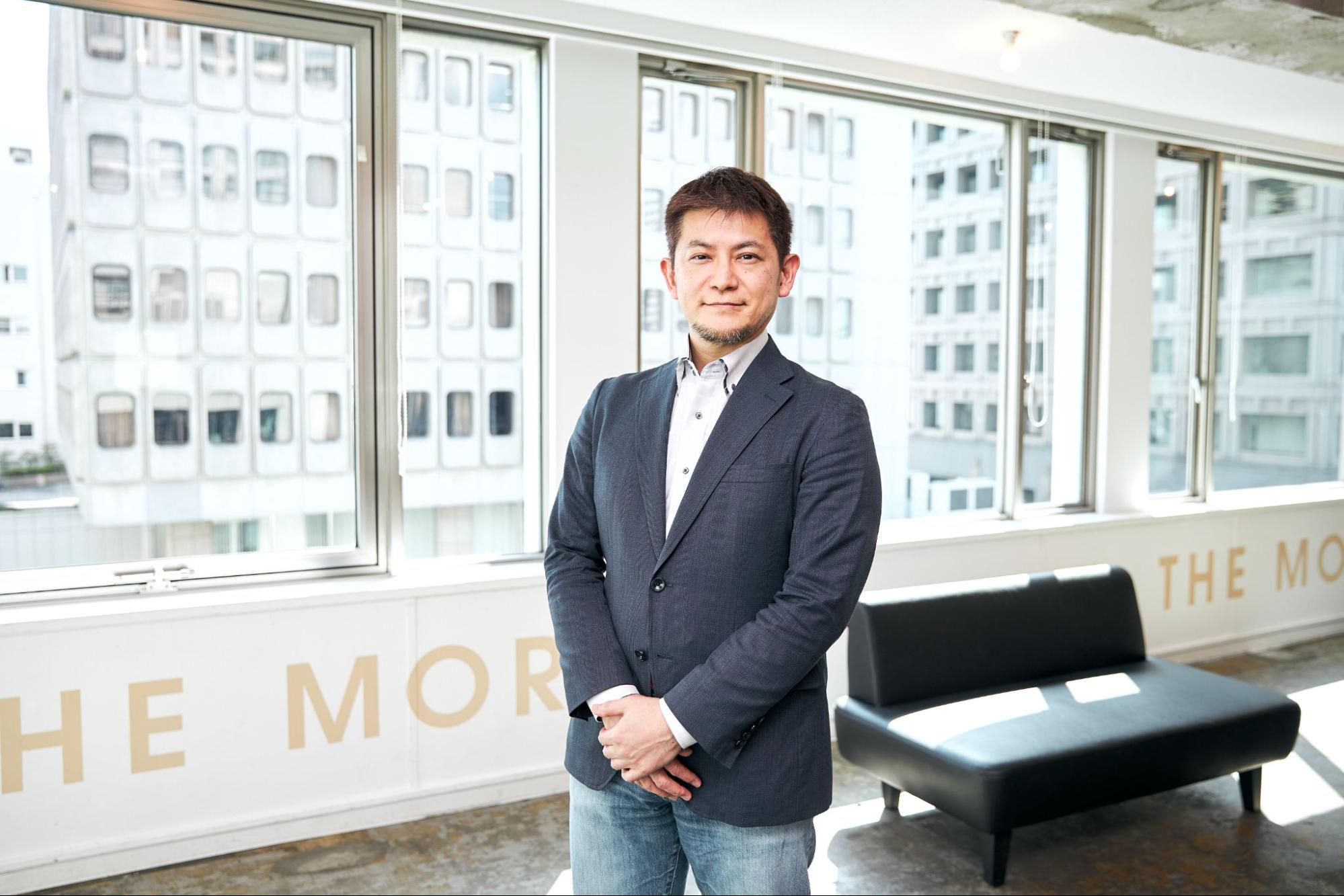 Due to the spread of COVID-19, apps have taken off these days.
Financial services require an identity verification process based on the Act on Prevention of Transfer of Criminal Proceeds before they can be used. Previously, it was mandatory to do so through the mail, but now the law has been amended to allow identity verification online.
So many of us have had the experience of taking pictures for identity verification documents such as driver's licenses and performing the actions instructed in front of the camera to prove that it is not fake.
This time, we sat down with Mr. Takahiro Chiba, the CEO of TRUSTDOCK, a platform that provides an online identity verification service called eKYC (electronic Know Your Customer). ​​
This business is a carve-out from GaiaX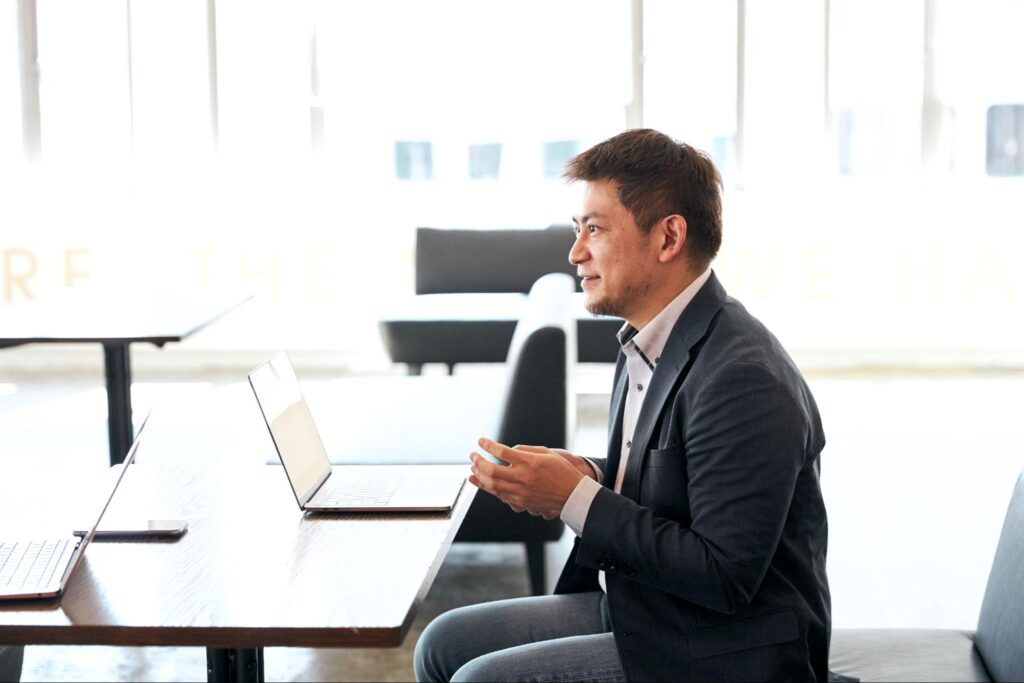 Please tell us about your career and how you started your business.
I am from the so-called "employment ice age generation", having graduated in 2000. I have been working as a sole proprietor since I was a student, joined GaiaX in 2004 as a mid-career hire, and became the CEO of TRUSTDOCK in 2018 after the carve-out. I joined GaiaX because the interviewer at that time was Mr. Max Murai, now the CEO of AppBank when he was still the general manager of one of their divisions. I found him quite interesting and joined the company.
While at GaiaX, I was initially the creative director of the gaming community, including design direction for digital spaces such as avatars. At that time, I bought a lot of so-called red and blue-titled women's magazines, researching trends for fashion items we could produce next. During the heyday of word-of-mouth sites, I also worked as a project manager for contract development of CGM and SNS services for such user-generated sites. Eventually, I became involved in launching a new business for the company. By then, I wasn't wholly under the company and worked independently as a separate unit. I worked in various co-working spaces as if I were looking for investors to give me funds. Among those new businesses, TRUSTDOCK, which felt like a good fit for a product, was made into a new business division and later carved out as a separate entity. Before it was made into a business division, I was in a position of being sold the half-finished MVP as the client side, so I understood how the client side felt. From that point of view, I had a good sense of what TRUSTDOCK lacked in terms of PMF then and decided to try it.
Although my former company GaiaX has the sharing economy as its business domain, such C2C services were scary because the quality of the service was not visible to users in the early days. For example, a housekeeper is a stranger who will come to your house and clean it. Both the visiting side and the side being visited have some fear. Identity verification has been effective in eliminating this fear. TRUSTDOCK's identity verification work started with providing KYC support across the board and making it easier for businesses to eliminate bottlenecks in expanding sharing services. It was intended for CtoC businesses, but when we launched it, we received many inquiries from Fintech companies. We found that the financial industry had the most trouble with KYC when we spoke with them. Thus, we decided not to limit ourselves to the sharing economy and to make our service one that helps businesses facing problems with KYC, regardless of their line of work, and carved out a KYC-specific type of business. Our clients are not specific to any industry, but many industries have business laws and regulations on KYC.
What was it like when you started the business?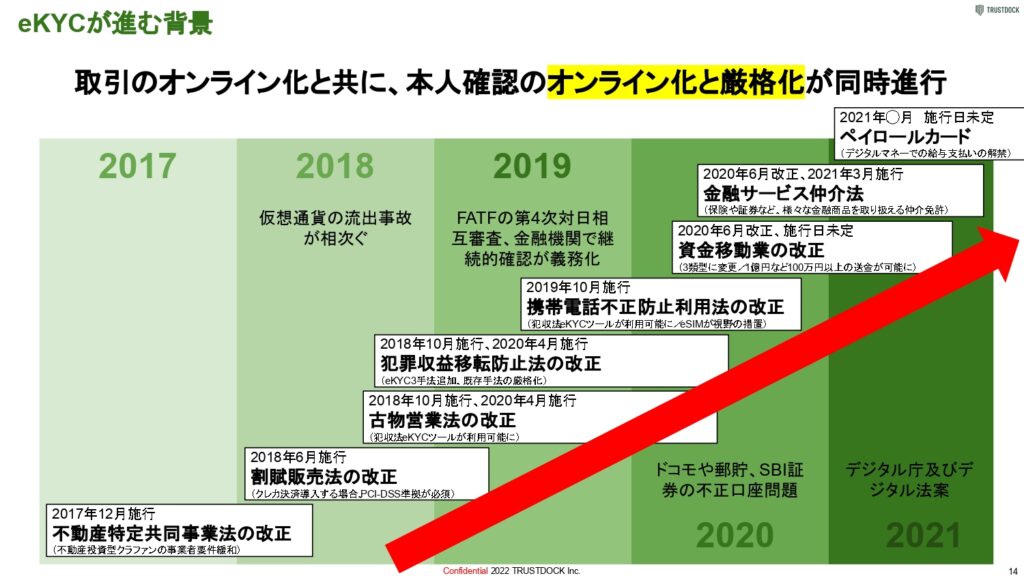 We started the KYC business before the Act on Prevention of Transfer of Criminal Proceeds was amended and before the spread of My Number Cards became a full-scale issue as it is now. We did not know how the laws and regulations would change at the time. That is why we decided to design our business to be flexible. Even now, revisions are being made to the law, so it is challenging to keep up with these changes. Currently, in addition to eKYC identity verification, we are also expanding APIs for verification of supplementary documents for confirming resident cards, utility bill payment statements and account information, anti-company risk verification, and corporate eKYC, which enables verification of corporations without the need for a certified copy.
Have you ever faced any difficulties in raising funds?
Since the carve-out model is still rare, few reference cases were available, and the lack of a fixed type in the scheme made fundraising difficult. Investors also had a difficult time deciding since there were few people with experience investing in carve-out companies, but 500 Startups Japan (now Coral Capital) was the first to raise equity under STRIVE's lead. Most recently, in 2021, we raised a total of 1.3 billion yen in third-party allotment of shares with Globis Capital Partners, STRIVE, Sony Innovation Fund by IGV (*), Mitsubishi UFJ Capital, Mizuho Capital, and SMBC Venture Capital as underwriters. We don't have a CFO yet, so I'm the main person handling fundraising.
Is there anything you pay attention to when creating an organization and hiring personnel?
Is there anything you pay attention to when creating an organization and hiring personnel? We don't have a mission, vision, values, etc. Even if we create them, they shouldn't be reduced to mere formality. ​ ​ I also think it's not good to take a hard stand and lose flexibility in a phase where the business and organization are changing. Also, since there were many GaiaX people here right after the carve-out, even if the organization's direction had been clearly stated, there was a possibility that the business would inherit the culture as GaiaX, and not as TRUSTDOCK.​ ​
Regarding organization creation and recruitment, I am looking for three kinds of people — people who can run on their own, people who can apologize and people of integrity.. A colleague is a person who watches your back. That's why I need people who can think for themselves. An honest person is one who can apologize. I believe that the character of persons who can still grow, no matter how old they are, is their ability to apologize, no matter their age. As we get older and more experienced, people tend to pretend to know what they are talking about, but it's important not to do that and deal with the primary information properly. And lastly, our type of business has much to do with sincerity. Identity verification may change significantly in the future, as we do not know how the law will change. It will be challenging to deal with such matters unless we can deal with them in good faith. My last condition is that I want people who are conscious of compliance and equality and who do not forget the public interest perspective to participate in this business because we are a business that is involved with the ID (identity) of people, which is akin to a human right. This is a challenging area "required by companies but not created by them" and which "can be done with technology but is not done by it", and we must design a service that does not unknowingly play someone. That's why, no matter who our clients are, no matter how big our company becomes and how many sales we make, it must not be distorted from its design policy of public service to the user. On the other hand, as long as we are a joint-stock company, what we do is business. Since we have to increase sales, we must strike a balance between sincerity and the pursuit of profit.
Can you tell us about your global expansion policy?
We are already expanding overseas in Southeast Asia, with local subsidiaries in Thailand and Singapore. It's been hard for me to travel for the past few years because of the coronavirus pandemic, but I'm conducting business online. Due to the pandemic, various services are being brought online worldwide, and the requirement for eKYC is increasing in the global market. I want to pursue global expansion at this time actively.​
The first person we hired after incorporation was an American. For the overseas market, we needed a person in charge to develop our expansion from scratch, but our idea is fundamentally global. We have provided our API documentation in English and Japanese from the beginning and are developing products on the assumption that engineers worldwide will incorporate the APIs. On the other hand, laws dealing with the field of identity verification that handles personal information vary widely by country. We carefully look at the culture and circumstances of each country and carefully consider which countries we will enter.
There was a time I was freelancing and aspiring to be a manga artist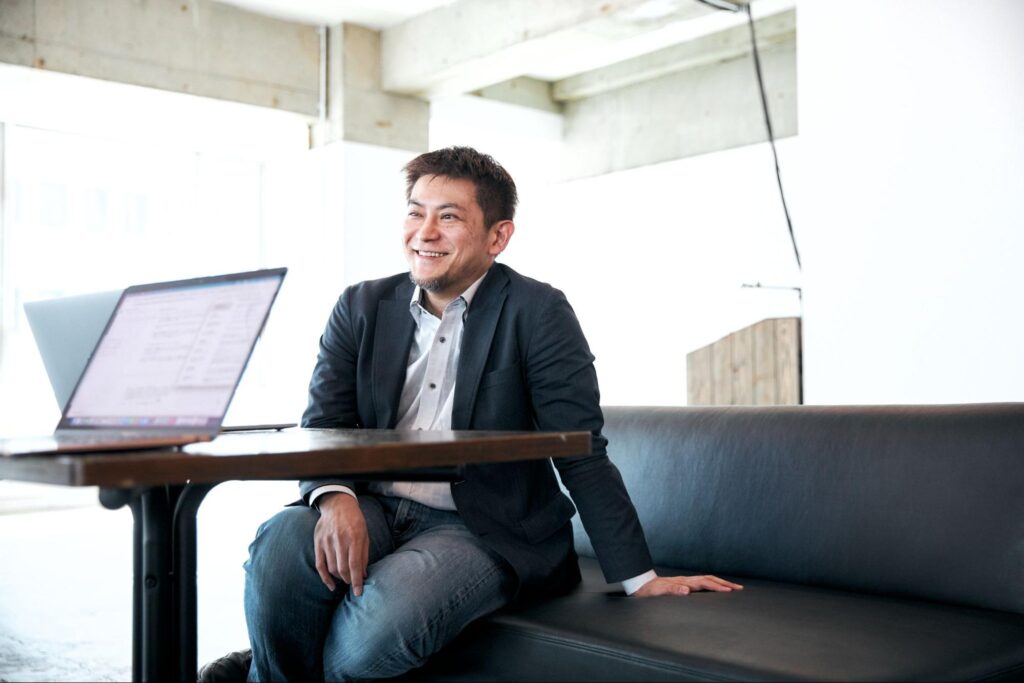 How did you spend your time as a student?
Although I majored in architecture, I worked part-time doing design work at an architectural firm and as a sole proprietor, besides a student. People studying architecture were jack of all trades, masters of none; they could handle 3D design software such as CAD, could design on paper media, and had creative skills, so it was easy to get work privately.
Also, I have wanted to be a manga artist since childhood. After graduating from university, I worked as a sole proprietor instead of getting a job to bring my work to editorial departments and become a manga artist. I also won awards in youth magazines and had the opportunity to draw illustrations for the present corner of a boys' magazine. At that time, there wasn't a culture of newcomers making their debut via webcomics, and there was quite a high wall to climb to become a manga artist. Having been a sole proprietor for four years, I felt that the road to becoming a professional manga artist was steep, and I thought about finding a job somewhere. I applied to multiple IT companies and received a job offer from GaiaX.
As a student, I played ball games such as softball, soccer, and basketball and was a judo athlete (2nd degree) in junior and senior high school. I like to be physically active, but I also like painting, so I'm both an indoor and outdoor person. Architecture is also a hybrid of technology and art. My family runs a factory in town, which is one reason I have loved manufacturing itself and its functional beauty since I was a child. I have participated in DTP, WEB and video competitions for architecture and have also applied for a utility model patent for a denim necktie in an apparel competition. I have been designing and planning in various areas. Now, I feel like I'm involved in business, organizational design, and design for a digital society.
What do you do in your free time, such as on weekends?
I have two children, so I am on dad duty on weekends. My children are free to either draw pictures or play Human Beat Box. I want them to do what they like. These days, children can learn about musical instruments, cooking, and everything else by watching YouTube. I believe that all young people have potential because they can absorb various things without spending time in the classroom.
What advice would you give to people who are about to start a business or who have just started a business?
First, we are not discussing starting a business to create a company, but a story of establishing a corporation. I understand that because my family has always been self-employed. Still, I think it is a characteristic of the IT industry that entrepreneurship is considered cool and given special attention. It would be nice if everyone could feel free to create a corporation. If you think of creating a corporation as a hobby, owning it costs about 70,000 yen plus tens of thousands of yen a year. If you can learn how to set up, operate, and settle accounts easily, you can try establishing one. It will be much more bare-bones than entering the industry from classroom learning with an MBA. Even if you don't have a business idea yet, you can try it for learning.
Also, if you want to do business, you can be a sole proprietor and not be too enthusiastic about starting a business. First, try establishing a corporation. Try to do business. As a result, the company will grow. That kind of enthusiasm is good at first. The feel of the entrance and exit is what business is all about. Produce (procure), sell, bill, and receive payment. Increase sales. Even if you outsource in the end, it is very important to run the whole cycle yourself first. Through such experience, when you become a businessman instead of a salaryman and eventually delegate work to others, you will become more accurate in your recruitment and approach and more likely to do well.
Finally, please tell us your enthusiasm for the future.
COVID-19 is still rampant, and I think that non-face-to-face transactions are increasing irreversibly due to our times. I want to respond to this trend and further support it. Regardless of the method, we would like to provide the optimum solution in accordance with updates to the law and social situation. We have only just started climbing the mountain.
Most recently, the situation in Ukraine has made us realize the importance of cross-country identity verification. There are many unbanked people (people who do not have a bank account) in developing countries partly because they cannot prove their identity. As eKYC and other forms of identity verification become widespread, the hurdles for opening a bank account will be lowered, and it will become easier to receive credit and incidental financial services. I want to tackle such global issues in the future. The other day was the anniversary of March 11 when the Great Tohoku Earthquake occurred in Japan. However, since Japan is a disaster-prone nation and disasters will continue to occur, I would like to make TRUSTDOCK a backup service that will allow you to prove your identity in various procedures necessary for daily life, even if you lose your passbook, stamp, etc., in the event of an earthquake, fire or tsunami. What we are trying to create is just the living infrastructure. It's a simple and behind-the-scenes job, but it's an important initiative to move society forward for the sake of future generations. I look forward to having people on board who want to be involved in businesses with high publicity and social contribution.