Analyze human emotions from voice. What is Empath's challenge to develop technology centered on empathy?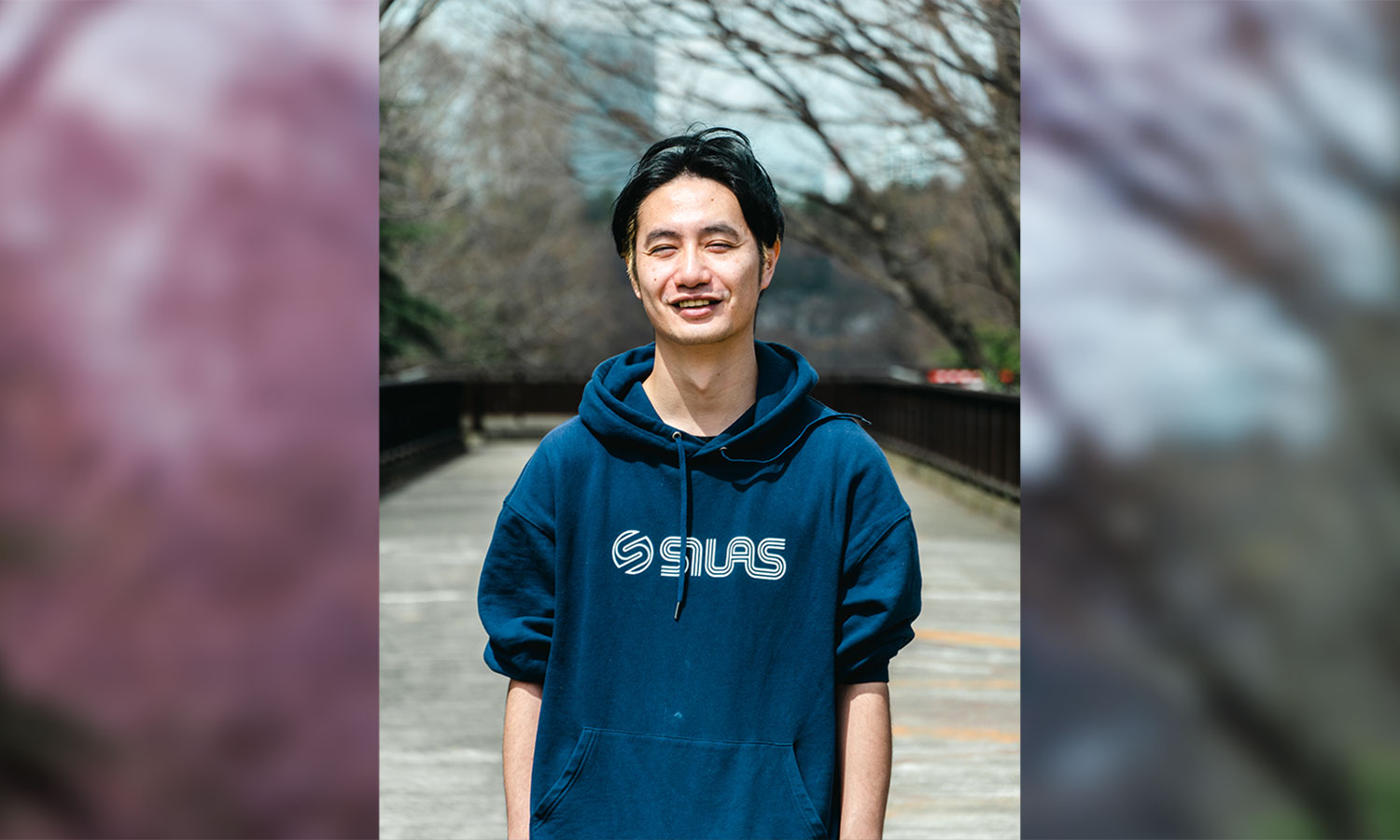 "Empathize with your voice"
Empath is a startup that develops voice products that stand out from the crowd these days when smart speakers have become commonplace. We aim to improve communication productivity in various situations by analyzing emotions from human voices. Empath Co., Ltd. We interviewed Co-CEO Hasumu Yamazaki.
The fact that online MTG has become commonplace boosts the business
Please tell us about Empath's business.
A startup that develops AI that analyzes human emotions from voice. Specifically, we are developing an algorithm that extracts features such as voice speed and inflection from voice data to estimate emotion. By utilizing the algorithm, it is possible to visualize whether the speed of speaking in a meeting is appropriate and how the rate of speaking of a specific person is changing.
Please tell us the background that led to the business idea of "AI that analyzes human emotions from voice".
Our company is actually a startup that was born as a carve-out from a medical healthcare company called Smart Medical, which operates clinic malls and multi-clinics in the Tokyo metropolitan area. Empath's parent company is the ICT section of Smart Medical, and we were doing trial and error to see if we could contribute to the work of psychosomatic medicine with some technology. In fact, in the 1970s, research papers were published on the theme of analyzing human emotions from voice, and we have also been conducting our own research and development. From there, we came up with the idea that if we could estimate emotions without contact, we could provide value from the perspective of mental health, which led to the current product development.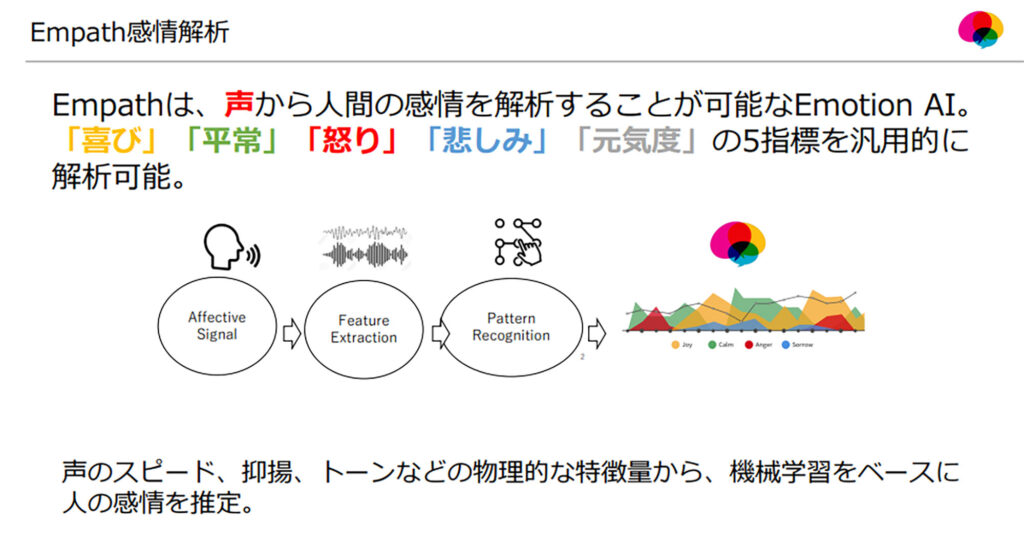 What led to the carve-out?
The main reason is that we have been receiving more and more calls from outside investors who want to invest. At that time, smart speakers equipped with voice assistants were just beginning to be distributed in the market, and there were great expectations for the fact that they possessed a technology that was different from conventional voice recognition. Considering the practicality of running medical malls in parallel with voice analysis technology research and product development, we also decided to separate them. Our technology is already in the phase where we have received inquiries from call centers and others, and it was in October 2017 that we carved out based on the expectations of investors and our decision-making.
Please tell us about the AI-powered SaaS "JamRoll" announced in March 2022.
Immediately after the carve-out, we were developing algorithms to be introduced into the services of large companies. For example, it was used to detect customer satisfaction and complaints in call centers, and as one function of mental health care applications. So-called, the side as a parts shop was strong.
Currently, we are deploying an AI SaaS called "JamRoll". JamRoll, released in March of this year, is a video platform that allows AI secretaries to automatically record, transcribe, and organize online meetings. It is a SaaS that allows not only transcription but also mental measurement of meeting participants, such as who shared the screen and what kind of material was developed. By utilizing JamRoll, it is possible to easily measure the mental health scores of employees working remotely. Currently, our customers are finding value in analyzing online business negotiations, analyzing recruitment interviews, and reducing the cost of recording internal meetings.
Please tell us about the background behind the shift from analysis of voice emotion analysis algorithms to AI SaaS offerings such as JamRoll.
While developing emotion analysis using voice as a part, I was keenly aware that the problems that companies want to solve differ greatly. In the case of introduction at a call center, complaint detection and measurement of turnover rate are issues, and in the case of in-facility robots, there are issues with the monitoring function. Immediately after the carve-out, we assumed that we would need to provide subscription-type SaaS products in order to solve the problems faced by various companies.
The turning point for us was the change in the way we work due to the new coronavirus. This is because before the epidemic of infectious diseases, it was very difficult to obtain raw communication data in business, especially voice data of actual conversations. Only training data could be collected.
However, since 2020, the way we work has changed significantly, and the act of playing MTG online and recording it has spread at an accelerated pace. When it comes to voice tech companies like ours, the opportunities are huge. This interview is also recorded by Zoom, but all business communication data is easily available for interviews, business negotiations, recruitment interviews, and internal meetings. JamRoll was the first product to utilize this learning data and release the data supply chain as a product. In the future, based on actual human communication data, we are looking at the future where each business person owns an AI-equipped product like a "business support agent".
Even if some of us go offline, working mainly online is irreversible. Focusing on that point, we decided to create a product that can solve the problems currently occurring in online communication, not just in the data supply chain, so we turned to new business development.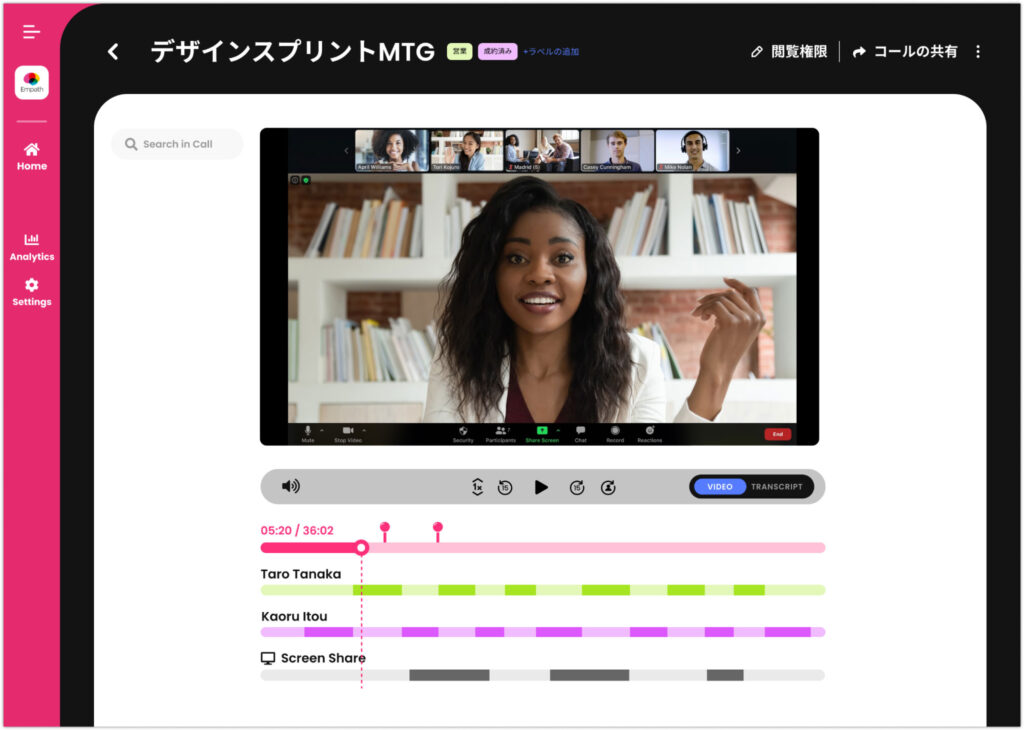 So you made a big shift in product development with your eyes on changes in work styles. Please tell us about the difficulties you faced after starting the company.
Immediately after its establishment, the market was good and it was able to grow stably. However, partly because the company was born as a carve-out, about a year after we turned to new business development, the mission and world view we were aiming for as a company became very vague. Specifically, it is the core part of "for what purpose are you challenging as a startup?" As a result, it was around the same time that I experienced the first member leaving the company. 2020-2021 was a difficult time, even though we spent time redefining the direction we wanted to take and understood it as a necessary phase.
What specifically did you do during those difficult times?
Specifically, we have redefined our corporate mission and credo. From there, we worked to create a system in which all employees aim for the same world by incorporating concrete action plans and codes of conduct. At the same time, we thoroughly reviewed external communication such as product branding and website renewal. Because we overcame such a period, the number of employees has increased now that the resolution of the world we aim for in the medium to long term has become higher, and we have experienced the return of members who once left. There is a very good cycle going on right now.
Throwing everything into band activities formed by startup founders
How do you spend your weekends and stay refreshed?
On my days off, I'm working on a band formed only by the founders of startups. This activity has been going on for about 4 years now and I'm in charge of the guitar.
Band activities are fun! Are you actively doing live performances as well?
I am very active in both live performances and composing. Personally, I think it's very important to play seriously. I think it's important to take a break and rest your brain, but working on a completely different project seriously and continuously is a brain switch. A band grows like a company. As a business owner, it is difficult to completely cut off business information, so the act of touching a musical instrument refreshes my brain by switching it.
In addition, all the band members are founders and some have EXIT experience, so we can discuss business. I think it's a community activity that I'm really grateful for because I can change my mind and get on board with business consultations.
Have you thought about living as an entrepreneur since your school days?
When I was a student, I did nothing but music and research. I went on to a doctoral course in the humanities, and I never expected to work for a private company, so I was thinking of becoming a researcher. However, it takes quite a long time to obtain a doctorate in the humanities and become an independent researcher, and it is also necessary to survive fierce competition. In such a situation, I had a chance to participate in a startup while still enrolled in university.
At first, I was torn between research and business. However, in the field of AI, there are many areas where humanities research can be utilized. While being involved in a startup, I think I can contribute to the AI business because I have my own research background. Then, I came to the conclusion that it would lead to my own originality, and since around 2018, I have decided to take on the challenge of starting a startup.
Adopting a joint representative system and becoming a solid organization
What are the current challenges in recruiting startups?
Our company is not yet a large organization, with about 35 people including the outsourcing members. Almost all the members I have hired so far have been interviewed by myself. So there are no issues at the moment, but there are areas that need to be challenged in the future.
In the future, we plan to launch an HR department, and there will be more cases where people other than the representative will be in charge of interviews. At that time, I think that it is very important to be able to convey the mission of Empath and the code of conduct based on the mission in a way that is convincing to the candidate, regardless of which employee meets the candidate. It is important to always be able to match the perspective of what is meant by the culture fit that Empath describes. Since I am hiring for a startup, I would like to put a lot of weight on my words and aim to be able to talk with the hiring candidates. Thankfully, there are many people who are interested in changing jobs, and in the future, we believe that it will be important to form and embody a culture within the company while promoting recruitment.
In January 2021, Mr. Yamazaki was appointed as Co-CEO (Co-CEO). Please tell us about the biggest change in terms of organization by hiring co-chairs.
The most unusual thing is the division of roles. Shimoji is very good at executing general business operations and formulating strategies with major companies. On the other hand, my strength is the part where I envision a medium- to long-term perspective and create the first move that will be the core of the next business from that conception. By dividing roles in this way, we were able to disperse the load that had been concentrated on the ground floor.
I myself have been able to use my original experience to use my time to formulate new business directions that do not deviate from our mission. As a result, we are hiring more people and the speed of product development is accelerating, so I think we have become a more robust organization.
Questioning the normal of startups
Please tell us about any past events or programs that have benefited you.
"Google Launchpad Accelerator Tokyo", a program developed by Google, was very helpful. Feedback from overseas mentors is a perspective that is difficult to obtain in Japan, so I used it to brush up on business development. In addition, the experience of participating in overseas pitch contests gave me courage, and it was very useful in terms of connecting with various people. We received an award, but the network we got from the pitch contest is more of a team asset than the effect of the award itself.
Many AI startups have been born in Japan and overseas. What are the perspectives necessary to survive in the red ocean market?
There are two points that contradict each other. The first is to steadily increase the top line of business results. There are many players in Japan and overseas, so chasing numbers is essential.
The second point is to add functions and update products in line with our mission and code of conduct. If you add functions or expand the lineup to raise the top line, you may lose sight of the client's needs. It is important not to forget the long-term perspective of what kind of world we are going to create in the future, even as we pursue solid growth with a firm eye on our feet. And for that reason, it is important not to forget the attitude of continuing to learn steadily even if the sense of scale and name recognition of the company changes. That's why Empath's Code of Conduct includes the following five points:
keep learning
let's keep the conversation going
Let's accept coincidence and run
Let's illuminate the present from the future
make friends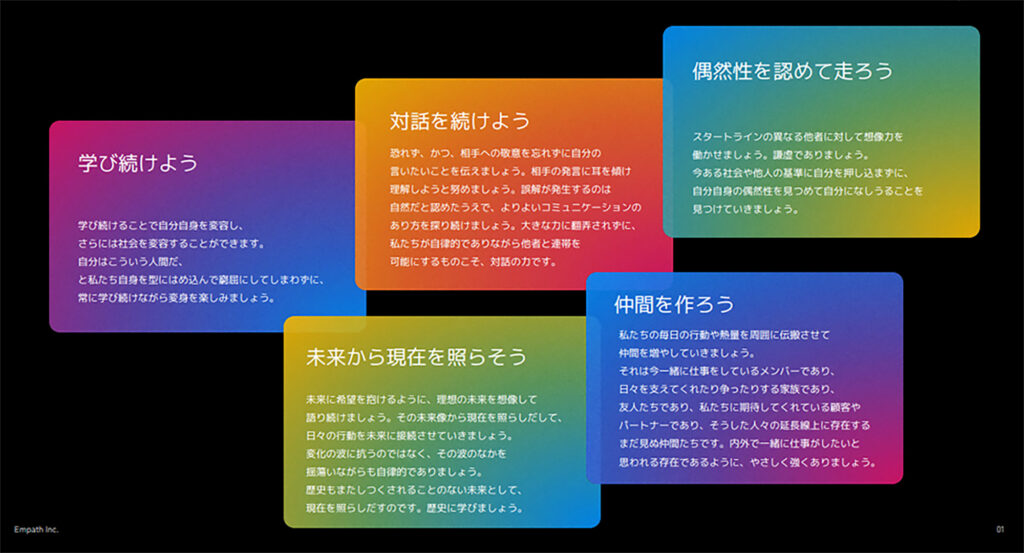 Finally, please tell us how you feel about the Japanese startup ecosystem.
Information about startup business development, organization building, funding, etc. is becoming more and more open than before. The environment surrounding startups is definitely improving.
However, paradoxically, it can be said that the established information about startups has matured and become outdated at the same time. I believe that the "Because startups are XX" tone will ultimately cause thought-stopping. Is it okay to introduce "The Model" that landed from the United States, or is it okay to introduce existing SaaS metrics? As the startup ecosystem matures, it becomes even more necessary to use your brain to think.
Furthermore, if we take it a step further, there is a possibility that even the challenge of solving the world's problems in the form of a joint-stock company will become obsolete. If you are bound only by the concept of a so-called startup, you may actually get tripped up. We just happened to adopt a system called a stock company now, and it is only a form called a startup from the world. If you try to force yourself into the framework of a startup, you will narrow your horizons, and the world is approaching soon where things will not go as smoothly as they have until now, even if you stick to theory. That's why it's important for startups to have a bird's-eye view, such as being in the startup ecosystem and keeping an eye out for other ecosystems as well.
Empath will continue to grow the JamRoll product and push up the numbers, but we will not shy away from such challenges from a medium- to long-term perspective. I would love to talk to anyone who can relate!
Thank you!
Editor's comment
Mr. Yamazaki, who has a background as a humanities researcher, had a very long-term perspective. With the stance that startups are nothing more than a means of creating value in the world, Empath continues to challenge product development through the analysis of human voices.
Empath Co., Ltd.
Address
Maison Harajuku 502, 3-16-3 Sendagaya, Shibuya-ku, Tokyo
CEO
Takaaki Shimoji/Boom Yamazaki
Website
https://www.webempath.com/
Careers
https://www.webempath.com/career
Daiki Nagata
He majored in space engineering as a student. He is involved in planning and managing business contests and accelerator programs and considers writing for space business media his life's work. His hobbies include road biking and watching rugby games.