Personal Experience of TERASS Founder Ryosuke Eguchi who is Tackling the Huge 45 Trillion Yen Market|Reforming the Real Estate Workplace and Making Real Estate More Flexible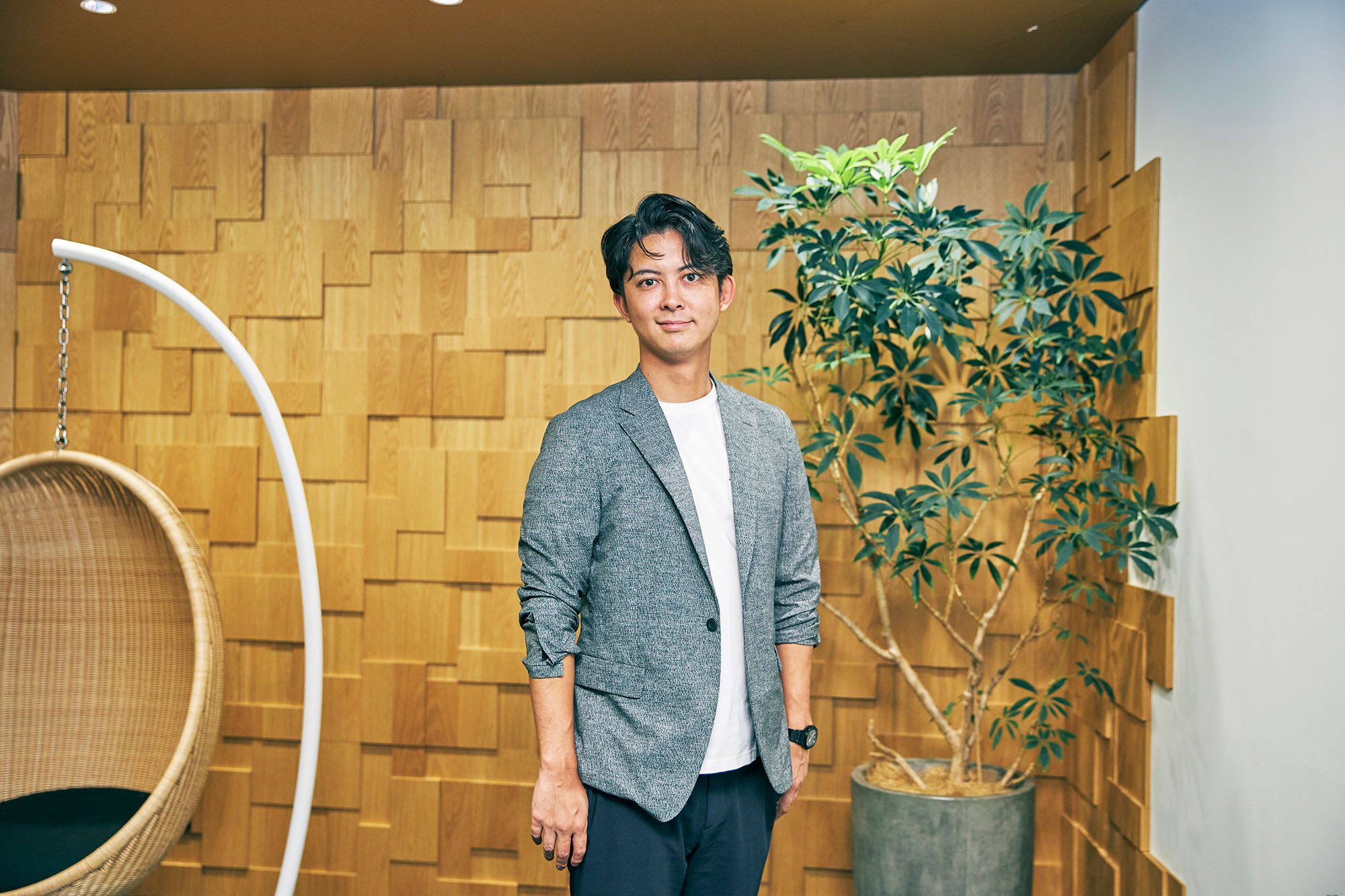 Going on to higher education, finding a job, changing jobs, getting married, giving birth, children leaving the nest, and parental caregiving. What kind of house to live in is related to the changing life stages. Everyone needs and spends a lot of money, but finding and choosing a property and dealing with contracts can be difficult. On the other hand, real estate agents who mediate between people looking for real estate and real estate owners also face challenges. The Japanese real estate market makes it difficult for agents to exert their abilities as company employees or independent agents.
​TERASS Inc.was established to address this situation. TERASS provides an environment where excellent real estate agents can focus on customer proposals, and end users can receive proposals from agents with good compatibility. As of September 2022, about 250 real estate agents are participating in this project. TERASS's quarterly transaction volume has grown sixfold to about 9 billion yen in one year.
Many people who are considering or who are engaged in real estate transactions have probably heard of TERASS. Mr. Ryosuke Eguchi, CEO and president​, has a background in planning the real estate website SUUMO, having joined Recruit Co.,Ltd. after graduating from the company. How did he choose the path of a startup when there were probably other ways to be associated with the real estate industry?
Startup entrepreneurship that returned to its roots on the road to becoming a professional manager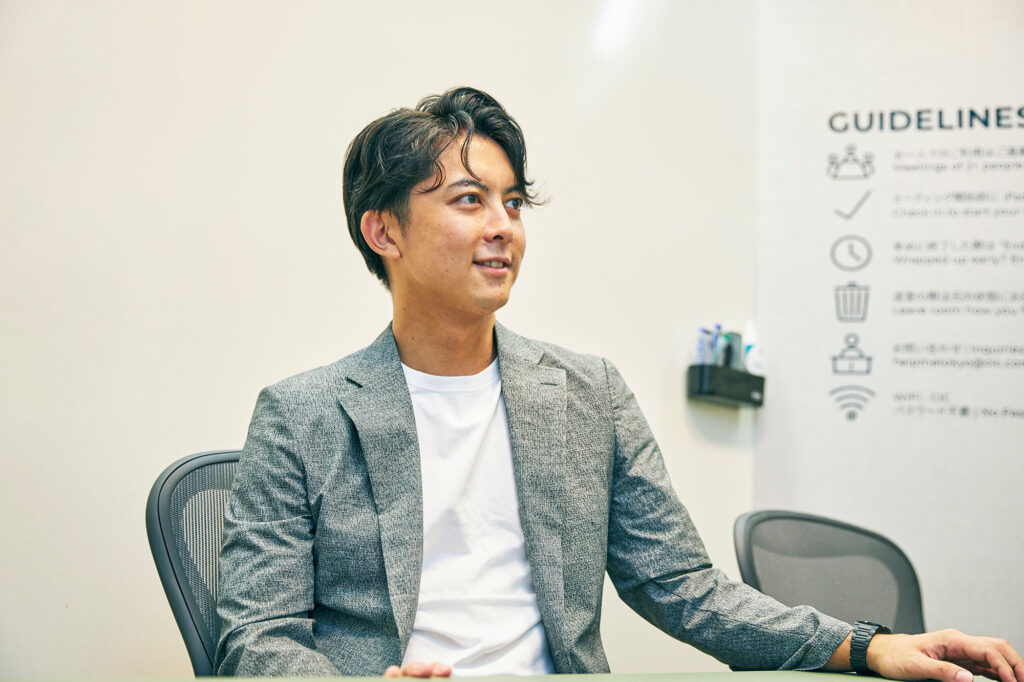 Could you tell us about your career to date and your inspiration to start your own business?
After graduating from Keio University's Faculty of Economics, I joined Recruit Co.,Ltd. (Now Recruit Sumai Company) in 2012. As an advertising planning and sales representative for the real estate website SUUMO, I was in charge of over 100 real estate developers. Later, as a media producer in the trading field, I was involved in SUUMO's product strategy formulation, sales promotion, and new product development.
When I first joined Recruit, I thought I would probably quit after about three years and start my own company. In my family lineage, my grandfather and father were entrepreneurs, my uncle was an architect, my cousin was an assistant professor of psychology, and many others were sole proprietors and business owners, such as a band member and an oil painter; company employees were a minority. Growing up in such an environment, I had an image of myself as an entrepreneur; since I could not find a field I particularly wanted to work in while I was a student, I thought I would start my own business after experiencing the real world. Also, at that time, Mr. Fujita of CyberAgent and others were beginning to attract attention, and I began to think about starting a company in the Internet business.
At Recruit, I wanted to work with something that handled a large amount of money, so I applied for human resources or real estate, hoped to work in Tokyo, and ended up at SUUMO. Recruit is famous for its strong sales force, but while my co-workers were achieving their sales targets in 3 months, I struggled quite a bit, and it took me 12 months to reach my first sales figures. Through those experiences, my desire to start a company faded away. Startups are great, but I also realized that working for a major company to improve their client's company can also impact society. Improving something already good is rewarding, and SUUMO's planning and development were very interesting.
Then, about 5 years later, in 2017, you moved to McKinsey & Company, a strategy consulting firm; isn't that correct?
At that time, I was reading many books on management reform, such as "Management for V-Shaped Recovery", and I changed my mind, thinking that turning 1 into 10 would have a more significant impact on society than turning 0 into 1. I began to think that becoming a professional manager rather than an entrepreneur would be better. If that were to happen, I would need to have experience in M&A and organizational design. Nonetheless, getting involved in such projects is difficult if you're in Recruit unless you're promoted to a department manager or higher post. When I looked into what kind of careers those so-called professional managers were pursuing, I found that many of them had backgrounds in strategy consulting, so I decided to move to McKinsey.
I joined McKinsey as a management strategy consultant, where most companies I was involved with were B-to-C companies in various industries, including manufacturers, beverages, banks, and telecommunications. Projects included new business development, marketing strategy, M&A and PMI (integration after a merger). I was more suited to growing the top line than cutting costs, and I was involved in the growth strategy and handled large projects.
Later, you started TERASS Inc. in April 2019. What was the catalyst that led you to start the company?
I was 28 years old and felt I had a long way to go to become a professional manager or pursue a management position, so I took a month off to look for my next career. Rather than starting a company, I was looking for a career as a country manager for overseas startups entering the Japanese market or as a CXO for startups. Someone I met around this time recommended I start a company.
I had many concerns, but among the three choices of getting a promotion at McKinsey, changing jobs to a startup, or starting a company, the one that made the most sense to me was starting a company. After deciding to start a company, Mr. Shimizu introduced me to Mr. Yusuke Murata, a general partner at an incubate fund. We began having regular weekly meetings to discuss entrepreneurial ideas. At first, we had ideas for real estate, English conversation, and entertainment business. Since I had experience in multiple real estate transactions and, most importantly, in SUUMO, we decided to focus on the real estate area that was the easiest to achieve "Founder Market Fit". We explored several ideas, including live commerce and issues surrounding managers; however, we focused on services around real estate agents, which was also popular in the United States. From there, there have been almost no pivots.
Could you tell us about TERASS's operations?
TERASS has two core businesses: Terass Agent, a platform for real estate agents, and Terass Offer (formerly Agently), which allows agents to receive sales offers from qualified agents. The corona crisis has been a tailwind with the increase in non-personal customer service and the lifting of the ban on online contracts; TERASS continues to grow rapidly, surpassing 1 billion yen in monthly transaction volume, 4,200 proposals and 23,000 messages in total.
Did you face any challenges?
Every day was a struggle, but what was especially difficult was finding real estate agents who would join the Terass Agent platform and become our partners. We wanted to reach out to as many people as broadly as possible, but the first people had to be the best real estate agents by far because they had to become our success stories. We went through a lot of trial and error, such as sending out letters to individuals, so we were deeply moved when Mr. Nakagawa was the first agent to join us. Although Mr. Nakagawa has a long history in the real estate industry, he has doubts about the irrationality of the industry, such as the obligation to come to work and the compensation cap for agents. He wanted to spend more time with his clients and his family and shared the value and philosophy of TERASS's service. After that, starting with Mr. Nakagawa, it was slow at first, but now we have nearly 600 applicants a month, and about 40 new people are joining as agents every month.
Many people would want to become agents, so are there any requirements?
While it is true that people with experience in real estate brokerage are more likely to be successful, we are essentially looking for those who have a client-first value system. We want to work with someone who has thoroughly explored what added value they are trying to create through their experience. As AI is replacing increasingly more areas, we believe added value comes from having a real estate agent who is a human being. Optimal properties, such as financial plans, are pretty high-context topics. Like lawyers, human resource agents, and marriage counselors, the ability to read between the lines and personalities and match them is required.
In the United States, all the information on who handles which real estate brokerage is disclosed. In Japan, it is a problematic model from the viewpoint of information disclosure, but we hope to do it eventually for optimal matching. TERASS also has an agent recognition program.
I understand that the funds raised are being used to expand the TERASS services, and you have just closed the Series B round.
We received 220 million yen in Series A from the lead investor Globis Capital Partners, Incubate Fund, and Mitsubishi UFJ Capital in 2021. In July 2022, TERASS raised 1 billion yen in Series B from five investors: Globis Capital Partners and SBI Investment as co-lead investors, existing investors Incubate Fund, Mitsubishi UFJ Capital, and new investors startup studio combo. Although fundraising is always difficult, we were able to raise funds smoothly thanks to the business track record since Series A, and we received more inquiries for Series B than the previous round.
Could you tell us about the organizational culture and recruitment?
Since we work entirely remotely and have the full flextime system, we are looking for people who share our mission, work autonomously and effectively, and can communicate within the company without stress. In particular, our team comprises a small number of elite members. Although we have members in Sapporo, Wakayama, Kyushu, and other locations, we are a team that can make a substantial impact.
In addition to weekly general meetings, we hold off-site meetings with members from different parts of Japan every six months. We also have a weekly "What's new" corner where we talk about private matters. TERASS is a company that wants to support individuals, so we want to be a team where each member has their individuality, and we respect that. The idea is not that we want to infringe on privacy but that we want to ensure psychological safety through self-disclosure. Each region has communities and club activities, but it is up to the individual to decide whether they want to socialize with other employees. We want to provide a life with many choices because that is what we are about.​
How about your public relations strategy?
Real estate tends to give the impression of being difficult to approach since our service is a B-to-B-to-C model. many people consider buying and selling real estate a significant life event. We are trying to create a public relations strategy that is easy to understand and easy to understand for a wide range of people. Because it is a new service, we are significantly strengthening our outreach to early adopters, and we are also active as a NewsPicks propicker. One of our PR strategies is to make me, the CEO, an icon. I try to do what I can to make recruiting people easier through my influence.
Steady growth through listening skills cultivated during our time in strategy consulting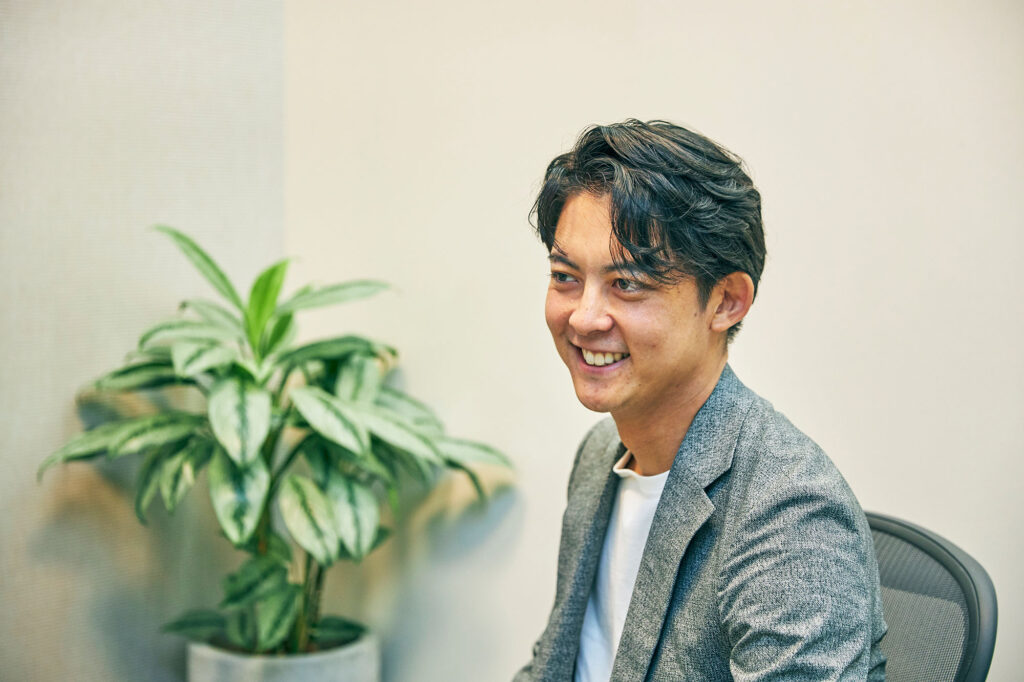 How did you spend your time as a student?
I was born and raised in Tokyo. I took the entrance exam for junior high school but wasn't accepted into the school I wanted to enter, which was the first significant setback in my life. In junior high school, I studied hard while devoting myself to the basketball club and passed the Keio Shiki High School entrance exam. In high school, I engaged in various activities, such as being the committee chairperson for the school festival and working part-time. After joining the university, I ran a student organization called AGESTOCK.
Regarding job-hunting activities, I received informal offers in addition to Recruit. Companies such as Rakuten, DeNA, CyberAgen, and others focus on new businesses and promoting in-house entrepreneurship. At that time, DeNA and CyberAgent were focusing on the game field. I was concerned that I would be heavily influenced by which department I was assigned to if I were to work for Rakuten, so I decided to go with Recruit because there was a good chance that I would be assigned to an area I was interested in.
Could you tell us how you spend your days off and how you refresh yourself?
I'm the type of person who feels guilty about taking time off. If I worked six days a week instead of five, I could increase my operation by 20%. if I work too hard and fall sick, it will be a disaster, so I've decided to take Saturdays off.
For a change of pace, I play golf, and I've been doing it for about 10 years since I started working. I still go out on the course with my friends from the golf club I made at McKinsey, and sometimes I go with the members of TERASS. I also have other hobbies, such as cooking and sauna, and I try to avoid looking at my smartphone as much as possible on my days off.
Do you have a message for startups in the pre-seed to seed stage?
​The most important thing is to borrow from the wisdom of our predecessors, which is very obvious. If you are a first-time entrepreneur, everything will be new to you, whether raising funds or increasing the number of people in your company. However, it is not a world where, "since it's my first time, I don't know", so you should learn from your predecessors and read books. When I joined McKinsey, I learned the importance of asking questions. Searching alone is not enough; listening to actual experiences is the best way to learn. However, what they tell you is their experience of success or failure, and the trick is to separate the facts that happened there from the speaker's emotions and absorb those facts. It's someone else's experience, not your own. It's up to you to decide how you perceive your experience, so try to hone how well you can ask questions that bring out the facts.
Finally, please tell us about the world you want to create and give a word of advice for our readers.
The Japanese real estate market is said to be the third largest in the world. Within the industry, there is also an extraordinary accumulation of past predecessors. Rather than destroying the Japanese real estate brokerage industry, I would like to empower and support it. I have my own hands-on experience and am committed to the growth of our service, which makes me even more passionate. I want to free all real estate buyers, sellers, and brokerage agents. Freedom means having many choices. Until now, people in the real estate business had no choice but to work for a company as a full-time employee or take risks and become independent. However, we offer our services as a third option. If there are more options for real estate sellers, there are more options for real estate buyers. I hope real estate transactions will become more flexible and vivid through diverse encounters. If you share this desire, please join us.