Fill the last mile of DX. A future where Techtouch, which makes web systems easier to use, realizes site-led DX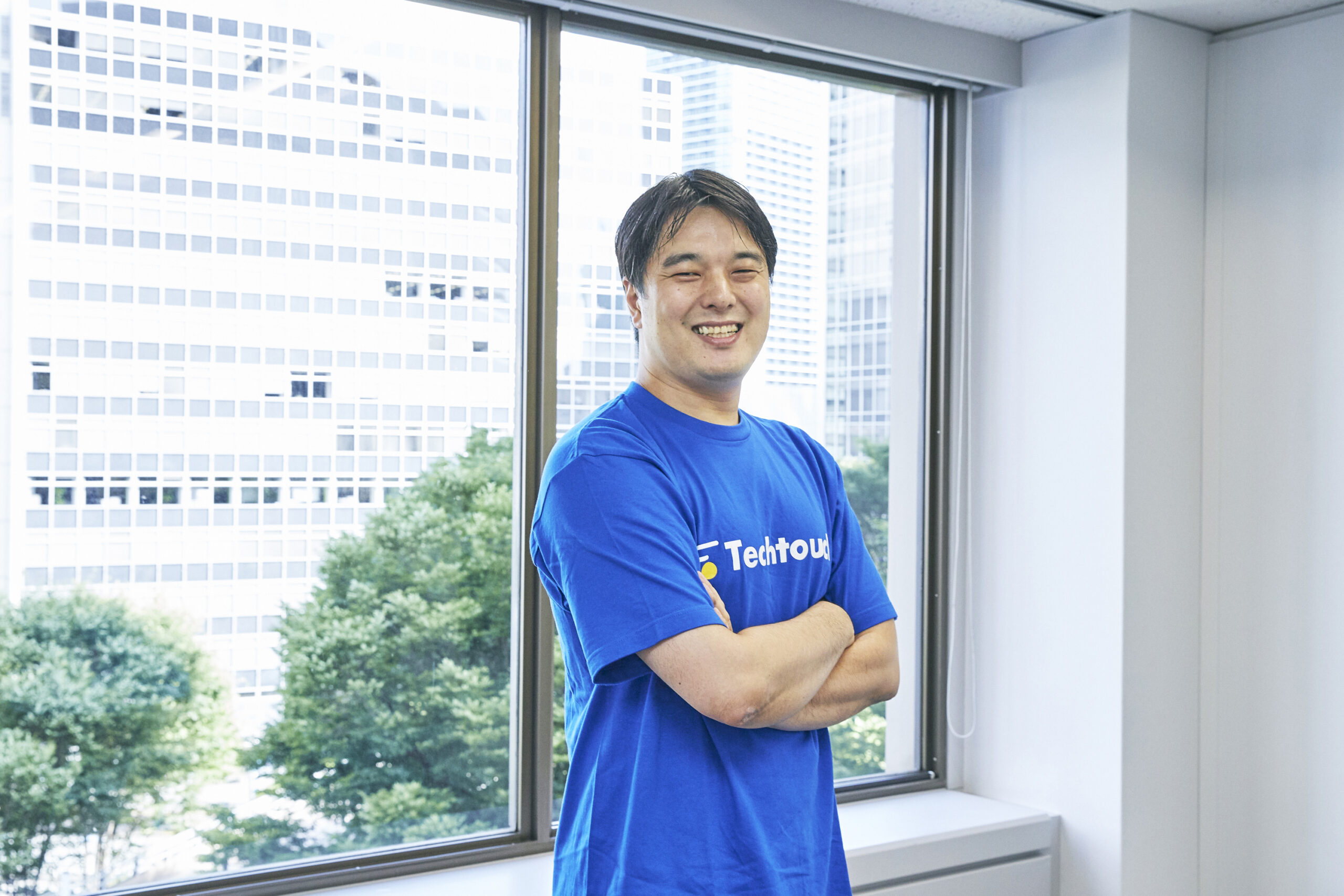 IT services are increasing day by day. As convenience increases, more and more people are finding it difficult to keep up with these rapid changes. Since it is a very convenient service, I would like many people to use it by making it easy for everyone to understand. The tool that makes it a reality is Tech Touch.
You can easily add a usage guide to any web system, and relieve the user's psychological hurdles. Techtouch Co., Ltd.​ ​Mr. Naka Imuta, the founder and representative director of the company, has reached his current business through a career in foreign-affiliated finance and an MBA. The area that Techtouch is challenging is a huge market overseas called DAP (Digital Adaption Platform). We asked Mr. Inuta about the world he is aiming for in the future.
Service launch after careful pre-research, solid response at the exhibition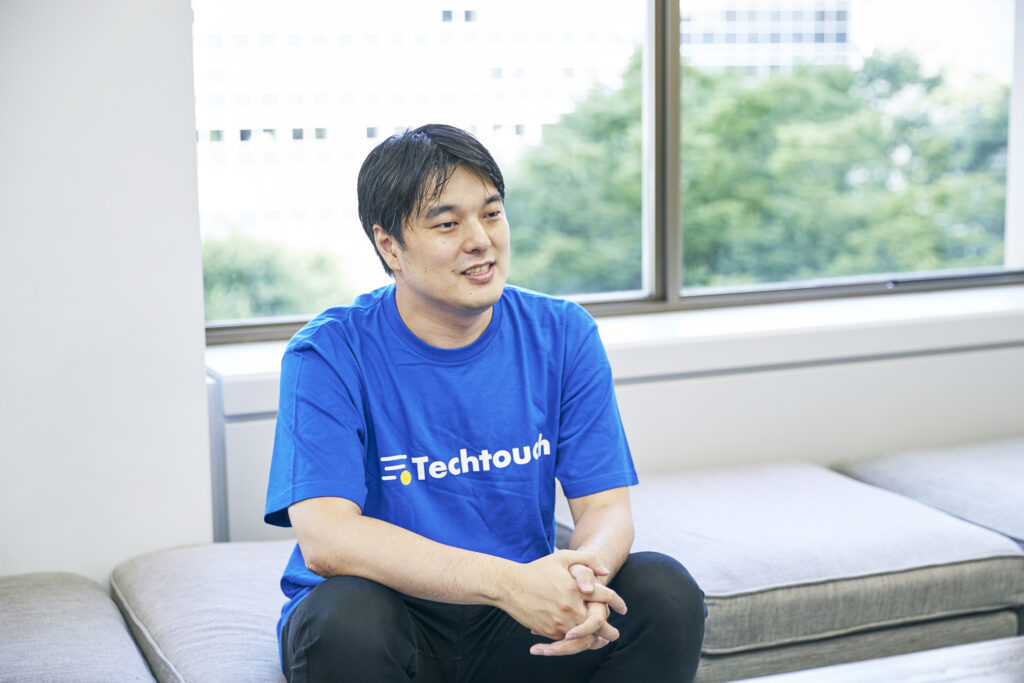 Please tell us about your career and what inspired you to start your own business.
After graduating from Keio University Faculty of Law, I worked in the financial industry from 2003 to 2011. The first company was Shinsei Bank, which had just been sold to an overseas PE fund after undergoing financial revitalization. It was a very interesting environment to mix with. After that, I did an internship at a real estate fund with a scale of 30 billion yen for about half a year in New York, and went on to an MBA at Columbia Business School. A double major in finance and real estate, he is a financial man at full speed. At the time, I was exploring a career in investment banking. Joined Deutsche Securities Tokyo office in June 2008. Until May 2011, I was engaged in corporate financing and M&A advisory services. At that time, Deutsche Securities had a lot of talented people full of challenging spirit, and some of my colleagues changed jobs to CEO, CFO, VC capitalist, etc. Even now, there are many friends who work hard in the startup industry.
There are many big jobs in finance, and every day was exciting. On the other hand, although it is unavoidable due to the nature of the financial business, I was asked to be a member of the team, and I could not continue to create new value in the world. I wanted to take on the challenge of providing new value, and naturally the idea of starting a business came to me. However, when I retired from Deutsche Securities, I still didn't have a clear idea of starting a business. There was a time when I tried to open a grocery store in Okinawa, although I stopped after a few months to try running a business for the time being.
At present, I definitely lack the prerequisite knowledge for business planning. With that in mind, I decided to join an IT company to learn IT business. However, even when I was looking for a job, I had an image of my previous job, and I only received offers for the CFO position. Under such circumstances, it was UNITED, which operates a smartphone application business, etc., that accepted my desire to start a business and allowed me to experience the field of IT business broadly.
What kind of IT services were you involved in at United?
I was involved in several zero-to-one projects. Also, at the time United had a smartphone app that was a big hit globally, and I was able to join the team there. We set up a subsidiary in the United States and launched a new business through joint development with a local startup. The irreplaceable experience of that time is still alive in me as flesh and blood.
After that, I was ready to start my own business, and established Techtouch in March 2018 with co-founder and CTO Jun Hibino.
How did you meet Mr. Hibino?
He is a colleague from United. We developed the previously mentioned app from scratch and grew it to scale. In addition, the subsidiary in the United States worked with me on new business development in collaboration with local startups.
If you're a colleague from your previous job, it seems like you can talk quickly about various things.
Well, in the first month after deciding to start a business, I thought about many business ideas. What remained in the end was "SaaS that operates on a web browser and allows even non-engineers to enter operation instructions." When I was a company employee, I felt that the financial system was difficult to use, and that this app would be difficult to use. It was the decisive factor that I thought it would be. In order to hear a wide range of user needs, we interviewed about 50 large companies through a spot consulting service called VisasQ. The interview unit price is also friendly to startups, and it seems that it is often used in startup market research. Initially, we envisioned a business targeting SaaS companies, but after interviews, we decided to focus on development for end-user companies that use SaaS.
The market research before the launch was quite thorough. Tech Touch is both a company name and a service name, but what is the origin of this name?
It's a customer success term. It is called tech touch because it enables technology to complete onboarding, which was conventionally done with so-called high-touch or low-touch, which requires human hands.
Techtouch does not require programming and can add operation guides on the screen of the system. Input validation, RPA-like functions, and analytics functions that allow visualization of system usage have also been added. Even people who are unfamiliar with the system can operate it intuitively, so by carrying out DX, large companies that are increasingly computerized and their operations are becoming more complex have a great need.
A closed alpha version was released in February 2019. We silently reflected the feedback we gathered in one month in the service. While I was excited, in May 2019, I exhibited for the first time at an exhibition.
Japan's largest IT exhibition "Japan IT Week Spring [late]" is held at Tokyo Big Sight. How was the reaction at the exhibition?
I was a complete novice in B2B IT, so I reserved a very large space for the size of the company. The night before, when I saw the exhibition space in person, I was stunned by how large it was. I remember being worried about whether or not the customer would come.
However, when I opened the lid, it was a great success. A total of 9 demo machines had queues, so much so that we had to prepare additional special machines. We were able to receive positive feedback from our customers, and it was a solid three days. Me too, but I think it was the moment when all the members thought from the bottom of their hearts that they could do it.
At that time, the maturity of the product was still low. The cost of exhibiting at an exhibition was several million yen to 10 million yen, and I think that CTO Hibino must have had a stomachache under the pressure (laughs).
About half a year later, you also exhibited at "Nikkei xTECH EXPO 2019".
Well, at this time as well, I was fumbling about how much it would cost to exhibit, and when I went to the exhibition hall on the day, the logo of Techtouch was lined up with top-notch companies such as Microsoft and AWS on the banner of the highest-class sponsor. It was then that I realized for the first time that this was an out-of-pocket investment (laughs). Nonetheless, this exhibition was also a great success, and the ROI was also greatly increased. This successful experience convinced us of the scale of our service.
Around the end of 2019, the company-wide introduction at a major non-life insurance company was released as the first large-scale introduction.
When I'm doing a startup, it's a strange thing, and there are multiple people who are like saviors who suddenly appear. The DX department of this company is exactly one of those people. The moment I introduced the product in my first business meeting, he immediately agreed to buy it on the spot. When we are doing business with large companies, we are very grateful that they purchased our products here, because case studies and achievements have a big impact on us. He has moved, but we still keep in touch.
The introduction to large companies is also expanding.
Thanks to this, it is also used by companies that represent Japan, and recently it has been introduced on a large scale of tens of thousands of people. In particular, there are many DX projects in large companies, and there are many examples of large-scale introduction of SaaS such as Salesforce and SAP, so we often support them.
It seems that there are quite a few startups who feel that the hurdle of in-house approval is high when introducing it to a major company, but how did you proceed with the approach?
At our company, the fact that we were introduced by the major insurance company I mentioned earlier was a big factor, and we feel that the hurdles to introducing it to other companies have been lowered all at once. I think it is very important how we can find innovators/early adopters like us. At that time, we were trying to acquire customers for the time being, so we created access points with many people through venture capital LPs and our personal connections.
Competing in the huge DAP market, considering scale with an eye on overseas markets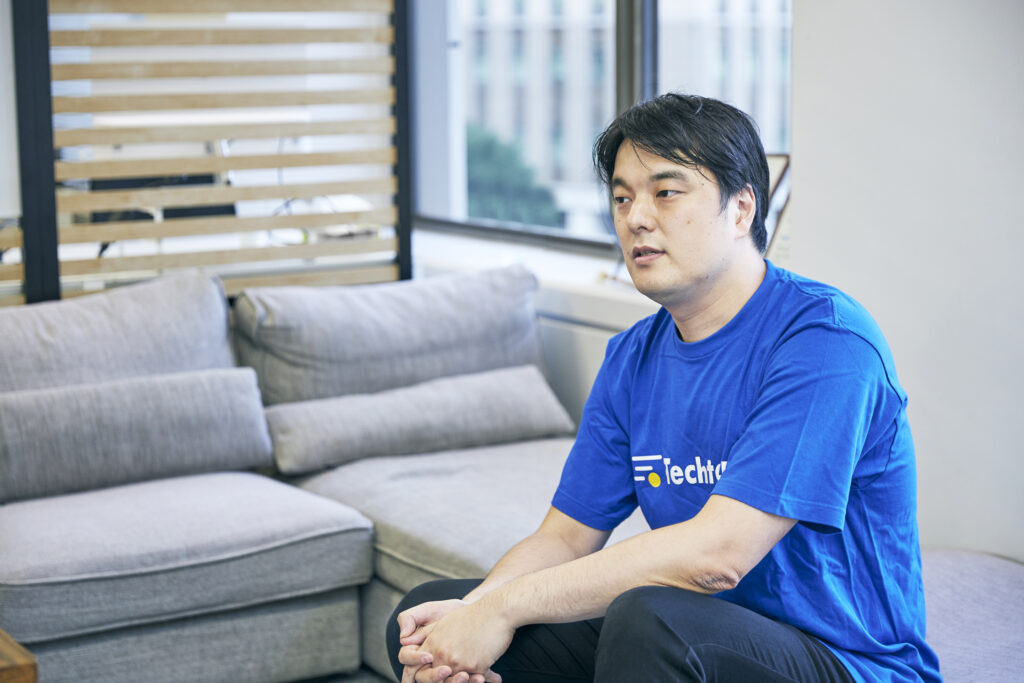 What difficulties did you face in fundraising?
At the beginning of the establishment, we mainly used debt finance rather than equity finance. Japan has policy finance, so I think it's a debt paradise where it's easy to borrow even though it's early days. We are very grateful for the start-up loan from the Japan Finance Corporation and the guaranteed loan from the Credit Guarantee Corporation, so I highly recommend taking advantage of them.
Equity financing was done after we had some initial traction. In the seed round, in September 2019, 120 million yen from VCs and angels. The Series A round raised another 500 million yen. Thanks to you, I've always received good reviews, so I haven't had a lot of trouble, but for some reason I always feel bad when it comes to financing (laughs).
Could you tell us about the organizational culture and recruitment?
Recruitment materials are also published on the homepage, and they are also listed there. Personally, I want to support a fun and positive life, and create a company where people can enjoy work as part of their life. Techtouch's products themselves are also based on the idea that the system should not be a source of stress, but should be something that expands human possibilities, so there is something in common with that.
About 10 months after the company was founded, there was an episode where he bought a small gong to ring when there was a celebration, and I thought it must be a warm climate.
(pointing to a corner of the office) The gong is still in use there. At the time, we were talking about raising funds and making it a bigger gong for each new series, but it fell through due to a decrease in the number of people coming to the office (laughs).
That's why we have a culture that places great importance on teamwork. In July 2019, about a year and a half after starting the business, we held our first off-site event. one was enacted. From there, we hold regular off-site events and create original apparel, all in a friendly atmosphere.
Another feature of our company is that there is a 60-minute interview that specializes in assessing cultural fit during recruitment selection. Especially at the initial stage, even one person who doesn't fit well in terms of culture will have a big impact, so I'm watching a lot to see if they fit in with the atmosphere of the company and whether they can get along well with the team. Every Thursday, we hold a Zoom drinking party called Recruitment Meetup, where candidates and current members are rotated to interact with a small number of people. This is not a selection process, but rather a measure for candidates to judge their fit with the company before they join the company.
You have been selected for Forbes JAPAN "CLOUD 20 Rising Stars" and Weekly Toyo Keizai "Amazing Venture 100". How is your public relations strategy designed?
As a premise, we believe that public relations is important for a startup like ours. This is because, for a company like us, which is in a position to spread new services, "how to get recognition and create a market" will affect the subsequent management.
Based on this way of thinking, the media side wants to report while thinking about "Who is the target audience you want to know about the service?" We are designing based on the multiplication of the content and the information we want to convey.
What are your thoughts on future business development?
This field, which aims to maximize the effect of system introduction by preparing web systems so that anyone can use them, is called "DAP" worldwide. Multiple unicorns have also emerged among overseas competitors.
In the Japanese market, we take pride in being a pioneering player in this area. Internally, we call it "DXP® (Digital Transformation Platform/trademark registered)" with the meaning that it will be a platform that promotes DX.
At the beginning of the business, there was a limit to what I could do, but as I grew and reached the current stage, I feel once again that I was able to do many things. Data and know-how have also been accumulated, and it has become possible to understand what kind of system is used by what kind of company and what are the issues when introducing Techtouch. In the future, I wonder if this kind of data can be used to improve corporate productivity and provide consulting for improvement proposals.
In terms of the market, if it is domestic, it is the public sector. And when I look overseas, I feel that Asia is a white space. The delicate characteristics of Japanese people and DAP go well together, and I feel that there is room for our products to be accepted overseas as well. We are gradually starting to expand overseas subsidiaries of Japanese companies, and we are strengthening the position of English-speaking human resources in hiring.
A culture of bottom-up citizen development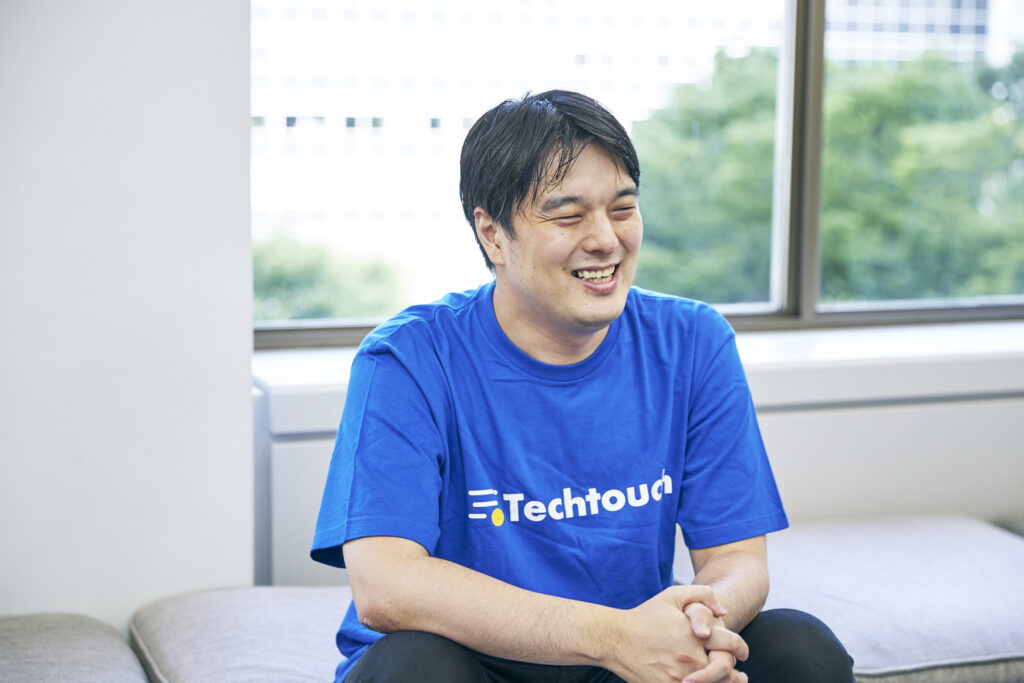 Could you tell us about your upbringing?
My father was a financial man, so he was a transfer family, and although he was born in Aichi, he moved from place to place. In college, I didn't really think about it (laughs). Did you spend a lot of time in clubs and part-time jobs? I think it's amazing how many college students these days are doing internships at startups from an early stage rather than looking for a job. I also received various interviews during my job hunting, but the decisive factor was that Shinsei Bank seemed interesting because there were many people from various backgrounds.
Your father was also in finance. How do you spend your holidays and how do you refresh yourself?
After my father worked at a bank, my mother and I ended up starting a business together. I think that I have been influenced to some extent, including my own entrepreneurship.
For me personally, I feel that spending time with my family is a refreshing way to get away from work. My daughter is in elementary school, and the other day we went to Yokohama Chinatown together. When I talk to my children, they live in completely different worlds, so it's a great way to change your mindset naturally. Occasionally, I am asked, "How many employees are there now?" (laughs).
Could you give a message to startups in the pre-seed to seed stage?
It will become a matter of course, but at that time, I would like you to firmly assume the size of the market while facing customers. We have worked on several new businesses in the past, and the size of the market is a very important factor in terms of business execution. Capital policy and fundraising are irreversible, so it's fine to enter, but it's really painful to fall into a situation where you can't bring it to scale due to the market, as many people are involved. I think it would be good to be able to research thoroughly and create an image of a product that can win in a good market. Until then, I think I'll stick with it.
Finally, please give our readers a few words of advice about the worldview you want to create.
Today, various IT services are being created one after another, and it is an era where productivity can be steadily increased if the person is motivated. On the other hand, there are many people, especially Japanese, who are allergic to IT. In order to increase productivity in Japan, which is steadily declining compared to developed countries, I think it is very important to be able to master IT.
If you use Techtouch, people in the system department or business department can make improvements on a daily basis if they find it difficult to use. I think that Japanese people are very strong in operations, and I think it would be very interesting if a bottom-up attitude of improving IT and improving operations took root. If you have a similar sense of challenge, let's change the world together.