The goal is democratization of data utilization. DATAFLUCT's challenge to solve social issues with data science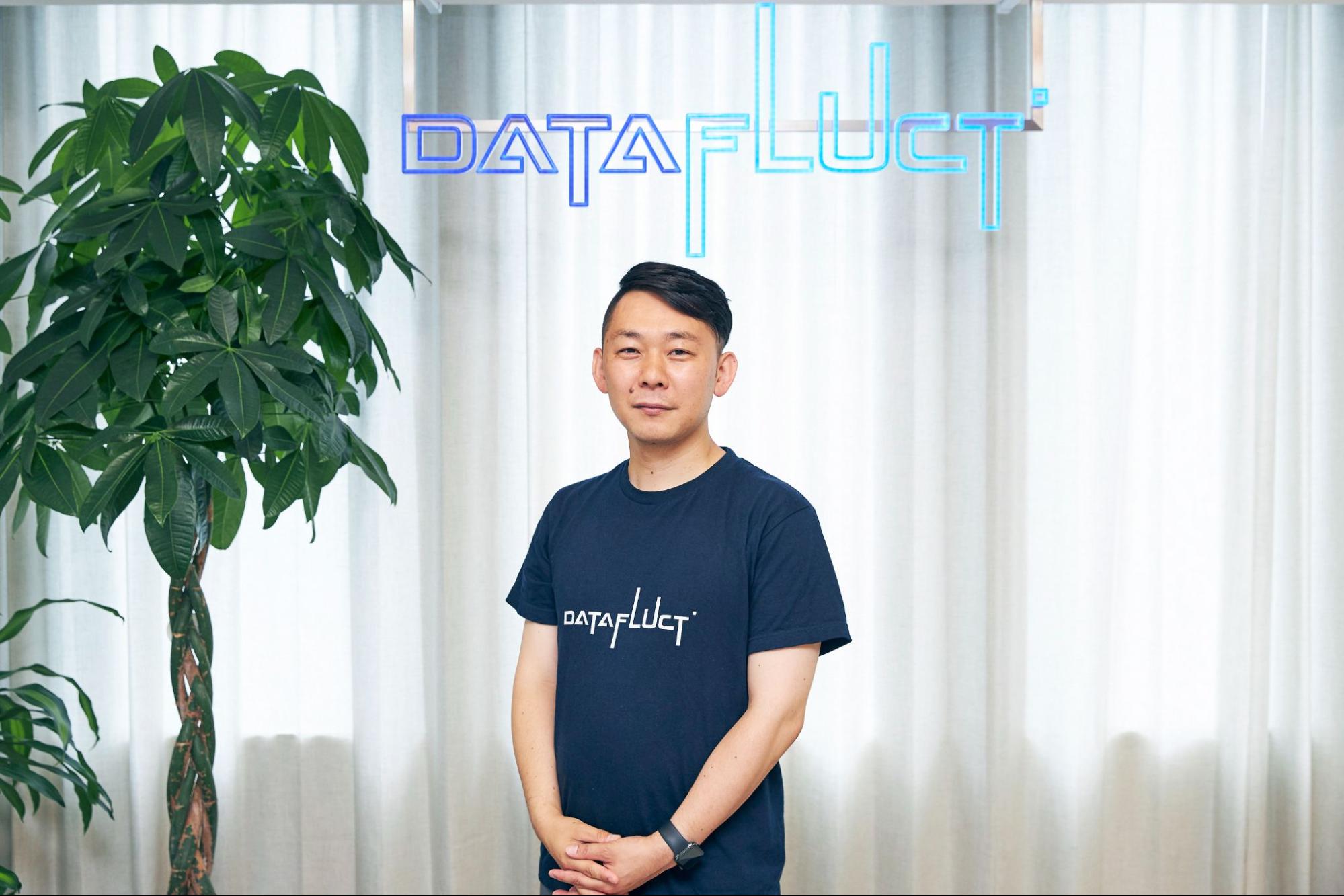 "Developing our own products that solve global standard issues"
​Mr. Hayato Kumemura, who develops data business in a wide range of fields such as decarbonization, smart cities, and dynamic pricing, says,
Combining our own products with contract development, we will continue to face customer issues as a data business partner. DATAFLUCT Co., Ltd. We interviewed Mr. Hayato Kumemura, Representative Director and CEO.
Tackle customer challenges with multiple in-house products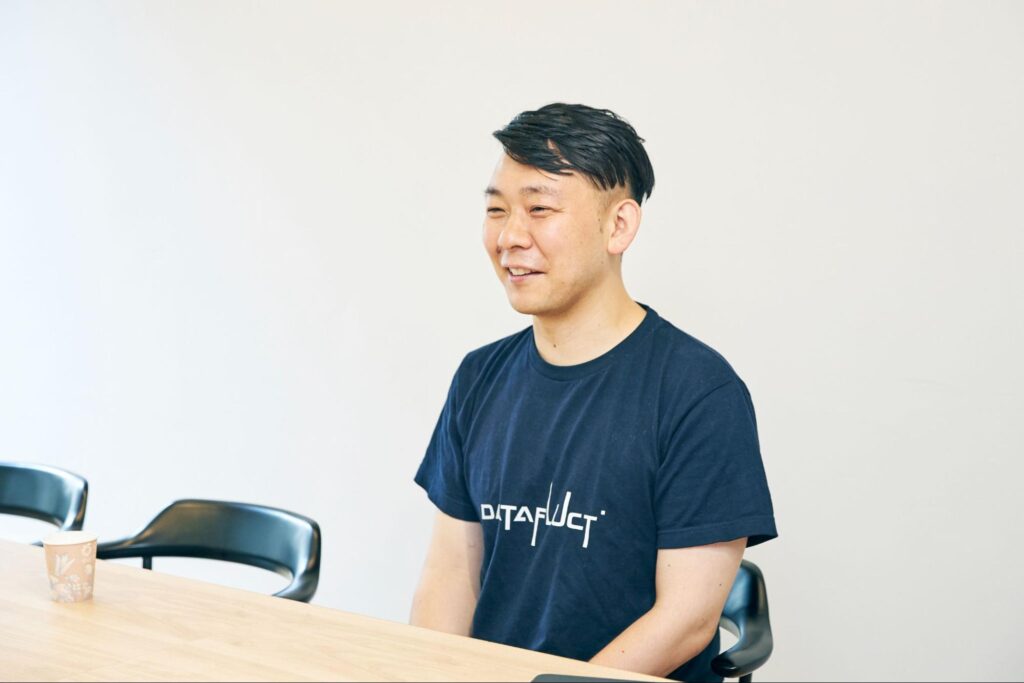 Please give us an overview of your business.
One of DATAFLUCT's businesses is the data platform business. This is a business that creates a data infrastructure for client companies and promotes the utilization of data. The other is a business that utilizes multiple types of data and develops AI/ML products based on social issues. Without narrowing down the scope of our products, we have retained all services that have achieved PMF (Product Market Fit) among the services developed with a focus on the issues of our client companies as our own business. I don't think it's a waste to expand the scope of the product, as it deepens my understanding of the areas I've challenged. There are many cases where it can be applied to other products.
Since its founding, DATAFLUCT has released a large number of products. Do you have a point of view that you devised to reach social implementation instead of ending with PoC (Proof of Concept)?
There are certainly issues such as initiatives ending with PoC and startups becoming subcontractors. In order to overcome these challenges, we decided to turn the function into a product, even if it was simple, so that startups would take the initiative. However, many of the issues faced by client companies are niche ones, such as automated warehouse ordering and route optimization. If you narrow it down to just one, it will be difficult for DATAFLUCT to aim for a unicorn. Therefore, we adopted a business model that promotes multiple productization and solves many small problems. Currently, we are expanding into multiple industries by developing products that focus on social issues such as smart cities, decarbonization, and food distribution.
Please tell us what you think is important when partnering with a large company.
From our point of view, it is product introduction, but from the customer's point of view, it is problem solving. We value the perspective that the goal is not to introduce the product, but to have some of our products used to solve the customer's problem. However, if there is an area that cannot be solved with our own products, it becomes contract development. DATAFLUCT's business model is characterized by the ability to solve problems by combining contract development and in-house products.
DATAFLUCT provides clients with a comprehensive range of management consulting, AI ventures, and areas handled by SIers. How exactly is this achieved?
It's very simple, because we have all the resources. This was the idea when I was working on new business development when I was a company employee. Scout and assign people who can do it for the business they want to do. It's very similar to filmmaking. I also applied this mechanism to DATAFLUCT. We started a business in 2019 and secured the necessary human resources such as SIer, data scientist, sales, and consultant. DATAFLUCT is based on the concept of studio orchestration, which does not separate business areas such as AI algorithm development only and consulting only.
Could you tell us some challenges you have faced since the company's founding?
There are many, but the most important is fundraising. In particular, the Series A funding announced in April 2021 was difficult. At that time, many of DATAFLUCT's products were for physical stores, so the impact of the new coronavirus was quite strong. Under such circumstances, we pivoted to logistics as an area that could grow.
In April of this year, we announced Series B funding, and we are shifting to a phase that firmly protects the employment of our full-time employees, which we have expanded to about 40 people. In addition, we still need to invest in AirLake, our data infrastructure. We will select and concentrate our capital, grow our products, and take on the challenge of reaching an exit.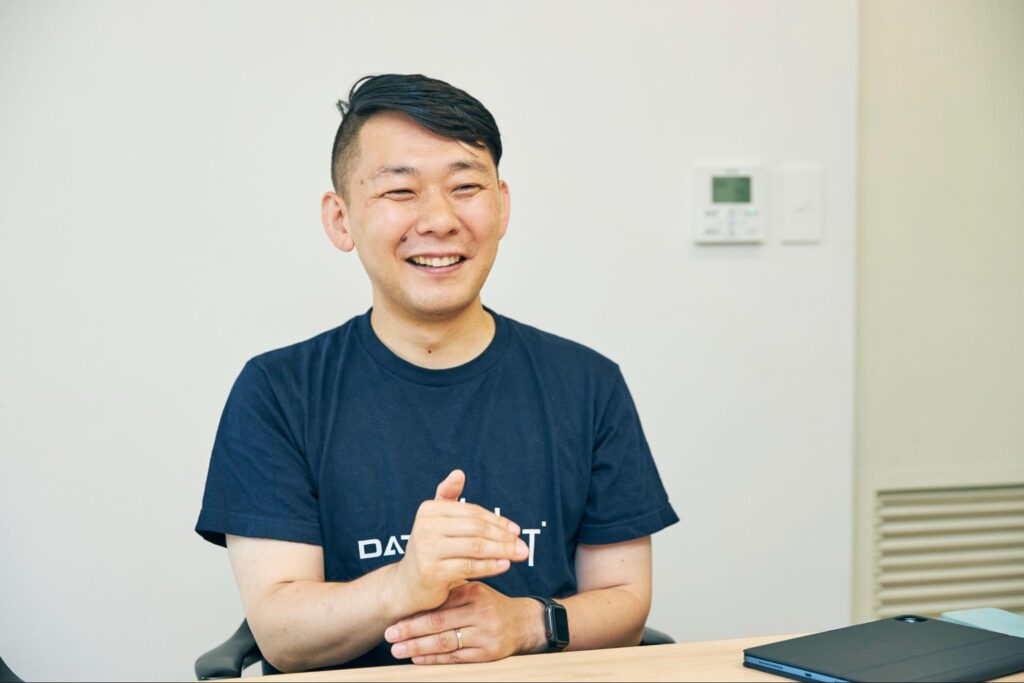 I have continued to create new businesses since I was a company employee.
How do you spend your weekends refreshing yourself?
Playing with children is the most refreshing. As the CEO of a startup, there are many difficult moments, but I cherish the time I spend with my family. Recently, I have been going to see hydrangeas with my children and teaching them how to ride a bicycle.
Mr. Kumemura, what kind of things did you think about when you were a student?
When I was a university student, I spent all my time working part-time. At that time, the IT industry was growing and I was an intern at an IT venture. From that time, I was interested in the mechanism of creating algorithms and studied it. I also studied data science in graduate school. Although I understood the technology, I didn't really understand how to expand the technology as a business, so I wanted to gain experience as a member of society.
After graduating from university, after experiencing various companies, please tell us the background that led to the founding of DATAFLUCT.
During my time as a company employee, I have created more than 10 new BtoC businesses. There are various industries such as education, human resources, and media, but the common point is that it is a data business. Utilizing the data owned by each company, I was planning a business that moves people and customers. When I was thinking about going independent, I thought that B2B business would be interesting as an industry, so I researched and found it. So, all past experiences are connected to DATAFLUCT.
Please tell us what made you focus on satellite data when creating a business in the B2B field.
Just when you were thinking about going independent, why don't you start a new business with JAXA? It was one of the triggers that I had a voice. From 2018, we started planning new businesses using satellite data and weather data. The concept of DATAFLUCT is to create a data platform using external data such as satellite data. After that, I thought about combining satellite data with various data to create a product, and in January 2019, I founded a JAXA venture company.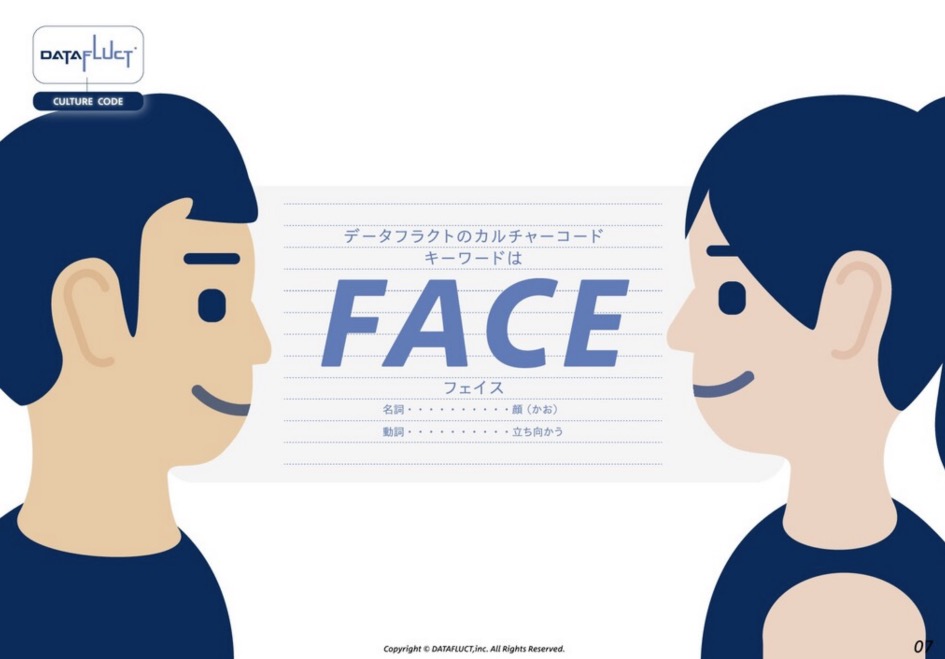 The culture code is "FACE"
How do you acquire CXO and executive talent?
We announced new personnel on July 1, 2022, and most of the CXO positions have been filled, creating a solid structure. The reason why we were able to acquire CXO was because they shared our vision. In particular, those who read my blog deeply sympathized with me, and they decided to participate in the project quickly. We have been working on recruiting CXOs for a year since we raised our Series A last year, and we have reached a milestone.
What are the challenges in recruiting startups?
Business is difficult to understand. Even if I explain each of our products in detail, I think it is difficult to understand where the impact is. I think we need to make our website easier to understand, and explain how we do business with our client companies through case studies.
Specifically, what kind of personnel are you planning to acquire?
DATAFLUCT has "FACE" as its culture code. I would like people who face issues, face customers, and face data to participate. The businesses we work on are technically difficult, and our customers' issues are all difficult. In addition, in order to tackle new businesses, it is necessary to have the mentality to face difficult issues and solve them on your own. I believe that it is necessary for DATAFLUCT in the current phase to form an autonomous team with members who can continue to face people and things.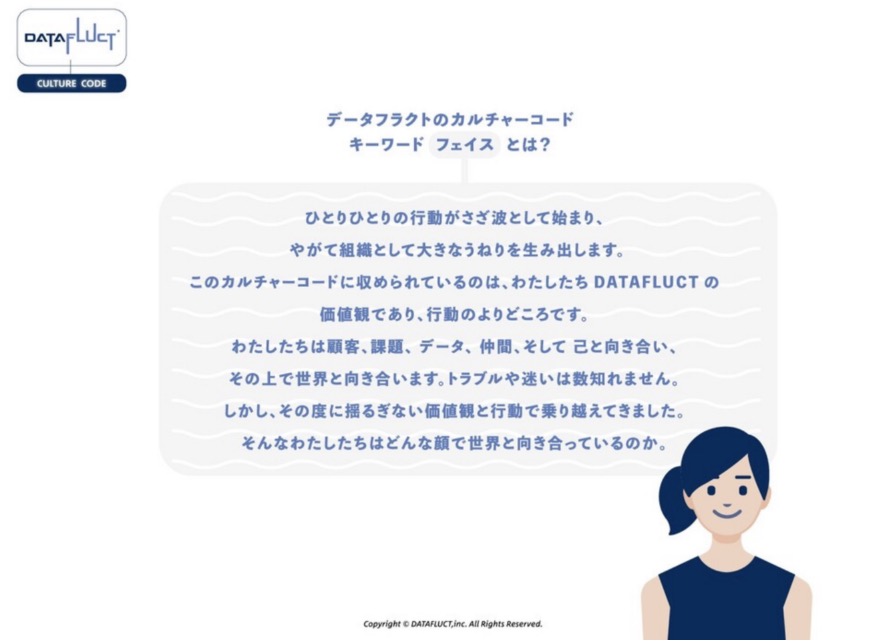 Are there any points you devised to make it an autonomous organization?
I think it's important to do your best in recruiting. Autonomy is not a mentality that can be cultivated and acquired. There is always a reason why each person wants to be autonomous, so we focus on that part from the hiring stage. At DATAFLUCT, we ask them to work together as outsourced workers for about a month, and we confirm with each other whether we can work together in a DATAFLUCT-like autonomous way of working during that period.
Please let me know if there is a particular position you would like to hire.
Originally founded as a company for data scientists, the layer of human resources is thick. In the future, we need BizDev who can create businesses. DATAFLUCT's customers have specific challenges, so we would be happy if you could be interested in a specific industry or theme.
Targeting a large market and aiming to become a unicorn
Please tell us about any past events or programs that have benefited you.
Nearly every pitch event had its benefits. Also, in the accelerator program, the program where the person in charge made efforts to match with large companies was a great benefit.
What is necessary for Japanese startups to win in the world?
I think we are aiming for a large market. Just taking a small share in the huge market of data platforms can make a huge scale. In addition, all issues that DATAFLUCT focuses on are global standards. The reason why we focus on global standard issues such as decarbonization, smart cities, and food distribution is to capture huge overseas markets in the future. Currently, we are focusing on satisfying Japanese customers, but we are always considering overseas expansion, such as adopting product names that are easy to accept overseas.
Finally, please tell us how you feel about the Japanese startup ecosystem.
There are two points. First, I would like to see more M&As in Japan. Looking around me, most of the people who have done M&A are re-challenging as serial entrepreneurs. From the perspective of human resource mobility, I think it definitely has a positive impact on the Japanese startup ecosystem. The second point is cooperation between large companies and startups. Startups are also grown into big companies. In the case of BtoC business, how can we approach the users of large companies? In the case of BtoB business, how to incorporate startup products into the value chain. Japan already has good technology, so I think it is important to collaborate with large companies to increase the number of startups that can grow steadily.
Thank you!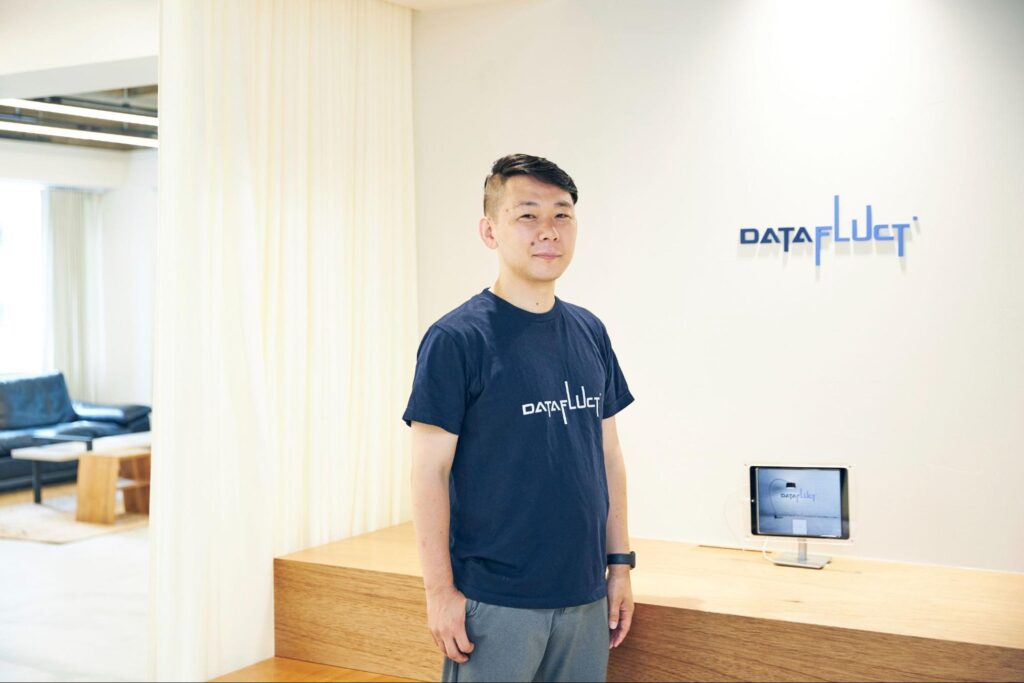 Editor's comments
Mr. Kumemura, who talks about business with a keen eye, has a simple vision.
"Data as a business"
Data utilization will be democratized in the future that DATAFLUCT aims to solve social issues with data science in the huge DX market.