A breakdown of IVS, one of the largest conferences in Japan for startups who want to grow their business. We will cover the contents, how to participate, and the benefits of attending!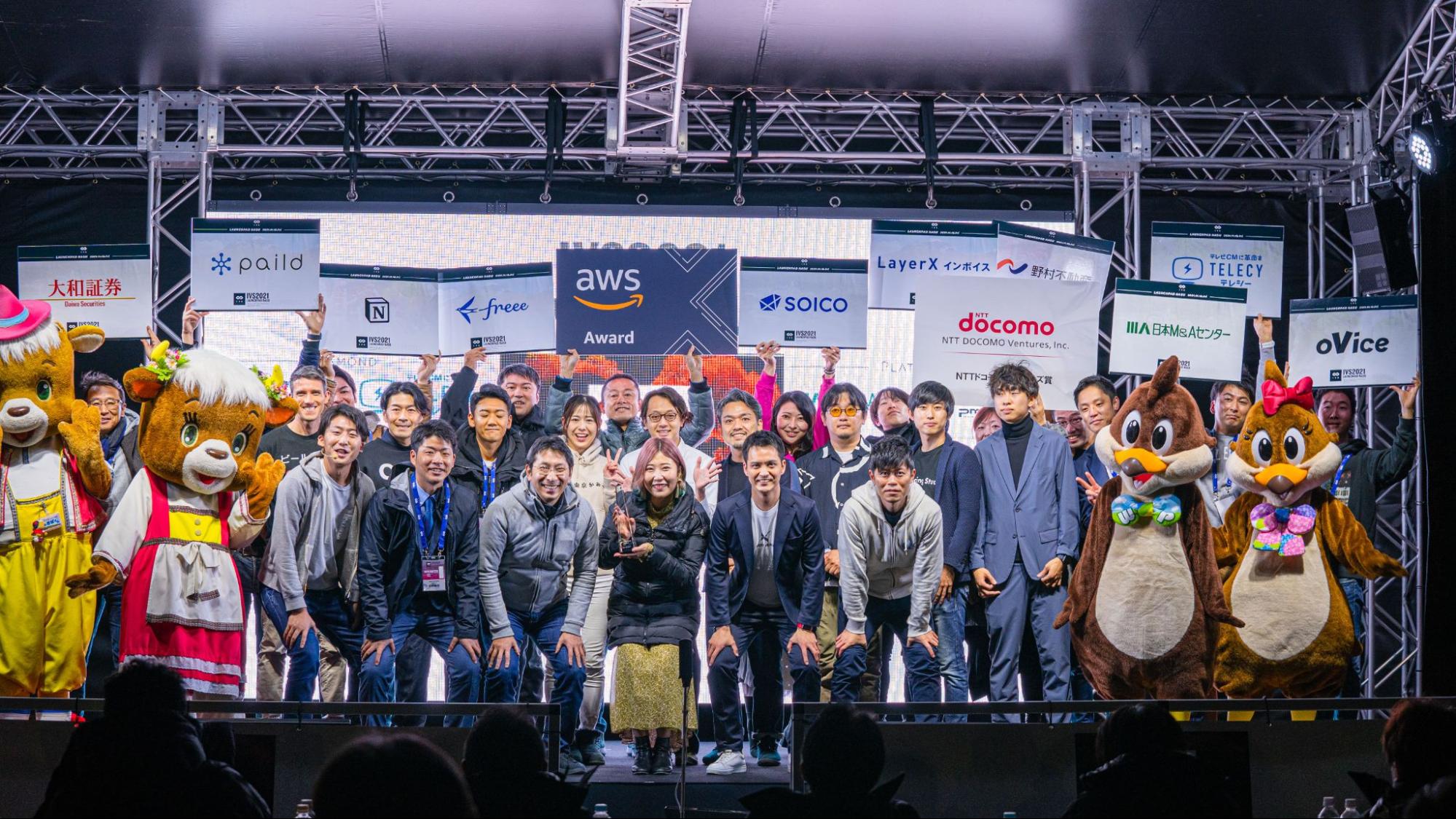 ​"IVS" is held twice a year.
"IVS LAUNCHPAD" has hosted 416 seed and early-stage startups that are looking for opportunities to grow their businesses, and as of February 2022, about 15% of the finalists have exited (gone public or sold their businesses). It has become a gateway to success for startups in both name and reality.
We interviewed Mr. Toshiaki Shimakawa, IVS Representative Director to learn more about IVS, how to participate, and the benefits of participation.
What is "IVS"?
Created in 2007, this is one of the largest management conferences in Japan, bringing together more than 700 entrepreneurs and investors from Japan and abroad twice a year. During the three-day event, there is the IVS LAUNCHPAD, a pitch event for seed and early-stage startups. There are also stages for talk sessions, and networking opportunities.
What kind of people will participate in "IVS"?
We invite startup managers who are considering raising equity capital to go public, or who have already raised equity capital, as well as those who are supporting them. The investment rounds to which the participating managers and startups belong may vary, but networking with a wide variety of people is possible during the three days.
Please tell us about the specific implementation details of "IVS".
The program consists of four major content areas. The current format was designed with the benefits to the participating startups in mind.​
Talk sessions by entrepreneurs and business owners
Networking with managers and supporters
Providing pitch opportunities
Access to the community that continues after IVS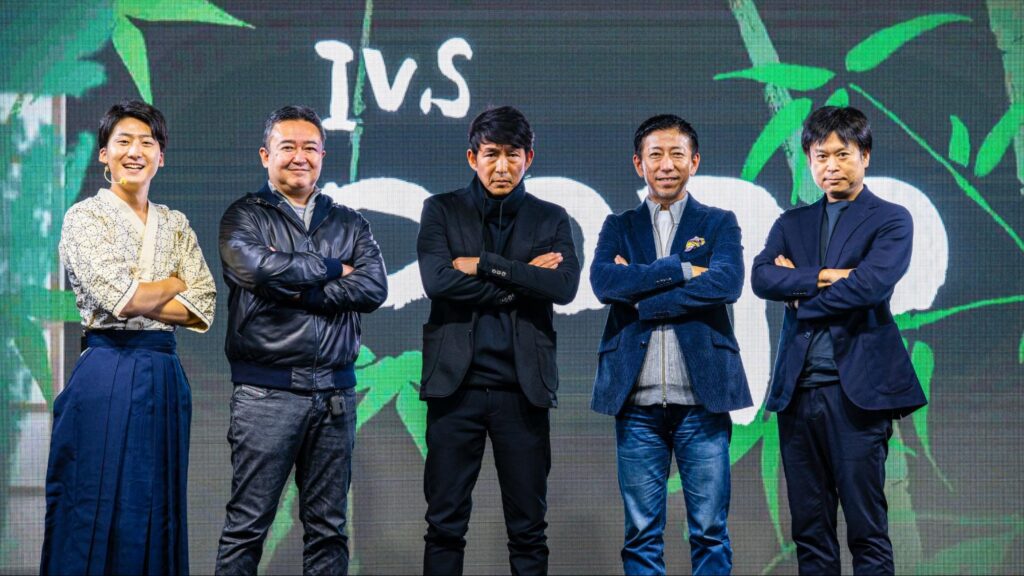 What is the content of the first talk session by entrepreneurs and managers? What are the benefits of participation for startups?
It is an opportunity to learn about trends and the latest information that is usually difficult to obtain, as well as off-the-record stories that do not appear in articles. For example, there is a lot of information about "Web 3.0" that has not yet been written about on the Internet or in books, and that only practitioners know about, and the information that practitioners share in the IVS talk sessions includes the latest and most real information. In the startup industry, where there is a lot of non-public information, IVS has continued for 15 years as a place where people in the industry can exchange information, give to each other, and give back to the startup industry as a whole.
The guest entrepreneurs and investors who will be on stage are celebrities in their industry, aren't they? Where are their expectations?
Although there are several different patterns, there are many people who feel that they were raised by pioneers in the startup industry. Therefore, people who have a desire to "give back to their juniors" are cooperating with us.

Also, there is a community element involved, and many people attend the event as a place to report on recent events as a sort of alumni standing, or as a place to meet new people. We have received feedback that not only do they give to the speakers, but they also enjoy being able to discuss topics that interest them and make new connections with people in the same position.
Second, please tell us about networking with management and supporters.​ ​
We put special emphasis on the networking part. We believe that the speed of a startup's subsequent business growth depends on the connections and encounters with other people, so we make every effort to ensure that networking is natural and stress-free for all participants.

It is quite difficult to suddenly interact with people at a networking event where many people meet for the first time. Many of you may have had the experience of exchanging business cards without knowing who the other person is or what they are interested in.

At IVS, we design our venues and content to make networking more natural and less stressful. For example, we keep the talk sessions small (20 to 30 people) to bring the speakers and participants closer and also to create communication among them. We disclose who will be attending each session, so participants can come to the session with some preparation for what they want to talk about or listen to, which makes for a lively session.

Furthermore, we have prepared activities that will help participants build camaraderie with each other. We are preparing for this year's event as well, with the idea of connecting people who are interested in the same hobbies with each other in a large gathering.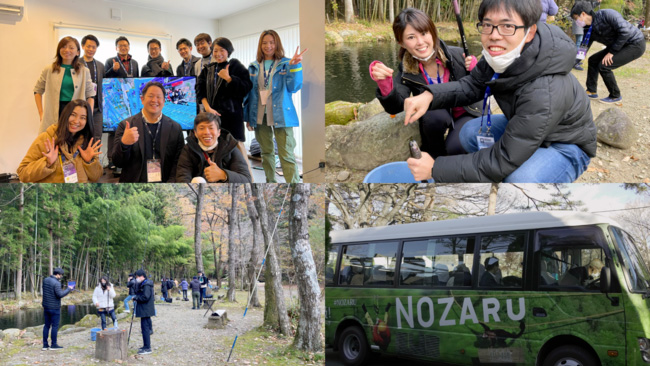 Please tell us about the specific benefits of participating in the third "IVS LAUNCHPAD".
The second advantage is the perks and prizes.and in a single pitch, you can make your business known to senior executives, investors, and sponsors participating in IVS. It is also possible to be approached on the spot immediately after your pitch. As a management team, we put a lot of effort into publicizing the winners, and we have heard that there are inquiries from people who learned of the results through the media. We are happy to receive reports after the event, such as procurement decisions, business partnerships, and appearances in major media.

The second advantage is that you can get benefits and prizesAt the last IVS2021 NASU, in addition to benefits directly useful for startup management, the sponsors also gave away a vacation home worth 40 million yen as a surprise.

The third benefit is that the startup's internal cohesion is strengthened by the opportunity to take the stage. The speakers practice their pitches many times in the company before the event. On the day of the event, team members watch the event online, but many are moved by the sight of the representatives standing on stage. We realized this when we received thankyou's later on from companies that had worked as one with their internal members to brush up their presentation, saying that it was a good team-building opportunity.

Please tell us some of the companies that have been on the stage in the past.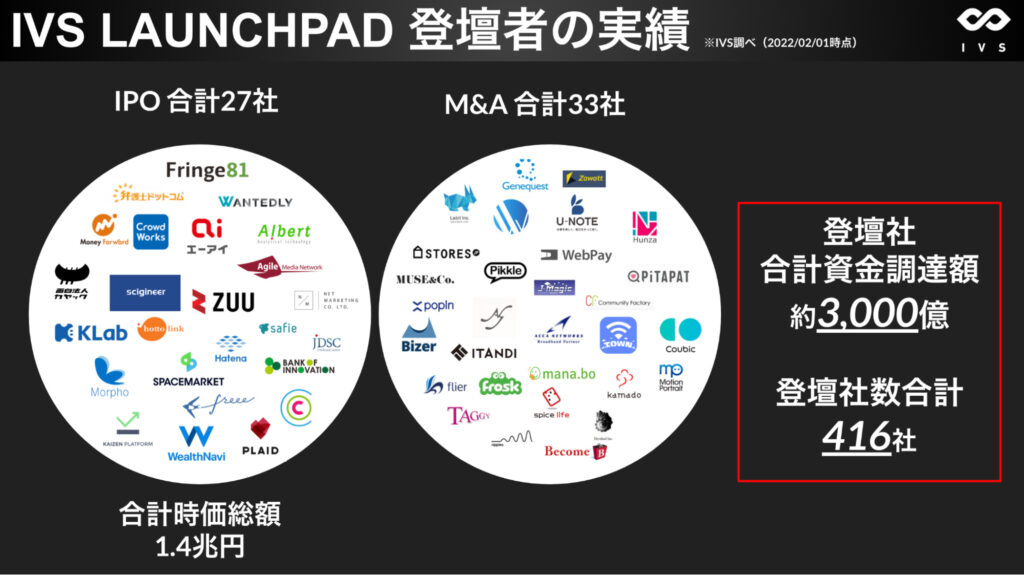 Companies that have already IPO'd include Freee, WealthNavi, Wantedly, and Coconara. Recent winners include SHE, Couché, Engate, 207, Kaminashi, Adacotec, and Funds.
"IVS LAUNCHPAD" is attracting a lot of attention in the startup industry, but how can you pass the selection and stand on the stage on the day of the performance? Please tell me about the requirements for application and the selection process.
The only requirement is that the product (or demo) has already been developed.

There are three stages of selection.
Primary round. We will make a selection based on documents and videos.
Second round. The applicants will be asked to give a 6-minute pitch to the Headline Asia capitalists, just as they would do on the actual day of the event. In addition, while there are no Q&A sessions at the show, the selection process includes Q&A and mentoring of pitches for the next round of selection.
Final round.This is the same as the second round, and the organizers take it very seriously because they need to narrow down the list to around 14 companies that will be invited to speak at the event.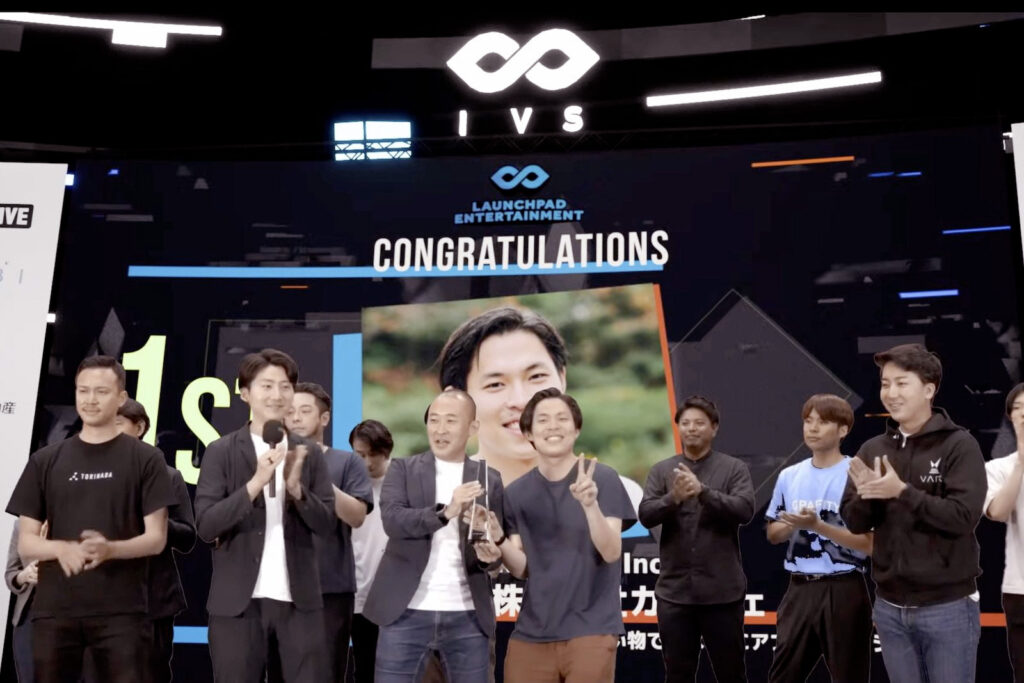 It would be very valuable to receive mentoring from a capitalist throughout the selection process. Please let us know if there is anything else to gain from the selection process.​ ​
Startups that were not selected as finalists but were highly rated during the selection process will receive a special invitation to the IVS (free of charge). We also invite many startups that participated in the selection process to IVS at a discounted price. As mentioned above, IVS offers talk sessions and networking opportunities in addition to pitches, so we invite you to IVS as a sign of our support and hope that you will find a clue to your business growth.
In addition to the twice-yearly IVS, we also hold closed events and networking venues, so we may reach out to them there too.
In addition to that, we offer discount coupons (rewards) for services that many startups use to those who apply for the IVS LAUNCHPAD. For example, you can get a discount on AWS server usage.
IVS has an "invitation only" condition for participation. What should startups do when they first have the intention to participate?​ ​
We encourage you to apply for the "IVS LAUNCH PAD" pitch event.
As the organizer of the IVS, we would like to point out that the IVS is not inexpensive to attend, and the companies that are highly rated in the LAUNCHPAD selection process will receive a special discount to attend the IVS, and we would love to have you apply.
IVS is now a large community in the Japanese startup industry, but how was it born and grown?
"We don't have a place where managers can discuss things with each other." From this conversation, the three founders of Headline Asia (then Infinity Ventures) launched IVS in 2007. At that time, the startup industry in Japan was much smaller than it is today, so we started with about 50 of our friends, with the feeling that "IVS = acquaintances in the startup industry". From there, people who were at the center of the mainstream IT industry began to gather, and in addition, the number of people in Japan and abroad who wanted to use IVS as a place where startups could grow increased, which led us to our current form.

As a result of the invitation and screening system, IVS has attracted startups that are expected to grow rapidly. We are proud of the high quality of our startup community. I believe that the environment of "people" around you has a great impact on entrepreneurs and startups, so if you desire overwhelming growth, please join the community by participating in IVS!
What is important for IVS in creating this?
When considering a project, "Will it benefit the entrepreneur?" is the most important factor in our planning. We especially want to support entrepreneurs in their seed/early stage, so we design the entire project and create content with a startup-first mindset to see if it is beneficial to them.
To be a place where people who want to create and seize the future with their own hands can gather.
A place where participants can be overwhelmingly connected
A place where entrepreneurs who will grow in the future and investors who want to support them gather
An environment where you can have a global perspective while staying in Japan
We plan and manage IVS every time so that you don't lose sight of these goals.
Incidentally, for startups in the pre-seed stage with no product yet, can they participate in IVS only after they have built a product?​ ​
We believe that those who do not have a product have a good chance of becoming participants in the next LAUNCHPAD or speakers at the talk sessions. We also have an opening for an "administrative staff" to join our management team, which has become a community for those who are looking to start their own businesses, so please apply if you are interested.
Staff applications are available on the IVS website: https://www.ivs.events/
Finally, any message for seed/early stage startups!​ ​  
Participating in IVS provides an overwhelming opportunity for your business.
Startups hoping for explosive growth are welcome to join IVS!
The next event will be held from July 6th to 8th, 2022 in Naha City, Okinawa Prefecture.
The application deadline for IVS2022 LAUNCHPAD NAHA is April 22nd.​
Postscript of coverage and editing
While following trends in Japan's expanding startup ecosystem, their attitude of constantly evolving IVS by considering "what is in it for the startups" matches that of startups that continue to engage with their customers. Led by top management with a high level of willingness to contribute to startups and entrepreneurial mindsets, We recommend that you use IVS as a "catalyst" for your startups.